This website uses cookies to ensure you get the best experience while browsing it. By clicking 'Got It' you're accepting these terms.
How One NFL Team Will Turn Food Waste Into Renewable Energy
Jan. 07, 2014 09:14AM EST
Business
As if the fact that, in the U.S., we waste 40 percent of our food isn't shocking enough, a recent study by the Proceedings of the National Academy of Sciences finds that total emissions of the potent greenhouse gas methane are almost twice as high in the U.S. as previously thought. More potent than carbon dioxide, methane is a deadly contributor to global warming.
According to the U.S. Environmental Protection Agency (EPA), all that uneaten food accounts for 23 percent of methane emissions as it rots in landfills. Other sources include livestock operations and oil production. And yet, properly captured or, better yet, generated in anaerobic digesters that break down food waste before it ever reaches landfills, methane represents a cleaner energy source for use in heating homes, running engines, and generating electricity. Yet challenges to the widespread availability and use of biogas remain.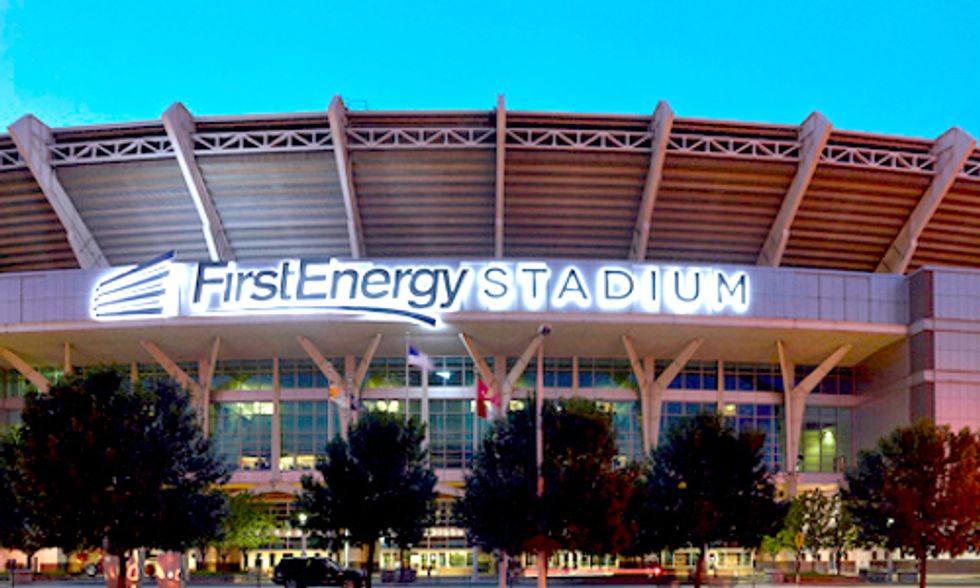 Enter FirstEnergy Stadium in Cleveland, where a new partnership with the Cleveland Browns and the Innovation Center for U.S. Dairy has implemented a new system to will divert an estimated 35 tons of stadium food waste from landfills into biodigesters for conversion into energy. The system, called Grind2Energy, is a technology from Emerson's InSinkErator, a brand many associate with in-sink disposals found in kitchens across the U.S. Far more than an industrial-strength garbage disposal, it's an integrated system that includes leasing, installation, and service coverage of a closed system that grinds up food waste into a slurry and transports it to an anaerobic digestion facility where it is converted to energy.
Slurry from FirstEnergy Stadium travels to an anaerobic digester operated by Quasar Energy group at the Ohio State University's Ohio Agricultural Research and Development Center where it will generate enough electricity for a single family for a full year, produce enough natural gas to heat 32 homes for a month and recover enough nutrients to fertilize three football fields of crops.
As well as diverting food waste from landfills, the system at FirstEnergy Stadium will reduce carbon emissions by 28,000 pounds per year, generate enough electricity for a single family for a full year, produce enough natural gas to heat 32 homes for a month, and recover enough nutrients to fertilize three football fields of crops.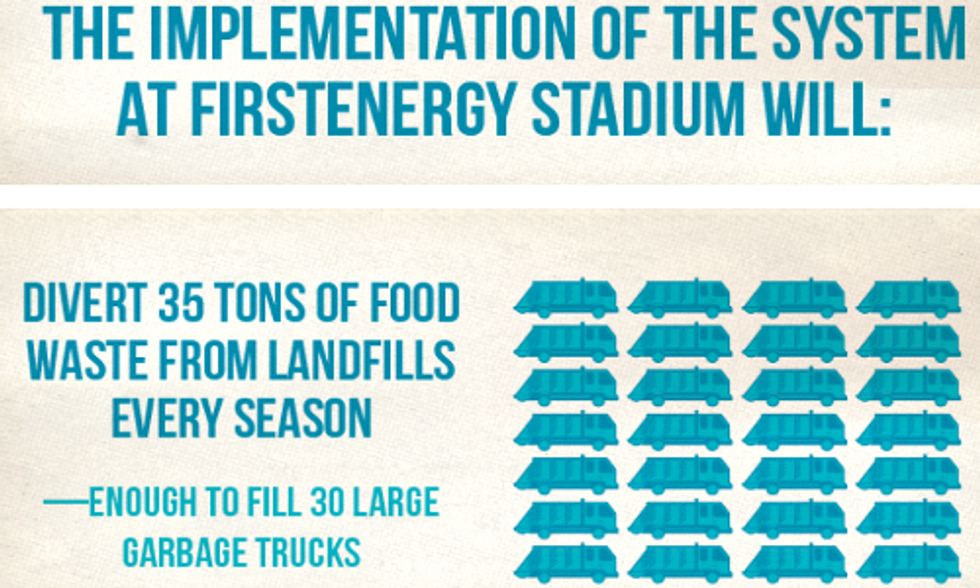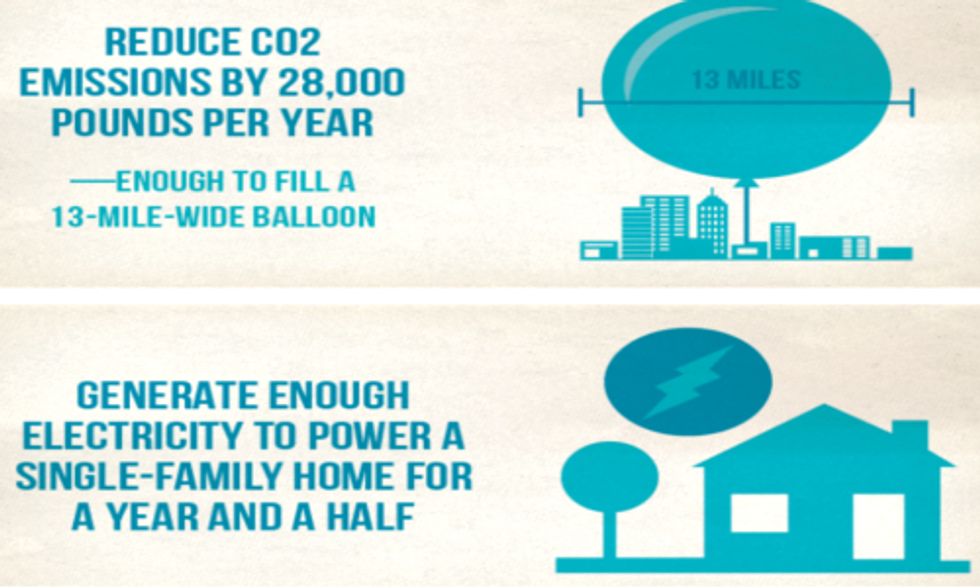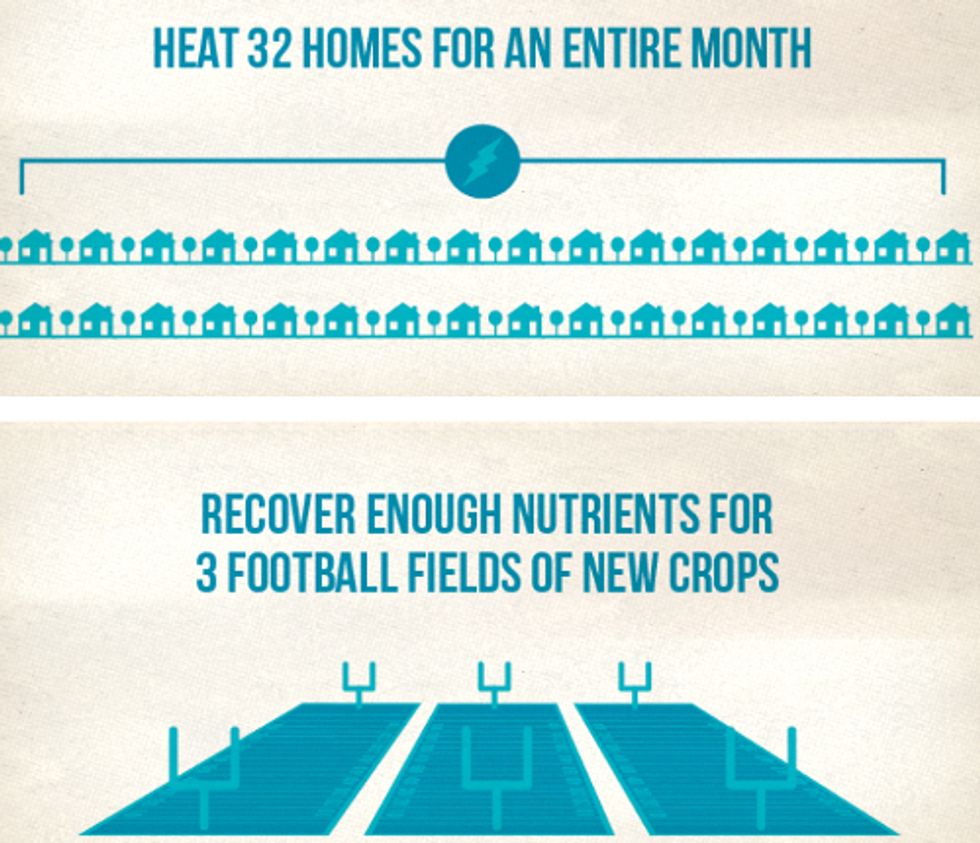 The closed nature of the system eliminates odors and enhances kitchen hygiene, decreasing reliance on cleaners and pesticides. The setup creates savings in waste removal because storage tanks can compactly hold three to four weeks of organic slurry. In some cases where such systems are in place, facilities have the opportunity to buy renewable energy and biogas back from anaerobic digester facilities.
The project's partners hope that the systems' implementation in a sports arena will fuel public awareness, in keeping with the U.S. Deparent of Agriculture (USDA) and EPA's U.S. Food Waste Challenge, and encourage producers, manufacturers, communities, and government agencies to reduce and recycle food waste. According to David Krems, Business Development Manager for Grind2Energy, the system's implementation in Cleveland has generated a lot of interest.
"We have the NFL asking us how do we do this at every NFL stadium," Krems said.
Currently the company has three Grind2Energy systems operational in Ohio, and one deploying in Milwaukee. They're working to meet high demand for the system in the coming year, especially in the Northeast where many biodigesters are being built, making Grind2Energy a priority for global conglomerate and green housing innovator Emerson. Emerson is satisfying an existing demand. According to Sustainable America's March 2013 survey, U.S. consumers support "stronger efforts to reduce food waste in restaurants and grocery stores". And yet the survey found that the perceived importance of these issues lagged behind others—jobs and the economy, for example.
While a food-waste-to-fuel system doesn't prevent food waste, according to Dana Gunders, a staff scientist with the Natural Resources Defense Council (NRDC), which partnered with the Green Sports Alliance to promote sustainable practices in the sports world, "It's a great way to reach people who are often difficult to reach through typical environmental channels . . . I think it's one more block in the domino effect that will eventually lead to change."
While the widespread integration of anaerobic digesters into the energy grid continues to face hurdles like viable partnerships with energy providers and high initial capital costs for building facilities, they have already proven their value in use by the dairy industry in all 50 states, according to Tom Gallagher, CEO of the Innovation Center for U.S. Dairy. And hopefully the model at FirstEnergy Stadium will be replicated at stadiums, arenas, and other large venues with high levels of food waste across the country.
As director of the NRDC Sports Greening Project and Sustainable America board member Dr. Allen Hershkowitz puts it: "Anaerobic digestion is an important technology that provides great potential to manage our food waste in a more ecologically intelligent way."
While turning wasted food into energy ranks low on the EPA's food waste recovery hierarchy, its combined benefits, including the mitigation of greenhouse gas generation, are undeniable. As support for bans on sending food waste to landfills grows, the true potential of anaerobic digestion, through the widespread implementation of systems like Grind2Energy, will become clear.
Turning food waste into renewable energy will become increasingly profitable as relationships between biogas producers and energy providers develop. If we can turn food waste into fuel, we'd go a long way toward reducing some of the harmful linkages between the food and fuel markets in the U.S.
Visit EcoWatch's SUSTAINABLE BUSINESS page for more related news on this topic.

EcoWatch Daily Newsletter
A view of a washed out road near Utuado, Puerto Rico, after a Coast Guard Air Station Borinquen MH-65 Dolphin helicopter crew dropped relief supplies to residents Tuesday, Oct. 3, 2017. The locals were stranded after Hurricane Maria by washed out roads and mudslides. U.S. Coast Guard photo by Petty Officer 3rd Class Eric D. Woodall /
CC BY-NC-ND 2.0
By Coral Natalie Negrón Almodóvar
The Earth began to shake as Tamar Hernández drove to visit her mother in Yauco, Puerto Rico, on Dec. 28, 2019. She did not feel that first tremor — she felt only the ensuing aftershocks — but she worried because her mother had an ankle injury and could not walk. Then Hernández thought, "What if something worse is coming our way?"
Flooded battery park tunnel is seen after Hurricane Sandy in 2012.
CC BY 2.0
President Trump has long touted the efficacy of walls, funneling billions of Defense Department dollars to build a wall on the southern border. However, when the U.S. Army Corps of Engineers (USACE) released a study that included plans for a sea wall to protect New Yorkers from sea-level rise and catastrophic storms like Hurricane Sandy, Trump mocked it as ineffective and unsightly.
A general view of fire damaged country in the The Greater Blue Mountains World Heritage Area near the town of Blackheath on Feb. 21, 2020 in Blackheath, Australia. Brook Mitchell / Getty Images
In a post-mortem of the Australian bushfires, which raged for five months, scientists have concluded that their intensity and duration far surpassed what climate models had predicted, according to a study published yesterday in Nature Climate Change.
Sea level rise causes water to spill over from the Lafayette River onto Llewellyn Ave in Norfolk, Virginia just after high tide on Aug. 5, 2017. This road floods often, even when there is no rain.
Skyler Ballard / Chesapeake Bay Program
By Tim Radford
The Texan city of Houston is about to grow in unexpected ways, thanks to the rising tides. So will Dallas. Real estate agents in Atlanta, Georgia; Denver, Colorado; and Las Vegas, Nevada could expect to do roaring business.
Malala Yousafzai (left) and Greta Thunberg (right) met in Oxford University Tuesday. Wikimedia Commons /
CC BY 2.0
What happens when a famous school striker meets a renowned campaigner for education rights?