This website uses cookies to ensure you get the best experience while browsing it. By clicking 'Got It' you're accepting these terms.
How Much Water Should You Drink Per Day?
Oct. 07, 2014 11:55AM EST
Food
The body is about 60 percent water, give or take.
We're constantly losing water from our bodies, primarily via urine and sweat.
There are many different opinions on how much water we should be drinking every day.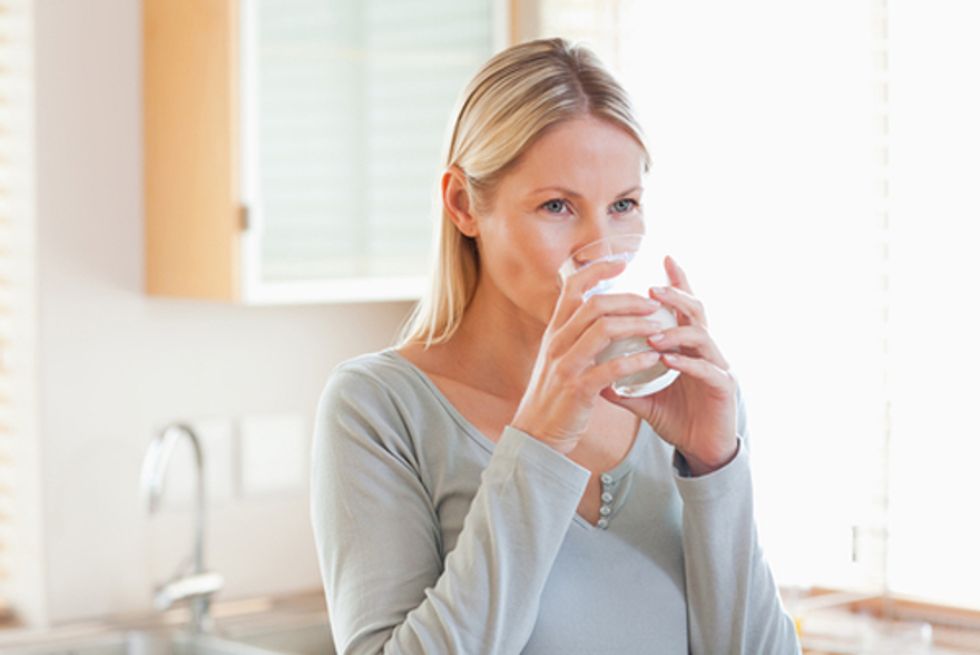 Photo credit: Shutterstock
The health authorities commonly recommend eight 8-ounce glasses, which equals about 2 liters, or half a gallon.
This is called the 8×8 rule and is very easy to remember.
However, there are other health gurus who think we're always on the brink of dehydration and that we need to sip on water constantly throughout the day … even when we're not thirsty.
As with most things, this depends on the individual and there are many factors (both internal and external) that ultimately affect our need for water.
I'd like to take a look at some of the studies on water intake and how it affects the function of the body and brain, then explain how to easily match water intake to individual needs.
Can More Water Increase Energy Levels and Improve Brain Function?
Many people claim that if we don't stay hydrated throughout the day, our energy levels and brain function can start to suffer.
There are actually plenty of studies to support this.
In one study in women, a fluid loss of 1.36 percent after exercise did impair both mood and concentration, while increasing the frequency of headaches (1).
There are other studies showing that mild dehydration (1-3 percent of body weight) caused by exercise or heat can negatively affect many other aspects of brain function (2, 3, 4).
However, keep in mind that just 1 percent of body weight is actually a fairly significant amount. This happens primarily when you're sweating a lot, such as during exercise or high heat.
Mild dehydration can also negatively affect physical performance, leading to reduced endurance (5, 6, 7).
Bottom Line: Mild dehydration caused by exercise or heat can have negative effects on both physical and mental performance.
Does Drinking a Lot of Water Help You Lose Weight?
There are many claims about water intake having an effect on body weight… that more water can increase metabolism and reduce appetite.
According to two studies, drinking 500 ml (17 ounces) of water can temporarily boost metabolism by 24-30 percent (8).
The top line below shows how 500 ml of water increased metabolism (EE—Energy Expenditure). You can see how the effect diminishes before the 90 minute mark (9):
The researchers estimate that drinking 2 liters (68 ounces) in one day can increase energy expenditure by about 96 calories per day.
It may be best to drink cold water for this purpose, because then the body will need to expend energy (calories) to heat the water to body temperature.
Drinking water about a half hour before meals can also reduce the amount of calories people end up consuming, especially in older individuals (10, 11).
One study showed that dieters who drank 500 ml of water before meals lost 44 percent more weight over a period of 12 weeks, compared to those who didn't (12).
Overall, it seems that drinking adequate water (especially before meals) may have a significant weight loss benefit, especially when combined with a healthy diet.
Bottom Line: Drinking water can cause mild, temporary increases in metabolism and drinking it about a half hour before meals can make people automatically eat fewer calories.
Does More Water Help Prevent Health Problems?
There are several health problems that may respond well to increased water intake:
Bottom Line: Drinking more water may help with several health problems, such as constipation and kidney stones.
Do Other Fluids Count Toward Your Total?
Plain water is not the only thing that contributes to fluid balance, other drinks and foods can also have a significant effect.
One myth is that caffeinated drinks (like coffee or tea) don't count because caffeine is a diuretic.
However, the studies show that this isn't true, because the diuretic effect of these beverages is very weak (22).
Most foods are also loaded with water. Meat, fish, eggs and especially water-rich fruits and vegetables all contain significant amounts of water.
If you drink coffee or tea and eat water-rich foods, then chances are that this alone is enough to maintain fluid balance, as long as you don't sweat much.
Bottom Line: Other beverages that you drink also contribute to fluid balance, including caffeinated drinks like coffee and tea. Most foods also contain water.
Trust Your Thirst … It's There For a Reason
Maintaining water balance is essential for our survival.
For this reason, evolution has provided us with intricate mechanisms for regulating when and how much we drink.
When our total water content goes below a certain level, thirst kicks in.
This is controlled by mechanisms similar to things like breathing… we don't need to consciously think about it.
For the majority of people, there probably isn't any need to worry about water intake at all… the thirst instinct is very reliable and has managed to keep us humans alive for a very long time (23).
There really is no actual science behind the 8×8 rule. It is completely arbitrary (24).
That being said, there are certain circumstances that may call for increased water intake… that is, more than simple thirst commands.
The most important one may be during times of increased sweating. This includes exercise, as well as hot weather (especially in a dry climate).
If you're sweating a lot, make sure to replenish the lost fluid with water. Athletes doing very long, intense exercises may also need to replenish electrolytes along with water.
Water need is also increased during breastfeeding, as well as several disease states like vomiting and diarrhea.
Older people may need to consciously watch their water intake, because some studies show that the thirst mechanisms can start to malfunction in old age (25).
Bottom Line: Most people don't need to consciously think about water intake, because the thirst mechanism in the brain is very effective. However, certain circumstances do call for increased intake.
How Much Water is Best?
At the end of the day, no one can tell you exactly how much water you need. As with most things, this depends on the individual.
Do some self experimentation … some people may function better with more water than usual, while for others it only causes the inconvenience of more frequent trips to the bathroom.
That being said, I am not sure if the small benefits of being "optimally" hydrated are even worth having to consciously think about it. Life is complicated enough as it is.
If you want to keep things simple (always a good idea), then these guidelines should apply to 90 percent of people:
When thirsty, drink.

When not thirsty anymore, stop.

During high heat and exercise, drink enough to compensate for the lost fluids.

That's it.
YOU MIGHT ALSO LIKE
6 Reasons Chia Seeds Should Be Part of Your Daily Diet
Why You Should Drink Apple Cider Vinegar Every Day
EcoWatch Daily Newsletter
Scanning electron micrograph of Yersinia pestis, which causes bubonic plague, on proventricular spines of a Xenopsylla cheopis flea. NIAID / Flickr /
CC BY 2.0
A middle-aged married couple in China was diagnosed with pneumonic plague, a highly infectious disease similar to bubonic plague, which ravaged Europe in the middle ages, as CNN reported.
Milk made from almonds, oats and coconut are among the healthiest alternatives to cow's milk. triocean / iStock / Getty Images Plus
Dairy aisles have exploded with milk and milk alternative options over the past few years, and choosing the healthiest milk isn't just about the fat content.
Whether you're looking beyond cow's milk for health reasons or dietary preferences or simply want to experiment with different options, you may wonder which type of milk is healthiest for you.
Greta Thunberg stands aboard the catamaran La Vagabonde as she sets sail to Europe in Hampton, Virginia, on Nov. 13. NICHOLAS KAMM / AFP via Getty Images
Greta Thunberg, the teenage climate activist whose weekly school strikes have spurred global demonstrations, has cut short her tour of the Americas and set sail for Europe to attend COP25 in Madrid next month, as The New York Times reported.
At least 1,688 dams across the U.S. are in such a hazardous condition that, if they fail, could force life-threatening floods on nearby homes, businesses, infrastructure or entire communities, according to an in-depth analysis of public records conducted by the the Associated Press.
By Sabrina Kessler
Far-reaching allegations about how a climate-sinning American multinational could shamelessly lie to the public about its wrongdoing mobilized a small group of New York students on a cold November morning. They stood in front of New York's Supreme Court last week to follow the unprecedented lawsuit against ExxonMobil.
By Alex Robinson
Leah Garcés used to hate poultry farmers.
The animal rights activist, who opposes factory farming, had an adversarial relationship with chicken farmers until around five years ago, when she sat down to listen to one. She met a poultry farmer called Craig Watts in rural North Carolina and learned that the problems stemming from factory farming extended beyond animal cruelty.
People navigate snow-covered sidewalks in the Humboldt Park neighborhood on Nov. 11 in Chicago. Scott Olson / Getty Images
Temperatures plunged rapidly across the U.S. this week and around 70 percent of the population is expected to experience temperatures around freezing Wednesday.
A general view of the flooded St. Mark's Square after an exceptional overnight "Alta Acqua" high tide water level, on Nov. 13 in Venice. MARCO BERTORELLO / AFP / Getty Images