This website uses cookies to ensure you get the best experience while browsing it. By clicking 'Got It' you're accepting these terms.
How Much Water Do You Use Each Day?
Feb. 06, 2015 10:42AM EST
Marketplace's Sustainability Desk Correspondent Scott Tong asked his listeners yesterday to "try to imagine a ticker, or counter, that tallies all your water use: every cup of coffee, every shower, every flush." Well that's what Tong did to find out his family's water footprint.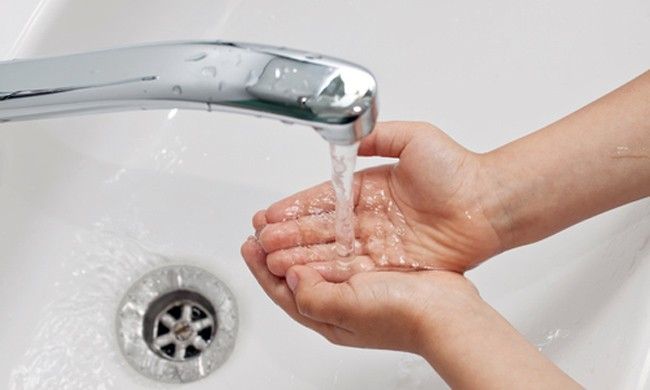 Photo credit: Shutterstock
But, before actually finding out how much water his family used each day, he decided to guess. He guessed 500 gallons for him, his wife and three children. He then solicited estimates via Twitter and Facebook to see what others thought a typical family of five consumed in water each day.
The median guess was 225 gallons a day with the lowest estimate at 30 and the highest at 5,000. Here's a tweet by Tong showing the responses:
Your guesses and mine -- here. @Marketplace pic.twitter.com/13Ror1c3h3

— Scott Tong (@tongscott) February 5, 2015
Tong did a little research for context before finding out his family's water usage and learned that the "United Nation's estimate for a bare minimum a person needs to drink, bathe and clean is 13 gallons a day."
He also discovered that Americans consume more water per capita than anyone else on the planet and as Stanford University's Newsha Ajami told Tong, American water is underpriced. According to the U.S. Environmental Protection Agency, the national average cost of water is $2 for 1,000 gallons.
This chart shows how the U.S. compares to other countries in domestic use of water and the tariff price in dollars per one thousand gallons: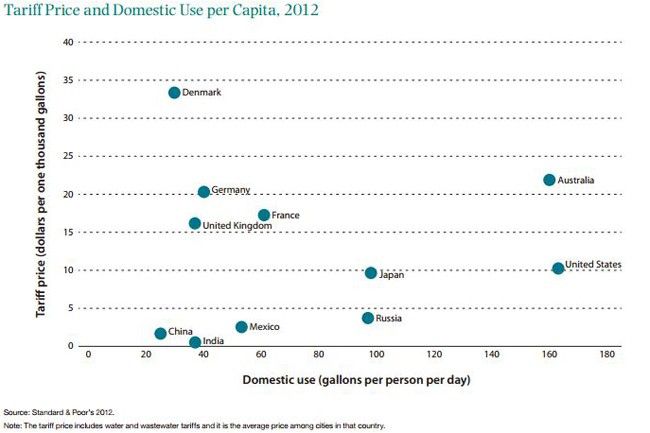 So how much water does the Tong family use on average per day? 310 gallons according to his house water meter. And as Tong said, "310 gallons. It's not bad for an American family of five. But it's a ton of water (1.15 tons, to be precise). And that one ton for one day costs $1.30. Put another way: It's about the price of one bottle of water."
Tong explores many other aspects of our water consumption in his Counting gallons: How much water do you use? segment. Listen here:
Want to calculate your water footprint? Check out the water footprint calculator on the GRACE Communications Foundation's website.
YOU MIGHT ALSO LIKE
8 Shocking Facts About Water Consumption
Can't Find Someone to Shower With to Reduce Your Water Usage? Try the Waterpebble
EcoWatch Daily Newsletter
Tuna auctions are a tourist spectacle in Tokyo. Outside the city's most famous fish market, long queues of visitors hoping for a glimpse of the action begin to form at 5 a.m. The attraction is so popular that last October the Tsukiji fish market, in operation since 1935, moved out from the city center to the district of Toyosu to cope with the crowds.

gmnicholas / E+ / Getty Images
Kristan Porter grew up in a fishing family in the fishing community of Cutler, Maine, where he says all roads lead to one career path: fishing. (Porter's father was the family's lone exception. He suffered from terrible seasickness, and so became a carpenter.) The 49-year-old, who has been working on boats since he was a kid and fishing on his own since 1991, says that the recent warming of Maine's cool coastal waters has yielded unprecedented lobster landings.
Aerial view of lava flows from the eruption of volcano Kilauea on Hawaii, May 2018. Frizi / iStock / Getty Images
Hawaii's Kilauea volcano could be gearing up for an eruption after a pond of water was discovered inside its summit crater for the first time in recorded history, according to the AP.
The Eqip Sermia Glacier is seen behind a moraine left exposed by the glacier's retreat during unseasonably warm weather on Aug. 1 at Eqip Sermia, Greenland. Sean Gallup / Getty Images
hadynyah / E+ / Getty Images
By Johnny Wood
The Ganges is a lifeline for the people of India, spiritually and economically. On its journey from the Himalayas to the Bay of Bengal, it supports fishermen, farmers and an abundance of wildlife.
The river and its tributaries touch the lives of roughly 500 million people. But having flowed for millennia, today it is reaching its capacity for human and industrial waste, while simultaneously being drained for agriculture and municipal use.
Here are some of the challenges the river faces.
By Jake Johnson
As a growing number of states move to pass laws that would criminalize pipeline protests and hit demonstrators with years in prison, an audio recording obtained by The Intercept showed a representative of a powerful oil and gas lobbying group bragging about the industry's success in crafting anti-protest legislation behind closed doors.
Reposted with permission from our media associate Common Dreams.

DESIREE MARTIN / AFP / Getty Images
Wildfires raging on Gran Canaria, the second most populous of Spain's Canary Islands, have forced around 9,000 people to evacuate.