This website uses cookies to ensure you get the best experience while browsing it. By clicking 'Got It' you're accepting these terms.
How Much Vitamin D Do You Need For Optimal Health?
Aug. 03, 2015 01:25PM EST
Health + Wellness
Vitamin D is absolutely essential for good health.
Also known as the sunshine vitamin, it is made in your skin when exposed to sunlight.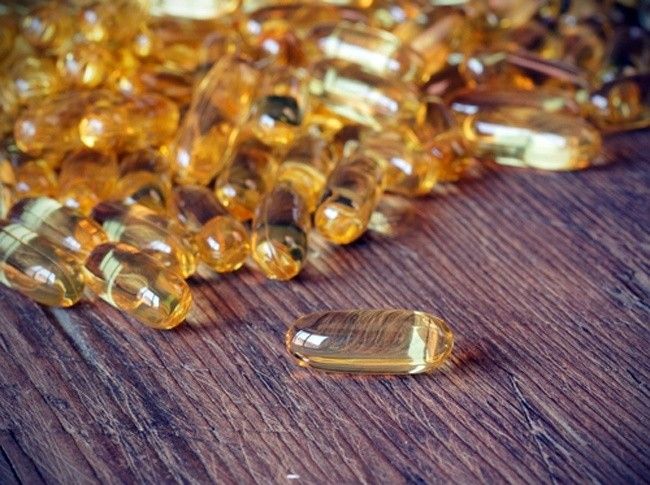 Foods that do contain vitamin D include fatty fish like salmon, as well as fish liver oils. Photo credit: Shutterstock
In spite of that, vitamin D deficiency is one of the most common nutrient deficiencies in the world.
Up to 42 percent of the adult population in the U.S. has low vitamin D levels, which can cause health problems (1, 2, 3, 4, 5).
Vitamin D is particularly important for bone health and immune system function.
This article discusses how much vitamin D you need.
What is Vitamin D?
Vitamin D is a fat-soluble vitamin that functions like a steroid hormone in the body.
There are two forms of vitamin D in the diet:
Vitamin D2 (ergocalciferol): found in some mushrooms.
Vitamin D3 (cholecalciferol): found in oily fish, fish liver oil and egg yolks.
D3 is the more powerful of the two types and raises blood levels of vitamin D almost twice as much as D2 (6, 7).
Large amounts of vitamin D can also be made in your skin when it is exposed to UV-rays from sunlight. Any excess vitamin D is stored in your body fat for later use.
Every cell in your body has a receptor for vitamin D. This vitamin is involved in many processes, including bone health, immune system function and protection against cancer (8, 9, 10, 11).
Bottom line: Vitamin D functions like a steroid hormone in your body. There are two forms in the diet, D2 and D3. It can also be produced in your skin when exposed to sunlight.
How Common is Vitamin D Deficiency?
Vitamin D deficiency is a problem all over the world.
However, it is especially common in young women, infants, the elderly and people who have dark skin (12, 13).
About 42 percent of the U.S. population is vitamin D deficient. However, this rate rises to 82 percent in African Americans and 70 percent in Hispanics (5).
If you have access to strong sun all year, then occasional sun exposure may be enough to fulfill your vitamin D requirements.
However, if you live far north or south of the equator then your vitamin D levels may fluctuate depending on the season. The levels may go down during the winter months, due to a lack of sufficient sunlight (14, 15, 16).
In that case, you need to rely on your diet (or supplements) for vitamin D, as well as on vitamin D that is stored in body fat during the summer (15).
In adults, a vitamin D deficiency may (17, 18, 19):
Cause muscle weakness.
Intensify bone loss.
Increase the risk of fractures.
In children, a severe vitamin D deficiency can cause delays in growth as well as rickets, a disease where the bones become soft.
Furthermore, vitamin D deficiency has been linked with several cancers, type 1 diabetes, multiple sclerosis, high blood pressure and thyroid problems (17, 20).
Bottom line: Vitamin D deficiency is very common worldwide, but occurs at higher rates in specific populations. A deficiency in vitamin D is linked to various health problems.
How Much Vitamin D Should You Take?
How much vitamin D you need depends on many factors. These include age, race, latitude, season, sun exposure, clothing and more.
Recommendations from the U.S. Institute of Medicine suggest that an average daily intake of 400–800 IU, or 10–20 micrograms, is adequate for 97.5 percent of individuals (21, 22).
However, some studies have shown that the daily intake needs to be higher than that if you aren't being exposed to sun.
Depending on who you ask, blood levels above 20 ng/ml or 30 ng/ml are considered as "sufficient."
One study of healthy adults showed that a daily intake of 1120–1680 IU was needed to maintain sufficient blood levels (23).
In the same study, individuals who were vitamin D deficient needed 5000 IU to reach blood levels above 30 ng/ml.
Studies in postmenopausal women with vitamin D levels below 20 ng/ml found that ingesting 800–2000 IU raised blood levels above 20 ng/ml. However, higher doses were needed to reach 30 ng/ml (24, 25).
Overweight or obese individuals may also need higher amounts of vitamin D (26, 27).
All things considered, a daily vitamin D intake of 1000–4000 IU, or 25–100 micrograms, should be enough to ensure optimal blood levels in most people.
4000 IU is the safe upper limit according to the Institute of Medicine (IOM). Make sure not to take more than that without consulting with a health professional.
Bottom line: Vitamin D intake is recommended at 400–800 IU/day, or 10–20 micrograms. However, some studies suggest that a higher daily intake of 1000–4000 IU (25–100 micrograms) is needed to maintain optimal blood levels.
What are the Optimal Blood Levels of Vitamin D?
Blood levels of vitamin D are assessed by measuring 25(OH)D in the blood, which is the storage form of vitamin D in the body (28).
However, there has been some debate over the definition of optimal blood levels.
The Institute of Medicine (IOM) and the Nordic Nutrition Council base their recommendations on the following blood levels (18, 21):
Sufficient: 25(OH)D > 20 ng/ml (> 50 nmol/l).
Insufficient: 25(OH)D <20 ng/ml (<50 nmol/l).
Deficient: 25(OH)D < 12 ng/ml (< 25 nmol/l).
These organizations claim that blood levels of over 20 ng/ml meet the vitamin D requirements of more than 97.5 percent of the population.
A committee at the IOM did not find higher blood levels to be associated with any additional health benefits (21).
However, other experts, including the Endocrine Society, recommend aiming for higher blood levels that are closer to 30 ng/ml (75 nmol/l) (17, 29, 30, 31).
Bottom line: Vitamin D levels are generally considered sufficient when above 20 ng/ml (50 nmol/l). However, some experts claim that blood levels above 30 ng/ml (75 nmol/l) are optimal.
What are the Main Sources of Vitamin D?
You can get vitamin D from:
Sun exposure.
Foods that contain vitamin D.
Supplements.
Vitamin D intake is generally quite low, since very few foods contain significant amounts (32).
Foods that do contain vitamin D include fatty fish like salmon, as well as fish liver oils.
Egg yolks also contain small amounts and in some countries milk and cereals are enriched with vitamin D (33).
However, supplements are available almost everywhere and there is a good selection of vitamin D3 supplements on Amazon.
Bottom line: The main sources of vitamin D are sunshine, fatty fish, egg yolks, fish liver oils, fortified foods and supplements.
Can We Get Enough Vitamin D from the Sun Alone?
Summer sun exposure is the best way to get enough vitamin D.
However, the amount of sunlight needed varies.
Older individuals and dark-skinned people produce less vitamin D in the skin.
Geographic location and season are very important, because vitamin D can't be produced year round in countries that are far from the equator.
Even though the sun may be shining, it is not necessarily strong enough to produce vitamin D.
Here are a few facts about vitamin D production in the sun:
In more than 70 countries that are positioned north of 35°N, no vitamin D is produced during the winter months (34, 35).
Further north, in countries like Norway (69°N), no vitamin D is produced from October until March (36).
Factors such as clothing, weather, pollution, sunscreen use, weight and genetics may also affect the body's ability to produce vitamin D.
In strong sun, exposing arms and legs for 5–30 minutes between 10 a.m. and 3 p.m. is usually enough to meet the daily requirements of most light-skinned people. People with darker skin may need a little more time (22).
One study showed that extended sun exposure during summer was enough to ensure excellent vitamin D levels during winter, regardless of vitamin D intake (37).
However, if you live far from the equator, you probably need to consume supplements or foods that contain vitamin D.
Bottom line: Vitamin D requirements can be met by sunshine alone during the summer. During the winter and for those living far from the equator, supplements may be needed.
How Much is Too Much?
Information about vitamin D overdose is outdated and toxicity is extremely rare.
It is associated with dangerously high amounts of calcium and phosphates in the blood, along with low levels of parathyroid hormone.
This is typically only seen in individuals who have accidentally or intentionally taken extremely high doses of vitamin D for long periods of time, such as 50,000–1 million IU/day for months (38, 39).
The upper level of harmless intake is set at 4000 IU, or 100 micrograms, per day.
However, up to 10,000 IU per day has not been shown to cause harm to healthy individuals (21).
That being said, very few people actually need more than 4000 IU a day (40).
A study of 17,000 people taking varying doses of vitamin D, up to 20,000 IU/day, did not demonstrate any signs of toxicity. Their blood levels were still lower than the upper range of normal, which is 100 ng/ml, or 250 nmol/l (26).
Also, it is not possible to overdose on vitamin D from sunlight.
Keep in mind that although large doses are unlikely to cause harm or toxicity, they may be completely unnecessary.
Bottom line: The recommended upper intake level of vitamin D is 4000 IU/day. However, even higher dosages have been shown to be safe in some studies.
Take Home Message
Vitamin D is essential for bone health and many other aspects of health.
A deficiency is incredibly common and may have severe health consequences for many people.
If you're thinking about adding more vitamin D to your diet, consider the following factors:
If you live somewhere where there is sun year-round, then you may not need extra vitamin D as long as you make sure to get enough sun.
If you do not have access to the sun, then vitamin D3 supplements of 1000–4000 IU (25–100 micrograms) should be enough for most people.
The only way to know if you actually need to take a vitamin D supplement is to have your blood levels measured.
At the end of the day, vitamin D is highly important. Correcting a deficiency is simple, cheap and can have immense health benefits.
This article was reposted from our media associate Authority Nutrition.
YOU MIGHT ALSO LIKE
7 Nutrients You Can't Get From Plant-Based Foods
Why Eating Bugs Will Soon Become the New Normal
EcoWatch Daily Newsletter
A glacier is seen in the Kenai Mountains on Sept. 6, near Primrose, Alaska. Scientists from the U.S. Geological Survey have been studying the glaciers in the area since 1966 and their studies show that the warming climate has resulted in sustained glacial mass loss as melting outpaced the accumulation of new snow and ice. Joe Raedle / Getty Images
By Mark Mancini
On Aug. 18, Iceland held a funeral for the first glacier lost to climate change. The deceased party was Okjökull, a historic body of ice that covered 14.6 square miles (38 square kilometers) in the Icelandic Highlands at the turn of the 20th century. But its glory days are long gone. In 2014, having dwindled to less than 1/15 its former size, Okjökull lost its status as an official glacier.
Members of Chicago Democratic Socialists of America table at the Logan Square Farmers Market on Aug. 18. Alex Schwartz
By Alex Schwartz
Among the many vendors at the Logan Square Farmers Market on Aug. 18 sat three young people peddling neither organic vegetables, gourmet cheese nor handmade crafts. Instead, they offered liberation from capitalism.
Hackney primary school students went to the Town Hall on May 24 in London after school to protest about the climate emergency. Jenny Matthews / In Pictures / Getty Images
Bird watching in the U.S. may be a lot harder than it once was, since bird populations are dropping off in droves, according to a new study.
Amazon CEO Jeff Bezos announces the co-founding of The Climate Pledge at the National Press Club on Sept. 19 in Washington, DC. Paul Morigi / Getty Images for Amazon
The day before over 1,500 Amazon.com employees planned a walkout to participate in today's global climate strike, CEO Jeff Bezos unveiled a sweeping plan for the retail and media giant to be carbon neutral by 2040, 10 years ahead of the Paris agreement schedule.
For the past seven years, the Anishinaabe people have been facing the largest tar sands pipeline project in North America. We still are. In these dying moments of the fossil fuel industry, Water Protectors stand, prepared for yet another battle for the water, wild rice and future of all. We face Enbridge, the largest pipeline company in North America, and the third largest corporation in Canada. We face it unafraid and eyes wide open, for indeed we see the future.
The climate crisis often intensifies systems of oppression. Rieko Honma / Stone / Getty Images Plus
By Mara Dolan
We see the effects of the climate crisis all around us in hurricanes, droughts, wildfires, and rising sea levels, but our proximity to these things, and how deeply our lives are changed by them, are not the same for everyone. Frontline groups have been leading the fight for environmental and climate justice for centuries and understand the critical connections between the climate crisis and racial justice, economic justice, migrant justice, and gender justice. Our personal experiences with climate change are shaped by our experiences with race, gender, and class, as the climate crisis often intensifies these systems of oppression.