This website uses cookies to ensure you get the best experience while browsing it. By clicking 'Got It' you're accepting these terms.
How Much Sodium Is Too Much?
Mar. 07, 2014 10:09AM EST
While you might hear the words salt and sodium used interchangeably, there is a difference between the two. Salt is a combination of two minerals, sodium (40 percent) and chloride.
In a recent post highlighting seven foods that experts once said were bad that turned out to be healthy, we are reminded that sodium is, in fact, essential to health. It is necessary for good digestion, it supports thyroid function, controls muscle and nerve function, regulates water balance and helps metabolize food. Unrefined salt like raw sea salt can contain dozens of trace minerals. In fact, salt was once so valuable that it was literally used as currency.
Reaching for the salt shaker for another shake? Might not be a bad idea? Well first consider this: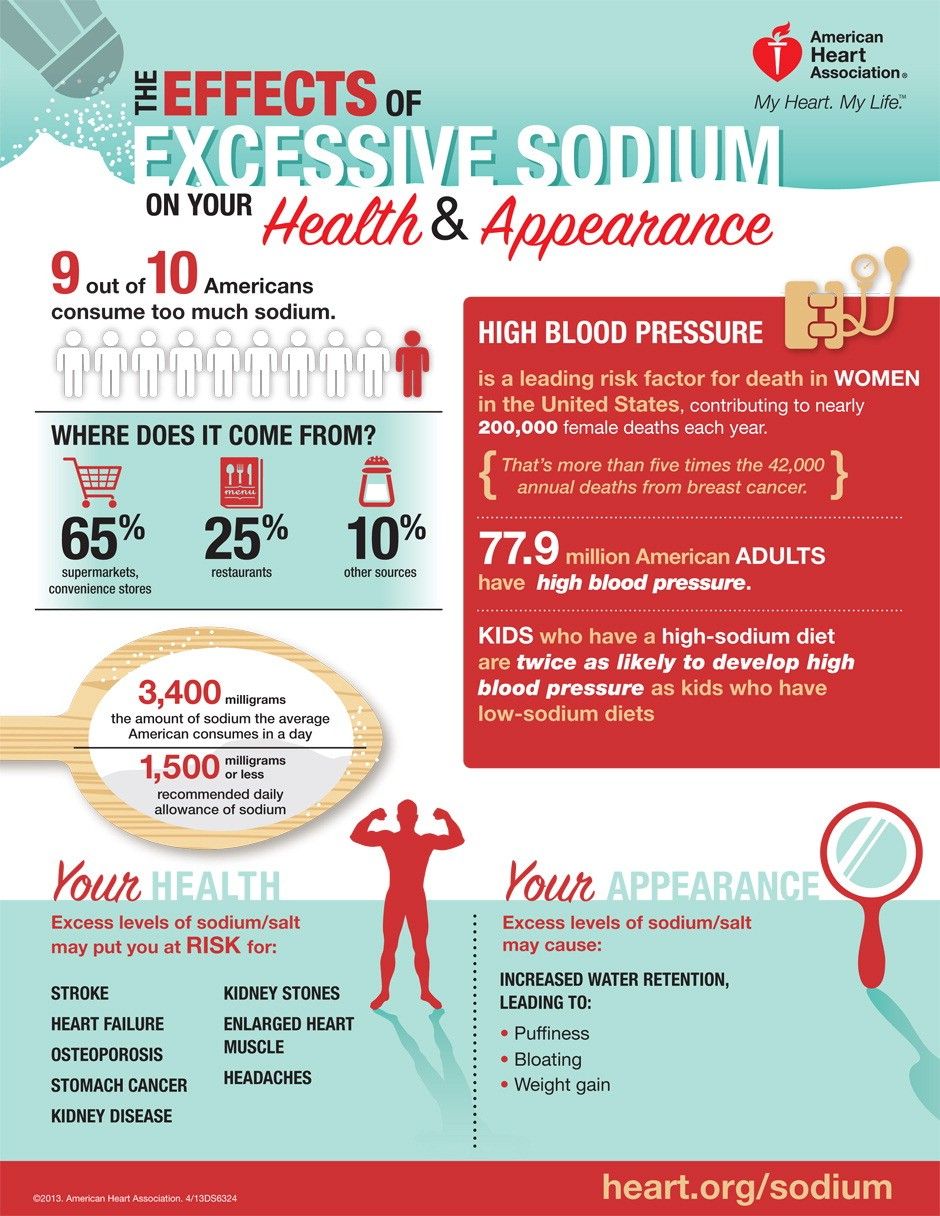 Think that your sodium intake is low because you don't add a lot of salt when you cook? Well sodium is hidden in lots of foods. While it might not be news to you that a fast food sandwich can easily contain more than 100 percent of the sodium you need in a day, it might surprise you to find out the top 10 sources of sodium in the diet. In fact, 44 percent of the sodium we eat comes from just these 10 types of food.
According to the Centers for Disease Control and Prevention (CDC), the top sources of sodium in the diet include:
Breads and rolls
Cold cuts and cured meats
Pizza
Poultry
Soups
Sandwiches
Cheese
Pasta dishes
Meat dishes
Snacks
In addition, sodium is included in one's diet in surprising ways. For instance, most store-bought raw chicken and pork has been injected with a sodium solution to add weight and moisture. Think that's odd? It's a fact. But check out these 7 salty myths: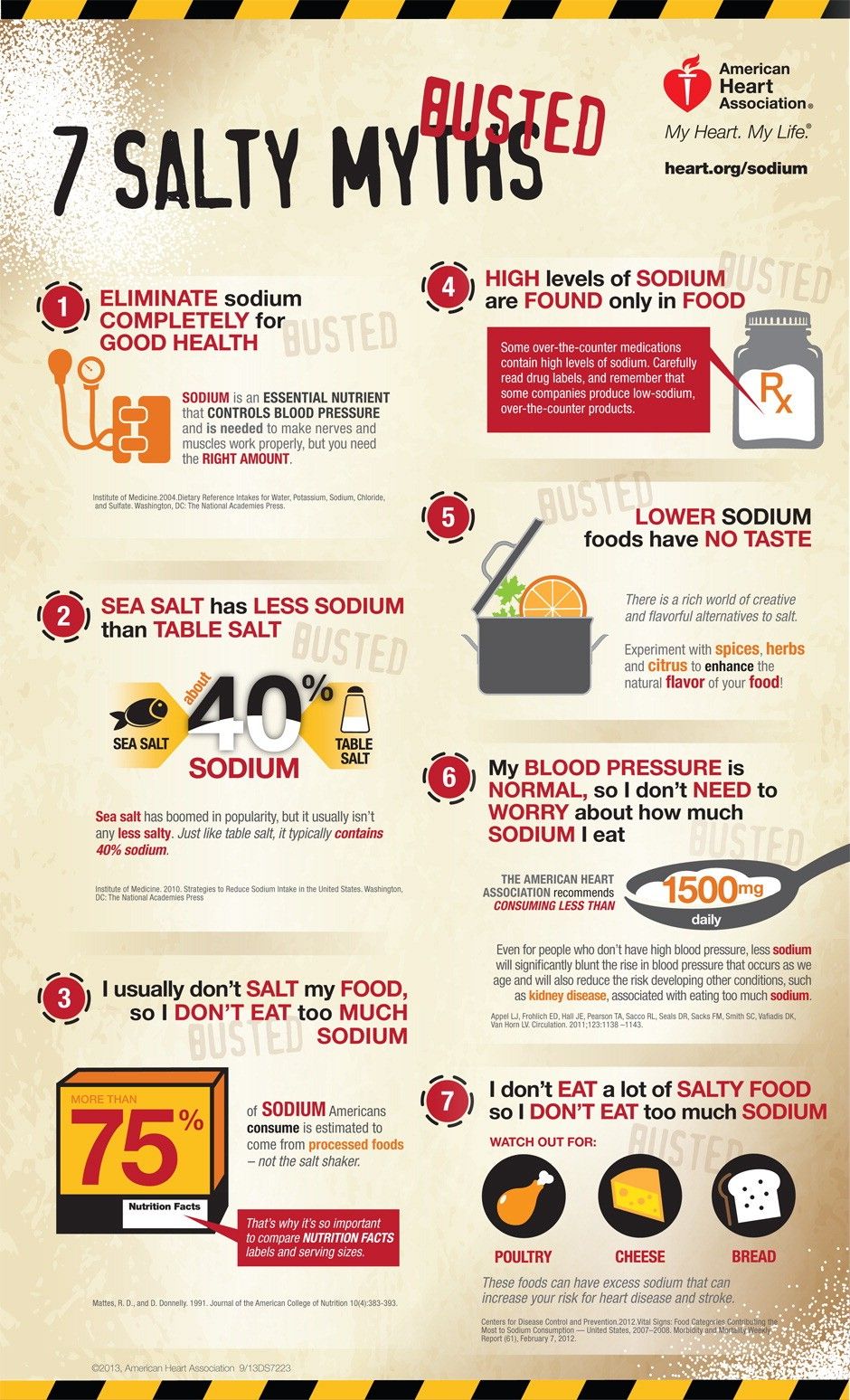 So, what's the right amount?
The CDC offers current dietary guidelines for American adults in which less than 2,300 mg of sodium is consumed per day.
However, the CDC adds, if you are in the following population groups, you should consume no more than 1,500 mg of sodium per day:
51 years of age or older
African American
Have high blood pressure
Have diabetes
Have chronic kidney disease
Four years ago, the American Heart Association (AHA) lowered its suggested daily sodium intake from 2,300 mg a day to less than 1,500 mg a day. With this reduction, the AHA estimates a savings of more than $426 billion in healthcare costs and a 25.6 percent decrease in high blood pressure across the population.
As far as a sodium deficiency, it's rare. Only people involved in vigorous exercise in hot environments need to be concerned about replacing sodium lost through perspiration.
Need some pointers, hints and tricks to track, monitor or reduce your sodium intake?
AHA sodium tracker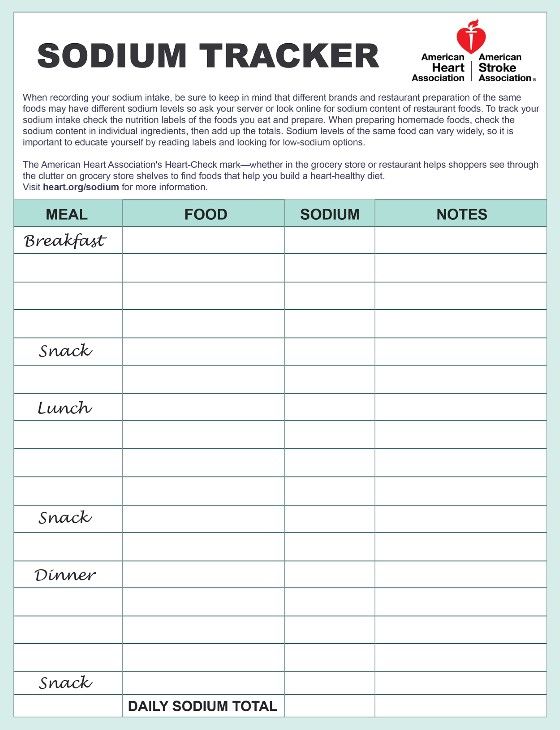 How much sodium is in salt?
1/4 teaspoon salt = 600 mg sodium
1/2 teaspoon salt = 1,200 mg sodium
3/4 teaspoon salt = 1,800 mg sodium
1 teaspoon salt = 2,300 mg sodium
1 teaspoon baking soda = 1000 mg sodium
Change your salty ways in 21 days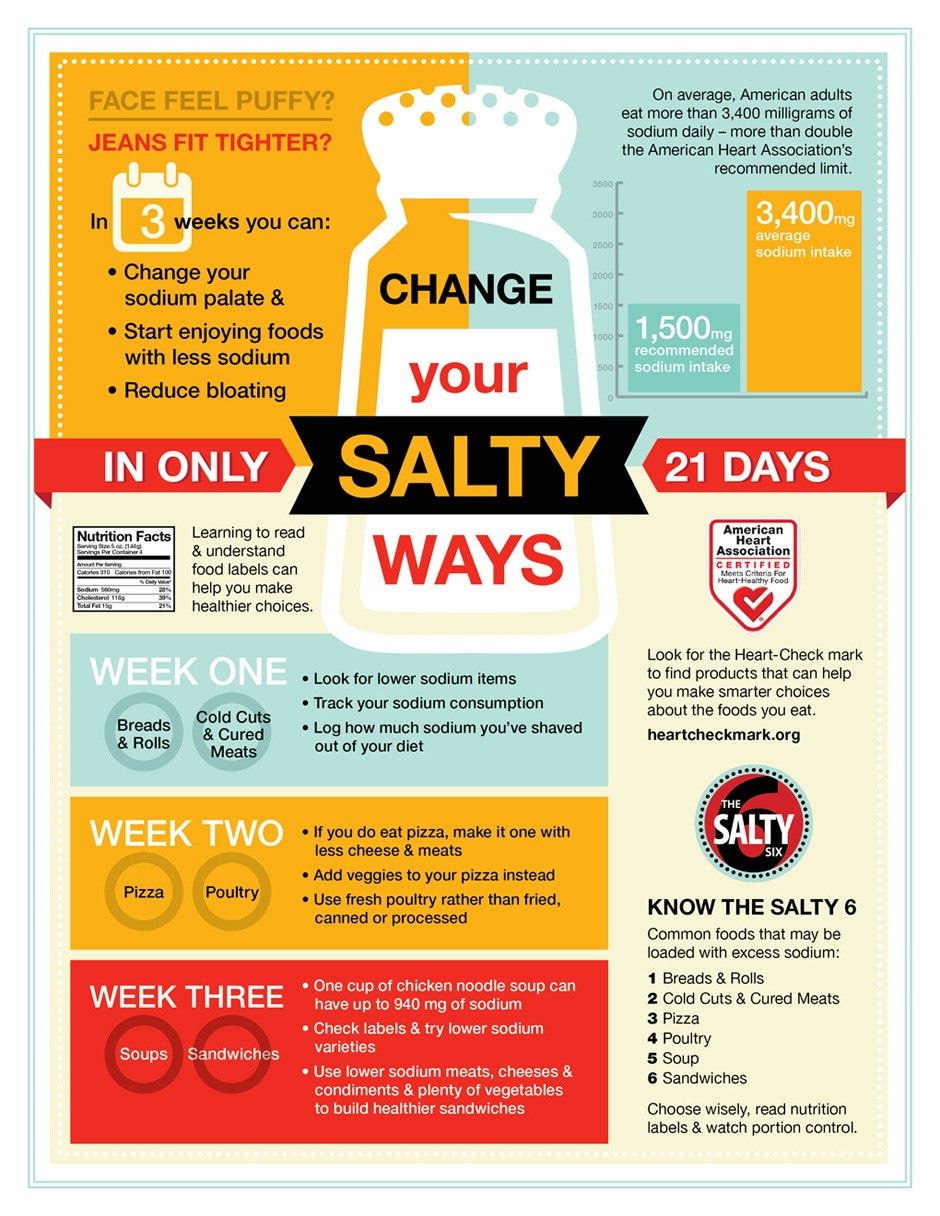 More tips from AHA
Don't forget to check the nutrition labels on prepared and packaged foods, because up to 75 percent of the sodium we consume is hidden in processed foods. Watch for the words "soda" and "sodium" and the symbol "Na" on labels, which mean sodium compounds are present.
If you're going to eat pizza, try a cheeseless pizza with lots of veggies.
Use fresh, skinless poultry that isn't enhanced with sodium solution instead of fried or processed chicken.
When choosing soup, try lower-sodium varieties.
Make your sandwiches with lower-sodium meats and low-fat, low sodium cheeses, and try not to pile on the condiments.
Choose foods with potassium to counter the effects of sodium. It may help lower your blood pressure.
That last point, choosing foods high in potassium, is important. The CDC also encourages the consumption of potassium-rich foods, such as fruits and vegetables. Dr. Oz contributor Daniel Heller, ND, reinforces that eating more potassium is just as important as reducing sodium: 
The two minerals are like the two sides of a seesaw, or like yin and yang. They balance each other out. Many of the negative effects of excess sodium can also be traced to insufficient potassium. While cutting back on sodium chloride, we should also be eating more fruits and vegetables, which are rich sources of potassium bicarbonate.
EcoWatch Daily Newsletter
Large food companies are following in the footsteps of fast-food restaurants such as Burger King and KFC by offering meat alternatives. Getty Images
By Elizabeth Pratt
Hormel, Kellogg's, and Kroger are among the large companies now planning to offer "fake meat" products at grocery stores.
Experts say the trend toward plant-based meats coincides with consumers' desires to eat less meat.
However, experts urge consumers to closely check package labels as a product isn't necessarily healthy just because it's described as plant-based.
In grocery stores and fast-food outlets around the U.S., a revolution is taking place.
Colombia rainforest. Marcel Oosterwijk / CC BY-SA 2.0
Many of us think of the Amazon as an untouched wilderness, but people have been thriving in these diverse environments for millennia. Due to this long history, the knowledge that Indigenous and forest communities pass between generations about plants, animals and forest ecology is incredibly rich and detailed and easily dwarfs that of any expert.
picture-alliance / Newscom / R. Ben Ari
By Wesley Rahn
Plastic byproducts were found in 97 percent of blood and urine samples from 2,500 children tested between 2014 and 2017, according to a study by the German Environment Ministry and the Robert Koch Institute.

Pexels
Medically reviewed by Daniel Bubnis, MS, NASM-CPT, NASE Level II-CSS
Hot yoga has become a popular exercise in recent years. It offers many of the same benefits as traditional yoga, such as stress reduction, improved strength, and flexibility.
Lara Hata / iStock / Getty Images
By SaVanna Shoemaker, MS, RDN, LD
Rice is a staple in many people's diets. It's filling, inexpensive, and a great mild-tasting addition to flavorful dishes.
An image of the trans-alaskan oil pipeline that carries oil from the northern part of Alaska all the way to valdez. This shot is right near the arctic national wildlife refuge. kyletperry / iStock / Getty Images Plus
The Trump administration has initialized the final steps to open up nearly 1.6 million acres of the protected Alaskan National Wildlife Refuge to allow oil and gas drilling.