This website uses cookies to ensure you get the best experience while browsing it. By clicking 'Got It' you're accepting these terms.
How Much Sodium Is Too Much?
Mar. 07, 2014 10:09AM EST
While you might hear the words salt and sodium used interchangeably, there is a difference between the two. Salt is a combination of two minerals, sodium (40 percent) and chloride.
In a recent post highlighting seven foods that experts once said were bad that turned out to be healthy, we are reminded that sodium is, in fact, essential to health. It is necessary for good digestion, it supports thyroid function, controls muscle and nerve function, regulates water balance and helps metabolize food. Unrefined salt like raw sea salt can contain dozens of trace minerals. In fact, salt was once so valuable that it was literally used as currency.
Reaching for the salt shaker for another shake? Might not be a bad idea? Well first consider this: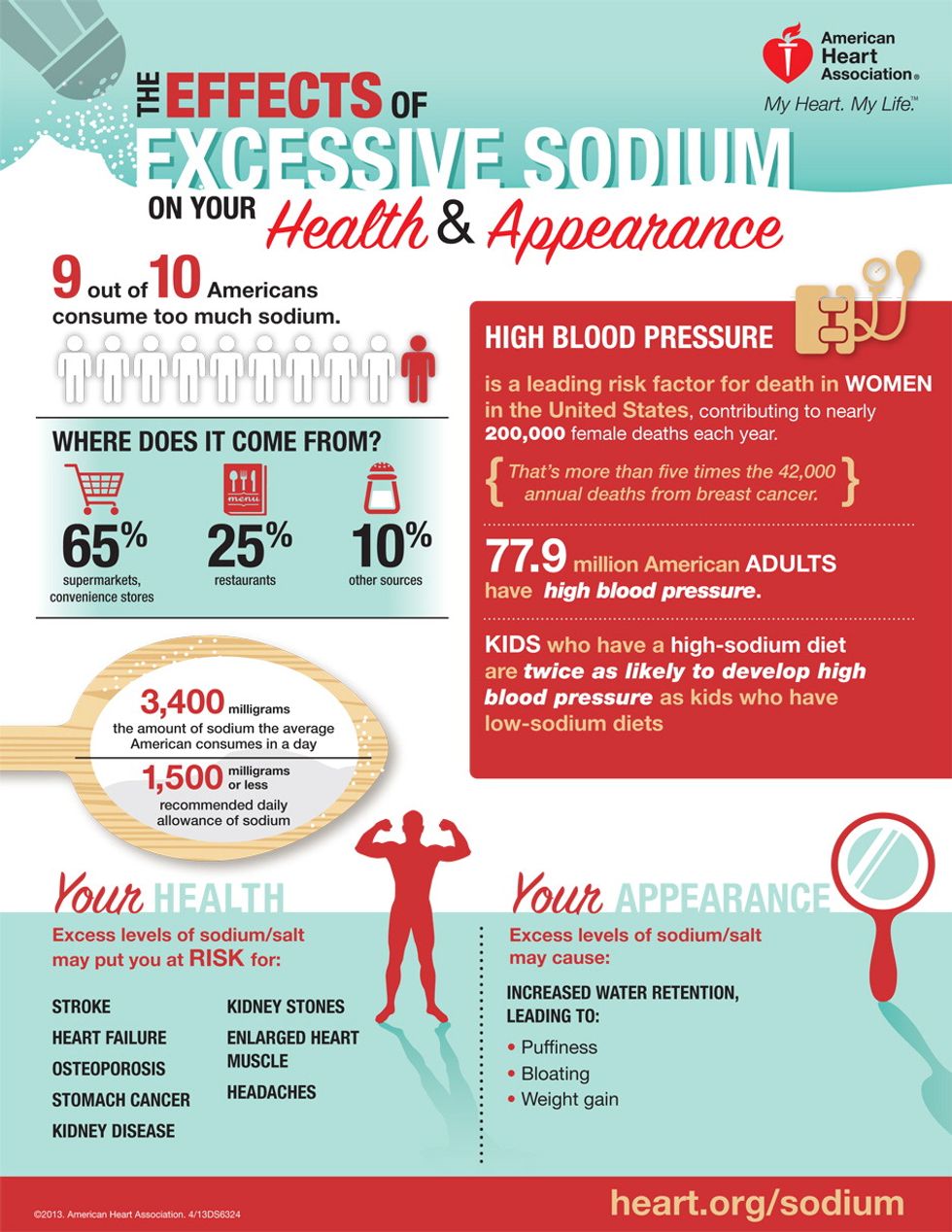 Think that your sodium intake is low because you don't add a lot of salt when you cook? Well sodium is hidden in lots of foods. While it might not be news to you that a fast food sandwich can easily contain more than 100 percent of the sodium you need in a day, it might surprise you to find out the top 10 sources of sodium in the diet. In fact, 44 percent of the sodium we eat comes from just these 10 types of food.
According to the Centers for Disease Control and Prevention (CDC), the top sources of sodium in the diet include:
Breads and rolls
Cold cuts and cured meats
Pizza
Poultry
Soups
Sandwiches
Cheese
Pasta dishes
Meat dishes
Snacks
In addition, sodium is included in one's diet in surprising ways. For instance, most store-bought raw chicken and pork has been injected with a sodium solution to add weight and moisture. Think that's odd? It's a fact. But check out these 7 salty myths: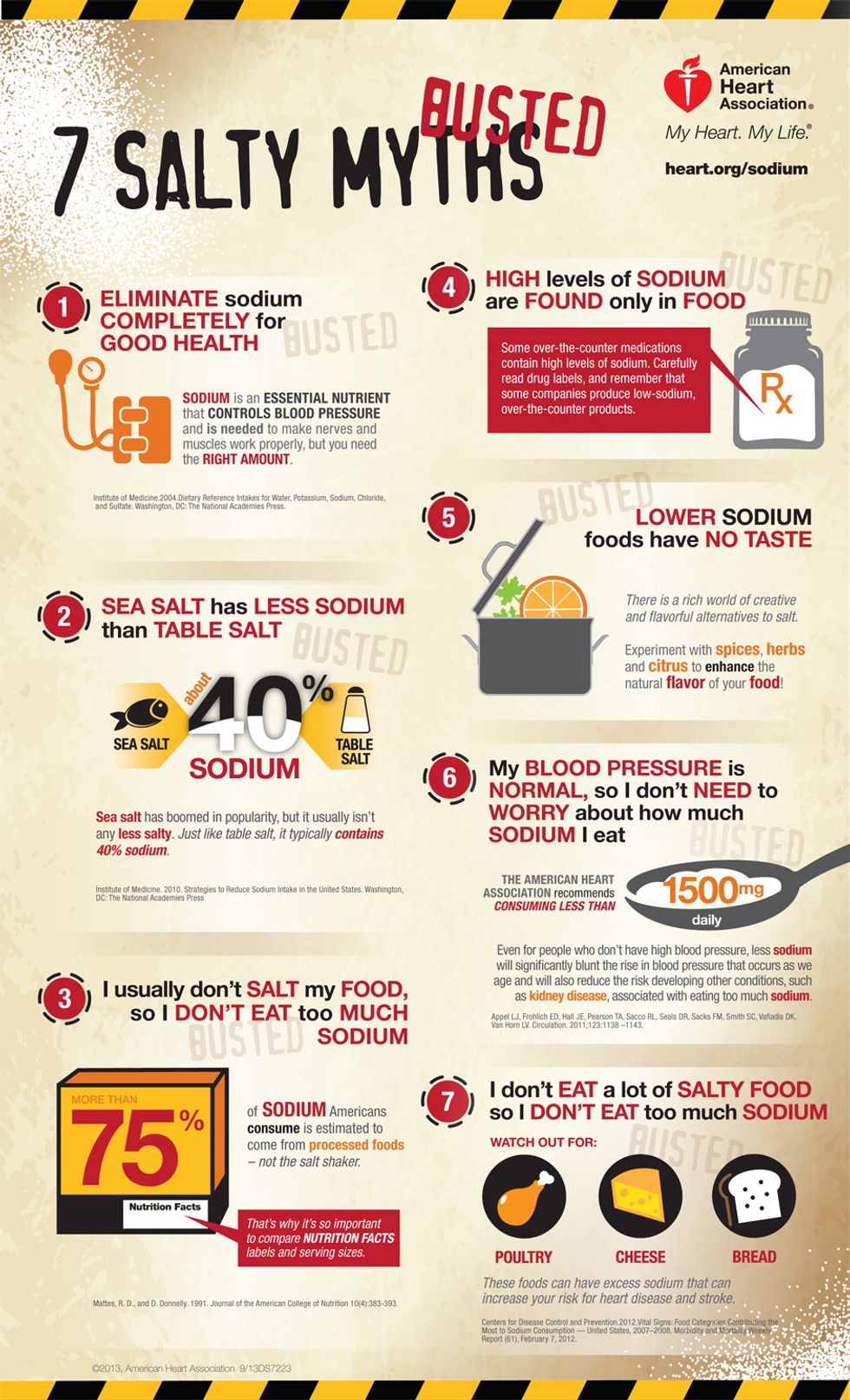 So, what's the right amount?
The CDC offers current dietary guidelines for American adults in which less than 2,300 mg of sodium is consumed per day.
However, the CDC adds, if you are in the following population groups, you should consume no more than 1,500 mg of sodium per day:
51 years of age or older
African American
Have high blood pressure
Have diabetes
Have chronic kidney disease
Four years ago, the American Heart Association (AHA) lowered its suggested daily sodium intake from 2,300 mg a day to less than 1,500 mg a day. With this reduction, the AHA estimates a savings of more than $426 billion in healthcare costs and a 25.6 percent decrease in high blood pressure across the population.
As far as a sodium deficiency, it's rare. Only people involved in vigorous exercise in hot environments need to be concerned about replacing sodium lost through perspiration.
Need some pointers, hints and tricks to track, monitor or reduce your sodium intake?
AHA sodium tracker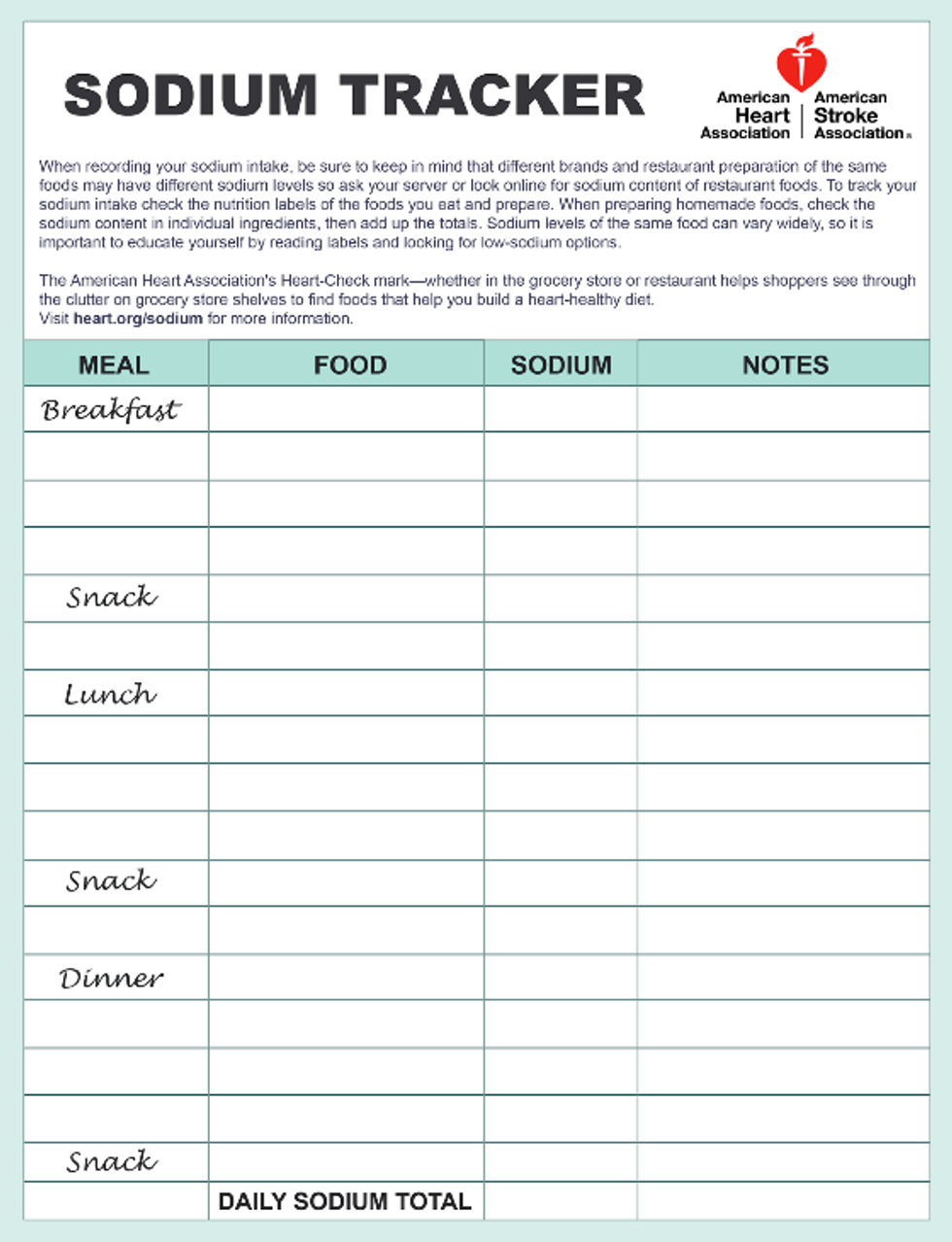 How much sodium is in salt?
1/4 teaspoon salt = 600 mg sodium
1/2 teaspoon salt = 1,200 mg sodium
3/4 teaspoon salt = 1,800 mg sodium
1 teaspoon salt = 2,300 mg sodium
1 teaspoon baking soda = 1000 mg sodium
Change your salty ways in 21 days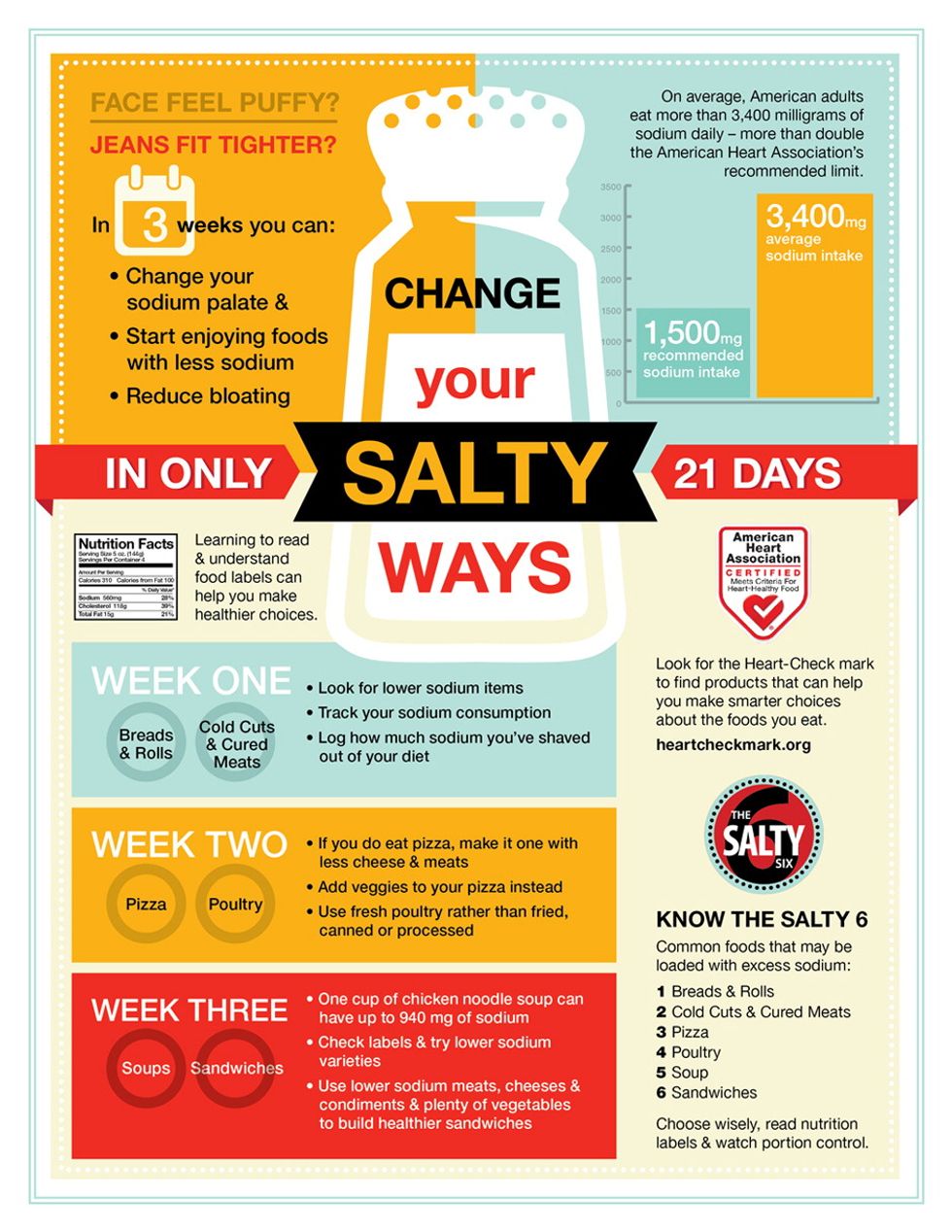 More tips from AHA
Don't forget to check the nutrition labels on prepared and packaged foods, because up to 75 percent of the sodium we consume is hidden in processed foods. Watch for the words "soda" and "sodium" and the symbol "Na" on labels, which mean sodium compounds are present.
If you're going to eat pizza, try a cheeseless pizza with lots of veggies.
Use fresh, skinless poultry that isn't enhanced with sodium solution instead of fried or processed chicken.
When choosing soup, try lower-sodium varieties.
Make your sandwiches with lower-sodium meats and low-fat, low sodium cheeses, and try not to pile on the condiments.
Choose foods with potassium to counter the effects of sodium. It may help lower your blood pressure.
That last point, choosing foods high in potassium, is important. The CDC also encourages the consumption of potassium-rich foods, such as fruits and vegetables. Dr. Oz contributor Daniel Heller, ND, reinforces that eating more potassium is just as important as reducing sodium: 
The two minerals are like the two sides of a seesaw, or like yin and yang. They balance each other out. Many of the negative effects of excess sodium can also be traced to insufficient potassium. While cutting back on sodium chloride, we should also be eating more fruits and vegetables, which are rich sources of potassium bicarbonate.
EcoWatch Daily Newsletter
New pine trees grow from the forest floor along the North Fork of the Flathead River on the western boundary of Glacier National Park on Sept. 16, 2019 near West Glacier, Montana. Chip Somodevilla / Getty Images
Household actions lead to changes in collective behavior and are an essential part of social movements. Pixabay /
Pexels
Talk is cheap, says the acting executive secretary of the United Nations Convention on Biological Diversity, who begged governments around the world to make sure that 2020 is not another year of conferences and empty promises, but instead is the year to take decisive action to stop the mass extinction of wildlife and the destruction of habitat-sustaining ecosystems, as The Guardian reported.
The people of Kiribati have been under pressure to relocate due to sea level rise. A young woman wades through the salty sea water that flooded her way home on Sept. 29, 2015. Jonas Gratzer / LightRocket via Getty Images
Refugees fleeing the impending effects of the climate crisis cannot be forced to return home, according to a new decision by the United Nations Human Rights Committee, as CNN reported. The new decision could open up a massive wave of legal claims by displaced people around the world.
The first day of the Strike WEF march on Davos on Jan. 18, 2020 near Davos, Switzerland. The activists want climate justice and think the WEF is for the world's richest and political elite only. Kristian Buus / In Pictures via Getty Images
By Ashutosh Pandey
Teenage climate activist Greta Thunberg is returning to the Swiss ski resort of Davos for the 2020 World Economic Forum with a strong and clear message: put an end to the fossil fuel "madness."