This website uses cookies to ensure you get the best experience while browsing it. By clicking 'Got It' you're accepting these terms.
How Much Money Can You Save By Switching to an Electric Car?
Aug. 06, 2014 07:11AM EST
University of California at Davis' Plug-in Hybrid & Electric Vehicle Research Center has just released a great tool for finding out how much you could save by switching from a gasoline vehicle to an electric vehicle.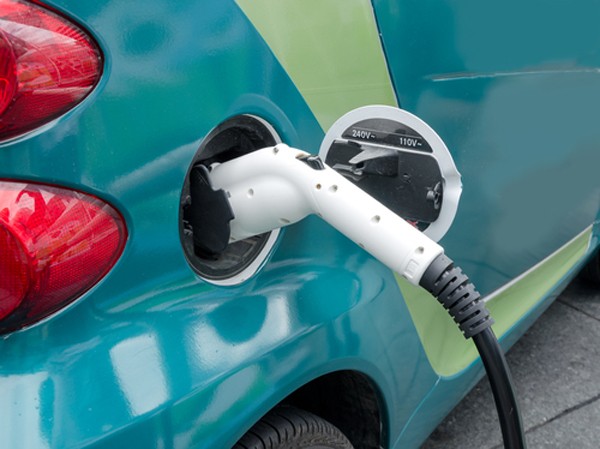 Photo credit: Shutterstock
Enter addresses into the "EV Explorer" and the tool will simulate the fuel costs for up to four vehicles. The vehicles can be changed to include your current daily driver and you have the option to enter the local price for gasoline and electricity. Another useful feature is the ability to test the increase in range and fuel savings when charging at your destination. This might be a good way for existing EV owners to explain the benefits of workplace charging to businesses considering offering a place for employees to plug in.
The EV Explorer website from UC Davis lets you find the savings in swapping your gasoline commute vehicle for an electric vehicle.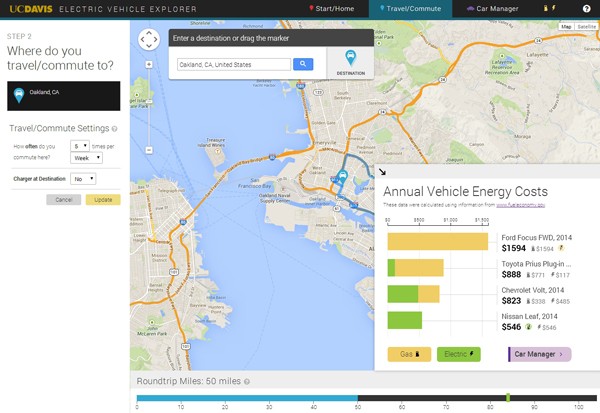 Of course, there are other considerations to buying an EV, like home charging availability, but this tool can be a quick way to see how much money different EVs could save you on your commute.
I ran an example using the tool for a daily commute between Dublin, CA and Oakland, CA, a round trip of 50 miles, and found electric cars like the Nissan Leaf, Toyota Plug-in Prius Chevy Volt could save you between $700 and $1,000 each year compared to a 2014 Ford Focus.
Check out the tool to estimate how much you could save on your commute by switching to electric.
You Might Also Like
Top 10 States Leading the U.S. in Solar Energy Growth
Ohio Utilities Take Renewable Energy Fight to State Supreme Court
IPCC: Renewables, Not Nuclear Power, Can Solve Climate Crisis
KarinaKnyspel / iStock / Getty Images
2018 saw a number of studies pointing to the outsized climate impact of meat consumption. Beef has long been singled out as particularly unsustainable: Cows both release the greenhouse gas methane into the atmosphere because of their digestive processes and require a lot of land area to raise. But for those unwilling to give up the taste and texture of a steak or burger, could lab-grown meat be a climate-friendly alternative? In a first-of-its-kind study, researchers from the Oxford Martin School set out to answer that question.
Three scissor-tailed flycatcher fledglings in a mesquite tree in Texas. Texas Eagle / CC BY-NC 2.0
By Gary Paul Nabhan
President Trump has declared a national emergency to fund a wall along our nation's southern border. The border wall issue has bitterly divided people across the U.S., becoming a vivid symbol of political deadlock.
PeopleImages / E+ / Getty Images
By Daniel Ross
Hurricane Florence, which battered the U.S. East Coast last September, left a trail of ruin and destruction estimated to cost between $17 billion and $22 billion. Some of the damage was all too visible—smashed homes and livelihoods. But other damage was less so, like the long-term environmental impacts in North Carolina from hog waste that spilled out over large open-air lagoons saturated in the rains.
Hog waste can contain potentially dangerous pathogens, pharmaceuticals and chemicals. According to the state's Department of Environmental Quality, as of early October nearly 100 such lagoons were damaged, breached or were very close to being so, the effluent from which can seep into waterways and drinking water supplies.
This picture taken on May 21, 2018 shows discarded climbing equipment and rubbish scattered around Camp 4 of Mount Everest. Decades of commercial mountaineering have turned Mount Everest into the world's highest rubbish dump as an increasing number of big-spending climbers pay little attention to the ugly footprint they leave behind. DOMA SHERPA / AFP / Getty Images
China has closed its Everest base camp to tourists because of a buildup of trash on the world's tallest mountain.