This website uses cookies to ensure you get the best experience while browsing it. By clicking 'Got It' you're accepting these terms.
How Monsanto Gained Huge Control of the World's Food Supply
Jun. 08, 2015 11:27AM EST
The Undercurrent, an online news site that bills itself as the antidote to the mainstream media's five-second soundbite, made a five-minute video explaining how Monsanto came to have such a huge control over our food system. In this clever, satirical video, Dan Graetz of The Undercurrent explains that "nothing kills those bloody weeds better than Roundup from Monsanto—the famous makers of Joni Mitchell's favorite DDT, Agent Orange, which, aside from the occasional birth defect did a great job of destroying the rice fields during the Vietnam War, the cow-swelling bovine growth hormone and PCBs, everyone's favorite carcinogenic environmental pollutant."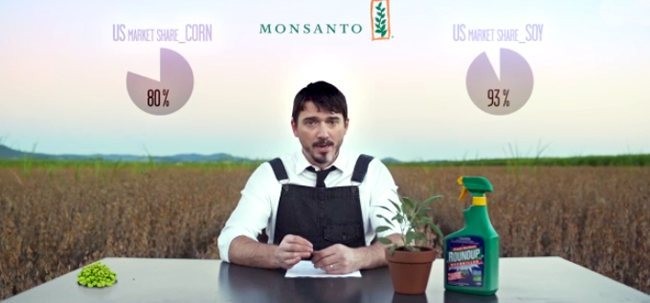 "But with the revolutionary key ingredient in Roundup glyphosate, the folks at Monsanto have added not just enormous profits to their bottom line, but also the word 'probably' in front of the word 'carcinogenic,'" says Graetz. He's referring to the World Health Organization's (WHO) recent report which found that glyphosate is "probably carcinogenic," which Monsanto vehemently demanded the WHO retract.
Just how much power does Monsanto wield? Well, they control 80 percent of the U.S. corn market and 93 percent of the U.S. soy market, according to Graetz. So, it comes as no surprise that the National Corn Growers Association and the American Soybean Association are going to bat for them. These two trade organizations issued a statement last week that they are worried the WHO review of glyphosate and its soon-to-be released review of 2,4-D might create "confusion" about two weed killers that have been "mainstays for farmers for decades."
Graetz says:
At this point you might be wondering "how is this allowed to happen? How are farmers okay with this?" Two things real quick: market forces and political influence. Now, I know what your thinking: "Big Business controls politics. Tell us something we don't know." But the example I am about to give you is an absolute doozy.
Watch to find out:
YOU MIGHT ALSO LIKE
Don't Be Fooled by Yesterday's Headlines, EPA Finds Fracking Contaminates Drinking Water
Big Ag Claims Cancer-Causing Glyphosate No More Dangerous Than 'Coffee or Working the Night Shift'
7 Ways Your Grocery List Can Be a Ballot for Positive Change
The Russian military is taking measures to protect the residents of a remote Arctic settlement from a mass of polar bears, German press agency DPA reported.
The move comes after regional authorities declared a state of emergency over the weekend after sightings of more than 50 bears in the town of Belushya Guba since December.
This year's letter from Bill and Melinda Gates focused on nine things that surprised them. For the Microsoft-cofounder, one thing he was surprised to learn was the massive amount of new buildings the planet should expect in the coming decades due to urban population growth.
"The number of buildings in the world is going to double by 2060. It's like we're going to build a new New York City every month for the next 40 years," he said.
Over the past few years, it seems vegan cooking has gone from 'brown rice and tofu' to a true art form. These amazing cooks show off the creations on Instagram—and we can't get enough.
The USS Ashland, followed by the USS Green Bay, in the Philippine Sea on Jan. 21. U.S. Department of Defense
By Shana Udvardy
After a dearth of action on climate change and a record year of extreme events in 2017, the inclusion of climate change policies within the annual legislation Congress considers to outline its defense spending priorities (the National Defense Authorization Act) for fiscal year 2018 was welcome progress. House and Senate leaders pushed to include language that mandated that the Department of Defense (DoD) incorporate climate change in their facility planning (see more on what this section of the bill does here and here) as well as issue a report on the impacts of climate change on military installations. Unfortunately, what DoD produced fell far short of what was mandated.
The Paradise Fossil Plant in western Kentucky. CC BY 3.0
Trump is losing his rallying cry to save coal. The Tennessee Valley Authority (TVA) voted on Thursday to retire two coal-fired power plants in the next few years despite a plea from the president to keep one of the plants open.
Earlier this week, the president posted an oddly specific tweet that urged the government-owned utility to save the 49-year-old Paradise 3 plant in Kentucky. It so happens that the facility burns coal supplied by Murray Energy Corporation, whose CEO is Robert Murray, is a major Trump donor.