This website uses cookies to ensure you get the best experience while browsing it. By clicking 'Got It' you're accepting these terms.
How Melting Antarctic Glacier Will Make These 14 Coastal U.S. Attractions Look
May. 15, 2014 11:12AM EST
Armed with new data from the University of California Irvine and NASA, Climate Central highlighted previously released data and images this week to show how an unstoppable melting Antarctic glacier will impact the U.S.
The rapidly melting section of the West Antarctic Ice Sheet is expected to lead to at least 4 feet of global, sea-level rise over the next two-plus centuries, and at least 10 feet thereafter. Climate Central gave artist Nickolay Lamm some of its data related to rising sea levels with the idea of him reenacting famous scenes from U.S. cities under the premise of a 12-foot-or-more rise.
The organization republished those "photorealistic" scenes a day after the Cal-NASA report. They which include Venice Beach, Harvard University's campus and other famous, coastal locations that would be at risk if the research were to hold true.
[slideshow_deploy id='351602']
Climate Central also released a slew of interactive maps and data this week indicating which cities and regions of the U.S. would be most impacted following the rise. The organization estimates that we could lose 28,800 square miles of land, which is home to about 12.3 million people today.
Panning and zooming on the map below allows you to explore sea level and coastal flood risks across the U.S. Submergence and sea-level risk maps for eight states are also available.
Based on 2012 data from Climate Central, more than half the area of 40 large cities is less than 10 feet above the high-tide line. Twenty-seven of those cities are in Florida. About 85 percent of all current housing in Florida's Miami-Dade and Broward counties is below the critical line, making each county more threatened than any other entire state other than Florida, Ben Strauss writes.
"Each [county] sits on bedrock filled with holes, rendering defense by seawalls or levees almost impossible," according to Strauss.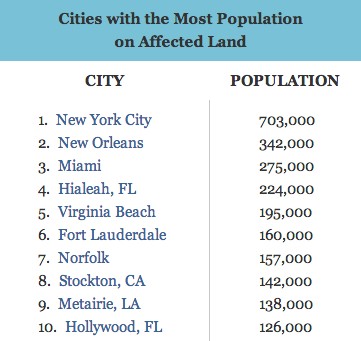 With a low-lying population of more than 700,000, New York City is by far the most-threatened city among those with the most people living on land less than 10 feet above the high-tide line. The value of threatened property in New York and New Jersey is more than $300 billion.
Affected land in Florida contains more than 32,000 miles of road and $950 billion of property. Examine maps and potential impacts of various cities by clicking here.
——–
YOU ALSO MIGHT LIKE
Melting Antarctic Glacier Unstoppable, Global Sea Level Could Rise by 4 Feet
Student Activist Implores World to 'Raise Your Voice, Not the Sea Level' in UNEP Competition-Winning Video
How High Will Sea Levels Rise?
——–
AleksandarNakic / Getty Images
By Kate Murphy
No matter the time of year, there's always a point in each season when my skin decides to cause me issues. While these skin issues can vary, I find the most common issues to be dryness, acne and redness.

David Woodfall / The Image Bank / Getty Images
By Sam Nickerson
The U.S. Environmental Protection Agency (EPA) in April 2018 proposed relaxing standards related to how it assesses the effects of exposure to low levels of toxic chemicals on public health.
Now, correspondence obtained by the LA Times revealed just how deeply involved industry lobbyists and a controversial, industry-funded toxicologist were in drafting the federal agency's proposal to scrap its current, protective approach to regulating toxin exposure.
Steve Irwin poses with a three foot long alligator at the San Francisco Zoo on June 26, 2002. Justin Sullivan / Getty Images
February 22 is the birthday of conservationist and beloved TV personality "Crocodile Hunter" Steve Irwin, who would have been 57 years old today.
Irwin's life was tragically cut short when the barb from a stingray went through his chest while he was filming in 2006, but his legacy of loving and protecting wildlife lives on, most recently in a Google Doodle today honoring his birthday.
Left: Youtube / Screenshot, Right: alle12 / Getty Images
By Dan Nosowitz
That video showed the extrusion of a bubblegum-pink substance oozing into a coiled pile, something between Play-Doh, sausage and soft-serve strawberry ice cream. Branded "pink slime"—the name came from an email sent by a USDA microbiologist in 2002—this stuff was actually beef, destined for supermarkets and fast-food burgers.
Climate activist Greta Thunberg addresses the European Commission on Feb. 21 in Brussels, Belgium. Sylvain Lefevre / Getty Images
By Julia Conley
Sixteen-year-old climate action leader Greta Thunberg stood alongside European Commission President Jean-Claude Juncker Thursday in Brussels as he indicated—after weeks of climate strikes around the world inspired by the Swedish teenager—that the European Union has heard the demands of young people and pledged a quarter of $1 trillion budget over the next seven years to address the crisis of a rapidly heating planet.

In the financial period beginning in 2021, Juncker said, the EU will devote a quarter of its budget to solving the crisis.