How Melting Antarctic Glacier Will Make These 14 Coastal U.S. Attractions Look
Armed with new data from the University of California Irvine and NASA, Climate Central highlighted previously released data and images this week to show how an unstoppable melting Antarctic glacier will impact the U.S.
The rapidly melting section of the West Antarctic Ice Sheet is expected to lead to at least 4 feet of global, sea-level rise over the next two-plus centuries, and at least 10 feet thereafter. Climate Central gave artist Nickolay Lamm some of its data related to rising sea levels with the idea of him reenacting famous scenes from U.S. cities under the premise of a 12-foot-or-more rise.
The organization republished those "photorealistic" scenes a day after the Cal-NASA report. They which include Venice Beach, Harvard University's campus and other famous, coastal locations that would be at risk if the research were to hold true.
[slideshow_deploy id='351602']
Climate Central also released a slew of interactive maps and data this week indicating which cities and regions of the U.S. would be most impacted following the rise. The organization estimates that we could lose 28,800 square miles of land, which is home to about 12.3 million people today.
Panning and zooming on the map below allows you to explore sea level and coastal flood risks across the U.S. Submergence and sea-level risk maps for eight states are also available.
Based on 2012 data from Climate Central, more than half the area of 40 large cities is less than 10 feet above the high-tide line. Twenty-seven of those cities are in Florida. About 85 percent of all current housing in Florida's Miami-Dade and Broward counties is below the critical line, making each county more threatened than any other entire state other than Florida, Ben Strauss writes.
"Each [county] sits on bedrock filled with holes, rendering defense by seawalls or levees almost impossible," according to Strauss.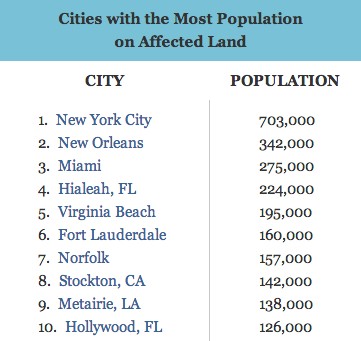 With a low-lying population of more than 700,000, New York City is by far the most-threatened city among those with the most people living on land less than 10 feet above the high-tide line. The value of threatened property in New York and New Jersey is more than $300 billion.
Affected land in Florida contains more than 32,000 miles of road and $950 billion of property. Examine maps and potential impacts of various cities by clicking here.
——–
YOU ALSO MIGHT LIKE
Melting Antarctic Glacier Unstoppable, Global Sea Level Could Rise by 4 Feet
Student Activist Implores World to 'Raise Your Voice, Not the Sea Level' in UNEP Competition-Winning Video
How High Will Sea Levels Rise?
——–
www.elysee.fr
By Andy Rowell
There is a growing feeling within European capitals that a quiet, but deeply positive, revolution is happening under Emmanuel Macron in France.
Macron's opinion poll rating is high, especially boosted in how the young French president has reacted to Donald Trump on the international stage.
Keep reading...
Show less
www.facebook.com
Keep reading...
Show less
Keep reading...
Show less
www.youtube.com
According to Bloomberg, "SeaWorld Entertainment Inc. received a subpoena earlier this month from regulators investigating disclosures and public statements by executives, including comments about the Blackfish documentary that caused a public backlash against the confinement of orcas.
Keep reading...
Show less
By Mary Mazzoni
In 2013, shoppers were reacquainted with the tragic story of their clothing when a massive factory collapse claimed the lives of more than 1,100 Bangladeshi garment workers.
The nonprofit Fashion Revolution, formed in response to that disaster, continues to track the apparel industry's progress on environmental stewardship and human rights. But four years later, big brands are still not doing enough to disclose their efforts to customers, the organization concluded in a recent report.
Keep reading...
Show less
Hawaii Renewable Energy Alliance
The latest issue of the U.S. Energy Information's "Electric Power Monthly" (with data through April 30) reveals that—for the first time since the beginning of the nuclear era—renewable energy sources (i.e., biomass, geothermal, hydropower, solar—inc. small-scale PV, wind) are now providing a greater share of the nation's electrical generation than nuclear power.
Keep reading...
Show less
www.youtube.com
Check out this great 360° virtual reality video by NowThis on the world's largest indoor vertical farm, AeroFarms. Located in Newark, New Jersey, AeroFarms grows more than 2 million pounds of greens a year without sunlight, soil or pesticides.
As reported by EcoWatch in July 2105, the $30 million, 70,000-square-foot AeroFarms headquarters dwarfs Japan's (already impressive) 25,000-square-foot vertical indoor farm, which had been the world's largest until now.
www.facebook.com
"There's no such thing as clean coal," according to this ATTN: video.
Watch above as ATTN: explains the many hazards of coal beyond carbon emissions, that no matter what there's no reviving the coal industry and how investment in renewable energy is the best way forward.
Share this video if you think America needs real energy solutions.
Wikipedia
By Franziska Spritzler, RD, CDE
Boosting your metabolic rate can help you lose body fat. However, most "fat-burning" supplements on the market are either unsafe, ineffective or both.
Fortunately, several natural foods and beverages have been shown to increase your metabolism and promote fat loss.
Keep reading...
Show less


Get EcoWatch in your inbox