How Melting Antarctic Glacier Will Make These 14 Coastal U.S. Attractions Look
Armed with new data from the University of California Irvine and NASA, Climate Central highlighted previously released data and images this week to show how an unstoppable melting Antarctic glacier will impact the U.S.
The rapidly melting section of the West Antarctic Ice Sheet is expected to lead to at least 4 feet of global, sea-level rise over the next two-plus centuries, and at least 10 feet thereafter. Climate Central gave artist Nickolay Lamm some of its data related to rising sea levels with the idea of him reenacting famous scenes from U.S. cities under the premise of a 12-foot-or-more rise.
The organization republished those "photorealistic" scenes a day after the Cal-NASA report. They which include Venice Beach, Harvard University's campus and other famous, coastal locations that would be at risk if the research were to hold true.
[slideshow_deploy id='351602']
Climate Central also released a slew of interactive maps and data this week indicating which cities and regions of the U.S. would be most impacted following the rise. The organization estimates that we could lose 28,800 square miles of land, which is home to about 12.3 million people today.
Panning and zooming on the map below allows you to explore sea level and coastal flood risks across the U.S. Submergence and sea-level risk maps for eight states are also available.
Based on 2012 data from Climate Central, more than half the area of 40 large cities is less than 10 feet above the high-tide line. Twenty-seven of those cities are in Florida. About 85 percent of all current housing in Florida's Miami-Dade and Broward counties is below the critical line, making each county more threatened than any other entire state other than Florida, Ben Strauss writes.
"Each [county] sits on bedrock filled with holes, rendering defense by seawalls or levees almost impossible," according to Strauss.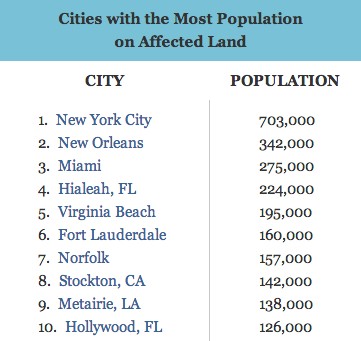 With a low-lying population of more than 700,000, New York City is by far the most-threatened city among those with the most people living on land less than 10 feet above the high-tide line. The value of threatened property in New York and New Jersey is more than $300 billion.
Affected land in Florida contains more than 32,000 miles of road and $950 billion of property. Examine maps and potential impacts of various cities by clicking here.
——–
YOU ALSO MIGHT LIKE
Melting Antarctic Glacier Unstoppable, Global Sea Level Could Rise by 4 Feet
Student Activist Implores World to 'Raise Your Voice, Not the Sea Level' in UNEP Competition-Winning Video
How High Will Sea Levels Rise?
——–
College of the Atlantic / Flickr
Sierra magazine, the national magazine of the Sierra Club, released on Tuesday its eleventh annual "Cool Schools" ranking of North America's greenest colleges and universities.
Sierra received complete surveys from a record-breaking 227 schools—in 36 states, the District of Columbia, and for the first time ever, Canada.
Keep reading...
Show less
Oil in the Niger Delta. Amnesty International Canada
By Andy Rowell
The decades-long struggle for social and environmental justice in the Niger Delta continues, largely unseen by the wider world.
On Aug. 11, hundreds of people from the Niger Delta stormed the Belema flow station gas plant owned by Shell in the Rivers State region of the Delta. The plant transports crude oil to the Bonny Light export terminal, from where it is shipped overseas.
Keep reading...
Show less
Rainforest Action Network / Flickr

The National Academy of Sciences, Engineering and Medicine said in a statement the Interior Department has directed it to cease its study on the potential health risks for people living near surface coal mines in Central Appalachia.
The Interior Department, which committed more than $1 million to the study last year, has begun an agency-wide review of grants over $100,000 because of the "Department's changing budget situation."
Keep reading...
Show less
California Energy Commission
California and North Carolina's electricity grids faced no disruptions during Monday's solar eclipse, which many saw as a test for the future when solar power will command a greater share of the energy mix.
"It bodes well for renewable energy on the grid during an event like this," said Eric Schmitt, a vice-president at California Independent System Operator that delivers most of the state's electricity.
Keep reading...
Show less
Bob Wick / Bureau of Land Management
Keep reading...
Show less
www.youtube.com
Are you ready to watch the Great American Eclipse of 2017? Will you be in the path of totality? Do you have your safety glasses ready?
Well, however you decide to watch the solar eclipse today, NASA TV will be showing the "Eclipse Across America" with live video of the celestial event. The feed is already live with lots of handy information about today's unprecedented eclipse. So be sure to watch above.
Enjoy!
Energy
Aug. 21, 2017 08:43AM EST
www.youtube.com
"One out of three Americans lives within 50 miles of high-level nuclear waste, some of which, like Plutonium, is lethally dangerous and will be around for an incredible longtime," John Oliver explained last night on Last Week Tonight.
According to the Nuclear Energy Institute, there is more than 71,000 tons of nuclear waste stranded at 104 reactors. "It was a problem we should have solved in the 1980s," Oliver said, "much like a Rubik's Cube."
Despite years of using nuclear energy, the country still doesn't have a permanent facility for its storage, the comedian said. Oliver proposed what the U.S. really needs is some kind of "nuclear toilet."
Watch above.
Popular
Aug. 21, 2017 10:55AM EST
C: Gage Skidmore
By Andy Rowell
As Trump's presidency spirals like a toxic vortex from one crisis to another, and with the global news media reacting to one venomous tweet after another, it is easy to miss the slow assault against science and the environment that continues below the radar.
The crisis for Trump could get a whole lot worse, with his ex-Chief of Staff, Steve Bannon, who was sacked last week, promising that he was "prepared to go to war with his adversaries in the White House."
Keep reading...
Show less