This website uses cookies to ensure you get the best experience while browsing it. By clicking 'Got It' you're accepting these terms.
How Megacities Have Taken Over the Planet
Oct. 07, 2014 12:47PM EST
With more and more of the world's population moving into urban centers, the number of such areas with more than 10 million people has exploded in the last quarter century.
In 1990 there were only 10 of these "megacities," with about seven percent of the global population. Now there are 28, according to the UN report on World Urbanization. The total number of people living in megacities has grown from 153 million to 453 million during that period, says the UN report. About 12 percent of the world's population lives in one, while 54 percent lives in an urban area, expected to grow to 66 percent by 2050. By 2030, the world is projected to have 41 such megacities.
Of those 28 megacities, sixteen are in Asia, four are in Latin America, three each are in Africa and Europe, and two are in Northern America. Tokyo leads the list with more than 38 million people living in its metro area. Delhi is a distant second with 25 million. However, the population of Tokyo is projected to shrink somewhat while Delhi is expected to grow rapidly until the two cities are nearly equal in population. Shanghai, Mexico City, Sao Paolo and Osaka follow with over 20 million apiece. Beijing has almost 20 million.
Meanwhile, the rural population is expected to shrink. It's currently at 3.4 billion and is expected to decline to 3.1 billion by 2050. And a majority of Earth's 3.9 million urban residents live in smaller cities, although many of those are among the fastest growing.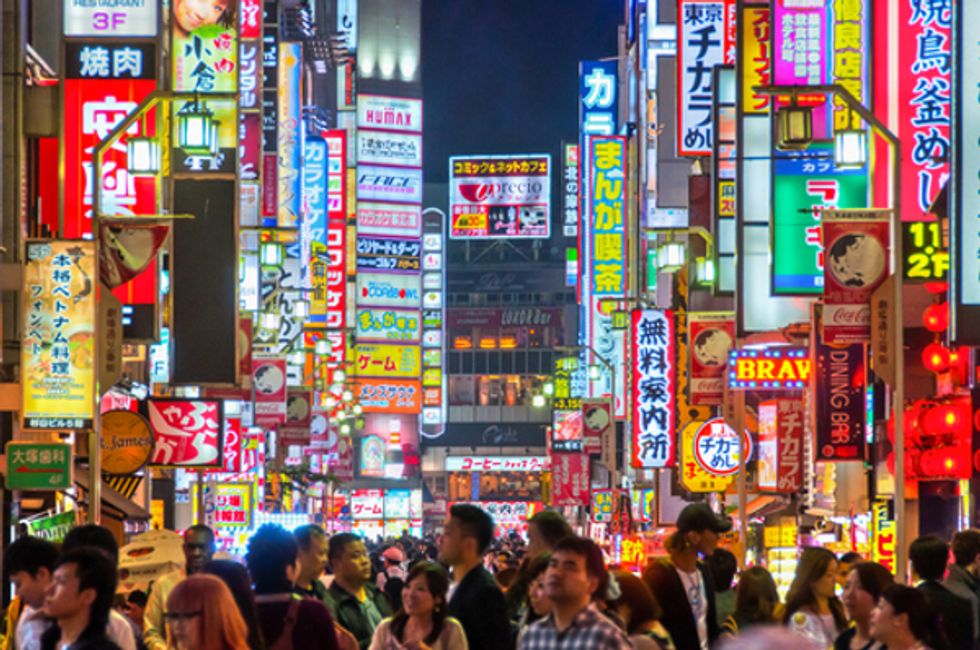 Photo credit: Shutterstock
This urbanization has some positive implications for the environment and climate change. The report emphasizes that a urban planning will be essential for economic and human development, with attention to issues like health care, education, public transportation, housing, electricity, water and sanitation. It says that providing such services for a for a dense urban population is typically cheaper and less environmentally damaging than providing such services to a dispersed rural population.
"Managing urban areas has become one of the most important development challenges of the 21st century,"said John Wilmoth, director of UN Department of Economic and Social Affairs Population Division. "Our success or failure in building sustainable cities will be a major factor in the success of the post-2015 UN development agenda."
YOU MIGHT ALSO LIKE
World Population to Hit 12 Billion in 2100, New Study Predicts
China Bulldozes Mountains to Expand Cities
EcoWatch Daily Newsletter
Pro-environment demonstrators on the streets of Washington, DC during the Jan. 20, 2017 Trump inauguration.
Mobilus In Mobili
/ Flickr /
CC BY-SA 2.0
By Dr. Brian R. Shmaefsky
One year after the Flint Water Crisis I was invited to participate in a water rights session at a conference hosted by the US Human Rights Network in Austin, Texas in 2015. The reason I was at the conference was to promote efforts by the American Association for the Advancement of Science (AAAS) to encourage scientists to shine a light on how science intersects with human rights, in the U.S. as well as in the context of international development. My plan was to sit at an information booth and share my stories about water quality projects I spearheaded in communities in Bangladesh, Colombia, and the Philippines. I did not expect to be thrown into conversations that made me reexamine how scientists use their knowledge as a public good.
Mt. Rainier and Reflection Lake on Sept. 10, 2015. Crystal Geyser planned to open a bottling plant near Mt. Rainier, emails show.
louelke - on and off / Flickr
Bottled water manufacturers looking to capture cool, mountain water from Washington's Cascade Mountains may have to look elsewhere after the state senate passed a bill banning new water permits, as The Guardian reported.
Large storage tank of Ammonia at a fertilizer plant in Cubatão, Sao Paulo State, Brazil. Luis Veiga / The Image Bank / Getty Images
The shipping industry is coming to grips with its egregious carbon footprint, as it has an outsized contribution to greenhouse gas emissions and to the dumping of chemicals into open seas. Already, the global shipping industry contributes about 2 percent of global carbon emissions, about the same as Germany, as the BBC reported.
At high tide, people are forced off parts of the pathway surrounding DC's Tidal Basin. Andrew Bossi /
Wikimedia
The Jefferson Memorial in Washington, DC overlooks the Tidal Basin, a man-made body of water surrounded by cherry trees. Visitors can stroll along the water's edge, gazing up at the stately monument.
But at high tide, people are forced off parts of the path. Twice a day, the Tidal Basin floods and water spills onto the walkway.
Lioness displays teeth during light rainstorm in Kruger National Park, South Africa. johan63 / iStock / Getty Images
Ahead of government negotiations scheduled for next week on a global plan to address the biodiversity crisis, 23 former foreign ministers from various countries released a statement on Tuesday urging world leaders to act "boldly" to protect nature.