This website uses cookies to ensure you get the best experience while browsing it. By clicking 'Got It' you're accepting these terms.
How Improving Local Economy Could Solve Africa's Wildlife Poaching Problem
Jun. 26, 2014 03:01PM EST
Entering Kenya's Maasai Mara Reserve, as I did last March, is like driving up the loading ramp of Noah's Ark. Within minutes, you'll see zebra, giraffe, wildebeest and herds of antelope. There will be a pride of lions lounging yards away from your safari vehicle. Conga lines of elephants will file past you, looking as if they just trundled out of the first day of creation.
But this Eden of animals only appears untouched. Just beyond the sanctuary gate lies a patchwork of shantytowns and farmland that you rarely see on National Geographic specials. And although it may not look like a war zone, this place is a frontline in Africa's escalating war against the animals that it peacefully coexisted with for centuries.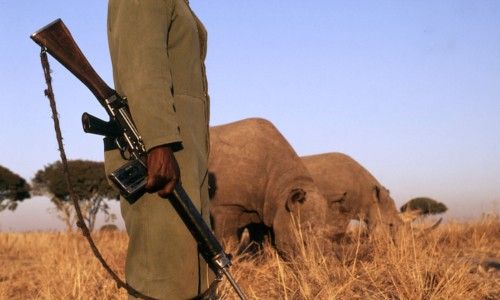 A new report suggests that peace can be restored—but only if two things happen. First, African governments must get serious about tackling their poaching problem. Second, the ecotourism industry, which has historically benefited only a few, must be transformed so that its profits reach a larger segment of the population, winning allies for wildlife from among Africa's villagers, who often clash with the animals. Those clashes have been increasing, and unless we can find a way to for humans and animals to live in peace, the prospects for Africa's wildlife won't be bright.
Rural Africans are not to blame. There are a lot more of them around than ever before, so conflict is inevitable. As human population soars, the animals, which once roamed unfettered across Africa's vast savannas and trackless rainforests, are being squeezed into a handful of game reserves. When the creatures stray out of their protected islands into newly settled areas—which still contain the water holes and migration routes that their ancestors used—trouble ensues.
Elephants trample crops, lions kill sheep and cattle, wildebeest and zebra compete with domesticated herds for precious grass and water. Rural Africans retaliate by poisoning the big cats, shooting the elephants and plundering antelope and other ungulates for bushmeat. That is the part of the war where a truce is still possible. If the animals can be induced to stay where they belong, and the people can be convinced that they are no longer a threat, then peace can break out. I saw this happen in Tanzania, where the Living Wall project builds un-breachable fences that keep lions away from livestock. It has cut losses dramatically for the Maasai, who no longer stage retribution attacks against lions—a win-win for both animals and humans.
But there is another war that won't be so easy to win. It is being conducted by organized commercial poachers who are targeting rhinos and elephants. A recent study shows how incestuously intertwined this criminal war on wildlife is with Africa's other wars.
The report, Ivory's Curse, was issued jointly earlier last month by the conservation group Born Free USA and C4ADS, a nonprofit that specializes in defense issues. It documents how terrorist groups like al-Shabaab and Boko Haram are bankrolling their mayhem in part from the spoils of wildlife poaching. It details how rebel militias, organized crime groups and, sometimes, national armies are participating in a slaughter that has driven rhinos to the edge of extinction and already eliminated elephants from many areas where they used to thrive.
Poaching is a uniquely tough nut to crack. There are desperately poor Africans, on the one hand, and, on the other, Asia's nouveau riche, who are willing to pay a king's ransom for rhino horns and elephant tusks—items there for the taking to anyone with a gun. There are also vast wilderness areas—virtually impossible to fully patrol—and governments that can scarcely afford to pay their wildlife guards a living wage. The situation is made even more dire by Africa's ethnic conflicts, civil wars and rampant political instability.
Worse still is when governments collude with the bandits who are despoiling the wildlife they are sworn to protect. Consider Tanzania, a country with more than one-third of its sovereign territory set aside for wildlife. Hosting more than 1 million visitors a year, Tanzania earns a almost 20 percent of its GDP from tourism, according to the U.S. Library of Congress. Yet its leaders appear torn between the desire to protect this precious asset and the impulse to plunder it.
Ten years ago the Selous Game Preserve in southern Tanzania boasted more elephants that any other park in Africa. Two-thirds of those elephants have been killed since 2009 in a poaching frenzy aided—and perhaps even orchestrated—by officials in Tanzania's Ministry of Natural Resources and Tourism, according to Ivory's Curse. Varun Vira, one of the report's co-authors, said in an interview with YES! Magazine that the agency's previous minister, Ezekiel Maige, somehow managed to build a posh oceanside mansion worth several times his government salary before he was sacked for corruption.
Such graft, however, is the symptom of a larger problem: Africans at all levels of society are not yet convinced that their wildlife is worth preserving. And even when they are convinced, they, understandably, have other priorities—like jump-starting their flagging economies and growing enough food to feed their growing population.
These goals, however, are not incompatible with conservation and the lucrative tourism it can bring. The problem is that the rising tide of tourism in places like Tanzania is not yet lifting everyone's boats. Luxury safari lodges that charge well-heeled guests more than $400 a day are a stone's throw away from the thatched huts of dirt farmers who can't afford to keep food on their table during years when the seasonal rains don't arrive on time.
So the bottom line is that Africa's wild areas will never be safe for the animals until the people who live next door are feeling secure and have got a tangible economic stake in their preservation. For starters, there need to be a lot more locally owned and managed tourist ventures that are committed to plowing back a portion of their profits into community development projects. Granted, community-based conservation enterprises are hard to get right. Rural Africans don't always have the skills to run successful businesses; the benefits of ecotourism are rarely equitably distributed; tribal conflicts, corruption, poor local infrastructure—in short, any of Africa's familiar laundry list of ills can sink idealistic projects in a heartbeat.
But there are notable successes too—like the lion-proof fence project mentioned earlier. There are private game preserves like the Mara North Conservancy I visited in Kenya, which hires locals and operates schools and health clinics in town. Such community-run projects are common in the southern African countries of Botswana and Namibia, which may be one reason that both countries have, according to Vira, so far largely succeeded in keeping the elephant poachers at bay. People who are enjoying the benefits of wildlife tourism don't harbor poachers.
Most hopeful of all is the growing awareness among the growing civil society and educated middle class that something priceless and uniquely African is being squandered. If this unease translates into political will to get serious about protecting wildlife, and a more equitable way to share the benefits of wildlife tourism with rural Africans, then all may not yet be lost.
Richard Schiffman worte this article for YES! Magazine, a national, nonprofit media organization that fuses powerful ideas with practical actions. Richard's work has appeared in the New York Times, Salon.com, The Christian Science Monitor and leading literary journals. His "Spiritual Poetry Portal" can be found here.
EcoWatch Daily Newsletter
Luis Alfonso de Alba Gongora, the UN secretary-general's special envoy for the climate summit speaks at The World Economic Forum holds the Sustainable Development Impact Summit 2018 in New York on Sept. 24, 2018.
Ben Hider /
World Economic Forum
When United Nations Secretary-General Antonio Guterres decided to hold a high-level climate summit in conjunction with this year's General Assembly kicking off next week, he was well aware of the paradox of his initiative.
Acting U.S. Homeland Security Secretary Kevin McAleenan meets with Guatemalan farmers on May 29 in Santa Rosa, Guatemala. John Moore / Getty Images
The Trump administration ignored its own evidence on how climate change is impacting migration and food security when setting new policies for cutting aid to Central America, NBC reports.
Mike Pence brought the first motorcade to Mackinac Island on Saturday. Cars have been banned on the island since 1898.
13 ON YOUR SIDE / YouTube screenshot
Vice President Mike Pence sparked outrage on social media Saturday when he traveled in the first-ever motorcade to drive down the streets of Michigan's car-free Mackinac Island, HuffPost reported.
Inhaling from an electronic cigarette. 6okean / iStock / Getty Images Plus
By Shawn Radcliffe
As illnesses and deaths linked to vaping continue to rise, health officials urge people to stop using e-cigarettes.
Officials report 8 deaths have been linked to lung illnesses related to vaping.
Vitamin E acetate is one compound officials are investigating as a potential cause for the outbreak.
The number of vaping-related illnesses has grown to 530 cases in 38 states and 1 U.S. territory, federal health officials
reported
.
Activist Greta Thunberg leads the Youth Climate Strike on Sept. 20, 2019 in New York City. Roy Rochlin / WireImage / Getty Images
By Julia Conley
As organizers behind Friday's Global Climate Strike reported that four million children and adults attended marches and rallies all over the world — making it the biggest climate protest ever — they assured leaders who have been reticent to take bold climate action that the campaigners' work is far from over.
Summer has officially come to an end. Luckily, EcoWatch is here to keep its memory alive by sharing the winners of our "Best of Summer" photo contest.
United Nations Secretary-General Antonio Guterres speaks at a news conference at UN headquarters on Sept. 18. Drew Angerer / Getty Images
A vegan diet can improve your health, but experts say it's important to keep track of nutrients and protein. Getty Images
By Dan Gray
Research shows that 16 weeks of a vegan diet can boost the gut microbiome, helping with weight loss and overall health.
A healthy microbiome is a diverse microbiome. A plant-based diet is the best way to achieve this.
It isn't necessary to opt for a strictly vegan diet, but it's beneficial to limit meat intake.
New research shows that following a vegan diet for about 4 months can boost your gut microbiome. In turn, that can lead to improvements in body weight and blood sugar management.