This website uses cookies to ensure you get the best experience while browsing it. By clicking 'Got It' you're accepting these terms.
How Hydropower Contributes to Climate Change
Oct. 29, 2014 01:55PM EST
Climate
Methane has been attracting attention recently as the "It" greenhouse gas. It's been exposed as being almost 35 times the driver of climate change as carbon dioxide emissions. And while that doesn't mean we should stop acting on carbon, researchers have begun taking a closer look at where the methane is coming from. And while stories about methane blowholes in the Arctic are dramatic, the U.S. Environmental Protection Agency (EPA) ranks oil and gas operations as the top source of methane emissions in the U.S. followed by livestock.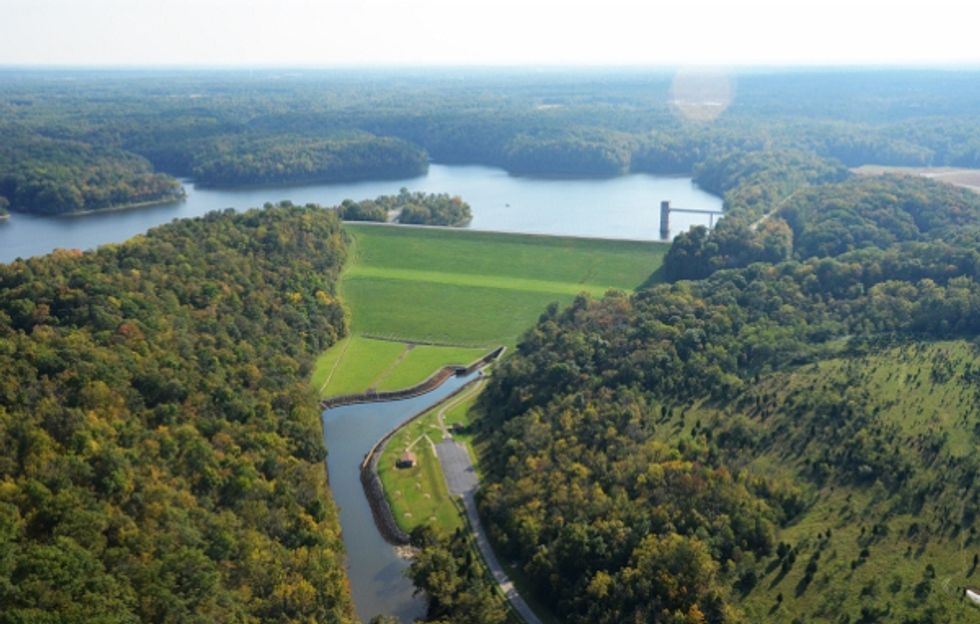 But there's another source that doesn't readily come to mind and may be emitting far more methane than previously thought. That's manmade reservoirs, including those built to generate supposedly clean hydropower, the largest source of renewable energy in the world.
Precisely how much they contribute to methane pollution is a mystery though. It was estimated for a long time that 20 percent of all manmade methane emissions were generated from the surface of reservoirs. But now scientists think it may be even higher than that, although few studies have been done so there's not enough data to attach a number to it. The EPA doesn't even both to estimate reservoir-generated methane.
Now a small-scale study published in late August offers some clues. Researchers from the EPA's National Risk Management Research Laboratory in Cincinnati and the University of Cincinnati studied methane emissions from Harsha Lake near Cincinnati during a 13-month period spanning 2012. They found that Harsha Lake emitted more methane than had ever been recorded at any reservoir in the U.S., perhaps, one of the study authors suggested, because it's located in an agricultural area.
"When you compare the annual scale of the methane emission rate of this reservoir to other studies, it's really much higher than people would predict," EPA research associate and study lead author Jake Beaulieu told Climate Central.
"Reservoirs are a globally significant source of methane (CH4), although most measurements have been made in tropical and boreal systems draining undeveloped watersheds," said the study's summary. "We measured CH4 and carbon dioxide (CO2) emission rates from William H. Harsha Lake, an agricultural impacted reservoir, over a 13 month period. The reservoir was a strong source of CH4 throughout the year. ... We estimate that CH4 emissions from agricultural reservoirs could be a significant component of anthropogenic CH4 emissions in the U.S.A."
Extrapolating from the methane they found at Harsha Lake, the researchers estimated that worldwide, all large reservoirs could emit as much as 104 teragrams of methane each year, compared to estimates of 80-120 teragrams of methane from fossil fuels.
The source of the methane is bacteria feeding on carbon-based organic plant material and breathing out methane. Agricultural runoff, such as that found in Harsha Lake, contains nutrients that allow algae to thrive, providing a wealth of food for microbes.
"There are a very large number of these reservoirs in highly agricultural areas around the U.S.," Amy Townsend-Small, another of the study's authors, told Climate Central. "It could be that these agricultural reservoirs are a larger source of atmospheric methane than we had thought in the past."
And there's little information yet about how the amount of methane generated by reservoirs varies in different parts of a reservoir. But Beaulieu said the EPA will undertake a more comprehensive study next year, looking at emissions from 25 reservoirs across the Great Lakes region and the south.
YOU MIGHT ALSO LIKE
Methane Blow-Holes Sign of Runaway Climate Change?
Massive Methane Hot Spot Detected by Satellite
Global Boom in Hydropower Poses Serious Threat to the Planet
EcoWatch Daily Newsletter
Get ready for double the cuteness! Red pandas, the crimson-colored, bushy-tailed forest dwellers who gave Firefox its name, actually consist of two different species.
A view of a washed out road near Utuado, Puerto Rico, after a Coast Guard Air Station Borinquen MH-65 Dolphin helicopter crew dropped relief supplies to residents Tuesday, Oct. 3, 2017. The locals were stranded after Hurricane Maria by washed out roads and mudslides. U.S. Coast Guard photo by Petty Officer 3rd Class Eric D. Woodall /
CC BY-NC-ND 2.0
By Coral Natalie Negrón Almodóvar
The Earth began to shake as Tamar Hernández drove to visit her mother in Yauco, Puerto Rico, on Dec. 28, 2019. She did not feel that first tremor — she felt only the ensuing aftershocks — but she worried because her mother had an ankle injury and could not walk. Then Hernández thought, "What if something worse is coming our way?"
Flooded battery park tunnel is seen after Hurricane Sandy in 2012.
CC BY 2.0
President Trump has long touted the efficacy of walls, funneling billions of Defense Department dollars to build a wall on the southern border. However, when the U.S. Army Corps of Engineers (USACE) released a study that included plans for a sea wall to protect New Yorkers from sea-level rise and catastrophic storms like Hurricane Sandy, Trump mocked it as ineffective and unsightly.
A general view of fire damaged country in the The Greater Blue Mountains World Heritage Area near the town of Blackheath on Feb. 21, 2020 in Blackheath, Australia. Brook Mitchell / Getty Images
In a post-mortem of the Australian bushfires, which raged for five months, scientists have concluded that their intensity and duration far surpassed what climate models had predicted, according to a study published yesterday in Nature Climate Change.