How High Will Sea Levels Rise?
Oct. 29, 2013 01:33PM EST
Climate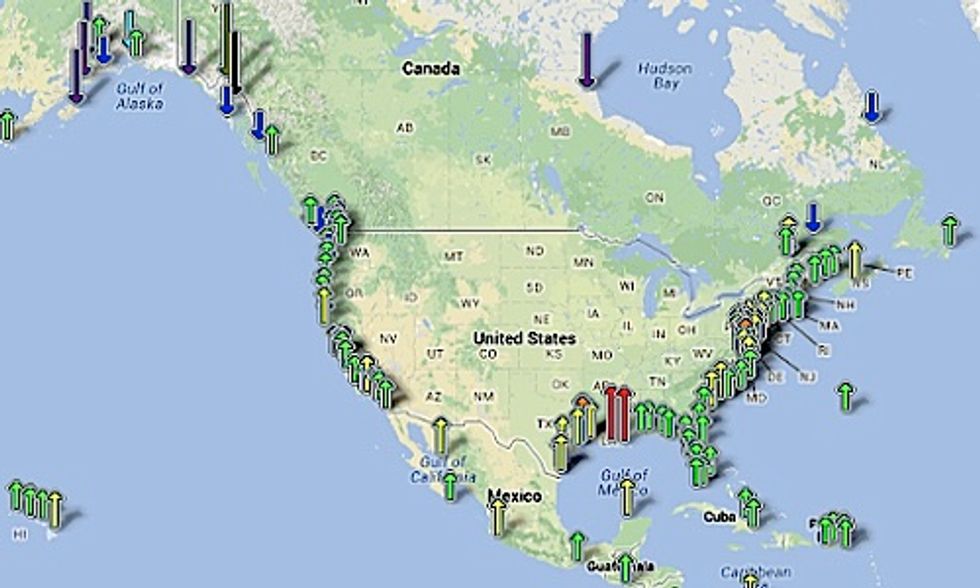 Answering the question of "how high will seas rise" is tricky. Perhaps the best response is "it depends." There are many factors that interact in complex ways that will help determine future sea level rise. But fortunately, there are scientists much smarter than I who have done the legwork and presented their findings through scientific journals and major reports in the past few years. Let's go through some of the major findings that are relevant to finding how much sea level rise we should expect in the coastal Southeast.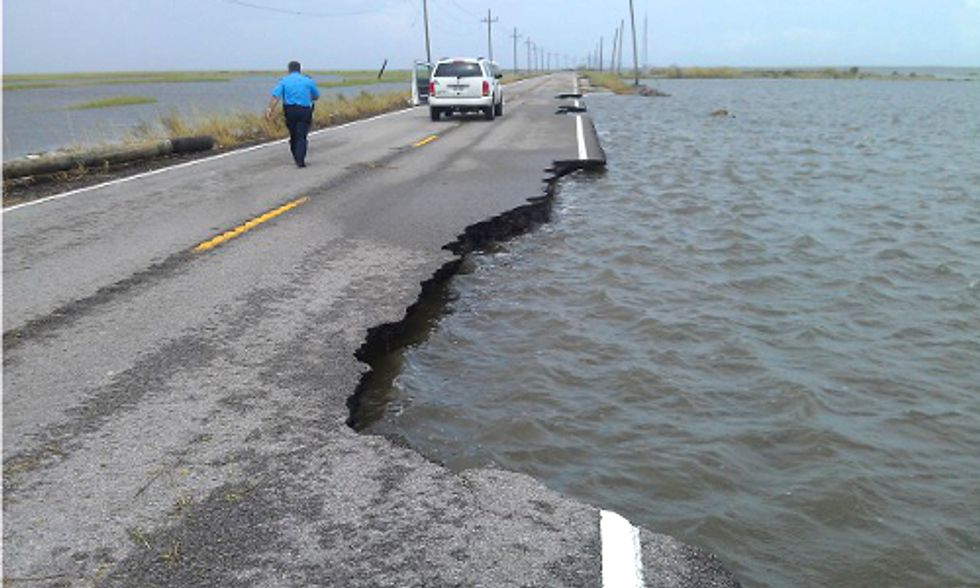 Projections As Ranges Due to Variables

Sea level rise projections are almost exclusively expressed as ranges, rather than a single number. Since there are variables that are either unknown at the present time or difficult to model, it would almost certainly be inaccurate to give a single, firm number as a prediction of sea level rise by a given date. Estimates are therefore given as a range of numbers to express the uncertainty.
Three of the primary variables that affect the accuracy of sea level rise projections are:
how much carbon pollution is released in the future
how much the seas rise as a result of higher temperatures
the effect of feedback loops that may or may not be foreseen at the present


What Are the Projected Ranges of Sea Level Rise?
To help get an idea of how much sea level rise we in the coastal Southeast should expect, let's walk through a few of the most significant recent estimates and then discuss how  to consider these projections for local use.
It's important to note here that when interpreting measures of sea level rise, one vertical foot doesn't equal one horizontal foot. Given the shallow slope of land in the Southeast, one vertical foot of sea level rise could cause flooding or erosion of approximately 100—200 feet inland in South Carolina and as much as 1,000 feet inland in Florida. It follows that a similar proportional relationship could be displayed from a rise of anywhere from a few inches to a few feet.
As part of the U.S. National Climate Assessment process, the National Oceanic and Atmospheric Administration (NOAA) released a report last December, with the best available data to inform U.S. climate policy. Their findings:
"Scientists have very high confidence (greater than 90 percent chance) that global mean sea level will rise at least eight inches (0.2 meter) and no more than 6.6 feet (2.0 meters) [above 1992 levels] by 2100."
The projections are broken down by various scenarios: low, intermediate-low, intermediate-high and high. As for what assumptions inform each scenario, NOAA says this:
The lowest sea level change scenario (eight inch rise) is based on historic rates of observed sea level change. This scenario should be considered where there is a high tolerance for risk (e.g. projects with a short lifespan or flexibility to adapt within the near-term)
The intermediate-low scenario (1.6 feet) is based on projected ocean warming
The intermediate-high scenario (3.9 feet) is based on projected ocean warming and recent ice sheet loss
The highest sea level change scenario (6.6 foot rise) reflects ocean warming and the maximum plausible contribution of ice sheet loss and glacial melting. This highest scenario should be considered in situations where there is little tolerance for risk.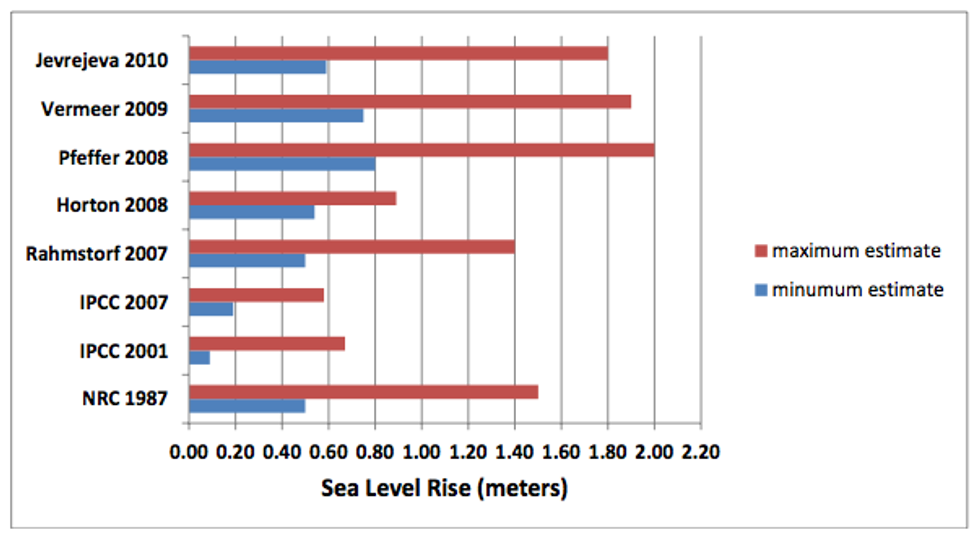 This range of projected sea level rise (8 inch—6.6 feet by 2100) is similar to other studies that have been performed on the matter. The chart above shows a comparison of some of the more recent and significant projections of global sea level. They tend to be within the 8 inch—6.6 foot range. It's important to note, however, that some of the difference between the projections is due to using different baseline years, different planning horizons (i.e. by 2050, 2060, 2100), and also varying modeling methodologies.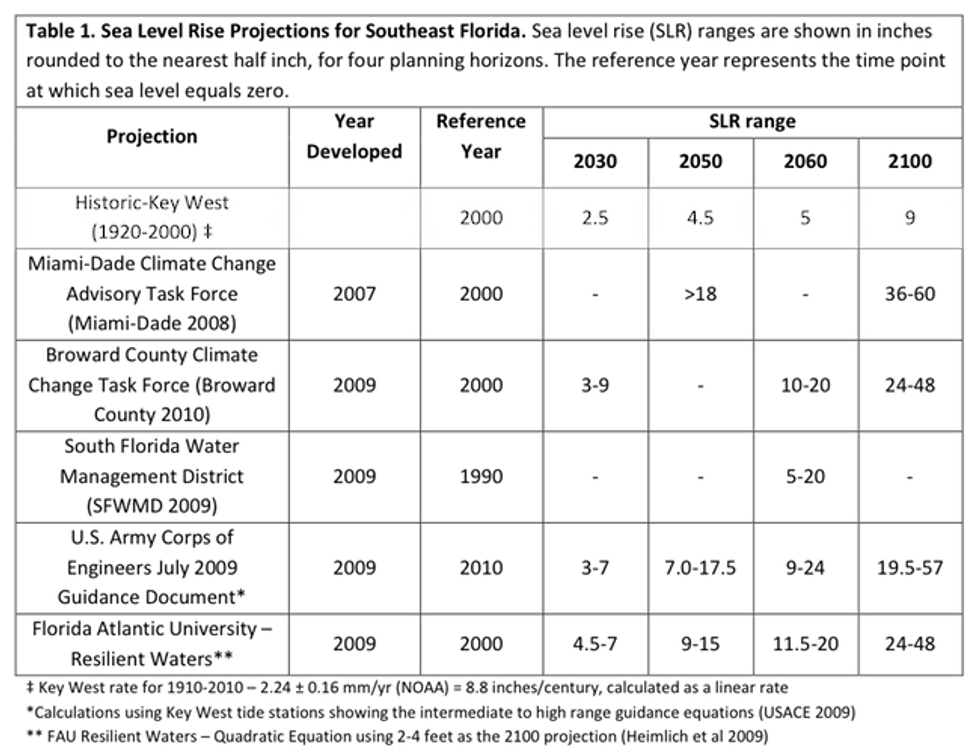 Of course if you are wondering which sea level rise projection to use to help you inform decisions regarding the future, it can be a tough process. Southeast Florida yields a precedent that is valuable for other coastal communities, struggling with this issue. As part of the work of the Southeast Florida Regional Climate Change Compact, the four participating counties drew up a "Unified Sea Level Rise Projection" to use for planning purposes. They ended up using the guidance numbers from the Army Corps of Engineers for their sea level rise planning.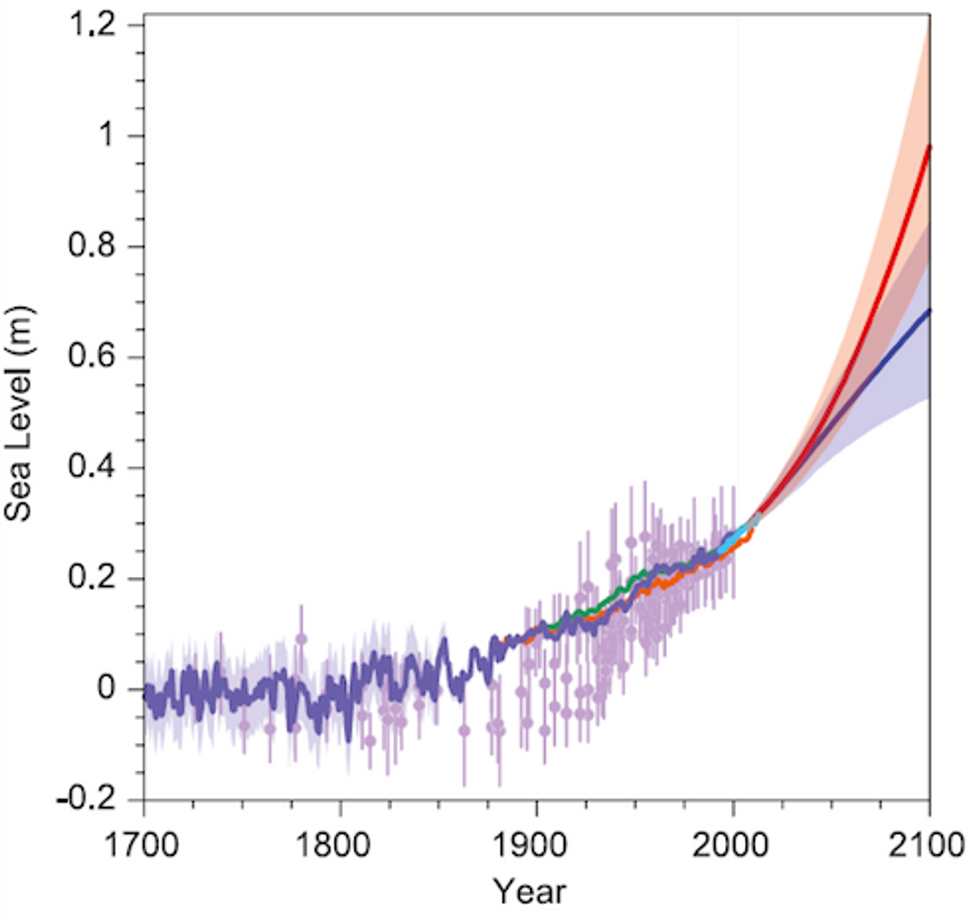 The Intergovernmental Panel on Climate Change (IPCC), widely regarded as the most influential group of climate change experts in the world, just released an updated report on sea level rise projections as part of their fifth climate assessment report (AR5). It was interesting to see that the updated report upped the projections for future sea level rise in the wake of their last report receiving much criticism for low-balling sea level rise estimates. The new report is still considered by many scientists and observers to be biased on the low side due to the way it is modeled and the reported conservative nature of the organization's projections.
Global vs. Local Sea Level Rise and Implications for the Southeast

While much of the scientific literature on sea level rise has focused on the global rate of sea level rise, it is critical to know that sea level does not change uniformly across the globe. Local sea level rise is affected by complex oceanographic factors such as ocean currents and gravitational pulls, as well as the fact that in some places, coastal land is sinking, yet in other places, the land is rising. Therefore, to understand the local impacts of sea level rise, it is important to consider local data alongside global averages of sea level rise.
The phenomenon of local relative sea level rise (RSLR) is perhaps best illuminated by the example of the Gulf coast, where the rate of land subsidence, or how fast the land is sinking, has been measured at about 10 millimeters per year over the last 60 years. Compare that to Key West, which has averaged about 2.24 mm rise per year (and has demonstrated very little land subsidence), or Charleston, which has averaged about 3.15 mm rise per year. At this rate, some Gulf coast areas need to plan for an absolute minimum of three feet of sea level rise by 2100, and realistically should be planning for more than six feet.
Another notable example of local sea level rise is the mid-Atlantic coast. Last year, a U.S. Geological Survey (USGS) study was published, saying that the mid-Atlantic coast, from North Carolina to Massachusetts has one of the fastest rates of sea level rise in the world, independent of vertical land movement (rising or sinking). The USGS study found that oceans are rising on the mid-Atlantic coast at three to four times the global rate of sea level rise. This phenomenon is thought to be caused at least in part to the slowdown of the Gulf Stream's current and thus a "backing up" of water.
Putting these two examples of local sea level rise together paints a very concerning picture for the future of the coastal Southeast. On top of the global mean sea level rise estimated in the previously mentioned reports, some parts of the Southeast will also have to plan for a significant amount of extra rise from unique oceanographic factors or extra relative rise from extreme land subsidence.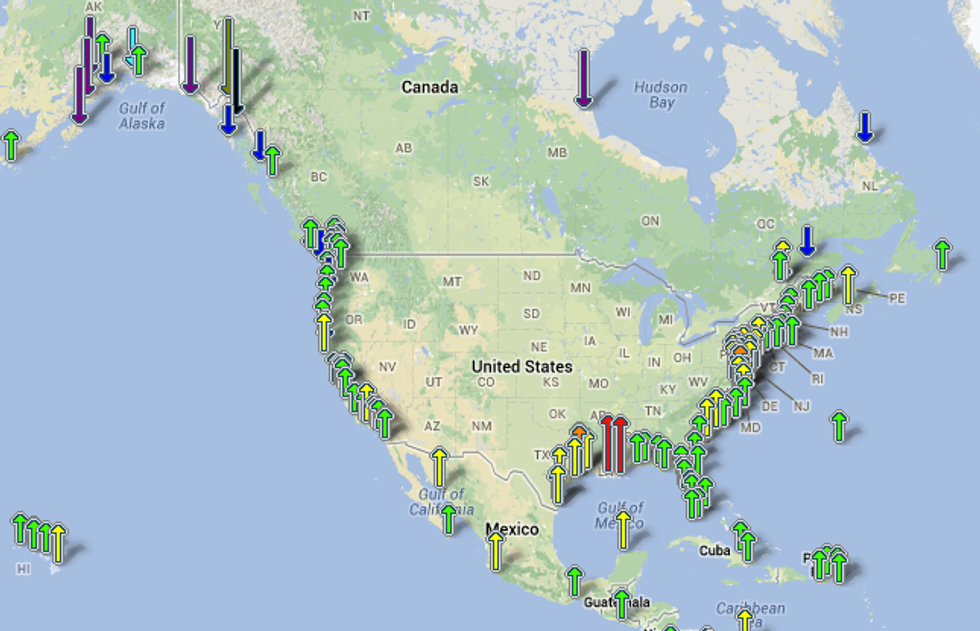 How to Plan for Sea Level Rise Given Uncertainties

Given that local sea level rise may differ significantly from global averages that are projected for the future, the Southeast region needs a greater understanding of where the localized effects on sea level rise are and what is causing them. Local universities can prove invaluable for studying these local effects and they should be supported accordingly.
Furthermore, when trying to determine rates of sea level rise for local planning purposes, it might be worthwhile to plan for higher rates of rise for planning protection for high-value assets (i.e. the "better safe than sorry" approach) and reserve the use of lower rates of rise for assets of lower value or that are less critical to stay dry.
As was mentioned toward the beginning of this post, while some of the uncertainty of how much sea levels will rise in the future is due to limits of modeling, a large portion of the uncertainty is based on how much we continue to pollute. Cutting our carbon pollution soon won't stop sea level rise from happening in the near term, but it will slow it over the long term. For this reason, I consider it critical that this variable be given careful consideration by anyone trying to plan for sea level rise. The good news is that to some degree, we are in the drivers seat and we have some amount of deciding power whether or not we will choose a course that takes us to the high end of the projections or the low end.
Visit EcoWatch's CLIMATE CHANGE page for more related news on this topic.
Researchers say there's a growing epidemic of tap water distrust and disuse in the U.S. Teresa Short / Moment Open / Getty Images
By Asher Rosinger
Imagine seeing a news report about lead contamination in drinking water in a community that looks like yours. It might make you think twice about whether to drink your tap water or serve it to your kids – especially if you also have experienced tap water problems in the past.
Why tap wins every time.
Asher Rosinger is an assistant professor of biobehavioral health, anthropology, and demography and director of the Water, Health, and Nutrition Laboratory at Penn State University.

Disclosure statement: Asher Rosinger receives funding from the National Science Foundation on an unrelated project. This work was supported by the Ann Atherton Hertzler Early Career Professorship funds, and the Penn State Population Research Institute (NICHD P2CHD041025). The funders had no role in the research or interpretation of results.
Reposted with permission from The Conversation.
EcoWatch Daily Newsletter
A new report urges immediate climate action to control global warming. John W Banagan / Getty Images
A new report promoting urgent climate action in Australia has stirred debate for claiming that global temperatures will rise past 1.5 degrees Celsius in the next decade.
Winegrowers check vines during the burning of anti-frost candles in the Luneau-Papin wine vineyard in Le Landreau, near Nantes, western France, on April 12, 2021. SEBASTIEN SALOM-GOMIS / AFP via Getty Images
French winemakers are facing devastating grape loss from the worst frost in decades, preceded by unusually warm temperatures, highlighting the dangers to the sector posed by climate change.
"An important share of the harvest has been lost. It's too early to give a percentage estimate, but in any case it's a tragedy for the winegrowers who have been hit," said Christophe Chateau, director of communications at the Bordeaux Wine Council, told CNN.
Climate change, caused by the extraction and combustion of fossil fuels, has pushed winegrowing seasons earlier, putting crops at higher risk of cold — and wildfires supercharged by climate change also threaten American vignerons and farmworkers as well.
"I think it's good for people to understand that this is nature, climate change is real, and to be conscious of the effort that goes into making wine and the heartbreak that is the loss of a crop," Jeremy Seysses of Domaine Dujac in Burgundy's Côte de Nuits told Wine Enthusiast.
As reported by Wine Enthusiast:
Last week, images of candlelit French vineyards flooded social media. Across the country, winemakers installed bougies, or large wax-filled metal pots, among the vines to prevent cold air from settling in during an especially late frost.

With temperatures in early April as low as 22°F, and following an unseasonably warm March, this year's frost damage may be the worst in history for French winegrowers. Every corner of France reports considerable losses, from Champagne to Provence, and Côtes de Gascogne to Alsace. As a result, there will likely be very little French wine from the 2021 vintage reaching U.S. shores.
For a deeper dive:

CNN, Wine Enthusiast, France24, Eater
For more climate change and clean energy news, you can follow Climate Nexus on Twitter and Facebook, sign up for daily Hot News, and visit their news site, Nexus Media News.
From Your Site Articles
Related Articles Around the Web
A recent study focused on regions in Ethiopia, Africa's largest coffee-producing nation. Edwin Remsberg / Getty Images
Climate change could make it harder to find a good cup of coffee, new research finds. A changing climate might shrink suitable areas for specialty coffee production without adaptation, making coffee taste blander and impacting the livelihoods of small farms in the Global South.
In "Weather," Jenny Offill tells the story of a librarian named Lizzie who prepares for a climate apocalypse. Andrew Merry / Getty Images
By Suzanne Cords
One day Lizzie, the first-person narrator of the novel, receives an old book as a gift, with a dedication wishing the reader to be among the survivors. Like the preppers who build bunkers and stockpile supplies in remote areas to be ready for the end of the world, Lizzie is convinced that the end of the world is definitely near in times of a threatening climate disaster.
Lizzie, who lives in New York with her husband and son, is a university campus librarian. She worries about almost everything: her brother, an ex-junkie, or her dental insurance and the future in the face of the apocalypse. She is obsessed with reading reference books and articles about climate change.
She also devours words of wisdom, including about Buddhist spirituality: "A visitor once asked the old monks on Mount Athos what they did all day, and was told: We have died and we are in love with everything." But nothing can lift her spirits.
'Lizzie Is Just Like Us'
Lizzie observes rich New Yorkers plan their move to regions that are less threatened by climate change, something she simply cannot afford. Sometimes she watches disaster movies, which lead her to worry even more.
Above all, she is a gifted observer of her fellow human beings. "Young person worry: What if nothing I do matters? Old person worry: What if everything I do, does?"
Lizzie, the U.S. author told DW, is a bit like the rest of us — well aware of the climate crisis, but because she cares and worries about so many other things, that awareness falls by the wayside. That's how she felt herself, Jenny Offill said, but the more she looked into the issue, the more she saw a need for action on her part, too.

"I also was trying to see if there was a way to make it funny, because, you know, so much of the world of prepping and imagining disaster is actually sort of strangely funny."
The novel was shortlisted for the 2020 UK's Women's Prize for Fiction and has now been released in German translation.
Climate Activist With a Vision
But then, there is also this serious, scientifically based concern about what climate change means. In the past, says Offill, artists were the ones who would predict disasters; today it's the experts, as well as the students she teaches. In the end, their fears and their justified anger motivated her to take a closer look at the issue. Today, she is a climate activist herself, and is involved in initiatives along with many other artists.
Lizzie, the heroine of Weather, hasn't gotten that far. But she voices her fears, and that's a start. "Of course, the world continues to end," says Sylvia, a mentor of Lizzie's, at one point — and commences to water her garden. There is hope after all.
Reposted with permission from Deutsche Welle.