How Healthy Soils Can Help in the Fight Against Climate Change
Nov. 19, 2015 05:17PM EST
Climate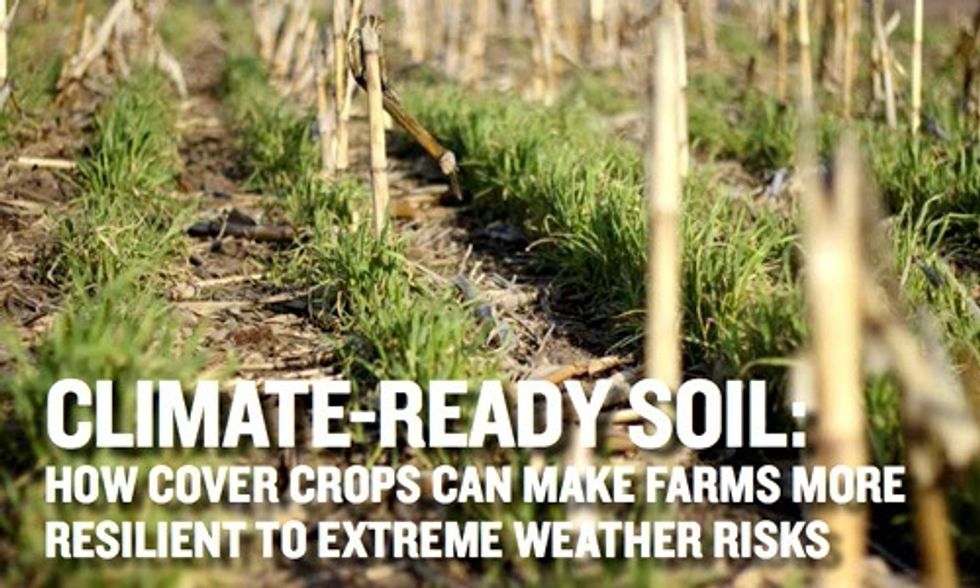 When you think about the most important actions we can take to fight climate change, you probably think of using your car less (or even getting rid of your car), reducing energy use in your home, or even supporting the development of cleaner forms of energy like solar and wind. While all of these things are important when it comes to reducing the release of dangerous carbon pollution that is causing climate change, one of the most overlooked solutions is lying right below our feet—soil!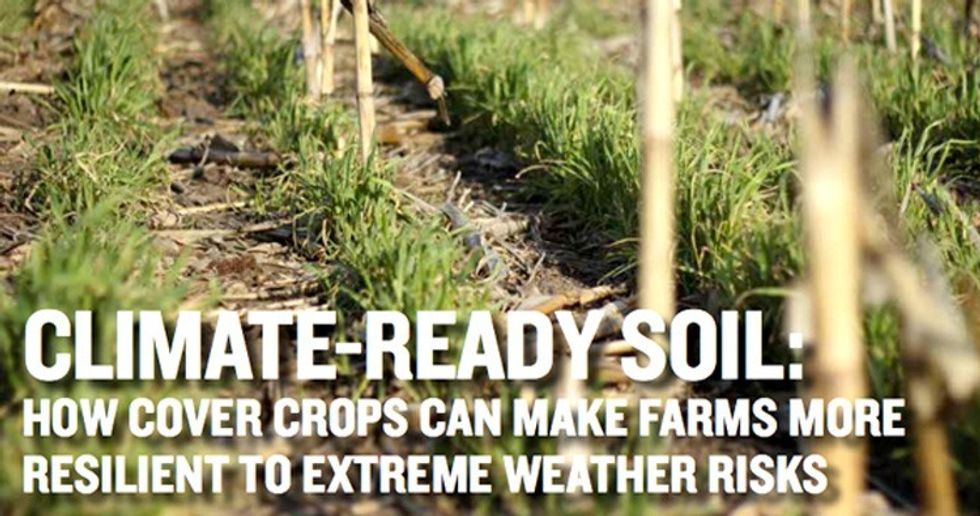 Our new Climate-Ready Soil report finds that by using cover crops to build soil health on just half of the corn and soybean acres planted in the top 10 agriculture states, we can help to capture more than 19 million metric tons of carbon each year—that's the same as removing 4 million cars off the road!
In addition, using cover crops and other soil stewardship practices (like applying compost or using no-till farming) to improve organic matter in soil can help capture an additional trillion gallons of water—that's enough water to meet the needs of nearly 33 million people every year. By improving the health of their soil, farmers also can reduce their vulnerability to future flood and drought events.
Extreme weather events—life-threatening heat waves, heavy rainfall, torrential flooding and unforgiving drought—have become increasingly common throughout the country. In recent years, farmers in states like Texas and Oklahoma, to name just a few, have been devastated by both scorching drought and heavy downpours that have either damaged crops or left fields unfit for planting. And worse still, climate change will make many of these extreme weather events more frequent and more severe.
Fortunately, farmers can help fight climate change by planting cover crops on their farms to improve the health of their soil. As winners of our recent Voices of the Soil Contest can attest, healthy soil is critical for supporting robust, resilient and sustainable farms. Soil that is stabilized with living roots throughout the year and left undisturbed by plows is teeming with microbes, fungi, earthworms, and other living things. These organisms help to supply growing plants with nutrients and water, and cover crops can play a pivotal role in fostering this healthy soil ecosystem.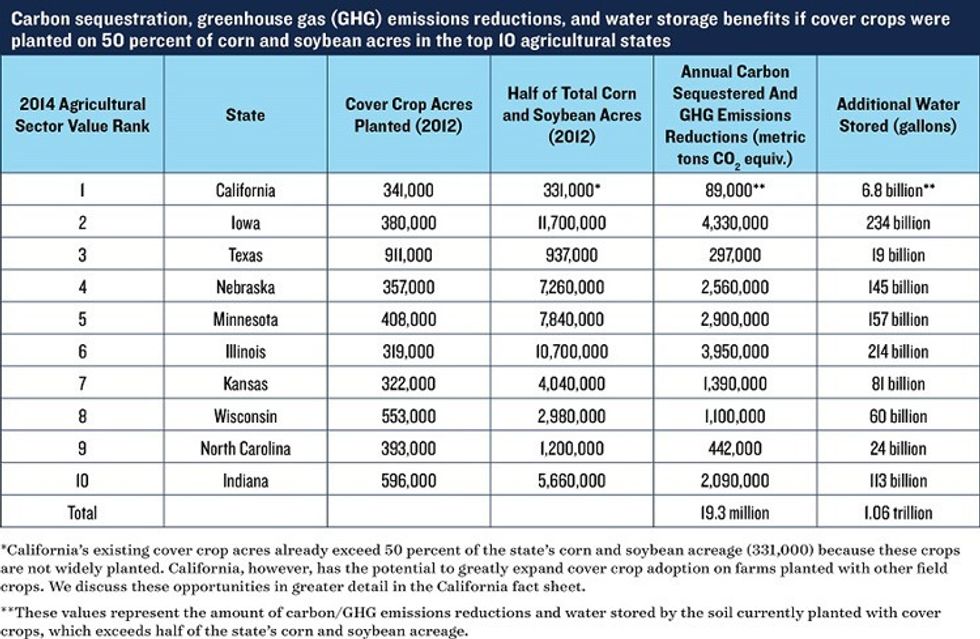 Cover crops—non-commodity crops that are planted to cover the ground during the winter—have been shown to improve crop yields, help capture carbon and nitrogen, reduce erosion and runoff, and improve water retention and storage, among many other benefits. In fact, during the epic drought of 2012—which affected nearly the entire central U.S.—cover crops demonstrated their ability to build agricultural resiliency by providing the greatest yield benefit in areas hardest hit by dry weather.
Despite their many benefits, cover crop use remains quite low across the country. That's why we have been working to get the Federal Crop Insurance Program to offer reduced premiums for farmers that use cover crops to reduce their risk of crop loss. Our new analysis shows that cover crops not only can help farmers to weather future droughts and floods, but they also can play a big role in capturing the carbon pollution that is causing climate change. By investing in cover crops, we are using healthy soil as "natural insurance" that will help soften the blow of future extreme weather events. I think we can all agree that is a win-win for farmers, our communities, and one more tool in our arsenal to fight against climate change.
Additional information on the benefits of cover crops for the top 10 states can be accessed at http://www.nrdc.org/water/climate-ready-soil.asp.
YOU MIGHT ALSO LIKE
Soils and Oceans Omitted From Paris COP21 Agenda
Michael Pollan's Letter to the Future
The Mystical Powers of Mushrooms
NASA Carbon Map Shows Which Countries are Polluting the World
EcoWatch Daily Newsletter