This website uses cookies to ensure you get the best experience while browsing it. By clicking 'Got It' you're accepting these terms.
How Green Is Your Favorite Clothing Brand?
Jul. 22, 2015 11:03AM EST
The clothing you wear has a larger price tag than what you see when it's hanging on the rack—it comes with costs to the environment, too. Unsustainable dyeing and processing practices in the fashion industry have had a major impact on water pollution. So, as part of the Detox Catwalk campaign, Greenpeace spent three years cataloging which major fashion brands deliver on their green promises and which are doing the bare minimum.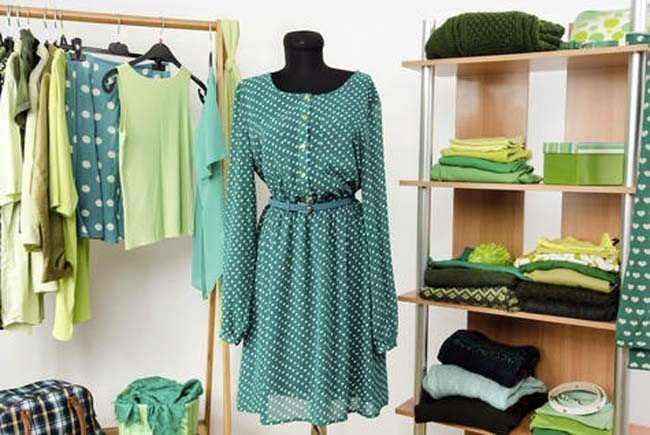 The main types of chemicals Greenpeace is calling for clothing companies to stop using are alkylphenol etheoxylates (APEOs), phthalates and PFCs. Many companies have set "acceptable limits" on APEOs, but because these harmful chemicals accumulate in nature, limits don't fix the problem. Phthalates, used particularly in plastic printed images like those on printed T-shirts, have been linked to all sorts of health problems like asthma and lowered IQ. PFCs are used in stain-resistant clothing and have been tied to thyroid damage.
As a result of its analyses, Greenpeace assigned brands one of three rankings: Detox Leaders, Greenwashers and Detox Losers.
Detox Leaders
Detox Leaders have made going green a priority, have credible timelines for dropping toxic chemicals, and have implemented real change.
• Adidas
• United Colors of Benetton
• Burberry
• C&A
• Esprit
• G-Star Raw
• H&M
• Inditex (includes Zara)
• Levi Strauss & Co.
• Limited Brands
• Mango
• Marks & Spencer
• Primark
• Puma
• Uniqlo (Fast Retailing)
• Valentino
Greenwashers
Greenwashers talk the talk, but haven't gone much further than that.
• LiNing
• Nike, Inc
Detox Losers
Detox Losers refuse to take responsibility for their toxic practices and have made no commitment to change.
• Georgio Armani
• Bestseller
• Only The Brave (including brands Diesel and Viktor & Rolf)
• Dolce & Gabbana
• Gap Inc.
• Hermes
• LVMH Group/Christian Dior Couture (including brands Louis Vuitton, Marc Jacobs, and Dior)
• Metersbonwe
• PvH (including brands Calvin Klein and Tommy Hilfiger)
• Vancl
• Versace
Greenpeace has just been looking at major players to make the largest impact, but there are plenty of smaller companies that have already established that their clothing is sustainable by going organic. Essentially, the GOTS certification is to clothing what the USDA Organic certification is to food. For instance, it ensures that cotton is grown organically and dyed using sustainable practices.
YOU MIGHT ALSO LIKE
Find Out Which Brands Still Use Toxic BPA-Lined Cans (And Which Don't)
The True Cost of Cheap Clothing
Women Apply an Average of 168 Chemicals on Their Bodies Every Day
Three scissor-tailed flycatcher fledglings in a mesquite tree in Texas. Texas Eagle / CC BY-NC 2.0
By Gary Paul Nabhan
President Trump has declared a national emergency to fund a wall along our nation's southern border. The border wall issue has bitterly divided people across the U.S., becoming a vivid symbol of political deadlock.
PeopleImages / E+ / Getty Images
By Daniel Ross
Hurricane Florence, which battered the U.S. East Coast last September, left a trail of ruin and destruction estimated to cost between $17 billion and $22 billion. Some of the damage was all too visible—smashed homes and livelihoods. But other damage was less so, like the long-term environmental impacts in North Carolina from hog waste that spilled out over large open-air lagoons saturated in the rains.
Hog waste can contain potentially dangerous pathogens, pharmaceuticals and chemicals. According to the state's Department of Environmental Quality, as of early October nearly 100 such lagoons were damaged, breached or were very close to being so, the effluent from which can seep into waterways and drinking water supplies.
This picture taken on May 21, 2018 shows discarded climbing equipment and rubbish scattered around Camp 4 of Mount Everest. Decades of commercial mountaineering have turned Mount Everest into the world's highest rubbish dump as an increasing number of big-spending climbers pay little attention to the ugly footprint they leave behind. DOMA SHERPA / AFP / Getty Images
China has closed its Everest base camp to tourists because of a buildup of trash on the world's tallest mountain.
Researchers tested the eggs of Arctic northern fulmers like these in Nunavut, Canada.
Fiona Paton / Flickr
By Madison Dapcevich
Plastics have been recorded in every corner of the world, from the remote icy waters of Antarctica to the bellies of deep-sea fishes. Now, preliminary findings presented at this year's American Association for the Advancement of Science (AAAS) annual meeting in Washington, DC suggest that bird eggs from the high Arctic—one of the most remote wildernesses on the planet—show evidence of contamination from chemicals used in plastics.