This website uses cookies to ensure you get the best experience while browsing it. By clicking 'Got It' you're accepting these terms.
How Green Infrastructure Adds Value for Property Owners and Tenants
Dec. 18, 2013 02:07PM EST
Business
By Larry Levine
"Green infrastructure" in urban and suburban areas—that is, techniques like green roofs, tree plantings, rain gardens, and permeable pavement, which absorb rainwater near where it falls—is proven to help solve major water pollution problems. These water management practices store rainwater for use, evaporate it back to the atmosphere, or let it filter into the ground, where it can benefit vegetation and replenish groundwater supplies.
Many communities around the U.S. are now relying on green infrastructure as a cost-effective solution to stormwater infrastructure problems. What's more, these communities reap the added benefits of beautifying neighborhoods, cooling and cleansing the air, reducing asthma and heat-related illnesses, reducing energy demand for heating and cooling, and creating "green-collar" jobs.
Less well-known—but vitally important—is that green infrastructure on private property can provide a wide range of benefits to commercial property owners and their tenants.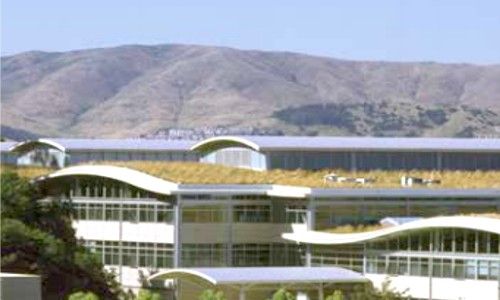 A new NRDC report released today, "The Green Edge: How Commercial Property Investment in Green Infrastructure Creates Value," details the following benefits, which help to build the business case for commercial real estate owners to invest in green infrastructure:
Increased rents and property values
Increased retail sales
Energy savings
Local financial incentives (such as tax credits, rebates, and stormwater fee credits)
Reduced infrastructure costs
Reduced flood damage
Reduced water bills
Increased health and job satisfaction for office employees
Reduced crime
Real dollar values can be put on many of these benefits. For a teaser of what's in the full report, click on the graphic below: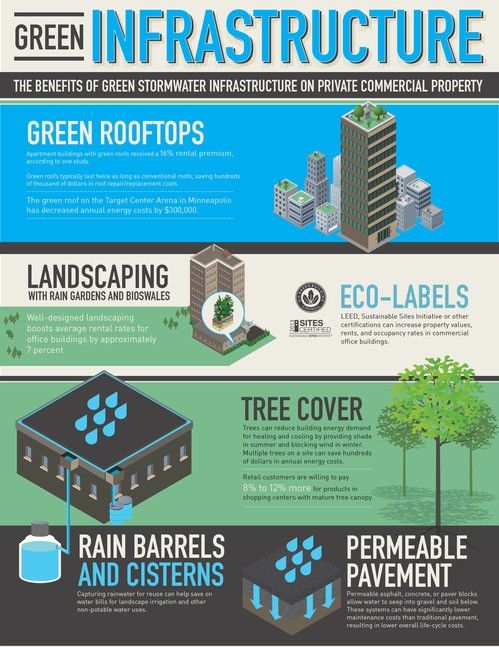 On any given property, these benefits can add up to big money over the long-run. Our report includes three examples that show the potential cumulative value of a suite of green infrastructure retrofits to the owners and tenants of medium-sized office buildings, mid-rise apartment buildings and retail centers. In both the office building and apartment building examples, the total present value of benefits approaches $2 million over 40 years; for the retail center, benefits exceed $24 million, including nearly $23 million of increased retail sales for tenants.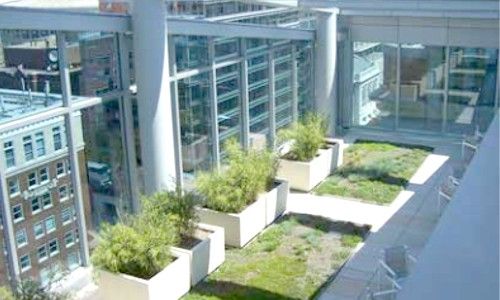 The report shows why it's essential for players in the commercial real estate industry to consider the full range of green infrastructure benefits, in order to make wise investment decisions. This is true both for new construction projects – to take full advantage of opportunities to integrate green design features – and at existing developed sites – where investments in retrofits can improve older properties and create value.
Notably, in some cities, compliance with local stormwater regulations may require the use of green infrastructure practices for new development. In many other places, these same practices, though not required, provide an allowable pathway to compliance. Recognizing the true benefits of green infrastructure can help developers maximize their return on investment when determining how best to comply with – or even exceed – such local rules.
The report's findings also have important implications for national policy. The U.S. Environmental Protection Agency is long-overdue to update to its stormwater rules, which, if done right, would significantly expand and accelerate the deployment of green infrastructure nationwide. Today's report shows that, besides achieving cleaner water and healthier communities, federal leadership on this front can help create value in the commercial real estate market.
Ultimately, green infrastructure is a win-win for both the private and public sector. As Howard Neukrug, Commissioner of the Philadelphia Water Department put it to me: "When private property owners construct green infrastructure and manage their on-site stormwater, not only can they benefit financially, they are also helping to transform pockets of our city into Greened Acres. This is public/private partnership in its truest sense."
This piece originally appeared on the NRDC's Switchboard blog.
Visit EcoWatch's GREEN BUILDING page for more related news on this topic.

EcoWatch Daily Newsletter
Oil palm plantations in northeastern Borneo, state of Sabah, Malaysia. Recently planted oil palms can be seen in the bright green grassy areas and a tiny bit of natural rainforest still struggles for survival farther away. Vaara / E+ / Getty Images
A fuel truck carries fuel into a fracking site past the warning signs Jan. 27, 2016 near Stillwater, Oklahoma. J Pat Carter / Getty Images
By Jessica Corbett
For more than three decades, the U.S. government has mismanaged toxic oil and gas waste containing carcinogens, heavy metals and radioactive materials, according to a new Earthworks report — and with the country on track to continue drilling and fracking for fossil fuels, the advocacy group warns of growing threats to the planet and public health.
European Union blue and gold flags flying at the European Commission building in Brussels, Belgium. 35007/ iStock / Getty Images Plus
Newly adopted guidelines set forth by the European Commission Tuesday aim to tackle climate change by way of the financial sector. The move comes to bolster the success of the Sustainable Action Plan published last year to reorient capital flows toward sustainable investment and manage financial risks from climate change, environmental degradation and social issues.
Prime Minister Justin Trudeau delivering remarks to supporters at a Liberal Climate Action Rally in Toronto, Ontario on March 4. Arindam Shivaani / NurPhoto / Getty Images
Canadian Prime Minister Justin Trudeau announced Tuesday that his government would once again approve the expansion of the Trans Mountain pipeline, which would triple the amount of oil transported from Alberta's tar sands to the coast of British Columbia (BC).
An exhausted polar bear wanders the streets of Norilsk, a Siberian city hundreds of miles from its natural habitat. IRINA YARINSKAYA / AFP / Getty Images

An exhausted, starving polar bear has been spotted wandering around the Siberian city of Norilsk, Reuters reported Tuesday. It is the first time a polar bear has entered the city in more than 40 years.
Bumblebees flying and pollinating a creeping thyme flower. emeliemaria / iStock / Getty Images
It pays to pollinate in Minnesota.