This website uses cookies to ensure you get the best experience while browsing it. By clicking 'Got It' you're accepting these terms.
How Green Infrastructure Adds Value for Property Owners and Tenants
Dec. 18, 2013 02:07PM EST
Business
By Larry Levine
"Green infrastructure" in urban and suburban areas—that is, techniques like green roofs, tree plantings, rain gardens, and permeable pavement, which absorb rainwater near where it falls—is proven to help solve major water pollution problems. These water management practices store rainwater for use, evaporate it back to the atmosphere, or let it filter into the ground, where it can benefit vegetation and replenish groundwater supplies.
Many communities around the U.S. are now relying on green infrastructure as a cost-effective solution to stormwater infrastructure problems. What's more, these communities reap the added benefits of beautifying neighborhoods, cooling and cleansing the air, reducing asthma and heat-related illnesses, reducing energy demand for heating and cooling, and creating "green-collar" jobs.
Less well-known—but vitally important—is that green infrastructure on private property can provide a wide range of benefits to commercial property owners and their tenants.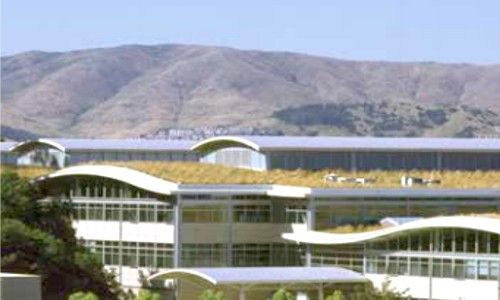 A new NRDC report released today, "The Green Edge: How Commercial Property Investment in Green Infrastructure Creates Value," details the following benefits, which help to build the business case for commercial real estate owners to invest in green infrastructure:
Increased rents and property values
Increased retail sales
Energy savings
Local financial incentives (such as tax credits, rebates, and stormwater fee credits)
Reduced infrastructure costs
Reduced flood damage
Reduced water bills
Increased health and job satisfaction for office employees
Reduced crime
Real dollar values can be put on many of these benefits. For a teaser of what's in the full report, click on the graphic below: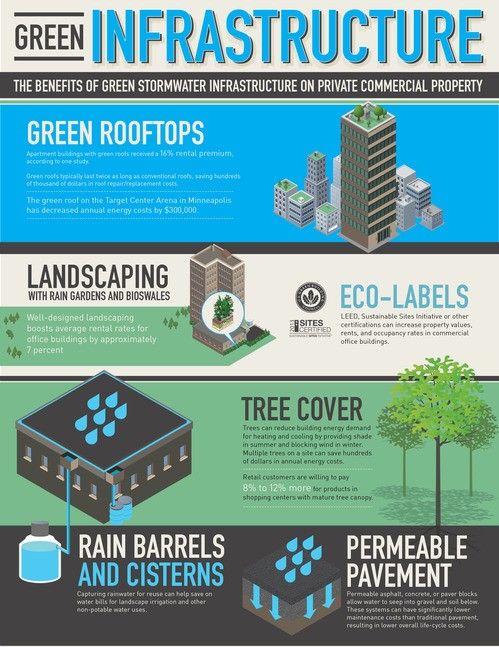 On any given property, these benefits can add up to big money over the long-run. Our report includes three examples that show the potential cumulative value of a suite of green infrastructure retrofits to the owners and tenants of medium-sized office buildings, mid-rise apartment buildings and retail centers. In both the office building and apartment building examples, the total present value of benefits approaches $2 million over 40 years; for the retail center, benefits exceed $24 million, including nearly $23 million of increased retail sales for tenants.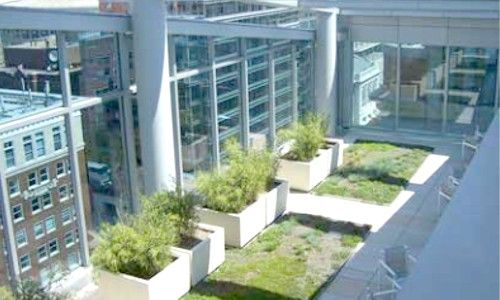 The report shows why it's essential for players in the commercial real estate industry to consider the full range of green infrastructure benefits, in order to make wise investment decisions. This is true both for new construction projects – to take full advantage of opportunities to integrate green design features – and at existing developed sites – where investments in retrofits can improve older properties and create value.
Notably, in some cities, compliance with local stormwater regulations may require the use of green infrastructure practices for new development. In many other places, these same practices, though not required, provide an allowable pathway to compliance. Recognizing the true benefits of green infrastructure can help developers maximize their return on investment when determining how best to comply with – or even exceed – such local rules.
The report's findings also have important implications for national policy. The U.S. Environmental Protection Agency is long-overdue to update to its stormwater rules, which, if done right, would significantly expand and accelerate the deployment of green infrastructure nationwide. Today's report shows that, besides achieving cleaner water and healthier communities, federal leadership on this front can help create value in the commercial real estate market.
Ultimately, green infrastructure is a win-win for both the private and public sector. As Howard Neukrug, Commissioner of the Philadelphia Water Department put it to me: "When private property owners construct green infrastructure and manage their on-site stormwater, not only can they benefit financially, they are also helping to transform pockets of our city into Greened Acres. This is public/private partnership in its truest sense."
This piece originally appeared on the NRDC's Switchboard blog.
Visit EcoWatch's GREEN BUILDING page for more related news on this topic.

EcoWatch Daily Newsletter
Large food companies are following in the footsteps of fast-food restaurants such as Burger King and KFC by offering meat alternatives. Getty Images
By Elizabeth Pratt
Hormel, Kellogg's, and Kroger are among the large companies now planning to offer "fake meat" products at grocery stores.
Experts say the trend toward plant-based meats coincides with consumers' desires to eat less meat.
However, experts urge consumers to closely check package labels as a product isn't necessarily healthy just because it's described as plant-based.
In grocery stores and fast-food outlets around the U.S., a revolution is taking place.
Colombia rainforest. Marcel Oosterwijk / CC BY-SA 2.0
Many of us think of the Amazon as an untouched wilderness, but people have been thriving in these diverse environments for millennia. Due to this long history, the knowledge that Indigenous and forest communities pass between generations about plants, animals and forest ecology is incredibly rich and detailed and easily dwarfs that of any expert.
picture-alliance / Newscom / R. Ben Ari
By Wesley Rahn
Plastic byproducts were found in 97 percent of blood and urine samples from 2,500 children tested between 2014 and 2017, according to a study by the German Environment Ministry and the Robert Koch Institute.

Pexels
Medically reviewed by Daniel Bubnis, MS, NASM-CPT, NASE Level II-CSS
Hot yoga has become a popular exercise in recent years. It offers many of the same benefits as traditional yoga, such as stress reduction, improved strength, and flexibility.
Lara Hata / iStock / Getty Images
By SaVanna Shoemaker, MS, RDN, LD
Rice is a staple in many people's diets. It's filling, inexpensive, and a great mild-tasting addition to flavorful dishes.
An image of the trans-alaskan oil pipeline that carries oil from the northern part of Alaska all the way to valdez. This shot is right near the arctic national wildlife refuge. kyletperry / iStock / Getty Images Plus
The Trump administration has initialized the final steps to open up nearly 1.6 million acres of the protected Alaskan National Wildlife Refuge to allow oil and gas drilling.