This website uses cookies to ensure you get the best experience while browsing it. By clicking 'Got It' you're accepting these terms.
By Minda Berbeco
Have your eyes been running more in the spring? Are you sneezing more in the fall?
After this frigid and snowy winter, it may be hard to remember what the allergy season feels like. But if you're one of the more than 80 million Americans who suffer from seasonal allergies, you might recall that last year's allergy season was a doozy in many parts of the U.S.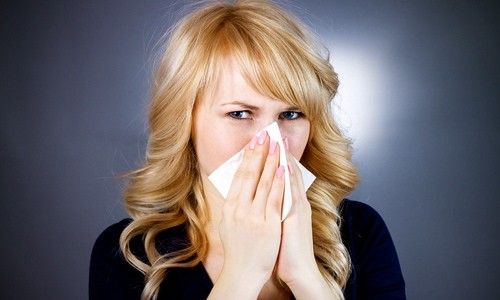 Photo courtesy of Shutterstock
And it turns out that people might at least be partially responsible for a more allergenic environment. As we change the climate, many of the plants that terrorize us through the allergy season are becoming more pernicious. While a warming climate lengthens the pollen season, increased carbon dioxide is making some allergens more noxious.
This change is most obvious with the troublesome ragweed plants, which are the curse of many allergy sufferers. A group of flowering plants found all over the U.S., the hardy ragweed loves a disturbed environment. It pops up along roadways and at the edges of agricultural fields, colonizing abandoned lots. Ragweed is common enough that you most certainly have seen it before, and it is highly likely that a ragweed plant's pollen has made you or a loved one sneeze at least once. 
Ragweed pollen is one of the largest causes of allergic rhinitis—also known as hay fever—the sneezy, runny nose reaction many people are familiar with.
Unlike many other plants, ragweed doesn't ring in the spring with large flowering blooms. Rather, it flowers in the late summer, releasing pollen just in time for a congested fall. Normally this plant is trouble enough, having a pollen season that can last between two and three months. Now, with a longer-frost free season (the amount of time between the spring thaw and fall freeze) due to a warming climate, the ragweed plant has a longer time period to get larger and hardier to produce more pollen. 
A longer growing season is only one part of the problem. Ragweed also responds positively to increases in carbon dioxide in the atmosphere. Carbon dioxide levels before the Industrial Revolution were about 280 parts per million. With the increase in emissions through the burning or fossil fuels and other human activities, those levels have recently reached 400 parts per million.
Research has demonstrated that plants grown in pre-industrial CO2 concentrations produced less pollen than those grown in current levels. Worse yet, when these plants were grown in concentrations predicted for the future, pollen levels continued to go up. For those of us with ragweed allergies, this is not good news.
Those who are familiar with allergens, though, know that it's not just how large the plant is, or even how much pollen it's producing that can increase the risk of an allergic reaction. There's also the potency of the pollen itself—the amount of allergen in the pollen. It turns out that ragweed plants grown in higher CO2 environments carry more allergens in the pollen.
Larger plants, creating more pollen, means more allergies. Sounds like a terrific future. But of course, it's not the future, it's occurring right now. How do your sinuses feel at the thought of that?
These findings are not unique to ragweed plants. Poison ivy, the bane of hikers everywhere, is looking like it might also prosper in a higher CO2 environment. Researchers have found that when grown under high CO2 conditions, poison ivy became larger and produced a more allergenic form of urushiol, the active compound that leads to the red itchy rash everyone is familiar with.
Given how important environmental factors like temperature, rainfall and CO2 levels are to all ecosystems, the question remains how other allergenic plants will be impacted by a changing climate. As flowers bloom earlier, with a longer growing season, should we start expecting spring allergies to arrive weeks sooner? Could a longer frost-free season lead to extended allergy seasons for people throughout the year? How will these types of climatic changes affect other allergenic organisms such as molds? 
To those who suffer from seasonal allergies, these questions only bring more concerns. Rather than worry, though, perhaps we could start to plan ahead. We could work to reduce our carbon emissions to help future generations suffer less. We could create management plans to reduce the spread of allergenic plants.
Or, we could take a financial approach and start investing in Benadryl futures. Unfortunately, with the way carbon pollution regulations are going so far, the latter might be the most prudent approach.
Visit EcoWatch's CLIMATE CHANGE and HEALTH page for more related news on this topic.

EcoWatch Daily Newsletter

YinYang / E+ / Getty Images
Ragú Old World Style Traditional is one of three flavors named in a voluntary recall.
Mike Mozart
/
CC BY 2.0
Spaghetti with plastic sauce? That's what you might be eating if you pour one of three flavors of Ragú sauce over your pasta.
Mizkan America, the food company that owns Ragú, announced Saturday that it was voluntarily recalling some Chunky Tomato Garlic & Onion, Old World Style Traditional and Old World Style Meat sauces because they might be contaminated with plastic fragments, The Today Show reported.
A dead sea lion on the beach at Border Field State Park, near the international border wall between San Diego, California and Tijuana, Mexico. Sherry Smith / iStock / Getty Images
People crossing the Brooklyn Bridge on July 20, 2017 in New York City sought to shield themselves from the sun as the temperature reached 93 degrees. Drew Angerer / Getty Images
by Jordan Davidson

Taking action to stop the mercury from rising is a matter of life and death in the U.S., according to a new study published in the journal Science Advances.
Salmon fry before being released just outside San Francisco Bay. Jim Wilson / The New York Times / Redux
By Alisa Opar
For Chinook salmon, the urge to return home and spawn isn't just strong — it's imperative. And for the first time in more than 65 years, at least 23 fish that migrated as juveniles from California's San Joaquin River and into the Pacific Ocean have heeded that call and returned as adults during the annual spring run.
Protesters hold a banner and a placard while blocking off the road during a protest against Air pollution in London. Ryan Ashcroft / SOPA Images / LightRocket / Getty Images
By Jessica Corbett
Dozens of students, parents, teachers and professionals joined a Friday protest organized by Extinction Rebellion that temporarily stalled morning rush-hour traffic in London's southeasten borough of Lewisham to push politicians to more boldly address dangerous air pollution across the city.

Jose A. Bernat Bacete / Moment / Getty Images
By Bridget Shirvell
On a farm in upstate New York, a cheese brand is turning millions of pounds of food scraps into electricity needed to power its on-site businesses. Founded by eight families, each with their own dairy farms, Craigs Creamery doesn't just produce various types of cheddar, mozzarella, Swiss and Muenster cheeses, sold in chunks, slices, shreds and snack bars; they're also committed to becoming a zero-waste operation.