How Garden Centers Are Getting Toxic, Bee-Killing Pesticides Out of Their Plants and Off of Their Shelves
Jun. 01, 2015 10:36AM EST
Food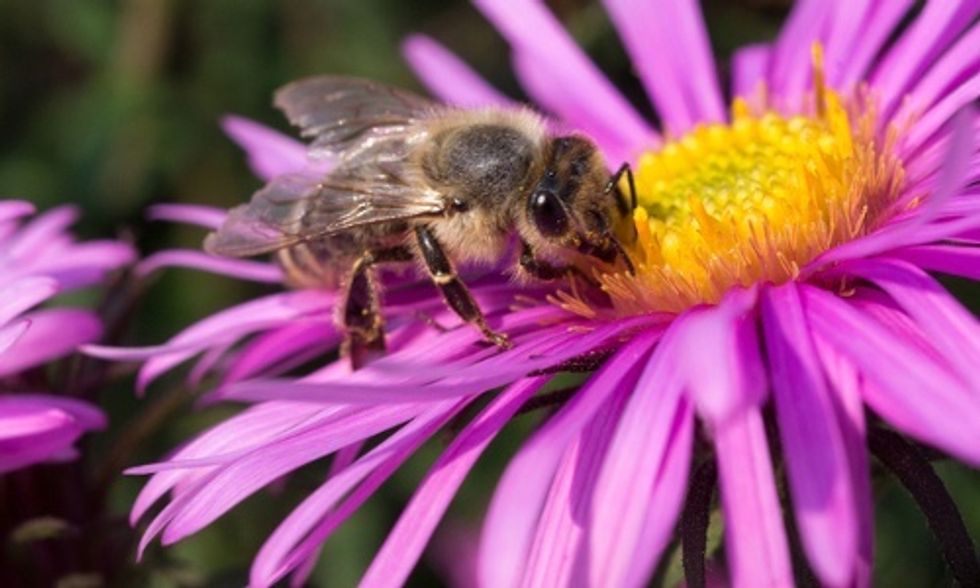 Over the last decade, we've heard the term "colony collapse disorder" a lot, describing the die-off of honeybees, pollinators essential to maintaining our food crops. Scientists have been looking for the cause and have identified one likely source as the neonicotinoids used in pesticides.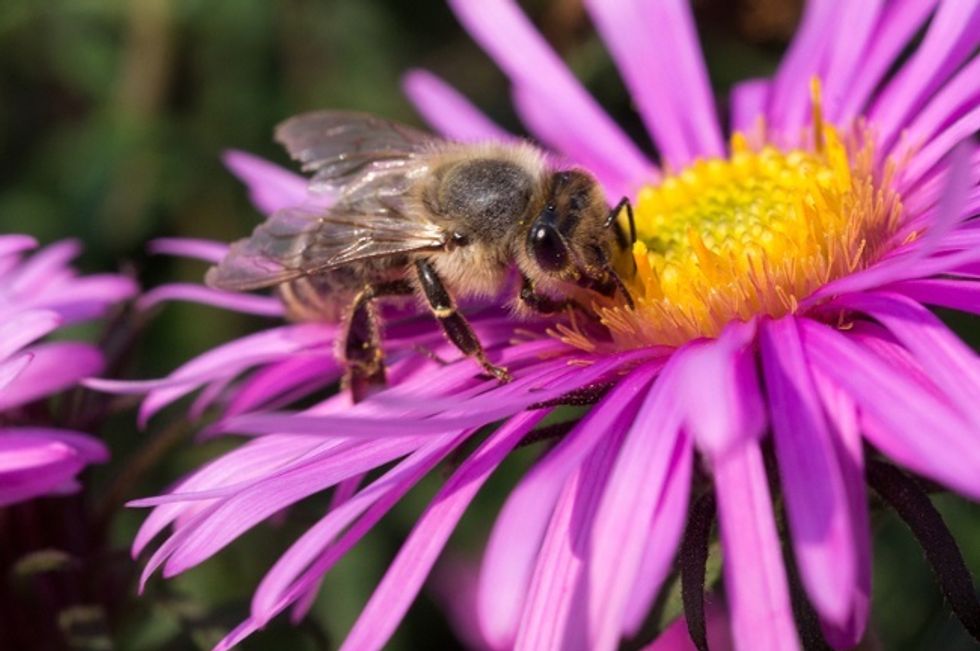 Photo credit: Shutterstock
Fortunately, there has been a lot of pushback on their use. While the Obama administration released its National Pollinator Health Strategy in May, focusing on planting millions of acres of federal land with pollinator-friendly plants and conducting more research but not limiting use of neonicotinoids, millions of people signed petitions calling for stronger rules.
But some businesses aren't sitting around waiting for the federal government to act and are listening to public concerns. Friends of the Earth (FOE) and Pesticide Research Institute are applying some positive reinforcement and giving kudos to those who are addressing the problem in a new report, Growing Bee Friendly: Profiles in Innovation. It spotlights how some businesses are developing strategies and resources to protect bees in response to public demand.
"A growing number number of wholesale nurseries, retailers and institutions have successfully made the shift away from bee-harming pesticides," said Lisa Archer, FOE food and technology director. "We hope this report will be a resource for other responsible businesses as they get toxic, bee-harming pesticides out of their plants, off their shelves and out of the environment as soon as possible."
The report focuses on businesses that have taken steps to remove neonicotinoids, including the world's two largest home improvement retailers, Lowe's and Home Depot, which responded to an intense public pressure campaign after a report called Gardeners Beware 2014 was released last year by FOE and the Pesticide Research Institute, showing that 51 percent of the plant samples purchased at major gardening retailers in 18 U.S. and Canadian cities contained the harmful pesticides. Whole Foods and BJ's Wholesale Club have also begun to remove products containing the pesticide from their outlets.
Just this past week, the Ace Hardware chain announced that it is willing to look into removing products containing neonicotinoids from its stores.
"Ace Hardware will be diligent in working with our vendors to take appropriate action to protect pollinators," said the company's vice president of merchandising Frank Carroll.
"Along with our allies, we will continue to work with Ace and other retailers to move neonicotinoid pesticides off their shelves and out of garden plants as soon as possible to ensure bees can find save havens in our backyards and communities," said Archer. "Bees are the canary in the coal mine for our food system and everyone, including the business community, must act fast to protect them."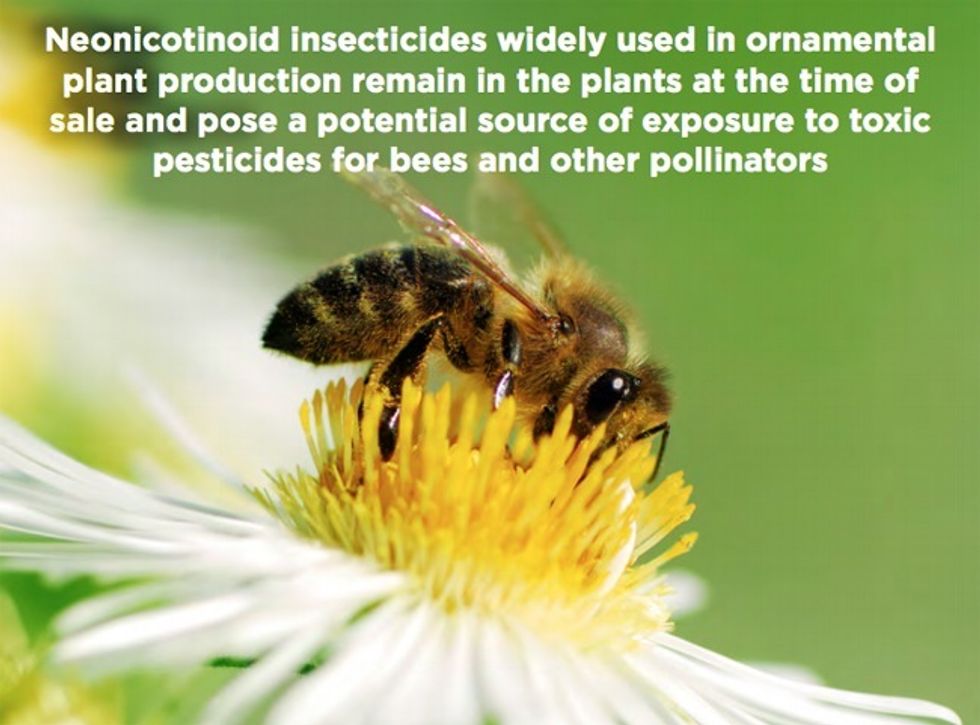 While national chains get a lot of attention, Growing Bee Friendly also takes a closer look at what some local garden centers are doing.
Among the businesses it cites is Maryland's Behnke Nurseries, which it says was one of the country's first garden centers to establish a policy of reducing the number of neonicotinoid-treated plants it sells. Behnke plant purchaser Larry Hurley said that they have identified growers who can provide the plants they want and that other suppliers tell him they are working on it. The nursery plans to promote pollinator-friendly plants on their display tables to make consumers more aware and make it easier for them to commit to purchasing bee-friendly plants.
"The report profiles some of the first garden centers, nurseries and greenhouse growers who have successfully removed neonicotinoids from their plants," said the Pesticide Research Institute's Rose Radford, one of Growing Bee Friendly's co-authors. "Their stories provide valuable insights and strategies to growers who are planning for neonicotinoid-free plant production, and can help provide guidance for retailers who are working on developing store policies on neonicotinoid-treated plants."
The report also singles out the city of Boulder, which is developing a process for sourcing and purchasing neonicotinoid-free plants for use on city properties. And in May, the city adopted a resolution to ban neonicotinoid application on city properties. It's one of many cities to do so. The governments of Minnesota, Oregon and Ontario have also taken steps to reduce neonicotinoid use.
Growing Bee Friendly suggests that retailers develop a three-pronged policy:
purchase only neonicotinoid-free plants

separate plants that are neonicotinoid-free from those that aren't

label the neonicotinoid-free plants
In addition, it urges them to push growers for verification and testing; to publicize their policies; to train staff to answer consumer questions; and to offer safe pesticide options.
"With a new spring planting season upon us, it's important for gardeners to be aware that many plants in stores today still contain neonicotinoids," said Archer. "We look forward to the day when we can all buy home garden plants without worrying about harming pollinators. In the meantime, gardeners should choose organic and neonic-free starts, seeds and soil."
YOU MIGHT ALSO LIKE
3 Problems With Obama's Plan to Save the Bees
Thrilling Ted Talk Looks at the First 21 Days of a Bee's Life
EcoWatch Daily Newsletter
Related Articles from EcoWatch