This website uses cookies to ensure you get the best experience while browsing it. By clicking 'Got It' you're accepting these terms.
How Fracking Is Driving Gas Prices Below $2 Per Gallon
Dec. 16, 2015 12:35PM EST
Energy
Wondering why the price of gasoline has plummeted to around $2 per gallon?
It is largely an attempt to quash one of the most odious of energy processes—fracking—by a most odious of energy organizations, the Organization of the Petroleum Exporting Countries (OPEC).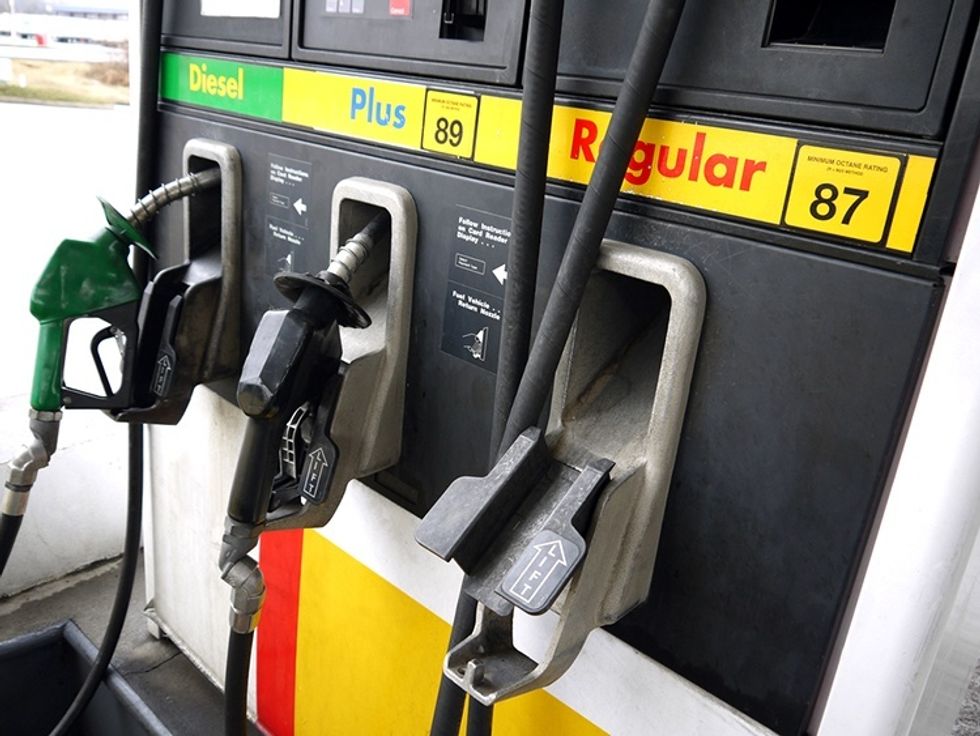 Photo credit: Shutterstock
Hydraulic fracturing, or fracking, has in recent years caused a revolution in petroleum extraction. Using a new technique to split underground shale formations, it has vastly expanded gas and oil output in the U.S.
But it is a messy and polluting process. Massive amounts of water and 600 chemicals are shot into the ground under high pressure to release the gas and oil. But gas from fracking wells leaks into underground water tables causing serious contamination and also the phenomenon of what comes out of a water faucet bursting into flames when touched with a lit match.
The 2010 Oscar-nominated film Gasland and subsequent Gasland Part II, both written and directed by Josh Fox, document this fiery aspect of fracking, along with the many instances of water pollution and impacts on people's health caused by the contamination of water.
Another major problem involves fracking setting off earthquakes. A new fracking technique—horizontal fracking—was first developed with federal government support in the U.S. in the 1980s. It has enabled the U.S. to again become a global giant in petroleum production. The International Energy Agency projected that in 2015, because of fracking, the U.S. would displace Saudi Arabia as the world's largest oil producer.
Fracking, however, is a relatively expensive process—about 10 times more costly than the $5 to $6 per barrel cost of drilling oil from conventional wells in Saudi Arabia. By letting the price of oil drop, OPEC, in which Saudi Arabia is the key partner, has been applying financial pressure on the fracking industry.
Oil in much of 2015 went down to $60 a barrel making fracking a problematic undertaking economically. And consequently there have been reductions in and cancellations of numerous fracking operations.
Still, the fracking industry cut costs in seeking to survive.
And that has resulted in even greater OPEC pressure—the drop in price of a barrel of oil to less than $40—as low as $37—in recent weeks. Thus $2 per gallon gasoline in the U.S.
Manipulation of the petroleum market is not new. John D. Rockefeller with his Standard Oil Trust mastered it between the end of the 19th and start of the 20th century. Rockefeller and his trust succeeded in controlling virtually all the oil industry in the U.S. and also dominated the international market. The Standard Oil Trust fixed prices, set production quotas and ruthlessly forced out competitors.
The U.S. Supreme Court in 1911, in the wake of muckraker Ida Tarbell's investigative articles and book on the Standard Oil Trust, utilized the Sherman Antitrust Act to break the trust up into 34 pieces. "For the safety of the Republic," the court declared, "we now decree that this dangerous conspiracy must be ended."
With discoveries of oil in the Middle East in the 1930s and with Standard Oil offshoots deeply involved, the Arabian American Oil Company—Aramco—was created in Saudi Arabia in 1944. In the 1970s, the Saudi government began acquiring more and more of a stake in Aramco, taking over full control in 1980 of what is now called Saudi Aramco.
OPEC was formed in 1960 to "coordinate and unify the petroleum policies of its member countries and ensure the stabilization of oil markets in order to secure an efficient, economic and regular supply of petroleum to consumers, a steady income to producers and a fair return on capital for those investing in the petroleum industry."
Saudi Arabia is the key partner in the 12-nation OPEC cartel because it has the world's largest proven crude oil reserves at more than 260 billion barrels.
OPEC sets production targets for its member countries and its method for lowering the price of petroleum is by keeping production high.
So the price of a barrel of oil is less than half of what it was as recently as midway last year.
As Alan Greenspan, former chairman of the Federal Reserve, has explained, "At the root of the price collapse was the development in the U.S. of technologies for extracting tight oil, mostly from shale deposits, by horizontal drilling and hydraulic fracturing. This reversed the decline in U.S. oil production."
"After the oil embargo of the 1970s," Greenspan said, "OPEC wrested oil pricing power from the U.S." But now, there's been a "shale technology breakthrough."
"As a result, the gap between global production and consumption has widened, precipitating a rise in U.S. and world inventories and a fall in prices. Saudi Arabia, confronted with an oil supply glut but not wishing to lose market share, abandoned its leadership role as global swing producer and refused to cut production to support prices," Greenspan added.
Jamie Webster, an oil market analyst at HIS Energy in Washington, DC, said, "The faster you bring the price down, the quicker you will have a response from U.S. [fracking] production—that is the expectation and the hope. I cannot recall a time when several [OPEC] members were actively pushing the price down in both word and deed."
There are other factors, too.
The descending price of oil has severely impacted Russia, causing some analysts to see collusion between the U.S. and Saudi Arabia to hurt the Putin regime in Russia. Some have extended this to seeing such a conspiracy also being aimed at major oil producers Iran and Venezuela, too.
Russian President Vladimir Putin has raised this prospect declaring: "We all see the lowering of the oil price. There's lots of talk about what's causing it. Could it be the agreement between the U.S. and Saudi Arabia to punish Iran and affect the economies of Russia and Venezuela? It could." Martin Katusa, chief energy investment strategist at Casey Research in Vermont, said, "It's a three-way oil war between OPEC, Russia and North American shale."
Is a Saudi Arabian assault on the clean-energy movement a factor, too?
"Now energy experts are seeing evidence that the oil bust is helping Saudi Arabia achieve another long-term goal: undermining global efforts to reduce dependence on fossil fuels," wrote Joby Warrick, who has written on energy and environmental issues for the Washington Post.
Indeed, with the sharp decrease in the price of gasoline, sales of SUVs and other low-efficiency vehicles has been rising.
There's the big question of whether oil—from fracking or conventional drilling in the Middle East—can compete with with renewable energy technologies.
A report done for the National Bank of Abu Dhabi by the University of Cambridge and PriceWaterhouseCoopers, "Financing the Future of Energy," declared: "The energy system of the past will not be the same as the energy system of the future. It is clear that renewables will be an established and significant part of the future energy mix, in the region and globally."
Solar photovoltaic power and wind energy have "already a track record of successful deployment," the report noted. "Prices have fallen dramatically in the past few years: solar PV falling by 80 percent in six years and on-shore wind by 40 percent. The speed of this shift towards grid parity with fossil fuels means that, in many instances, perceptions of the role of renewables in the energy mix have not caught up with reality."
The report noted the bid of the Dubai Electricity and Water Authority to build a 200 megawatt solar photovoltaic facility in Dubai, "set a new world benchmark for utility scale solar PV costs, showing that photovoltaic technologies are competitive today with oil at $10 per barrel."
How far down will the price of oil go?
"Oil producers prepare for prices to halve to $20 a barrel" was the headline in The Guardian this month.
The article in the British publication by Larry Elliot, its economics editor, stated: "The fall from a recent peak of $115 a barrel in August 2014 has left all OPEC members in financial difficult, but Saudi Arabia has refused to relent on the strategy of using a low crude price to knock out U.S. shale producers. Hopes that OPEC would announce production curbs to push up prices were dashed when the cartel met in Vienna last Friday, triggering the latest downward lurch in the cost of oil."
At this rate, will gas prices continue to drop?
And how long will low oil prices last as OPEC tries to smite the frackers?
The history of oil industry market manipulation says not that long.
As the secretary-general of OPEC, Abdulla al-Badri, said this year, with prices "around $45-$55 [per barrel], I think maybe they [have] reached the bottom and we [will] see some rebound very soon." Indeed, he ventured that oil prices might skyrocket back up as they had plummeted down, to "more than $200" a barrel, although he wouldn't give a time frame.
YOU MIGHT ALSO LIKE
Watch Colbert Say Goodbye to Fossil Fuels
Town Rejects Solar Farm Amid Fears it Would 'Suck Up All the Energy From the Sun'
353 State Lawmakers From 46 States Support 100% Clean Energy by 2050
Volvo Leaves Mining Association Over Its Lobbying Against Climate Change Policies
EcoWatch Daily Newsletter
A harbour seal on an ice floe in Glacier Bay, Alaska. A new study shows that the climate crisis has warmed waters, changing ecosystems and crippling sea ice growth. Janette Hill / robertharding / Getty Images Plus
Doctors report that only 1 in 4 children are getting the recommended 60 minutes of physical activity per day. Ronnie Kaufman / DigitalVision / Getty Images
By Dan Gray
Pediatricians are being urged to start writing "exercise prescriptions" for the children they see in their office.
A First Nations protester walks in front of a train blockade in Tyendinaga, near Belleville, Ontario, Canada on Feb. 21, 2020. LARS HAGBERG / AFP via Getty Images
An indigenous rail blockade that snarled train travel in Canada for more than two weeks came to an end Monday when police moved in to clear protesters acting in solidarity with another indigenous community in British Columbia (B.C.), which is fighting to keep a natural gas pipeline off its land.
A rainbow snake, a rare reptile spotted in a Florida county for the first time in more than 50 years, seen here on July 5, 2013.
Kevin Enge / FWC Fish and Wildlife Research Institute / Flickr
A Florida hiker recently stumbled across a slithering surprise — a rare snake that hadn't been spotted in the area for more than 50 years.
We need our government to do everything it can to stop PFAS contamination and exposure from wreaking havoc in communities across the country. LuAnn Hun /
Unsplash
By Genna Reed
The EPA announced last week that it is issuing a preliminary regulatory determination for public comment to set an enforceable drinking water standard to two of the most common and well-studied PFAS, PFOA and PFOS.
This decision is based on three criteria:
PFOA and PFOS have an adverse effect on public health
PFOA and PFOS occur in drinking water often enough and at levels of public health concern;
regulation of PFOA and PFOS is a meaningful opportunity for reducing the health risk to those served by public water systems.