This website uses cookies to ensure you get the best experience while browsing it. By clicking 'Got It' you're accepting these terms.
How Forest Fragmentation Threatens Biodiversity
Apr. 30, 2015 01:41PM EST
The U.S. currently has 59 national parks, protecting more than 210,000 square miles of land with several more public lands being preserved on state and local levels. Very few national parks are large enough to contain ecosystems. Problems such as greenhouse gases, climate change, industrial fumes, the extent of land development and their environmental impacts were not envisioned when most of their borders were first enacted.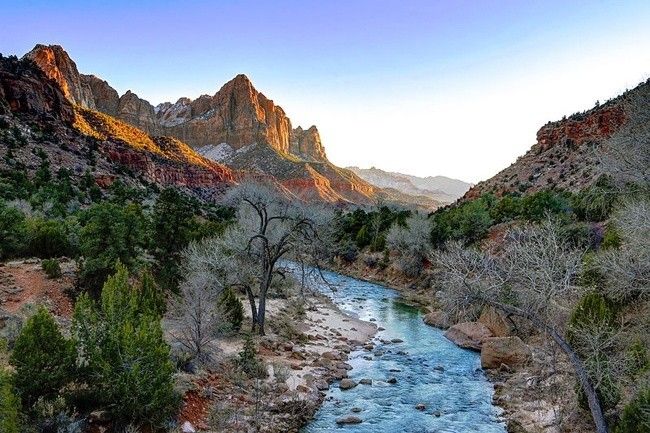 The physical boundaries of these public lands are not enough to protect their ecosystems from exterior influences. The National Parks are not islands. They have intimate connections to our lives. They are sources of clean air, clean water and untouched forests that thousands of species, including our own, depend on. New studies reveal that our public lands are too fragmented and small to sufficiently protect the biodiversity of the U.S.
A recent study—Habitat Fragmentation and Its Lasting Impact on Earth's Ecosystems—on habitat fragmentation came to some startling conclusions for our country's ecosystems, many of which our public lands were enacted to protect and conserve. The study conducted by some of the leading ecologists in the world focused on long term habitat fragmentation experiments in several different continents. They discovered that 70 percent of the existing forestlands in the world are within .5 mile of the forest's edge, making them susceptible to suburban, urban and agricultural influences that continue to intrude further into forests everyday. These influences were found to reduce diversity of life by 13 to 75 percent in all areas studied, with the percentage increasing the closer the habitat to the edge. In fragmented habitats, within 20 years nearly half of all species are lost and this downward trend continues over time.
The leading author of the study, Dr. Nick Haddad of North Carolina explains, "Large public lands like national parks are critical for conservation, but not sufficient. Larger connected areas of land need to be conserved. The scope and scale of land needed to protect and preserve a variety of biodiversity is well beyond the area that the national parks encompass. Ideally, it would be great to enlarge national parks, but more realistically the size needed to protect biodiversity should connect other protected areas in conjunction with national parks."
Haddad used the Yellowstone to Yukon corridor as an example. He states, "The 1,800 miles of lands stringed together consist of several national parks and other protected lands, creating a superhighway for wildlife to flourish. With human population increasing and the resources those increases call for, there is a greater need for more conservation against these pressures. We need to take advantage of the parks and other public lands, think outside their boundaries to create resilience and resist the negative changes of a shrinking wilderness."
A co-author of the paper published on Habitat Fragmentation, Clinton Jenkins, also published a paper on April 2, U.S. Protected lands mismatch biodiversity priorities. Many areas with high concentrations of biodiversity in the U.S. are inadequately protected and conserved, especially when it comes to protecting unique species to specific geographical areas. "Most species are very small and endemic to very small geographical areas. These rare, narrowly distributed species, most often fish, reptiles, amphibians, are often overlooked when it comes to conservation," said Jenkins.
The study found that the most endemic rich states in the continental U.S. exist in the southeast and despite consisting of 10.8 percent of the land area of the country, only 7.8 percent of the country's land easements exist in these regions. Some priority areas cited are the middle to southern blue ridge mountains of North Carolina, the Sierra Nevada Mountains, Florida panhandle and Florida keys among several others. According to the paper, habitat loss is the primary threat to the survival of a species, and the lands being conserved in the U.S. are not geographically configured to distribution of endemic and vulnerable species.
Jenkins states, "It is a biological defined trend that heavily fragmented habitats are too small to thrive in the long term. Multiple strategies to connect these priority areas need to be implemented such as better land management and more incentives to private landowners for conservation. Financial resources are most often directed to the most convenient areas to conserve or where the funding originated rather than what makes the most sense in protecting biodiversity. By redirecting the financial resources available to conservation to connect endemic rich areas large enough to protect ecosystems, it will make it much cheaper and easier to maintain those areas."
YOU MIGHT ALSO LIKE
Help Save One of America's Most Pristine and Endangered Rivers from Proposed Coal Mine
10 Stunning Photos of America's National Parks
Leonardo DiCaprio Unveils Groundbreaking Eco-Resort in Belize
EcoWatch Daily Newsletter
Ryan Hagerty / USFWS
It's become a familiar story with the Trump administration: Scientists write a report that shows the administration's policies will cause environmental damage, then the administration buries the report and fires the scientists.
A coalition of some of the largest environmental groups in the country joined forces to file a lawsuit in federal court challenging the Trump administration's maneuver to weaken the Endangered Species Act.
beyond foto / Getty Images
By Kimberly Holland
Children who eat a lot of gluten in their earliest years may have an increased risk of developing celiac disease and gluten intolerance, according to a new study published in JAMATrusted Source.
Joe Raedle / Getty Images
By Jake Johnson
Calling the global climate crisis both the greatest threat facing the U.S. and the greatest opportunity for transformative change, Sen. Bernie Sanders unveiled today a comprehensive Green New Deal proposal that would transition the U.S. economy to 100 percent renewable energy and create 20 million well-paying union jobs over a decade.
The Parties to CITES agreed to list giraffes on Appendix II of the Convention on International Trade in Endangered Species (CITES) today at the World Wildlife Conference or CoP18 in Geneva. Such protections will ensure that all giraffe parts trade were legally acquired and not sourced from the poached giraffes trade and will require countries to make non-detriment findings before allowing giraffe exports. The listing will also enable the collection of international trade data for giraffes that might justify greater protections at both CITES and other venues in the future.

The WHO stressed that more research is needed on the potential health risks of microplastic ingestion. luchschen / iStock / Getty Images Plus
The UN's health agency on Thursday said that microplastics contained in drinking water posed a "low" risk at their current levels.
However, the World Health Organization (WHO) — in its first report on the potential health risks of microplastic ingestion — also stressed more research was needed to reassure consumers.
Brazil's right-wing President Jair Bolsonaro is giving President Trump a run for his money in the alternative facts department.
Washington Gov. Jay Inslee, who made solving the climate crisis the center of his presidential campaign, is dropping out of the 2020 Democratic primary race.