This website uses cookies to ensure you get the best experience while browsing it. By clicking 'Got It' you're accepting these terms.
How Food With Palm Oil is Wiping Out Orangutans and Enslaving Workers
Nov. 10, 2013 09:26AM EST
By Piper Hoffman
"Adam," a poor 19-year-old Indonesian, found a job driving trucks for a palm oil plantation that paid $6 a day. The foreman picked him up for a three-week, two-thousand mile journey to the worksite in Borneo. Along the way the terms of employment changed: Adam wouldn't be paid for two years, and in the meantime he would have to borrow money from the employer for his food and housing. Workers who ran away from the company were dragged back and beaten. Adam had become a slave laborer, as Businessweek's Benjamin Skinner reports.
The palm oil Adam is made to harvest ends up in about half the products in your local grocery store.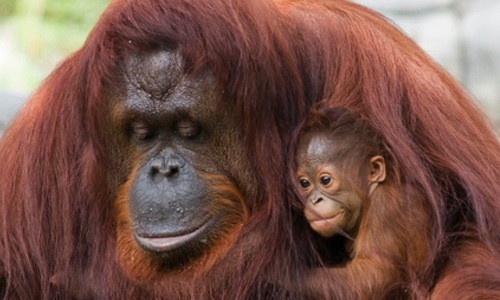 Palm oil producers in Indonesia and Malaysia rely on forced and child labor, but poverty-stricken Asians aren't their only victims. They also clear tropical rainforests to plant their oil palm trees, obliterating the homes of endangered species like orangutans, pygmy elephants and Sumatran tigers.
Only 60,000 or fewer orangutans are left in the wild. Orangutan Foundation International says they will go extinct without "drastic intervention." They aren't able to bounce back quickly from mass deaths: females don't reach sexual maturity until they are 10 or 15 years old. They usually give birth to only one baby at a time, whom they nurse for about 3.5 years before they become pregnant again. More than 50% of orangutans now live "outside of protected areas, in forests under management by timber, palm oil and mining companies," World Wildlife Fund reports.
Not all palm oil comes from environmental destruction and worker exploitation, but food manufacturers have no way to distinguish humane and sustainable palm oil from the kind that is destroying human and animal lives. Cargill and other companies that supply the manufacturers combine palm oil from all sources, so even if manufacturers want to favor conscientious producers, they can't.
The Rainforest Action Network has launched a campaign called The Last Stand of the Orangutan to address the problem by targeting the biggest manufacturers of palm-oil-laced snacks. The goal is for those businesses to pressure suppliers to separate out sustainable palm oil so they can buy it exclusively.
A boycott won't work. For one thing, the behemoth corporations that make foods with palm oil make such an overwhelming number of the items in grocery stores, including not just food but household and personal care products as well, that it would be impractical to steer clear of them. For another, shoppers can't tell from reading the ingredients whether a product contains palm oil. It is disguised under different names, including vegetable oil, glyceryl stearate, and palmityl alcohol. For a more complete list of palm oil's aliases, visit Say No to Palm Oil.
Contact the companies that have palm oil in their products. Rainforest Action Network has identified the following corporations as priorities. For a list of chocolates produced without slave labor visit the Food Empowerment Project.
EcoWatch Daily Newsletter
In tea, food, or just on your windowsill, embrace the fragrance and fantastic healing potential of herbs.
By Ana Santos Rutschman
The world of food and drug regulation was rocked earlier this month by the news of a change in leadership at the Food and Drug Administration. Commissioner Scott Gottlieb resigned and will step down in early April. His temporary replacement is Dr. Ned Sharpless, director of the National Cancer Institute.
MartinPrescott / iStock / Getty Images
On Wednesday the U.S. Environmental Protection Agency (EPA) announced the first 20 chemicals it plans to prioritize as "high priority" for assessment under the Toxic Substances Control Act. Given the EPA's record of malfeasance on chemicals policy over the past two years, it is clear that these are chemicals that EPA is prioritizing to ensure that they are not properly evaluated or regulated.
Strawberries top the Environmental Working Group's "Dirty Dozen" list of U.S. produce most contaminated with pesticides. DANIEL LEAL-OLIVAS / AFP / Getty Images
Which conventionally-grown fruits and vegetables in the U.S. are most contaminated with pesticides? That's the question that the Environmental Working Group answers every year with its "Dirty Dozen" list of produce with the highest concentration of pesticides after being washed or peeled.
A drilling rig in a Wyoming natural gas field. William Campbell / Corbis via Getty Images
A U.S. federal judge temporarily blocked oil and gas drilling on 300,000 acres of federal leases in Wyoming Tuesday, arguing that the Bureau of Land Management (BLM) "did not sufficiently consider climate change" when auctioning off the land, The Washington Post reported.
Mizina / iStock / Getty Images
Oats are widely regarded as one of the healthiest grains you can eat, as they're packed with many important vitamins, minerals, and fiber.
JPMorgan Chase building in New York City. Ben Sutherland / CC BY 2.0
By Sharon Kelly
A report published Wednesday names the banks that have played the biggest recent role in funding fossil fuel projects, finding that since 2016, immediately following the Paris agreement's adoption, 33 global banks have poured $1.9 trillion into financing climate-changing projects worldwide.
Sriram Madhusoodanan of Corporate Accountability speaking on conflict of interest demand of the People's Demands at a defining action launching the Demands at COP24. Corporate Accountability
By Patti Lynn
2018 was a groundbreaking year in the public conversation about climate change. Last February, The New York Times reported that a record percentage of Americans now believe that climate change is caused by humans, and there was a 20 percentage point rise in "the number of Americans who say they worry 'a great deal' about climate change."