How Factory Farming Contributes to Global Warming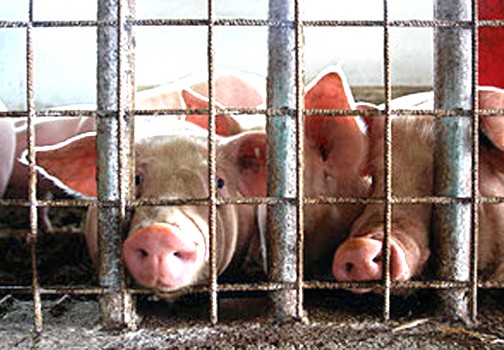 Today, nearly 65 billion animals worldwide, including cows, chickens and pigs, are crammed into CAFOs.

A growing number of organic consumers, natural health advocates and climate hawks are taking a more comprehensive look at the fundamental causes of global warming. And its led them to this sobering conclusion: our modern energy-, chemical- and genetically modified organism (GMO)-intensive industrial food and farming systems are the major cause of man-made global warming.
How did they reach this conclusion? First, by taking a more inclusive look at the scientific data on greenhouse gas (GHG) emissions—not just carbon dioxide (CO2), but also methane and nitrous oxide. Next, by doing a full accounting of the fossil fuel consumption and emissions of the entire industrial food and farming cycle, including inputs, equipment, production, processing, distribution, heating, cooling and waste. And finally, by factoring in the indirect impacts of contemporary agriculture, which include deforestation and wetlands destruction.
When you add it all up, the picture is clear—contemporary agriculture is burning up our planet. And factory farms or, in industry lingo, Confined Animal Feeding Operations (CAFOs), play a key role in this impending disaster.
The science behind global warming is complex. Without question, coal plants, tar sands and natural gas fracking have contributed heavily to GHG pollution, the major cause of global warming. We must unite to shut down these industries. Similarly, consumer overconsumption of fossil fuels represents another big piece of the climate-crisis equation. We absolutely must rethink, retrofit and/or redesign our gas-guzzling cars and our energy-inefficient buildings, if we want to reduce fossil fuel use by 90 percent over the next few decades.
But we also must address the environmental impact of factory farming.
Today, nearly 65 billion animals worldwide, including cows, chickens and pigs, are crammed into CAFOs. These animals are literally imprisoned and tortured in unhealthy, unsanitary and unconscionably cruel conditions. Sickness is the norm for animals who are confined rather than pastured, and who eat GMO corn and soybeans, rather than grass and forage as nature intended. To prevent the inevitable spread of disease from stress, overcrowding and lack of vitamin D, animals are fed a steady diet of antibiotics. Those antibiotics pose a direct threat to the environment when they run off into our lakes, rivers, aquifers and drinking water.
CAFOs contribute directly to global warming by releasing vast amounts of greenhouse gases into the atmosphere—more than the entire global transportation industry. The air at some factory farm test sites in the U.S. is dirtier than in America's most polluted cities, according to the Environmental Integrity Project. According to a 2006 report by the Food and Agriculture Organization of the United Nations (FAO), animal agriculture is responsible for 18 percent of all human-induced greenhouse gas emissions, including 37 percent of methane emissions and 65 percent of nitrous oxide emissions. The methane releases from billions of imprisoned animals on factory farms are 70 times more damaging per ton to the earth's atmosphere than CO2.
Indirectly, factory farms contribute to climate disruption by their impact on deforestation and draining of wetlands, and because of the nitrous oxide emissions from huge amounts of pesticides used to grow the genetically engineered corn and soy fed to animals raised in CAFOs. Nitrous oxide pollution is even worse than methane—200 times more damaging per ton than CO2. And just as animal waste leaches antibiotics and hormones into ground and water, pesticides and fertilizers also eventually find their way into our waterways, further damaging the environment.
Factory farms aren't just a disaster for the environment. They're also ruining our health. A growing chorus of scientists and public health advocates warn that the intensive and reckless use of antibiotics and growth hormones leads to factory-farmed food that contains antibiotic-resistant pathogens, drug residues such as hormones and growth promoters, and "bad fats." Yet despite these health and environmental hazards, the vast majority of consumers don't realize that nearly 95 percent of the meat, dairy and eggs sold in the U.S. come from CAFOs. Nor do most people realize that CAFOs represent a corporate-controlled system characterized by large-scale, centralized, low profit-margin production, processing and distribution systems.
There's an alternative: a socially responsible, small-scale system created by independent producers and processors focused on local and regional markets. This alternative produces high-quality food, and supports farmers who produce healthy, meat, eggs and dairy products using humane methods.
And it's far easier on the environment.
Consumers can boycott food products from factory farms and choose the more environmentally-friendly alternatives. But first, we have to regain the right to know what's in our food. And that means mandatory labeling, not only of genetically engineered foods, but of the 95 percent of non-organic, non-grass-fed meat, dairy and eggs that are produced on the hellish factory farms that today dominate U.S. food production.
In 2013, a new alliance of organic and natural health consumers, animal welfare advocates, anti-GMO and climate-change activists will tackle the next big food labeling battle: meat, eggs and dairy products from animals raised on factory farms, or CAFOs. This campaign will start with a massive program to educate consumers about the negative impacts of factory farming on the environment, on human health and on animal welfare, and then move forward to organize and mobilize millions of consumers to demand labels on beef, pork, poultry and dairy products derived from these unhealthy and unsustainable so-called "farming" practices.
Opponents and skeptics will ask, "What about feeding the world?" Contrary to popular arguments, factory farming is not a cheap, efficient solution to world hunger. Feeding huge numbers of confined animals actually uses more food, in the form of grains that could feed humans, than it produces. For every 100 food calories of edible crops fed to livestock, we get back just 30 calories in the form of meat and dairy. That's a 70-percent loss.
With the earth's population predicted to reach nine billion by mid-century, the planet can no longer afford this reckless, unhealthy and environmentally disastrous farming system. We believe that once people know the whole truth about CAFOs they will want to make healthier, more sustainable food choices. And to do that, we'll have to fight for the consumer's right to know not only what is in our food, but where our food comes from.
Visit EcoWatch's FACTORY FARMING and GENETICALLY MODIFIED ORGANISM pages for more related news on this topic.
Monsanto, the maker of the glyphosate-based herbicide Roundup, filed a motion June 16 in U.S. District Court, Northern District of California to reconsider the chemical's addition to California's Proposition 65 list of agents known to cause cancer.
The agrochemical giant made this move based on a June 14 Reuters investigation of Dr. Aaron Blair, a lead researcher on the World Health Organization's International Agency for Research on Cancer (IARC) committee, that classified glyphosate as a "2A probable human carcinogen" in March 2015.
Keep reading...
Show less
By Avery Friedman
Algae is often considered a nuisance, but for Sweden, the rapidly growing sea plant is now an asset.
As the Scandinavian country works to cut all of its greenhouse gas emissions by 2045, it's using algae to sop up the carbon emissions from cement.
Keep reading...
Show less
Jun. 24, 2017 01:35PM EST
By Itai Vardi
A recent intensification in protests against Williams Partners' planned Atlantic Sunrise pipeline in Pennsylvania prompted a state senator to propose legislation aimed at limiting demonstrations.
Last month, Pennsylvania Sen. Scott Martin (R-Norman) announced his intention to introduce legislation that would pass the costs of law enforcement responding to protests onto the demonstrators. Martin also helped introduce a different bill that would criminalize protests at natural gas facilities.
Keep reading...
Show less
Jun. 24, 2017 01:29PM EST
Black Shogun / iStock
The Federal Energy Regulatory Commission (FERC) released its Final Environmental Impact Statement Friday for the Mountain Valley Pipeline, a controversial 303-mile pipeline that would carry two billion cubic feet of fracked gas per day from West Virginia through Virginia.
Keep reading...
Show less
Jun. 24, 2017 01:46PM EST
Falcon PEV
The so-called "first and last mile" problem is one of the biggest hurdles with public transportation. How do you encourage more people to take Earth-friendlier commutes when their homes are miles away from the train or bus station?
One solution, as this Estonian electric scooter company proposes, is to simply take your commute with you—literally. Tallinn-based Stigo has developed a compact e-scooter that folds to the size of a rolling suitcase in about two seconds.
Keep reading...
Show less
Jun. 24, 2017 05:12PM EST
Connect4Climate
[Editor's note: I'm still in shock after hearing the news that Lucia Grenna passed away in her sleep last week. When we first met in April of 2014 at a Copenhagen hotel, I was immediately taken by here powerful presence. We spent the next couple days participating in a Sustainia climate change event where Lucia presented her audacious plans to connect people to the climate issue. I had the chance to partner with Lucia on several other projects throughout the years and work with her incredible Connect4Climate team. I was always in awe of her ability to "make the impossible possible." Her spirit will live on forever. — Stefanie Spear]
It is with a heavy heart that Connect4Climate announces the passing of its founder and leading light, Lucia Grenna. Lucia passed peacefully in her sleep on June 15, well before her time. We remember her for her leadership and extraordinary ability to motivate people to take on some of the greatest challenges of our time, not least climate change.
Keep reading...
Show less
Jun. 23, 2017 07:29PM EST
Wikimedia Commons
By Stacy Malkan
Neil deGrasse Tyson has inspired millions of people to care about science and imagine themselves as participants in the scientific process. What a hopeful sign it is to see young girls wearing t-shirts emblazoned with the words, "Forget princess, I want to be an astrophysicist."
Keep reading...
Show less
Jun. 23, 2017 01:57PM EST
www.youtube.com
By Andy Rowell
Any day now we will truly witness climate change in action. Within days at worst, maybe weeks at best, scientists predict that a huge section of the Larsen C ice shelf in Antarctica will break off into the ocean, in what is called a major "carving" event.
Keep reading...
Show less
Jun. 23, 2017 02:27PM EST
www.youtube.com
President Trump visited Cedar Rapids, Iowa on June 21 to speak to a large crowd in the U.S. Cellular Center at a political rally organized by his campaign.
As Trevor Noah noted during The Daily Show episode last night (starts at 2:25), the real reason Trump has these rallies is to "get back in front of his loyal crowds and feed of their energy." Noah believes that "Trump supporters are so on board with their dude he can say anything and they'll come along for the ride."
Keep reading...
Show less