How Factory Farming Contributes to Global Warming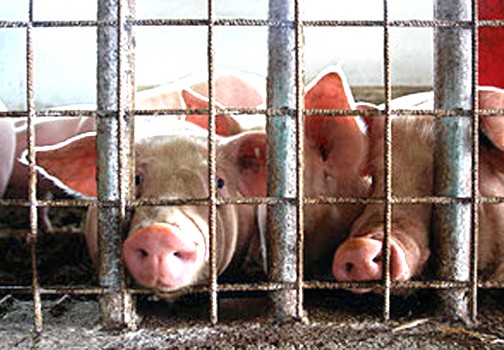 Today, nearly 65 billion animals worldwide, including cows, chickens and pigs, are crammed into CAFOs.

A growing number of organic consumers, natural health advocates and climate hawks are taking a more comprehensive look at the fundamental causes of global warming. And its led them to this sobering conclusion: our modern energy-, chemical- and genetically modified organism (GMO)-intensive industrial food and farming systems are the major cause of man-made global warming.
How did they reach this conclusion? First, by taking a more inclusive look at the scientific data on greenhouse gas (GHG) emissions—not just carbon dioxide (CO2), but also methane and nitrous oxide. Next, by doing a full accounting of the fossil fuel consumption and emissions of the entire industrial food and farming cycle, including inputs, equipment, production, processing, distribution, heating, cooling and waste. And finally, by factoring in the indirect impacts of contemporary agriculture, which include deforestation and wetlands destruction.
When you add it all up, the picture is clear—contemporary agriculture is burning up our planet. And factory farms or, in industry lingo, Confined Animal Feeding Operations (CAFOs), play a key role in this impending disaster.
The science behind global warming is complex. Without question, coal plants, tar sands and natural gas fracking have contributed heavily to GHG pollution, the major cause of global warming. We must unite to shut down these industries. Similarly, consumer overconsumption of fossil fuels represents another big piece of the climate-crisis equation. We absolutely must rethink, retrofit and/or redesign our gas-guzzling cars and our energy-inefficient buildings, if we want to reduce fossil fuel use by 90 percent over the next few decades.
But we also must address the environmental impact of factory farming.
Today, nearly 65 billion animals worldwide, including cows, chickens and pigs, are crammed into CAFOs. These animals are literally imprisoned and tortured in unhealthy, unsanitary and unconscionably cruel conditions. Sickness is the norm for animals who are confined rather than pastured, and who eat GMO corn and soybeans, rather than grass and forage as nature intended. To prevent the inevitable spread of disease from stress, overcrowding and lack of vitamin D, animals are fed a steady diet of antibiotics. Those antibiotics pose a direct threat to the environment when they run off into our lakes, rivers, aquifers and drinking water.
CAFOs contribute directly to global warming by releasing vast amounts of greenhouse gases into the atmosphere—more than the entire global transportation industry. The air at some factory farm test sites in the U.S. is dirtier than in America's most polluted cities, according to the Environmental Integrity Project. According to a 2006 report by the Food and Agriculture Organization of the United Nations (FAO), animal agriculture is responsible for 18 percent of all human-induced greenhouse gas emissions, including 37 percent of methane emissions and 65 percent of nitrous oxide emissions. The methane releases from billions of imprisoned animals on factory farms are 70 times more damaging per ton to the earth's atmosphere than CO2.
Indirectly, factory farms contribute to climate disruption by their impact on deforestation and draining of wetlands, and because of the nitrous oxide emissions from huge amounts of pesticides used to grow the genetically engineered corn and soy fed to animals raised in CAFOs. Nitrous oxide pollution is even worse than methane—200 times more damaging per ton than CO2. And just as animal waste leaches antibiotics and hormones into ground and water, pesticides and fertilizers also eventually find their way into our waterways, further damaging the environment.
Factory farms aren't just a disaster for the environment. They're also ruining our health. A growing chorus of scientists and public health advocates warn that the intensive and reckless use of antibiotics and growth hormones leads to factory-farmed food that contains antibiotic-resistant pathogens, drug residues such as hormones and growth promoters, and "bad fats." Yet despite these health and environmental hazards, the vast majority of consumers don't realize that nearly 95 percent of the meat, dairy and eggs sold in the U.S. come from CAFOs. Nor do most people realize that CAFOs represent a corporate-controlled system characterized by large-scale, centralized, low profit-margin production, processing and distribution systems.
There's an alternative: a socially responsible, small-scale system created by independent producers and processors focused on local and regional markets. This alternative produces high-quality food, and supports farmers who produce healthy, meat, eggs and dairy products using humane methods.
And it's far easier on the environment.
Consumers can boycott food products from factory farms and choose the more environmentally-friendly alternatives. But first, we have to regain the right to know what's in our food. And that means mandatory labeling, not only of genetically engineered foods, but of the 95 percent of non-organic, non-grass-fed meat, dairy and eggs that are produced on the hellish factory farms that today dominate U.S. food production.
In 2013, a new alliance of organic and natural health consumers, animal welfare advocates, anti-GMO and climate-change activists will tackle the next big food labeling battle: meat, eggs and dairy products from animals raised on factory farms, or CAFOs. This campaign will start with a massive program to educate consumers about the negative impacts of factory farming on the environment, on human health and on animal welfare, and then move forward to organize and mobilize millions of consumers to demand labels on beef, pork, poultry and dairy products derived from these unhealthy and unsustainable so-called "farming" practices.
Opponents and skeptics will ask, "What about feeding the world?" Contrary to popular arguments, factory farming is not a cheap, efficient solution to world hunger. Feeding huge numbers of confined animals actually uses more food, in the form of grains that could feed humans, than it produces. For every 100 food calories of edible crops fed to livestock, we get back just 30 calories in the form of meat and dairy. That's a 70-percent loss.
With the earth's population predicted to reach nine billion by mid-century, the planet can no longer afford this reckless, unhealthy and environmentally disastrous farming system. We believe that once people know the whole truth about CAFOs they will want to make healthier, more sustainable food choices. And to do that, we'll have to fight for the consumer's right to know not only what is in our food, but where our food comes from.
Visit EcoWatch's FACTORY FARMING and GENETICALLY MODIFIED ORGANISM pages for more related news on this topic.
Werner Baumann (left), CEO of Bayer AG, and Hugh Grant, chairman and CEO of Monsanto. Bayer
The European Commission, the European Union's executive arm, announced Tuesday it has opened an in-depth investigation into Bayer's proposed $66 billion takeover of Monsanto over "concerns that the merger may reduce competition in areas such as pesticides, seeds and traits."

The controversial merger, if successful, will form the world's largest integrated seed and pesticide company.
Keep reading...
Show less
www.youtube.com
U.S. Environmental Protection Agency (EPA) administrator Scott Pruitt appears in a video sponsored by the beef industry calling on farmers and ranchers to file official comments on a proposal to withdraw and rewrite the Obama-era "Waters of the United States" rule (or WOTUS) before the Aug. 28 deadline.
The National Cattlemen's Beef Association (NCBA) video was produced by the beef lobbying organization's policy division, Beltway Beef and was released last week. Notably, NCBA spent $117,375 in lobbying last year.
Keep reading...
Show less
Two years ago, Stanford University professor Mark Jacobson and his collaborators published a widely circulated study that detailed how the U.S. can eliminate nuclear, biofuels and fossil fuels and transition to 100 percent renewable energy by 2050.
Now, in a paper published Wednesday in the new scientific journal Joule, Jacobson and 26 co-authors created clean energy roadmaps not just for the 50 United States, but for 139 individual countries.

Keep reading...
Show less
Subtitle removed and sidebar altered on federal health website. EDGI
The effects of climate change is inextricably linked to human health. The burning of fossil fuels releases carbon dioxide and other greenhouse gases that traps heat in the atmosphere, causing global temperatures to spike, air quality to worsen, all while fueling droughts, floods and storms that impact food and water security.
Climate change is making us sick in many ways, but it appears that the Trump administration trying to downplay this fact.
Keep reading...
Show less
Pax Ahimsa Gethen / Wikimedia Commons
By Steve Horn
Energy Transfer Partners, owner of the Dakota Access pipeline, has filed a $300 million Racketeer Influenced and Corrupt Organizations (RICO) lawsuit against Greenpeace and other environmental groups for their activism against the long-contested North Dakota-to-Illinois project.
In its 187-page complaint, Energy Transfer alleges that "putative not-for-profits and rogue eco-terrorist groups who employ patterns of criminal activity and campaigns of misinformation to target legitimate companies and industries with fabricated environmental claims and other purported misconduct" caused the company to lose "billions of dollars."
Keep reading...
Show less
ExxonMobil misled the public on what it knew about climate change and its link to fossil fuels, according to a groundbreaking new analysis of the company's internal and external communications.
In a study published Tuesday in the journal Environmental Research Letters, Harvard postdoctoral fellow Geoffrey Supran and professor Naomi Oreskes reviewed nearly 200 communications on climate change from the oil giant, including scientific research, internal company memos and paid editorial features in the New York Times.
Keep reading...
Show less
Energy
Aug. 22, 2017 12:55PM EST
Tallahassee Democrat / Twitter
The U.S. District Court of Appeals ruled 2-1 Tuesday saying that the Federal Environmental Energy Regulatory Commission (FERC) failed to adequately review the environmental impacts of the greenhouse gas (GHG) emissions of the fracked gas Sabal Trail pipeline, which runs more than 500 miles through Alabama, Georgia and Florida.
Keep reading...
Show less
Offshore Staghorn coral nursery. Rescue-A-Reef, UM Rosenstiel School of Marine and Atmospheric Science
As ocean waters warm and acidify, corals across the globe are disappearing. Desperate to prevent the demise of these vital ecosystems, researchers have developed ways to "garden" corals, buying the oceans some much-needed time. University of Miami Rosenstiel School marine biologist Diego Lirman sat down with Josh Chamot of Nexus Media to describe the process and explain what's at stake. This interview has been edited for length and clarity.
Keep reading...
Show less


Get EcoWatch in your inbox