This website uses cookies to ensure you get the best experience while browsing it. By clicking 'Got It' you're accepting these terms.
How Factory Farming Contributes to Global Warming
Jan. 21, 2013 09:22AM EST
Climate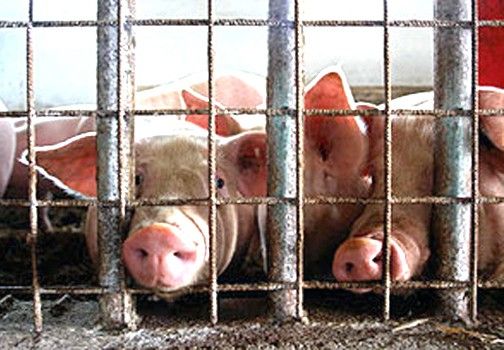 Today, nearly 65 billion animals worldwide, including cows, chickens and pigs, are crammed into CAFOs.

A growing number of organic consumers, natural health advocates and climate hawks are taking a more comprehensive look at the fundamental causes of global warming. And its led them to this sobering conclusion: our modern energy-, chemical- and genetically modified organism (GMO)-intensive industrial food and farming systems are the major cause of man-made global warming.
How did they reach this conclusion? First, by taking a more inclusive look at the scientific data on greenhouse gas (GHG) emissions—not just carbon dioxide (CO2), but also methane and nitrous oxide. Next, by doing a full accounting of the fossil fuel consumption and emissions of the entire industrial food and farming cycle, including inputs, equipment, production, processing, distribution, heating, cooling and waste. And finally, by factoring in the indirect impacts of contemporary agriculture, which include deforestation and wetlands destruction.
When you add it all up, the picture is clear—contemporary agriculture is burning up our planet. And factory farms or, in industry lingo, Confined Animal Feeding Operations (CAFOs), play a key role in this impending disaster.
The science behind global warming is complex. Without question, coal plants, tar sands and natural gas fracking have contributed heavily to GHG pollution, the major cause of global warming. We must unite to shut down these industries. Similarly, consumer overconsumption of fossil fuels represents another big piece of the climate-crisis equation. We absolutely must rethink, retrofit and/or redesign our gas-guzzling cars and our energy-inefficient buildings, if we want to reduce fossil fuel use by 90 percent over the next few decades.
But we also must address the environmental impact of factory farming.
Today, nearly 65 billion animals worldwide, including cows, chickens and pigs, are crammed into CAFOs. These animals are literally imprisoned and tortured in unhealthy, unsanitary and unconscionably cruel conditions. Sickness is the norm for animals who are confined rather than pastured, and who eat GMO corn and soybeans, rather than grass and forage as nature intended. To prevent the inevitable spread of disease from stress, overcrowding and lack of vitamin D, animals are fed a steady diet of antibiotics. Those antibiotics pose a direct threat to the environment when they run off into our lakes, rivers, aquifers and drinking water.
CAFOs contribute directly to global warming by releasing vast amounts of greenhouse gases into the atmosphere—more than the entire global transportation industry. The air at some factory farm test sites in the U.S. is dirtier than in America's most polluted cities, according to the Environmental Integrity Project. According to a 2006 report by the Food and Agriculture Organization of the United Nations (FAO), animal agriculture is responsible for 18 percent of all human-induced greenhouse gas emissions, including 37 percent of methane emissions and 65 percent of nitrous oxide emissions. The methane releases from billions of imprisoned animals on factory farms are 70 times more damaging per ton to the earth's atmosphere than CO2.
Indirectly, factory farms contribute to climate disruption by their impact on deforestation and draining of wetlands, and because of the nitrous oxide emissions from huge amounts of pesticides used to grow the genetically engineered corn and soy fed to animals raised in CAFOs. Nitrous oxide pollution is even worse than methane—200 times more damaging per ton than CO2. And just as animal waste leaches antibiotics and hormones into ground and water, pesticides and fertilizers also eventually find their way into our waterways, further damaging the environment.
Factory farms aren't just a disaster for the environment. They're also ruining our health. A growing chorus of scientists and public health advocates warn that the intensive and reckless use of antibiotics and growth hormones leads to factory-farmed food that contains antibiotic-resistant pathogens, drug residues such as hormones and growth promoters, and "bad fats." Yet despite these health and environmental hazards, the vast majority of consumers don't realize that nearly 95 percent of the meat, dairy and eggs sold in the U.S. come from CAFOs. Nor do most people realize that CAFOs represent a corporate-controlled system characterized by large-scale, centralized, low profit-margin production, processing and distribution systems.
There's an alternative: a socially responsible, small-scale system created by independent producers and processors focused on local and regional markets. This alternative produces high-quality food, and supports farmers who produce healthy, meat, eggs and dairy products using humane methods.
And it's far easier on the environment.
Consumers can boycott food products from factory farms and choose the more environmentally-friendly alternatives. But first, we have to regain the right to know what's in our food. And that means mandatory labeling, not only of genetically engineered foods, but of the 95 percent of non-organic, non-grass-fed meat, dairy and eggs that are produced on the hellish factory farms that today dominate U.S. food production.
In 2013, a new alliance of organic and natural health consumers, animal welfare advocates, anti-GMO and climate-change activists will tackle the next big food labeling battle: meat, eggs and dairy products from animals raised on factory farms, or CAFOs. This campaign will start with a massive program to educate consumers about the negative impacts of factory farming on the environment, on human health and on animal welfare, and then move forward to organize and mobilize millions of consumers to demand labels on beef, pork, poultry and dairy products derived from these unhealthy and unsustainable so-called "farming" practices.
Opponents and skeptics will ask, "What about feeding the world?" Contrary to popular arguments, factory farming is not a cheap, efficient solution to world hunger. Feeding huge numbers of confined animals actually uses more food, in the form of grains that could feed humans, than it produces. For every 100 food calories of edible crops fed to livestock, we get back just 30 calories in the form of meat and dairy. That's a 70-percent loss.
With the earth's population predicted to reach nine billion by mid-century, the planet can no longer afford this reckless, unhealthy and environmentally disastrous farming system. We believe that once people know the whole truth about CAFOs they will want to make healthier, more sustainable food choices. And to do that, we'll have to fight for the consumer's right to know not only what is in our food, but where our food comes from.
Visit EcoWatch's FACTORY FARMING and GENETICALLY MODIFIED ORGANISM pages for more related news on this topic.
EcoWatch Daily Newsletter

georgeclerk / E+ / Getty Images
By Jennifer Molidor
One million species are at risk of extinction from human activity, warns a recent study by scientists with the United Nations. We need to cut greenhouse gas pollution across all sectors to avoid catastrophic climate change — and we need to do it fast, said the Intergovernmental Panel on Climate Change.
This research should serve as a rallying cry for polluting industries to make major changes now. Yet the agriculture industry continues to lag behind.
Edwin Remsburg / VW Pics / Getty Images
Botswana, home to one third of Africa's elephants, announced Wednesday that it was lifting its ban on the hunting of the large mammals.
"The Ministry of Environment, Natural Resources Conservation and Tourism wishes to inform the public that following extensive consultations with all stakeholders, the Government of Botswana has taken a decision to lift the hunting suspension," the government announced in a press release shared on social media.
Pxhere
By Richard Denison
Readers of this blog know how concerned EDF is over the Trump EPA's approval of many dozens of new chemicals based on its mere "expectation" that workers across supply chains will always employ personal protective equipment (PPE) just because it is recommended in the manufacturer's non-binding safety data sheet (SDS).
By Grant Smith
From 2009 to 2012, Gregory Jaczko was chairman of the Nuclear Regulatory Commission, which approves nuclear power plant designs and sets safety standards for plants. But he now says that nuclear power is too dangerous and expensive — and not part of the answer to the climate crisis.
A lake in Rocky Mountain National Park. Brett Walton / Circle of Blue
By Brett Walton
When Greg Wetherbee sat in front of the microscope recently, he was looking for fragments of metals or coal, particles that might indicate the source of airborne nitrogen pollution in Rocky Mountain National Park. What caught his eye, though, were the plastics.
Gabriele Holtermann Gorden / Pacific Press / LightRocket / Getty Images
In a big victory for animals, Prada has announced that it's ending its use of fur! It joins Coach, Jean Paul Gaultier, Giorgio Armani, Versace, Ralph Lauren, Vivienne Westwood, Michael Kors, Donna Karan and many others PETA has pushed toward a ban.
This is a victory more than a decade in the making. PETA and our international affiliates have crashed Prada's catwalks with anti-fur signs, held eye-catching demonstrations all around the world, and sent the company loads of information about the fur industry. In 2018, actor and animal rights advocate Pamela Anderson sent a letter on PETA's behalf urging Miuccia Prada to commit to leaving fur out of all future collections, and the iconic designer has finally listened.
Amer Ghazzal / Barcroft Media / Getty Images
If people in three European countries want to fight the climate crisis, they need to chill out more.
That's the conclusion of a new study from think tank Autonomy, which found that Germany, the UK and Sweden all needed to drastically reduce their workweeks to fight climate change.
Amazon Employees for Climate Justice held a press conference after the annual shareholder meeting on May 22. Amazon Employees for Climate Justice