How Esther the Wonder Pig Inspired Me to Go Vegan
Jan. 21, 2014 12:19AM EST
Food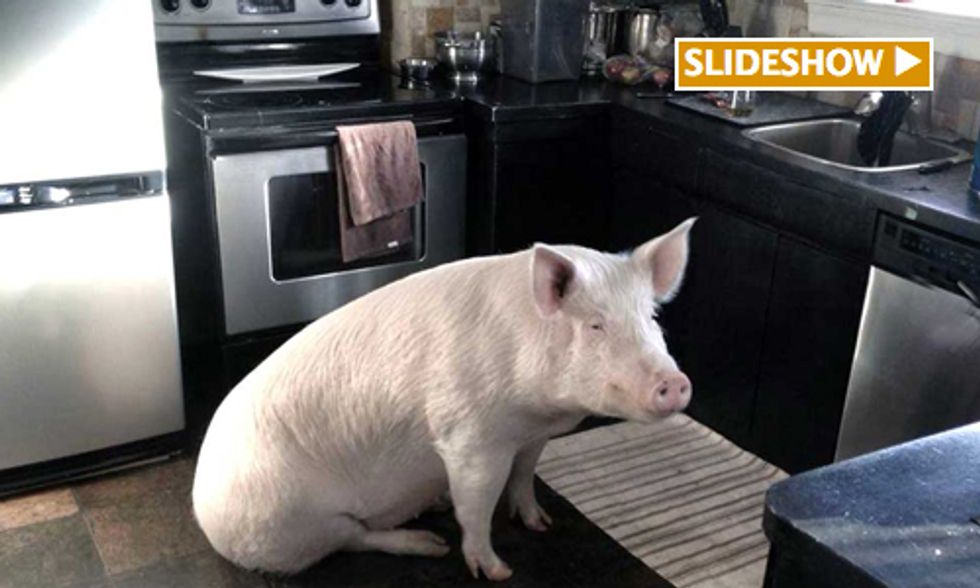 Esther came into our lives more than 19 months ago. In that time our world has been turned upside down and spun around in the most incredible ways. Our eyes and minds have been opened. We've been thrown headfirst into a world we knew little about. We've become "accidental activists."
[slideshow_deploy id='346822']
Let's go back to the beginning. It was a typical Friday night when I noticed a message from a friend on my Facebook wall. We hadn't spoken in years but "kept in touch" as many do via Facebook. She asked me if I was interested in a mini pig and I, being a huge animal lover jumped all over it. I said I needed to do a little research before I could agree. This research also included figuring out how my partner Derek felt about the idea as he had absolutely no idea what was going on at this point. About two hours after this initial message, I got another one saying somebody else was interested. I had already allowed myself to get somewhat excited so I panicked and took the bait. I agreed to meet her the following morning to pick up Esther without having time to do any of the "research" I had planned ... including speaking to Derek.
I spent the remainder of that day hiding at friends' houses until Derek left for work so I could sneak our new 5 lb. "mini pig" into the house. It was a pretty tense day and by the time Derek got home I was fit to be tied. The following few hours were somewhat heated but Derek was no match for Esther infectious personality. A week or so later he agreed to change her name from "Kijiji" as he had been calling her, to Esther, and away we went.
Within a week or so we had found a local vet who had plenty of experience with pigs. We set our first appointment and that's when things got really interesting. Esther's tail is cropped and little did we know that's pretty much a dead give away that you're dealing with a commercial pig. Prior to the day Esther arrived, neither of us had any experience with pigs whatsoever. We were horrified but hoped for the best and we began the adventure of training a piglet with no idea what was to come.
It proved to be some of the most trying experiences we could've imagined. Many times I sat on the floor with Esther and cried my eyes out worried we had made a huge mistake. She was getting into everything, and housetraining was a nightmare. We were absolutely lost and broken over the thought of having to admit defeat and give up. For whatever reason almost overnight everything seemed to fall into place. Her attitude calmed down, she started listening to commands like "no" and "come" and best of all, the accidents in the house stopped.
What made this even harder was all along knowing we had a commercial pig on our hands. We couldn't stop thinking about "what could've been" for Esther had we not brought her home. We imagined her brothers and sisters and what happened to them. It was horrifying and a realization that changed our lives forever.
We began watching documentaries on living a vegan lifestyle and what the pros and cons were. We also watched a few documentaries on farming and it was those that had the biggest impact. We had seen Esther's personality flourishing along with her mannerisms and the routine she had developed. She was like a little person that had every emotion we did. We could tell when she was happy, scared, mischievous or grumpy just by looking at her face. There's a level of awareness and consciousness in her that we had never experienced in an animal before. We saw all this and couldn't help but think of what was happening in farms around the world. To imagine how horrified, tormented and aware they are is enough to bring tears to my eyes. We had to become vegan. It wasn't a decision so much as what needed to be done.
The transition to being vegan was definitely a challenge at first but the more we learned about the factory farming industry, the more we were sure we had to keep going. The treatment of the animals is absolutely atrocious, we couldn't believe what we were seeing. We had no idea how much animals had been reduced to "products" with no regard whatsoever for their treatment. The idea of a "factory farm" meant nothing to us until we saw the mass scale of these places and the complete disregard for the animals. One of the worst things we saw was footage of pigs with their feet frozen to the floor of transport trailers because they were ankle deep in urine. Pigs are amazingly clean animals however they will go to the bathroom anywhere when they're scared.   Those poor pigs were horrified and frozen near solid only to be beaten and jabbed with electric prods to make them break their legs free of the ice.
One of the other things that became very clear to us was the environmental impact of factory farms. The waste and gasses created by the animals and transporting them to and from factory farms are major contributors to climate change. Then when you consider the amount of beautiful countryside cleared of natural habitats for wildlife so it can be dedicated to growing corn to feed livestock, you realize there's a giant snowball of reasons to make changes. So for us it was a total no brainer.
Almost two years later we're as madly in love with our now 385ish pound "mini pig" as we ever were. She makes us laugh and smile every single day and we can't imagine life without her. We are trying to get our affairs in order so we can open a sanctuary of our own. We're not sure how soon it'll happen, but it will. Too many people just like us get completely taken advantage of and their pigs end up abandoned or worse.
Had anyone told us two years ago that in January of 2014 we'd have a pet pig with tens of thousands of followers on Facebook from around the world telling us we're "an ambassador for change" and that Esther is "gonna change the world for farmed animals," we would've thought you were crazy.
Fast forward 19 months and the messages and comments we receive are absolutely indescribable. The support and love being sent our way is overwhelming and it's all for Esther. It's all for a pig who got a chance at life, a pig who already changed our world in the most amazing ways. People have said that "she's the luckiest pig in the world" and while that may be somewhat true, we know we are really the lucky ones. She opened our eyes and our minds in ways we could never have imagined. We owe her more than she'll ever owe us.
Visit EcoWatch's FOOD and FACTORY FARM pages for more related news on this topic.

EcoWatch Daily Newsletter