This website uses cookies to ensure you get the best experience while browsing it. By clicking 'Got It' you're accepting these terms.
How Environmental Factors Contribute to Human Health
Aug. 15, 2012 10:07AM EST
Climate

Preventing illness is the best way to get health care costs down. So why aren't governments doing more to protect the environment? We've long known that environmental factors contribute to disease, especially contamination of air, water and soil. Scientists are now learning the connection is stronger than we realized.
New research shows that 60 percent of emerging infectious diseases affecting humans—those that rapidly increase in incidence or geographic range—start with animals, two-thirds from wild animals. Lyme disease, West Nile virus, Ebola, SARS, AIDS ... these are just a few of the hundreds of epidemics that have spread from animals to people. A study by the International Livestock Research Institute concludes that more than 2 million people a year are killed by diseases that originated with wild and domestic animals. Many more become ill.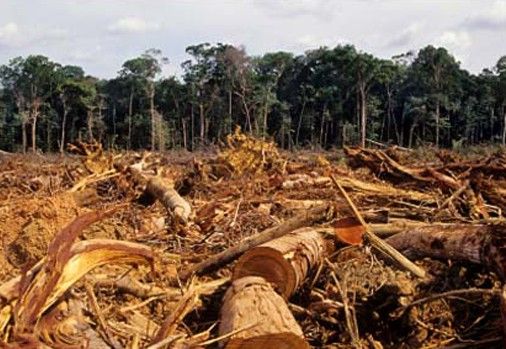 According to an article in the New York Times, "emerging diseases have quadrupled in the last half-century." The increase is mainly due to human encroachment into and destruction of wildlife habitat. For example, one study concluded that a four percent increase in Amazon deforestation led to a 50 percent increase in malaria because mosquitoes, which transmit the disease, thrive in the cleared areas.
Another example from the article shows how interconnected life is. Development in North America has destroyed or fragmented forests and chased many predators away. This has led to a huge increase in white-footed mice, which carry Lyme bacteria. The mice are not good at removing ticks and their larvae, so the ticks pick up bacteria from the mice and spread it to other mammals, including humans. Because the number of Lyme-infected ticks has multiplied, more are transferring the disease to humans.
"When we do things in an ecosystem that erode biodiversity—we chop forests into bits or replace habitat with agricultural fields—we tend to get rid of species that serve a protective role," Lyme Disease Researcher Richard Ostfeld told the New York Times, adding that our actions tend to favour species that act as disease carriers.
Global warming is adding to the problem. A study in the journal Nature titled Impact of Regional Climate Change on Human Health notes that heart attacks and respiratory illness due to heat waves, altered transmission of infectious diseases and malnutrition from crop failures can all be linked to a warming planet. And economic and political upheaval brought on by climate change can damage public health infrastructure, making it difficult for people to cope with the inevitable rise in sickness, according to a study in the Archives of Medical Research called Global Warming and Infectious Disease.
Research has also shown that warming ocean waters are increasing the incidence of waterborne illnesses, including those caused by toxic bacteria in shellfish.
This is costly to the economy as well as to human health and survival. The World Bank estimates that a severe influenza pandemic could cost the world economy $3 trillion. Environment Canada says air pollution alone costs the Canadian economy billions of dollars a year because of increased health-care costs, missed work days and reduced productivity.
A key solution, according to the One Health Initiative, is to look at the links between human, animal and ecological health and to manage our activities in a sustainable and holistic way. The U.S.-based initiative is bringing experts in human, animal and environmental health together to study these links.
Another promising area of research is natural capital evaluation. Although it's difficult, if not impossible, to put a dollar value on the numerous services nature provides, leaving them out of economic calculations means they are often ignored. Forests and green spaces filter water and store carbon. Urban green spaces provide cooling and protection from storms. And, ecosystems in balance help to protect us from disease outbreaks. Destroying these systems and replacing them with human-built infrastructure or paying for the consequences often costs much more than profits gained from exploitation.
With the world's human population now at 7 billion and growing, and the demand for technology and modern conveniences increasing, we can't control all our negative impacts. But we have to find better ways to live within the limits nature and its cycles impose. Our physical health and survival, and the health of our economies, depend on it.
———
Written with contributions from David Suzuki Foundation Editorial and Communications Specialist Ian Hanington.
EcoWatch Daily Newsletter
A glacier is seen in the Kenai Mountains on Sept. 6, near Primrose, Alaska. Scientists from the U.S. Geological Survey have been studying the glaciers in the area since 1966 and their studies show that the warming climate has resulted in sustained glacial mass loss as melting outpaced the accumulation of new snow and ice. Joe Raedle / Getty Images
By Mark Mancini
On Aug. 18, Iceland held a funeral for the first glacier lost to climate change. The deceased party was Okjökull, a historic body of ice that covered 14.6 square miles (38 square kilometers) in the Icelandic Highlands at the turn of the 20th century. But its glory days are long gone. In 2014, having dwindled to less than 1/15 its former size, Okjökull lost its status as an official glacier.
Members of Chicago Democratic Socialists of America table at the Logan Square Farmers Market on Aug. 18. Alex Schwartz
By Alex Schwartz
Among the many vendors at the Logan Square Farmers Market on Aug. 18 sat three young people peddling neither organic vegetables, gourmet cheese nor handmade crafts. Instead, they offered liberation from capitalism.
Hackney primary school students went to the Town Hall on May 24 in London after school to protest about the climate emergency. Jenny Matthews / In Pictures / Getty Images
Bird watching in the U.S. may be a lot harder than it once was, since bird populations are dropping off in droves, according to a new study.
Amazon CEO Jeff Bezos announces the co-founding of The Climate Pledge at the National Press Club on Sept. 19 in Washington, DC. Paul Morigi / Getty Images for Amazon
The day before over 1,500 Amazon.com employees planned a walkout to participate in today's global climate strike, CEO Jeff Bezos unveiled a sweeping plan for the retail and media giant to be carbon neutral by 2040, 10 years ahead of the Paris agreement schedule.
For the past seven years, the Anishinaabe people have been facing the largest tar sands pipeline project in North America. We still are. In these dying moments of the fossil fuel industry, Water Protectors stand, prepared for yet another battle for the water, wild rice and future of all. We face Enbridge, the largest pipeline company in North America, and the third largest corporation in Canada. We face it unafraid and eyes wide open, for indeed we see the future.
The climate crisis often intensifies systems of oppression. Rieko Honma / Stone / Getty Images Plus
By Mara Dolan
We see the effects of the climate crisis all around us in hurricanes, droughts, wildfires, and rising sea levels, but our proximity to these things, and how deeply our lives are changed by them, are not the same for everyone. Frontline groups have been leading the fight for environmental and climate justice for centuries and understand the critical connections between the climate crisis and racial justice, economic justice, migrant justice, and gender justice. Our personal experiences with climate change are shaped by our experiences with race, gender, and class, as the climate crisis often intensifies these systems of oppression.