How Drought-Stricken California Can Do More With Less Water
Jun. 11, 2014 09:43AM EST
Climate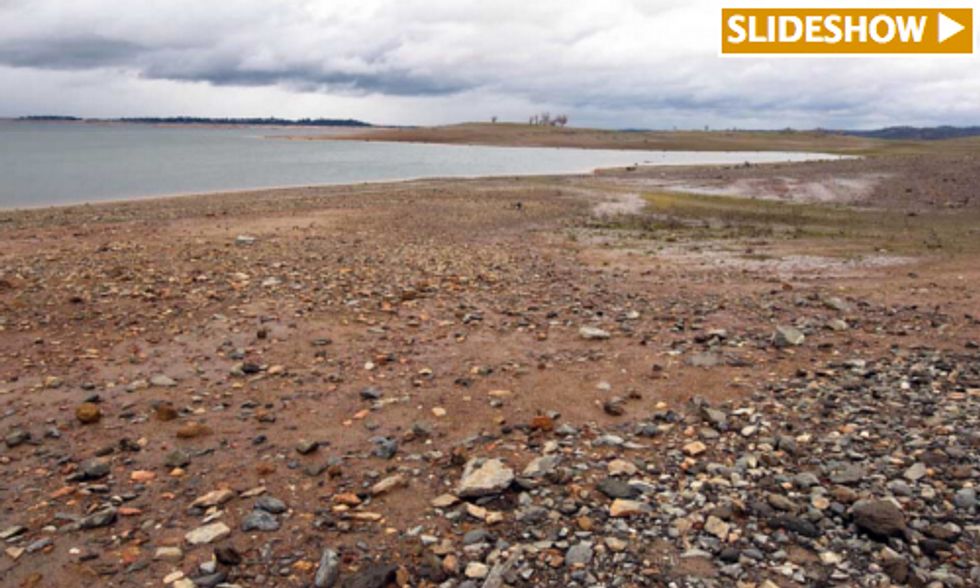 A dangerous drought continues impacting California, but a new study shows that water managers and agricultural users haven't done the state's supply any favors.
It also explains why it's not to late.
According to the Natural Resources Defense Council and Pacific Institute, California uses 6 million acre-feet more water than its rivers and aquifers can sustainably provide. However, researchers found that a myriad of techniques could actually help California save 14 million acre-feet to fill the gap. That amount is enough to irrigate all of the orchards, nuts, berries, vineyards, tomatoes, lettuce rice and other vegetables with some water left over.
"Our current approach to water use is unsustainable, but that doesn't mean there isn't enough water to meet our needs," Kate Poole, an NRDC senior attorney with the water program, said in a statement. "At a time when every drop counts, we need to employ sensible and cost-effective, 21st-century solutions that will help us reduce uses today while promising new, resilient supplies for cities and farms tomorrow."
[slideshow_deploy id='346883']
The organizations say The Untapped Potential of California's Water Supply is the first-ever statewide analysis of water supply contributions that could be achieved. Researchers identify four key areas to improve the state's water situation—agricultural, urban water use, water reuse and recycling and increased capturing of local rainwater.
"As climate change brings more extreme weather, including droughts, ramping up forward-thinking solutions now will help us be more resilient," said Peter Gleick, president of the Pacific Institute. "With widespread adoption of available water conservation and efficiency improvements, demand can be met more readily, less expensively, and with less pressure on our tapped-out rivers and groundwater basins. Moreover, water reuse and stormwater capture can help boost local supplies."
Here are a few key findings from their research:
Agriculture consumes about 80 percent of California's developed water supply. However, more sustainable water use can be achieved by expanding the adoption of drip irrigation, precise irrigation scheduling and other technologies and practices. Though some farmers are using these practices, wider adoption could reduce agricultural water use by 17 to 22 percent—or 5.6 to 6.6 million acre-feet of water annually. That savings amount equals the surface water that Central Valley farms are lacking this year because of the drought.
Urban areas use about 20 percent of the state's developed water supply, which is mostly delivered from reservoirs hundreds of miles away at a large environmental and energy cost. Combining improved efficiency and stormwater capture with greater water reuse can save a total of 5.2 to 7.1 million acre-feet of water per year. That's enough water to supply all of urban Southern California and have water remaining to help restore ecosystems and recharge aquifers. These approaches also cut energy use, boost local water reliability and improve water quality in coastal regions.
The 14 million acre-feet in new water supplies and demand reductions per year is more water than is used in all of California's cities in a year. Those savings could provide enough water to serve 20 cities the size of Los Angeles every year.
"We have an unprecedented opportunity to do more with less—and we need to take every possible step to do so," report co-author Robert Wilkinson of UC Santa Barbara said. "By rethinking water management strategies so we work in harmony with the environment and our economy, we'll be rewarded with dramatic water savings that will offer us local and more sustainable supply for decades to come."
——–
YOU ALSO MIGHT LIKE
Hundreds of California Businesses Band Together in Face of Devastating Drought
8 Foods That California's Drought Will Make More Costly
Is California Headed For a Century-Long Drought?
——–
EcoWatch Daily Newsletter