This website uses cookies to ensure you get the best experience while browsing it. By clicking 'Got It' you're accepting these terms.
How Does Your State Rank on Its Commitment to Local Foods?
Apr. 15, 2013 09:57AM EST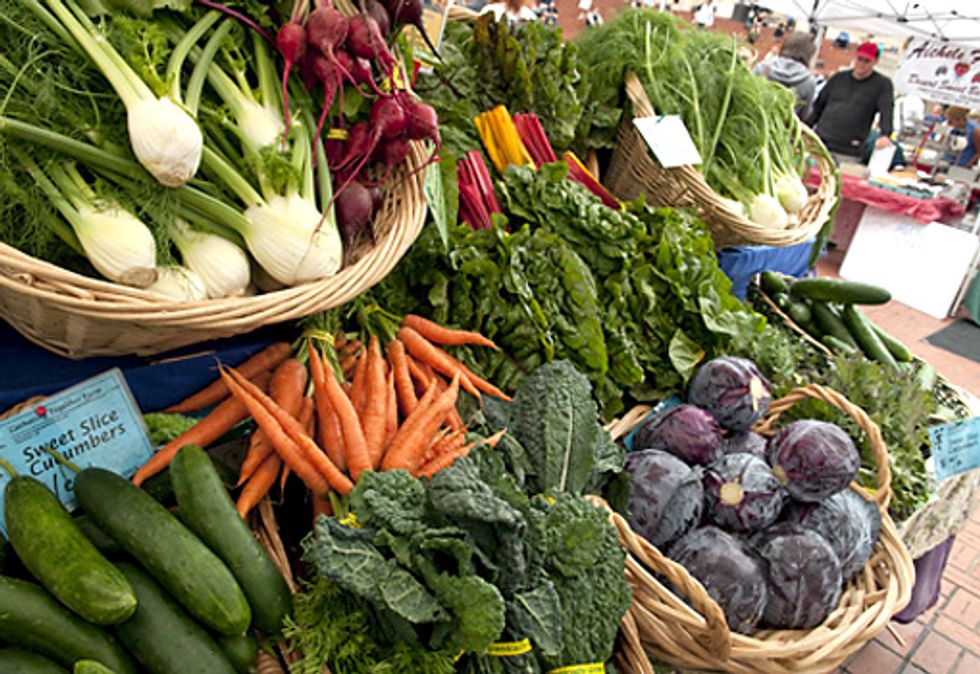 How does your state stack up against all the others when it comes to availability and consumption of locally-produced foods? Strolling of the Heifers has the answer.
The Vermont-based local food advocacy group has released its second annual Strolling of the Heifers Locavore Index, ranking the 50 states and the District of Columbia in terms of their commitment to local foods.
Using recent indicator data from multiple sources, the index incorporates farmers markets, consumer-supported agriculture operations (CSAs) and food hubs in its per-capita comparison of consumers' interest in eating locally-sourced foods—also known as locavorism.
The top five states for locavorism, according to the Index, in order, are Vermont (first), Maine, New Hampshire, North Dakota and Iowa, while the bottom five are Texas (last), Florida, Louisiana, Arizona and Nevada.
Strolling of the Heifers Executive Director Orly Munzing said, the purpose of the index is to encourage local food efforts in every state. "There are so many ways to do that," she said, "not just with farmers markets and CSAs, but by supporting farm-to-school programs, urging local hospitals and nursing homes to purchase local foods, asking supermarkets to buy from local farms, and of course, celebrating and honoring our farmers whenever we can."
Farmers markets are generally cooperative efforts to market locally produced food in a central location where consumers can select and purchase food from multiple farm enterprises.
A CSA is a cooperative agreement between farmers and consumers—consumer buy shares in the farm's output and have some say in what is grown. When crops come in, they are divided among shareholders according to the volume of their shares, and the rest may be sold at market. CSA farmers get revenue in advance to cover costs of tilling, soil preparation and seed. Shareholders get fresh produce grown locally and contribute to sustainable farming practices.
Food hubs are facilities that handle the aggregation, distribution and marketing of foods from a group of farms and food producers in a region. Food hubs are often cooperatively owned, though many are private enterprises.
The index used data from the U.S. Department of Agriculture (its farmers markets database, which is updated monthly, and a food hubs database), the U.S. Census bureau (July 2012 estimates of population) and California-based local food resource directory LocalHarvest (its frequently-updated database of CSAs).
Vermont's top ranking in the index reflects both its agricultural heritage and the state's economic strategies, which place a high priority on initiatives related to food and agriculture.
"Vermont should be proud of its number one ranking, and the leadership role our state is playing in the area of community-supported agriculture," Vermont Secretary of Agriculture Chuck Ross said. "A strong local food system creates economic opportunities, preserves the working landscape, serves the nutritional needs of a region and provides a point of connection for the community."
Ross also noted: "As we look towards the future, there is much more work to do—all the states need to work together to support this critical transformation, which will determine our ability to feed ourselves in the future."
Strolling of the Heifers has celebrated farmers and advocated for local foods since 2002 with its annual agriculturally-themed Strolling of the Heifers Parade in Brattleboro, Vt., held June 8 this year, in which heifer calves and other farm animals, bedecked with flowers, are led up Brattleboro's historic Main Street. When it's over, the crowd follows the parade to the Stroll's all-day Live Green Expo for food, entertainment, education and fun.
Just before "Stroll Weekend," the organization is organizing its third annual Slow Living Summit, a conference focused on sustainability and community resilience, which brings together concerned citizens from many organizations and sectors to explore and network around "slower"—more sustainable—approaches to many aspects of living ranging from food and agriculture to health and spirituality. The conference takes place in downtown Brattleboro, June 5 - 7.
Why local foods?
The term "locavore," and the locavorism movement, are both comparatively recent. "Locavore" made its first appearance in 2005 and was designated the 2007 Word of the Year by the Oxford American Dictionary. As a movement, locavorism advocates a preference for local food for a variety of reasons, including:
Local food travels much less distance to market than typical fresh or processed grocery store foods, therefore using less fuel and generating fewer greenhouse gases.
Because of the shorter distribution chains for local foods, less food is wasted in distribution, warehousing and merchandising.
Local food is fresher and healthier, spending less time in transit from farm to plate, and therefore losing fewer nutrients and incurring less spoilage.
Local food encourages diversification of local agriculture, which reduces the reliance on monoculture—single crops grown over a wide area to the detriment of soils.
Local food encourages the consumption of organic foods and reduces reliance on artificial fertilizers and pesticides.
Local foods build local economies by circulating food dollars locally and creating local jobs by supporting family farms and local food processing and distribution systems.
Local foods create more vibrant communities by connecting people with the farmers and food producers who bring them healthy local foods. As customers of CSAs and farmers markets have discovered, they are great places to meet and connect with friends as well as farmers.
Local foods promote agritourism—farmers markets and opportunities to visit farms and local food producers help draw tourists to a region.
In short, local foods are more sustainable, healthier, better for the environment and economically positive than foods sourced from large-scale, globalized food systems.
Index coordinator Martin Langeveld noted that the metrics the index uses have changed and will continue to change. "Right now, reliable state-by-state data about local food consumption is pretty scarce," he said. The data from LocalHarvest replaced an older data set used last year, and the food hubs data was used this year for the first time. "Next year," Langeveld said, "We plan to incorporate more detailed information from the 2012 Census of Agriculture, which is now being processed by the USDA."
State Ranking
Here is the 2013 Strolling of the Heifers Locavore Index ranking of the states: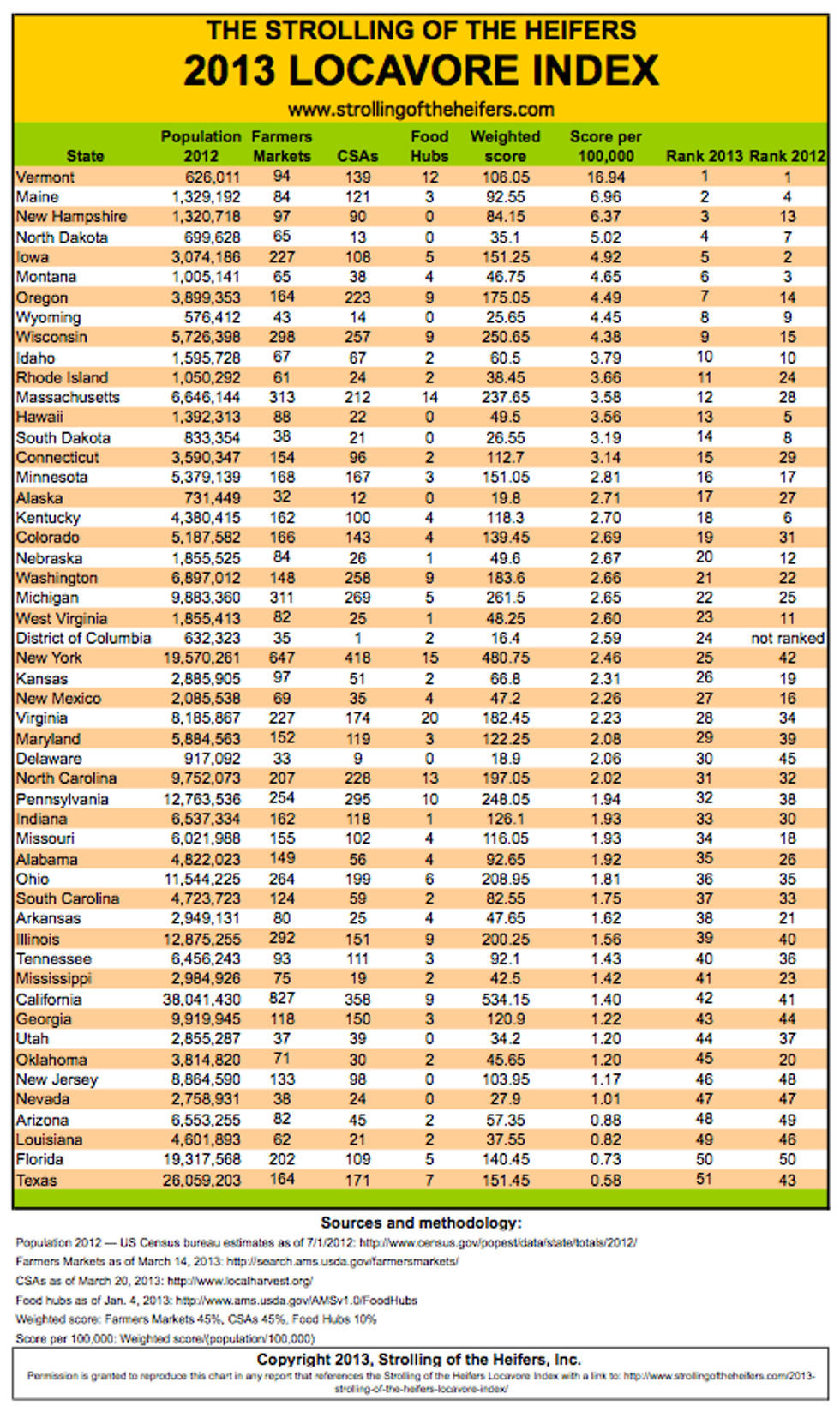 Visit EcoWatch's FOOD and SUSTAINABLE AGRICULTURE pages for more related news on this topic.
——–
Tell the FDA to Deny Approval of GE Salmon:
EcoWatch Daily Newsletter
A new report spotlights a U.N. estimate that at least 275 million people rely on healthy coral reefs. A sea turtle near the Heron Island in the Great Barrier Reef is seen above. THE OCEAN AGENCY / XL CATLIN SEAVIEW SURVEY
In a new report about how the world's coral reefs face "the combined threats of climate change, pollution, and overfishing" — endangering the future of marine biodiversity — a London-based nonprofit calls for greater global efforts to end the climate crisis and ensure the survival of these vital underwater ecosystems.
Half of the extracted resources used were sand, clay, gravel and cement, seen above, for building, along with the other minerals that produce fertilizer. Cavan Images / Cavan / Getty Images
The world is using up more and more resources and global recycling is falling. That's the grim takeaway from a new report by the Circle Economy think tank, which found that the world used up more than 110 billion tons, or 100.6 billion metric tons, of natural resources, as Agence France-Presse (AFP) reported.
By Gero Rueter
Heating with coal, oil and natural gas accounts for around a quarter of global greenhouse gas emissions. But that's something we can change, says Wolfgang Feist, founder of the Passive House Institute in the western German city of Darmstadt.

By George Citroner
Recent research finds that official government figures may be underestimating drug deaths by half.
Researchers estimate that 142,000 people died due to drug use in 2016.
Drug use decreases life expectancy after age 15 by 1.4 years for men and by just under 1 year for women, on average.
Government records may be severely underreporting how many Americans die from drug use, according to a new study by researchers from the University of Pennsylvania and Georgetown University.
Water coolers in front of shut-off water fountains at Center School in Stow, MA on Sept. 4, 2019 after elevated levels of PFAS were found in the water. David L. Ryan / The Boston Globe via Getty Images
In a new nationwide assessment of drinking water systems, the Environmental Working Group found that toxic fluorinated chemicals known as PFAS are far more prevalent than previously thought.