How Does Your State Rank for Being Bike Friendly?
Thinking about taking your bike out for a spin? Chances are your commute will be a lot smoother if you live in the western U.S. compared to, say, the south. The League of American Bicyclists has released their annual rankings of the most bike-friendly states in the U.S. on a 0-to-100 point scale. Washington sits first on the list with 66.2 points while Alabama is dead last with 12.3 points.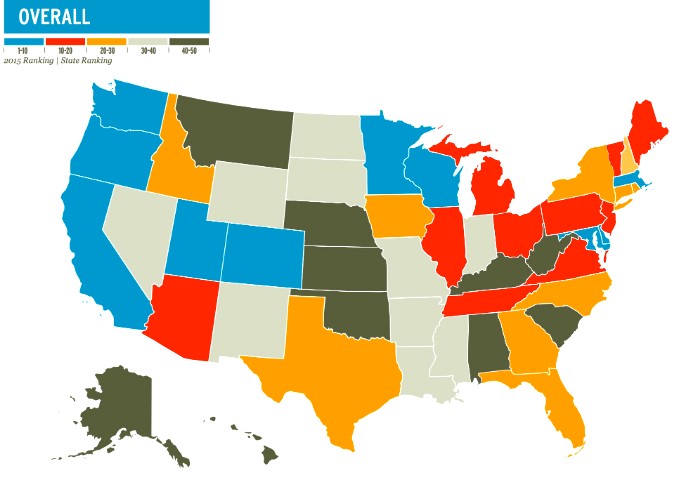 The rankings are based on a questionnaire that's answered by each state's Bicycle Coordinator and examines the following "bikability" categories: legislation and enforcement, policies and programs, infrastructure and funding, education and encouragement, and evaluation and planning. This translates to bike lanes and paths, safety laws, leaders who promote cycling tourism, etc.
Impressively, the Evergreen State has held onto the top spot since the organization kicked off its yearly rankings in 2008, making the state an eight-time consecutive champ. However, the league suggested that the state not get too complacent.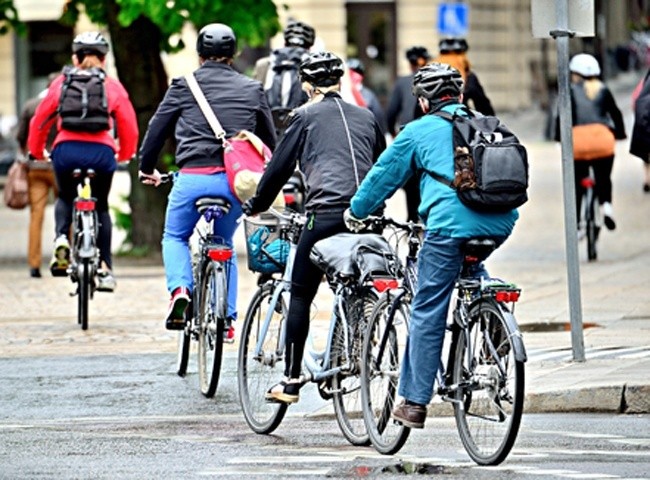 Photo credit: Shutterstock
"Although Washington State has been number one for the past eight years, the gap between number two [Minnesota, 62.7 points] and number three [Delaware, 54.8 points] has steadily decreased since 2013," the league said.
The league gave Washington, as well as the other 49 states, some feedback on how to encourage more people to get on their bikes on their "report card" section. For Washington, one suggestion was that their State Department of Transportation should "build upon its past successes by increasing staff capacity for planning, engineering, and implementation of solutions that make bicycling and walking safer and more convenient."
For bottom-ranked Alabama, which dropped from 17.4 points last year, one suggestion read, "Alabama has a high rate of bicyclist fatalities. Ensure that bicycle safety is a major emphasis in all transportation projects, programs and policies to address this issue."
So what makes a state bike-friendly? There are several factors, the League notes, including:
There is a designated Transportation Alternatives program manager and the state bicycle and pedestrian coordinator works full-time on biking and walking issues.

State office buildings, state park and recreation facilities, and other state facilities are required to provide bicycle parking.

People on bikes and pedestrians have access across all major bridges and tunnels.

There are increased penalties injuring or killing vulnerable road users, including bicyclists.

Speed limits can be 20mph or lower.

It is illegal for drivers to drive distracted or use a handheld cell phone or to text while driving.

Transportation Alternatives Program (TAP) funds are spent promptly on bicycling and walking projects, and not transferred.

The tourism board actively promotes bicycle tourism.

There are few bicyclist fatalities.

The state has up to date statewide bicycle and pedestrian plans and is making progress towards implementing them.

Bicycles are allowed on Amtrak trains, regional passenger rail and state operated buses.

The state has a Share the Road campaign and a Share the Road driver training for state employees.
It's also important for states to sponsor initiatives and awareness campaigns to promote biking. Wired noted how Massachusetts (which shot up to fourth place after coming in 10th last year) launched a GreenDOT program that aims triple the amount of walking, bicycling and public transit use in the state between 2010 and 2030 as a health and environmental sustainability initiative.
"We really saw them step up and commit to biking, walking being an important part of their transportation system," Ken McLeod, a legal specialist who worked on the rankings, told Wired.
Hopefully, other states will further develop initiatives to get people to ditch four wheels for two. Besides, more people are biking than ever. In an previous post, we mentioned that bike commuting has boomed 60 percent in the last decade, making it the fastest-growing mode of transportation.
The top 10 most bike-friendly states are listed below. If your state isn't on the list, click on this link to see the complete rankings.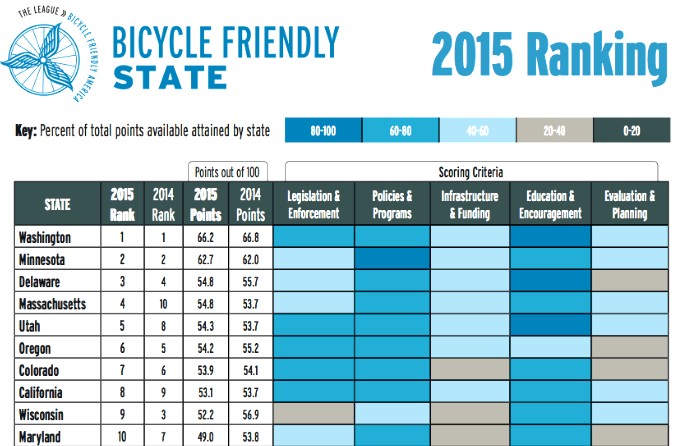 YOU MIGHT ALSO LIKE
Finally an Electric Bike Cool Enough to Ride
20-Mile Bike Lane Is Also Massive Solar Array
5 Reasons Cargo Bikes Are the Perfect Mode of Transportation
Dow CEO Andrew Liveris and President Donald Trump in February.
U.S. Environmental Protection Agency (EPA) administrator Scott Pruitt met with Dow Chemical CEO Andrew Liveris before deciding to reverse an earlier EPA decision to ban the company's toxic and widely used pesticide, chlorpyrifos.
According to records obtained by the Associated Press, the EPA boss met with Liveris for about 30 minutes at a Houston hotel on March 9. Later that month, Pruitt announced that he would no longer pursue a ban on chlorpyrifos from being used on food, ignoring his agency's own review that even small amounts of the pesticide could impact fetus and infant brain development.
Keep reading...
Show less
www.facebook.com
Native communities and environmental justice advocates in Louisiana opened a new resistance camp Saturday to oppose the proposed Bayou Bridge Pipeline project. Called L'eau Est La Vie, or Water is Life, the camp will consist of floating indigenous art structures on rafts and constant prayer ceremonies during its first two weeks.
Keep reading...
Show less
Continuing its march toward elimination of key Clean Water Act protections, the U.S. Environmental Protection Agency (EPA) on Tuesday issued a formal notice of withdrawal of the Obama administration's rule defining which waters can be protected against pollution and destruction under federal law.
Keep reading...
Show less
The U.S. Environmental Protection Agency (EPA) is not doing enough to prevent weed resistance to the herbicide glyphosate (Roundup) says a new report from the EPA's Inspector General's Office, which draws in part on a report from the agbiotech company, Pioneer: Weed Management in the Era of Glyphosate Resistance.
Keep reading...
Show less
SUMR
When it comes to the latest wind turbine technologies, size matters. A group of six institutions and universities is designing an offshore wind turbine that will stand 500 meters in height. That's taller than the Eiffel Tower and the Empire State Building.
The research team, led by researchers at the University of Virginia, believes that its wind turbine concept will produce 50 megawatts of peak power, or about 10 times more powerful than conventional wind turbines.
Keep reading...
Show less
www.facebook.com
Natural gas is often considered the cleanest fossil fuel, but could it actually be dirtier than coal?
Watch as New York Times reporter Mark Bittman, in the above Year's of Living Dangerously video, investigates how much methane is leaking at fracking wells. Find out how the natural gas industry's claims compare to what scientists are reporting.
See what happens when Gaby Petron, an atmospheric scientist with NOAA, converts her van into a mobile methane detector and sets out across northeastern Colorado for two years, taking thousands of readings to uncover the truth.
www.youtube.com
Adrian Grenier was named UN Goodwill Ambassador earlier this month. The Hollywood actor, best known for his iconic role of A-list movie star Vincent Chase in the HBO smash hit and film Entourage, will advocate for drastically reducing single-use plastic and protection of marine species, and encourage his followers to make conscious consumer choices to reduce their environmental footprint, according to the UN Environment announcement.
"Together we must usher in a new era of compassion and carefulness through forward thinking environmental programs to drive measurable change," Grenier said. "I am personally committed to creating ways in which the global community can come together to help solve our most critical climate crises through routine, collective action.
"The more we connect to nature in our daily lives, the more dedicated we will become to our individual commitments. Together, I believe we can go further, faster in our race to achieve the UN Sustainable Development Goals by 2030."
Watch the video above to learn more.
The last week has seen a flood of stories on clean energy's prospects—stories that make your head spin with their conflicting tales of renewable energy's prospects of ending our dangerous addiction to fossil fuel power from coal and gas.
Keep reading...
Show less


Get EcoWatch in your inbox