This website uses cookies to ensure you get the best experience while browsing it. By clicking 'Got It' you're accepting these terms.
How Craigslist Contributes to the Killing of Elephants
Apr. 28, 2015 11:05AM EST
The International Fund for Animal Welfare (IFAW) and the Wildlife Conservation Society (WCS) have revealed a thriving ivory and wildlife trade on Craigslist. The organizations released today a joint report, Elephant vs. Mouse: An Investigation of the Ivory Trade on Craigslist.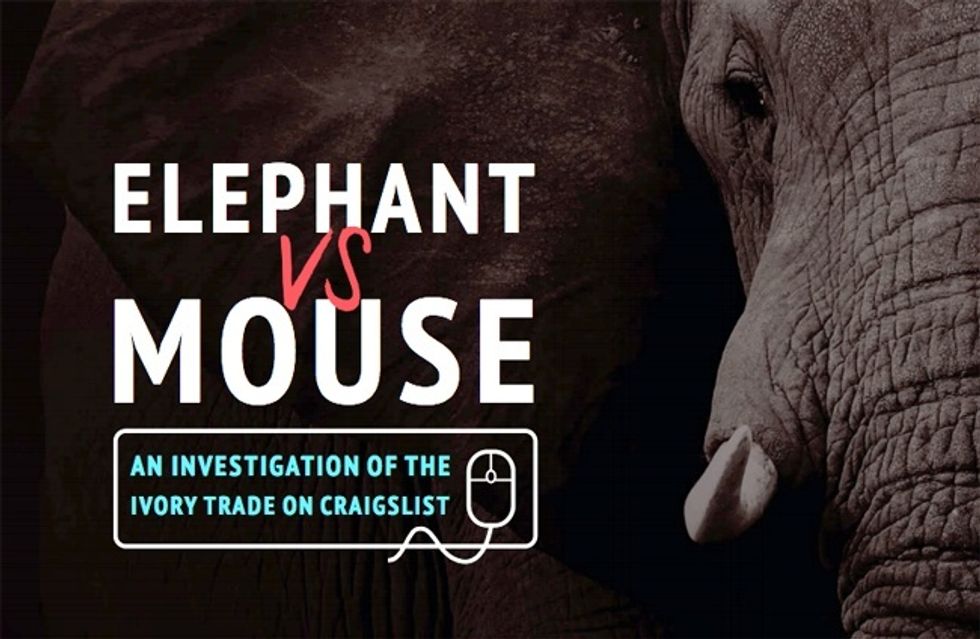 The investigation yielded hundreds of ivory classified advertisements valued at millions of dollars, proving that the ivory trade is alive and well on Craigslist. They collected data from 28 geographic Craigslist sub-sites between March 16 and 20 and found many instances of ivory, elephant skin, and similar items being sold. Investigators tracked 522 postings offering 615 items with a combined list price of nearly $1.5 million. Extrapolated to a full year, this would yield more than 6,600 items on those sub-sites alone, with a list price of more than $15 million.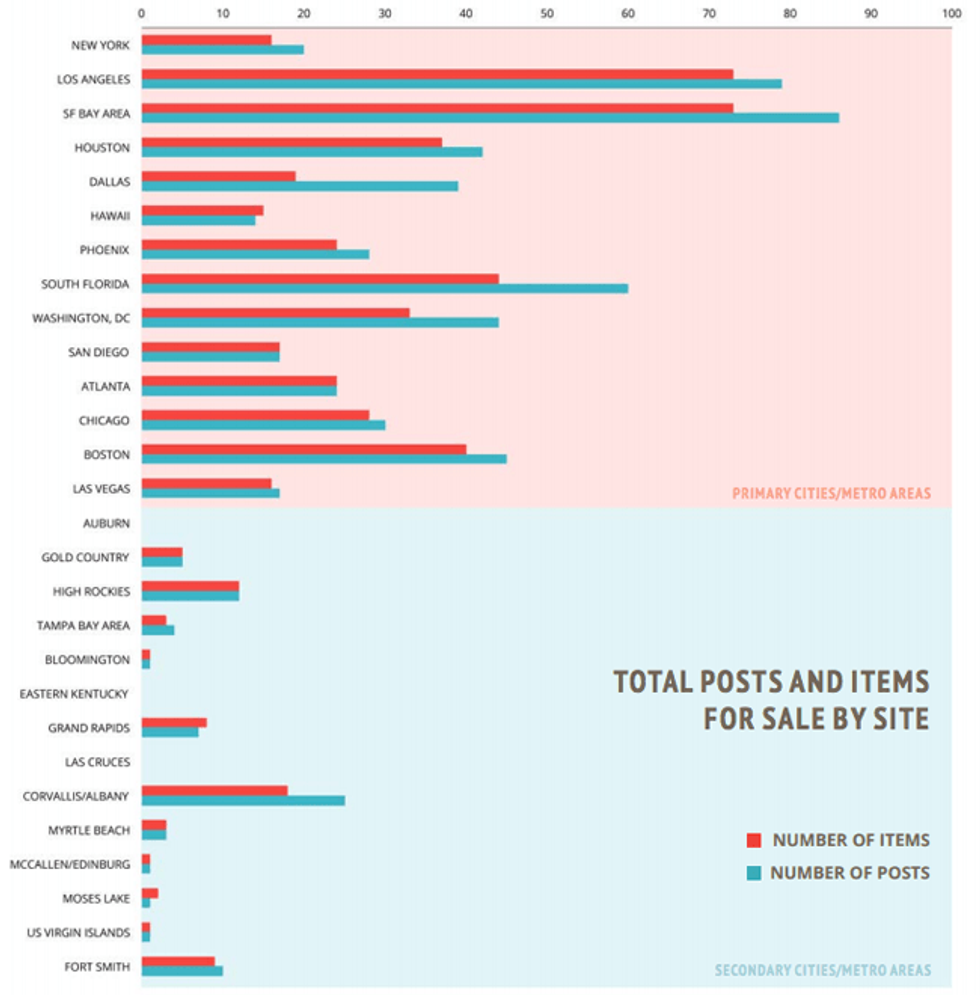 The report comes on the heels of horrifying news for African elephants. It is estimated that 96 elephants are gunned down every day by poachers in Africa—some 35,000 each year, according to IFAW and WCS. At current rates, Central Africa's forest elephants will be extinct in ten years. The critically acclaimed series Earth Focus will air a new program, Illicit Ivory, on May 28 to investigate the insatiable demand for ivory and the web of organized crime syndicates, rebel groups, militias and insurgents.
"This important investigation shows that ivory markets are still open and prevalent in the U.S.," said John Calvelli, WCS executive vice president for public affairs and director of the 96 Elephants campaign. "WCS and 96 Elephants are focused on stopping the killing, stopping the trafficking, and stopping the demand, and we are hopeful that this report will shed light on the need to close domestic ivory markets."
Prior to releasing the report, IFAW and WCS urged Craigslist to prevent the sale of illegal ivory and wildlife products on their various sites. As a result of these conversations, Craigslist recently updated its policy to include a clear statement prohibiting the sale of "ivory; endangered, imperiled and/or protected species and any parts thereof."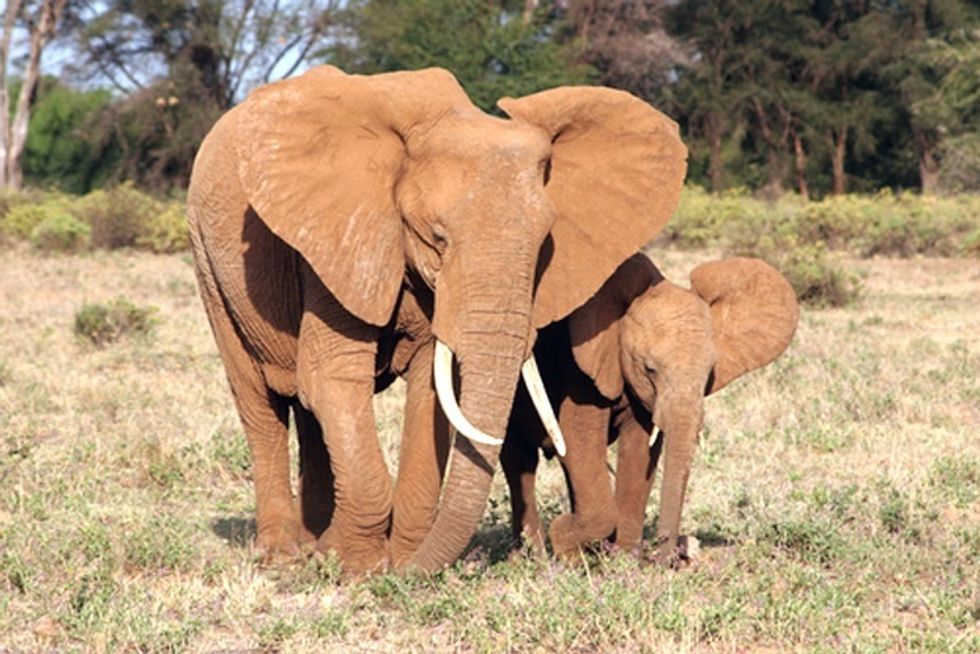 Photo credit: Shutterstock
"The situation on Craigslist shows just how rampant wildlife trade is on the Internet, especially when host sites don't do enough to stop it," said Peter LaFontaine, campaigns officer for IFAW. "eBay, Etsy and many other online marketplaces have willingly cooperated with law enforcement to reduce wildlife trafficking on their platforms. Craigslist's decision to explicitly list ivory among the site's prohibited items is a step in the right direction, but they must do more to actively enforce this policy and eliminate ivory sales from their site."
IFAW and WCS have been investigating the online wildlife trade and spreading awareness campaigns about the illegal ivory trade for years. IFAW's highly successful report about eBay, featured in The New York Times, led eBay to announce that it would no longer allow the sale of ivory on its platform. In last year's report, Wanted Dead or Alive: Exposing the Online Wildlife Trade, IFAW showed that eBay's ivory ban has been largely successful, although problems remain. WCS, for its part, convinced the popular PBS program Antiques Roadshow to stop appraising ivory tusks on the air and to educate viewers about the ivory trade.
This latest report is very timely as federal and state initiatives are underway to stop the illegal wildlife trade before we send elephants and other wildlife into extinction. IFAW, WCS, 96 Elephants and 195 partner organizations, are currently working on strengthening a proposed federal ban, while advocating for state ivory bans in California and other states. Last year, New York and New Jersey passed state bans that closed loopholes in the federal law.
YOU MIGHT ALSO LIKE
Only 3 Wolves Left at Isle Royale National Park
Watch: Avalanche From Nepal Earthquake Rips Through Mt. Everest Base Camp
Carl Pope: How the Global Economic System Is Destroying People and Planet
EcoWatch Daily Newsletter
Aerial view of Ruropolis, Para state, northen Brazil, on Sept. 6, 2019. Tthe world's biggest rainforest is under threat from wildfires and rampant deforestation. JOHANNES MYBURGH / AFP via Getty Images
By Kate Martyr
Deforestation in Brazil's Amazon rainforest last month jumped to the highest level since records began in 2015, according to government data.
A total of 563 square kilometers (217.38 square miles) of the world's largest rainforest was destroyed in November, 103% more than in the same month last year, according to Brazil's space research agency.
From January to November this year an area almost the size of the Caribbean island of Puerto Rico was destroyed — an 83% overall increase in destruction when compared with the same period last year.
The figures were released on Friday by the National Institute for Space Research (INPE), and collected through the DETER database, which uses satellite images to monitor forest fires, forest destruction and other developments affecting the rainforest.
What's Behind the Rise?
Overall, deforestation in 2019 has jumped 30% compared to last year — 9,762 square kilometers (approximately 3769 square miles) have been destroyed, despite deforestation usually slowing during November and December.
Environmental groups, researchers and activists blamed the policies of Brazil's president Jair Bolsonaro for the increase.
They say that Bolosonaro's calls for the Amazon to be developed and his weakening support for Ibama, the government's environmental agency, have led to loggers and ranchers feeling safer and braver in destroying the expansive rainforest.
His government hit back at these claims, pointing out that previous governments also cut budgets to environment agencies such as Ibama.
The report comes as Brazil came to loggerheads with the Association of Small Island States (AOSIS) over climate goals during the UN climate conference in Madrid.
AOSIS blasted Brazil, among other nations, for "a lack of ambition that also undermines ours."
Last month, a group of Brazilian lawyers called for Bolsonaro to be investigated by the International Criminal Court over his environmental policies.
Reposted with permission from DW.
The Carolina parakeet went extinct in 1918. James St. John /
CC BY 2.0
The Carolina parakeet, the only parrot species native to the U.S., went extinct in 1918 when the last bird died at the Cincinnati Zoo. Now, a little more than 100 years later, researchers have determined that humans were entirely to blame.
Pexels
Vitamin C is a very important nutrient that's abundant in many fruits and vegetables.
BLM drill seeders work to restore native grasses after wildfire on the Bowden Hills Wilderness Study Area in southeast Oregon, Dec. 14, 2018. Marcus Johnson / BLM / CC BY 2.0
By Tara Lohan
In 2017 the Thomas fire raged through 281,893 acres in Ventura and Santa Barbara counties, California, leaving in its wake a blackened expanse of land, burned vegetation, and more than 1,000 destroyed buildings.