This website uses cookies to ensure you get the best experience while browsing it. By clicking 'Got It' you're accepting these terms.
How Craigslist Contributes to the Killing of Elephants
Apr. 28, 2015 11:05AM EST
The International Fund for Animal Welfare (IFAW) and the Wildlife Conservation Society (WCS) have revealed a thriving ivory and wildlife trade on Craigslist. The organizations released today a joint report, Elephant vs. Mouse: An Investigation of the Ivory Trade on Craigslist.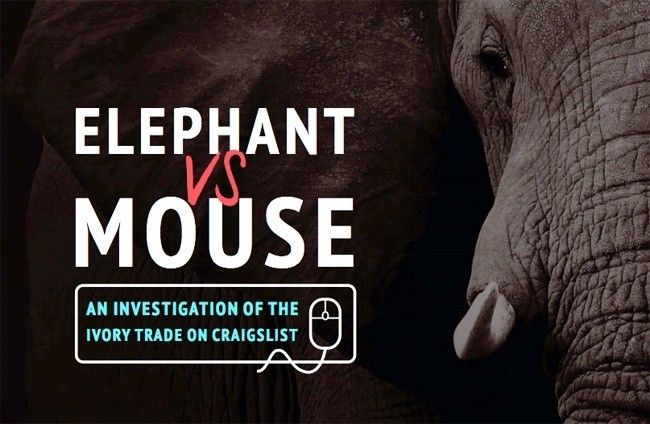 The investigation yielded hundreds of ivory classified advertisements valued at millions of dollars, proving that the ivory trade is alive and well on Craigslist. They collected data from 28 geographic Craigslist sub-sites between March 16 and 20 and found many instances of ivory, elephant skin, and similar items being sold. Investigators tracked 522 postings offering 615 items with a combined list price of nearly $1.5 million. Extrapolated to a full year, this would yield more than 6,600 items on those sub-sites alone, with a list price of more than $15 million.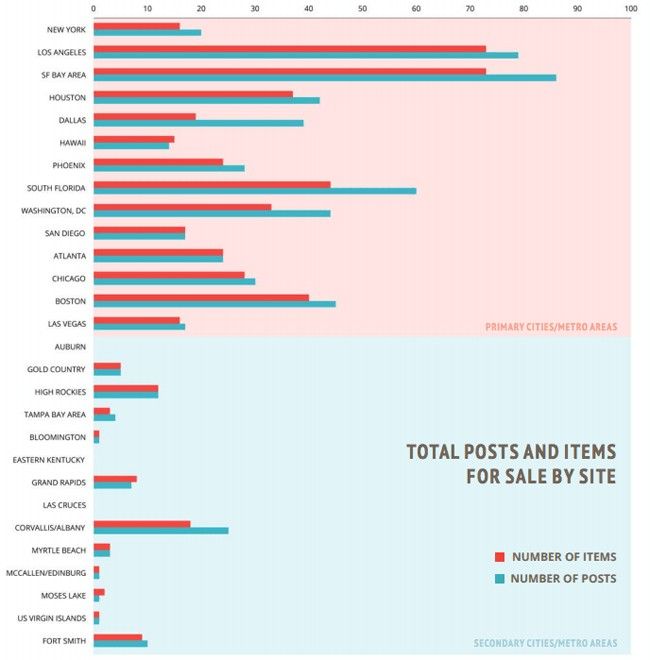 The report comes on the heels of horrifying news for African elephants. It is estimated that 96 elephants are gunned down every day by poachers in Africa—some 35,000 each year, according to IFAW and WCS. At current rates, Central Africa's forest elephants will be extinct in ten years. The critically acclaimed series Earth Focus will air a new program, Illicit Ivory, on May 28 to investigate the insatiable demand for ivory and the web of organized crime syndicates, rebel groups, militias and insurgents.
"This important investigation shows that ivory markets are still open and prevalent in the U.S.," said John Calvelli, WCS executive vice president for public affairs and director of the 96 Elephants campaign. "WCS and 96 Elephants are focused on stopping the killing, stopping the trafficking, and stopping the demand, and we are hopeful that this report will shed light on the need to close domestic ivory markets."
Prior to releasing the report, IFAW and WCS urged Craigslist to prevent the sale of illegal ivory and wildlife products on their various sites. As a result of these conversations, Craigslist recently updated its policy to include a clear statement prohibiting the sale of "ivory; endangered, imperiled and/or protected species and any parts thereof."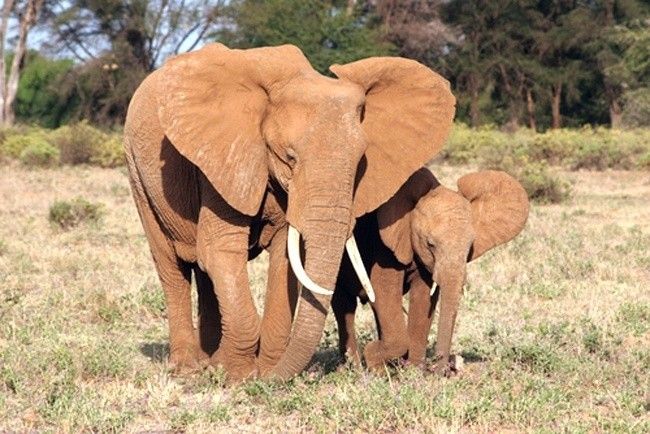 Photo credit: Shutterstock
"The situation on Craigslist shows just how rampant wildlife trade is on the Internet, especially when host sites don't do enough to stop it," said Peter LaFontaine, campaigns officer for IFAW. "eBay, Etsy and many other online marketplaces have willingly cooperated with law enforcement to reduce wildlife trafficking on their platforms. Craigslist's decision to explicitly list ivory among the site's prohibited items is a step in the right direction, but they must do more to actively enforce this policy and eliminate ivory sales from their site."
IFAW and WCS have been investigating the online wildlife trade and spreading awareness campaigns about the illegal ivory trade for years. IFAW's highly successful report about eBay, featured in The New York Times, led eBay to announce that it would no longer allow the sale of ivory on its platform. In last year's report, Wanted Dead or Alive: Exposing the Online Wildlife Trade, IFAW showed that eBay's ivory ban has been largely successful, although problems remain. WCS, for its part, convinced the popular PBS program Antiques Roadshow to stop appraising ivory tusks on the air and to educate viewers about the ivory trade.
This latest report is very timely as federal and state initiatives are underway to stop the illegal wildlife trade before we send elephants and other wildlife into extinction. IFAW, WCS, 96 Elephants and 195 partner organizations, are currently working on strengthening a proposed federal ban, while advocating for state ivory bans in California and other states. Last year, New York and New Jersey passed state bans that closed loopholes in the federal law.
YOU MIGHT ALSO LIKE
Only 3 Wolves Left at Isle Royale National Park
Watch: Avalanche From Nepal Earthquake Rips Through Mt. Everest Base Camp
Carl Pope: How the Global Economic System Is Destroying People and Planet
EcoWatch Daily Newsletter
A vegan diet can improve your health, but experts say it's important to keep track of nutrients and protein. Getty Images
By Dan Gray
Research shows that 16 weeks of a vegan diet can boost the gut microbiome, helping with weight loss and overall health.
A healthy microbiome is a diverse microbiome. A plant-based diet is the best way to achieve this.
It isn't necessary to opt for a strictly vegan diet, but it's beneficial to limit meat intake.
New research shows that following a vegan diet for about 4 months can boost your gut microbiome. In turn, that can lead to improvements in body weight and blood sugar management.
Students gathered at the National Mall in Washington DC, Sept. 20. NRDC
By Jeff Turrentine
Nearly 20 years have passed since the journalist Malcolm Gladwell popularized the term tipping point, in his best-selling book of the same name. The phrase denotes the moment that a certain idea, behavior, or practice catches on exponentially and gains widespread currency throughout a culture. Having transcended its roots in sociological theory, the tipping point is now part of our everyday vernacular. We use it in scientific contexts to describe, for instance, the climatological point of no return that we'll hit if we allow average global temperatures to rise more than 2 degrees Celsius above preindustrial levels. But we also use it to describe everything from resistance movements to the disenchantment of hockey fans when their team is on a losing streak.
samael334 / iStock / Getty Images
Berries are small, soft, round fruit of various colors — mainly blue, red, or purple.
A glacier is seen in the Kenai Mountains on Sept. 6, near Primrose, Alaska. Scientists from the U.S. Geological Survey have been studying the glaciers in the area since 1966 and their studies show that the warming climate has resulted in sustained glacial mass loss as melting outpaced the accumulation of new snow and ice. Joe Raedle / Getty Images
By Mark Mancini
On Aug. 18, Iceland held a funeral for the first glacier lost to climate change. The deceased party was Okjökull, a historic body of ice that covered 14.6 square miles (38 square kilometers) in the Icelandic Highlands at the turn of the 20th century. But its glory days are long gone. In 2014, having dwindled to less than 1/15 its former size, Okjökull lost its status as an official glacier.
Members of Chicago Democratic Socialists of America table at the Logan Square Farmers Market on Aug. 18. Alex Schwartz
By Alex Schwartz
Among the many vendors at the Logan Square Farmers Market on Aug. 18 sat three young people peddling neither organic vegetables, gourmet cheese nor handmade crafts. Instead, they offered liberation from capitalism.
Hackney primary school students went to the Town Hall on May 24 in London after school to protest about the climate emergency. Jenny Matthews / In Pictures / Getty Images
Bird watching in the U.S. may be a lot harder than it once was, since bird populations are dropping off in droves, according to a new study.