This website uses cookies to ensure you get the best experience while browsing it. By clicking 'Got It' you're accepting these terms.
How Climate Change is Damaging the Great Lakes
Jan. 18, 2013 02:54PM EST
Climate
By Matt Kasper
Great Lakes Michigan and Huron set a new record low water level for the month of December, and in the coming weeks they could experience their lowest water levels ever. It's becoming certain that, like the rest of the country, the Great Lakes are feeling the effects of climate change.
Last year was officially the warmest year on record for the lower-48 states. The hot summer air has been causing the surface water of the Great Lakes to increase in temperature. One might think this causes more precipitation around the lakes, but the warmer winter air is causing a shorter duration of ice cover. In fact, the amount of ice covering the lakes has declined about 71 percent over the past 40 years. Last year, only 5 percent of the lakes froze over—compared to 1979 when ice coverage was as much as 94 percent.
Furthermore, the continuing effect of the historic drought in the Midwest is causing increased levels of evaporation. This combination of climate change side-effects results in low water levels for the Great Lakes.
The impact climate change has on the five lakes—Superior, Michigan, Huron, Erie and Ontario—will have serious implications for aquatic life, as well as high economic costs for communities.
The Great Lakes stretch from Minnesota to New York. They account for more than 80 percent of North America's surface freshwater, and provide drinking water to 40 million U.S. and Canadian citizens.
Many industries in the region that depend on trade through the lakes will face navigation challenges, and will have to reduce the amount of cargo carried.
Tourism and recreational activities that are vital to coastal communities will surely feel the negative economic effects. Activity associated with recreational fishing alone is estimated to be at least $7 billion annually.
Infrastructure investments will need to occur, as the necessity for extending docks and dredging increases.
And the habitats of fish, birds and other mammals will be altered.
The two maps below developed by the Great Lakes Environmental Assessment and Mapping project (GLEAM) illustrate the severity of the environmental impacts on the lakes, as well as the warming temperature of the lakes.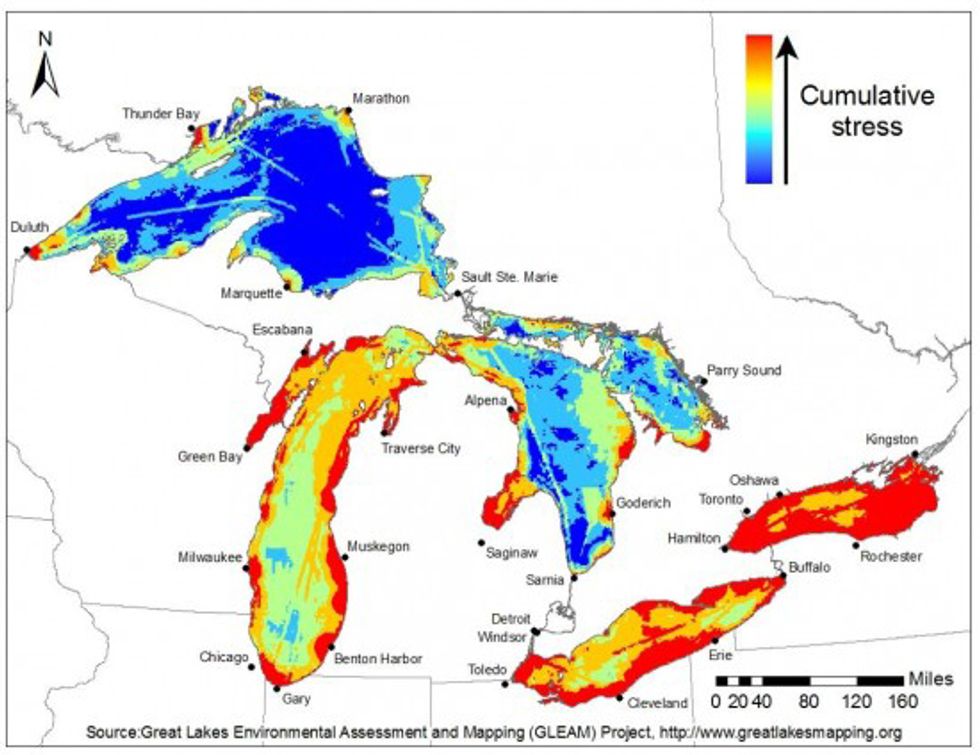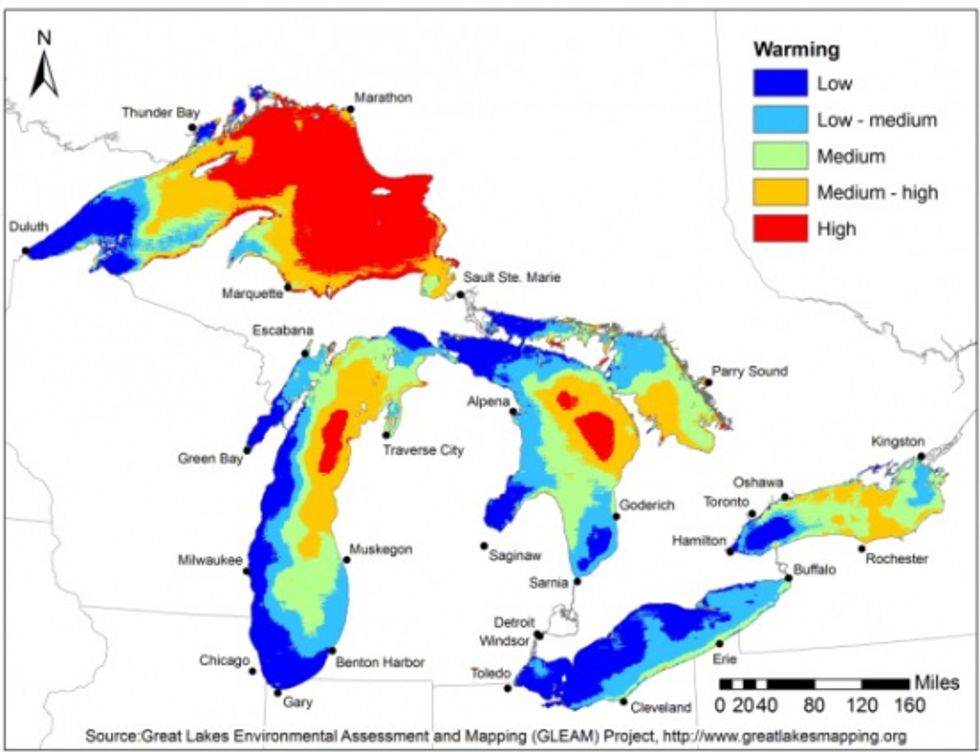 The researchers behind GLEAM note that water surface temperatures between 2000 and 2100 will warm at rates ranging from 0.37-0.93 degrees Celsius per decade in Lake Superior, and 0.20-0.60 degrees Celsius per decade in Lake Eire as a result of climate change. Research conducted by the University of Minnesota-Duluth's Large Lakes Observatory (LLO) found that summer surface water temperatures on Lake Superior have increased 2.5 degrees Celsius between 1979 and 2006. As climate change continues, fueling more frequent and more extreme droughts, we will continue to see more reductions in the extent and duration of winter ice cover.
Researchers at GLEAM are not alone in this finding. Several different climate models for the Great Lakes region all predict that lake levels will decline over the next century. The National Oceanic and Atmospheric Administration Great Lakes Environmental Research Laboratory (GLERL) uses two different modeling approaches, researching the net effect of precipitation due to climate change, and the warming lakes and air surrounding the lakes are leading to increased evaporation levels.
The third National Climate Assessment draft, the most comprehensive peer-reviewed analysis of how climate change impacts regions and sectors across the U.S., was released last week. It found that the likelihood of extreme events like intense heat waves, mild winters and lack of ice cover on the lakes will occur with greater frequency. The draft also finds:
The Great Lakes are warming at rates faster than the world's oceans. This will also stimulate blooms of harmful algae in the lakes, leading to toxic cyanobacteria.
Climate change will likely heighten the impact that invasive species have in the Great Lakes.
Visit EcoWatch's CLIMATE CHANGE page for more related news on this topic.
EcoWatch Daily Newsletter
The Visible Infrared Imaging Radiometer Suite on the Suomi NPP satellite acquired this image of forest fire smoke hovering over North America on Aug. 15, 2018. NASA Earth Observatory
New York City isn't known for having the cleanest air, but researchers traced recent air pollution spikes there to two surprising sources — fires hundreds of miles away in Canada and the southeastern U.S.
If temperatures continue to rise, the world is at risk from global
sea-level rise
, which will flood many coastal cities as seen above in Bangladesh. NurPhoto / Contributor / Getty Images
The mounting climate emergency may spur the next global financial crisis and the world's central banks are woefully ill equipped to handle the consequences, according to a new book-length report by the Bank for International Settlements (BIS), as S&P Global reported. Located in Basel, Switzerland, the BIS is an umbrella organization for the world's central banks.
Two ice fishers with a truck cut a hole in the ice near an ice fishing hut on frozen Lake Winnebago.
Richard Hamilton Smith / Corbis NX / Getty Images
By Susan Cosier
Come February in Wisconsin, almost everything will be covered in ice and snow. In little shanties on frozen Lake Winnebago, a 30-by-13-mile lake in the eastern part of the state, fishers will keep watch over rectangular holes cut into the ice with a chainsaw. When they spot a fin passing below, they'll jab their spears down deep. The lucky ones will earn themselves a lake sturgeon, a species that has prowled the earth's waters for more than 150 million years.
Fresno, California, seen above, is receiving $66 million for walking trails, sidewalks, bike lanes, and more. DenisTangneyJr / iStock / Getty Images
Grecia Elenes grew up in Fresno, California. She says some parts of the city have been neglected for decades. When she moved back after college she realized nothing has changed.
People are seen embracing at Numeralla Rural Fire Brigade near the scene of a water tanker plane crash on Jan. 23 in Cooma, Australia. Three American firefighters have have died after their C-130 water tanker plane crashed while battling a bushfire near Cooma in southern NSW this afternoon. Jenny Evans / Getty Images
Three U.S. firefighters gave their lives battling Australia's historic wildfires Thursday when their airborne water tanker crashed.