How Climate Change Influences the Path of Malaria-Carrying Mosquitoes
Malaria predictions serve an obvious purpose, but they don't always tell you how susceptible a particular town or village might be.
In fact, a group of professors and researchers found that the likelihood of malaria-carrying mosquitoes showing up in particularly can vary more than most would imagine.
"People might have an interest in predictions for global malaria trends and even more so for regional patterns, but they probably care most about what's going to happen in their own town or village," said Matthew Thomas, a Penn State University professor and Huck Scholar in ecological entomology. "What is likely to happen in one location can be very different from another location just 50 miles down the road."
Thomas and others from Penn State, the Barcelona Centre for International Health Research and the universities of Pennsylvania and Massachusetts found that climate change strongly influences the ability of mosquitoes to transmit malaria and where they might travel.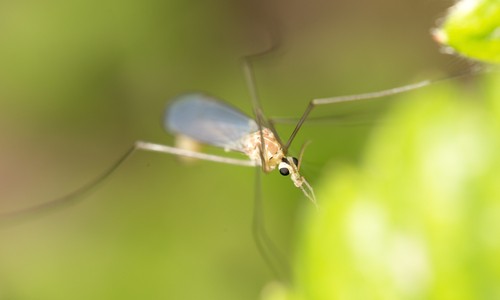 Photo courtesy of Shutterstock
"Malaria mosquitoes are ectothermic organisms, which means that their body temperature matches the temperature of their direct surroundings," said Krijn Paaijmans, an assistant research professor at the Barcelona Centre for International Health Research.
"Fine-scale predictions of malaria risk will be better tailored to the needs of local communities and can improve local adaptation and mitigation strategies."
The research team set out to examine the malaria risk for four locations. They researchers used a mathematical model that incorporates the influence of temperature on adult mosquitoes' transmission of malaria parasites and compares it to the predictions they obtained in the four locations with predictions from coarse-scale model simulations. The result was over- and underestimation of climate change impacts.
"This is one of the first studies to attempt to explore how climate change might impact conditions at the local level," said Dr. Michael E. Mann, a distinguished professor of meteorology at Penn State.
"The results suggest the possibility that population centers in cool highland regions could be more vulnerable than previously thought, while other equally large lowland areas might be less vulnerable. But this would have to be confirmed with more detailed modeling assessments that take into account the full suite of environmental and socio-economic factors that ultimately determine risk of malaria."
The results are available in the June 19 issue of the Climatic Change journal. The research was supported by the U.S. National Science Foundation.
www.facebook.com
Keep reading...
Show less
Scott Pruitt testifies during his Senate confirmation hearing for EPA administrator, January 2017.
The U.S. Environmental Protection Agency's (EPA) chief of staff pressured the leader of its Board of Scientific Counselors to change her congressional testimony to downplay the impact of the agency's mass dismissal of scientists from the board, the New York Times reports.
Keep reading...
Show less
By Jason Mark
Sequoiadendron giganteum. That's the scientific name for the giant sequoia: the mammoth trees found in California's Sierra Nevada that are the largest organisms on Earth, and among the longest-lived. Biologists estimate that about half of all sequoias live in Giant Sequoia National Monument, a 328,000-acre preserve in the Southern Sierra Nevada established by President Clinton in 2000.
Now that national monument is in jeopardy.
Keep reading...
Show less
By Andy Rowell
Donald Trump this week is launching an "energy week," pushing the argument that the U.S. will become a net exporter of oil and gas.
The president and his cronies are talking about a new era of "U.S. energy dominance," which could stretch for decades to come. However, no one believes the president anymore.
Keep reading...
Show less
UN
By Colleen Curry
The United Nations has designated 23 new sites around the world to its World Network of Biosphere reserves—stunning natural landscapes that balance environmental and human concerns and strive for sustainability.
The forests, beaches and waterways were added to the list this year at the International Coordinating Council of the Man and the Biosphere Programme meeting in Paris earlier this month.
Keep reading...
Show less
Jun. 26, 2017 01:48PM EST
www.elysee.fr
By Andy Rowell
There is a growing feeling within European capitals that a quiet, but deeply positive, revolution is happening under Emmanuel Macron in France.
Macron's opinion poll rating is high, especially boosted in how the young French president has reacted to Donald Trump on the international stage.
Keep reading...
Show less
Jun. 26, 2017 12:32PM EST
www.facebook.com
Keep reading...
Show less
Jun. 26, 2017 02:46PM EST
Keep reading...
Show less
Jun. 26, 2017 03:34PM EST
www.youtube.com
According to Bloomberg, "SeaWorld Entertainment Inc. received a subpoena earlier this month from regulators investigating disclosures and public statements by executives, including comments about the Blackfish documentary that caused a public backlash against the confinement of orcas.
Keep reading...
Show less


Get EcoWatch in your inbox