How Climate Change Could Lead to More Oil Train Derailments
May. 28, 2014 02:59PM EST
Energy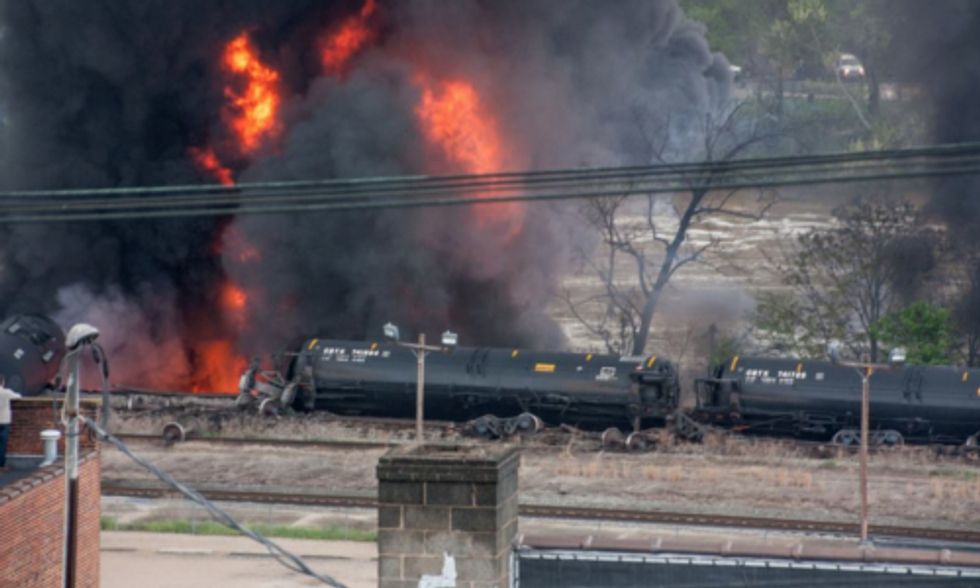 Fossil fuels contribute to climate change when they are produced and emitted, and, now, a report shows that rising temperatures are making the railway transportation of them riskier than ever.
With temperatures in the U.S. rising by as much as 9 degrees, the rails that oil-carrying trains travel on are vulnerable to "sun kinks," or buckling as a result of extreme heat, according to a report from Climate Central.
When a railway gets a sun kink, heat expands its metal, causing rails to curve and making travel dangerous for trains, particularly ones that are carrying oil. More sun kinks could mean more derailments, leading to more hazardous materials in the air and our drinking supplies.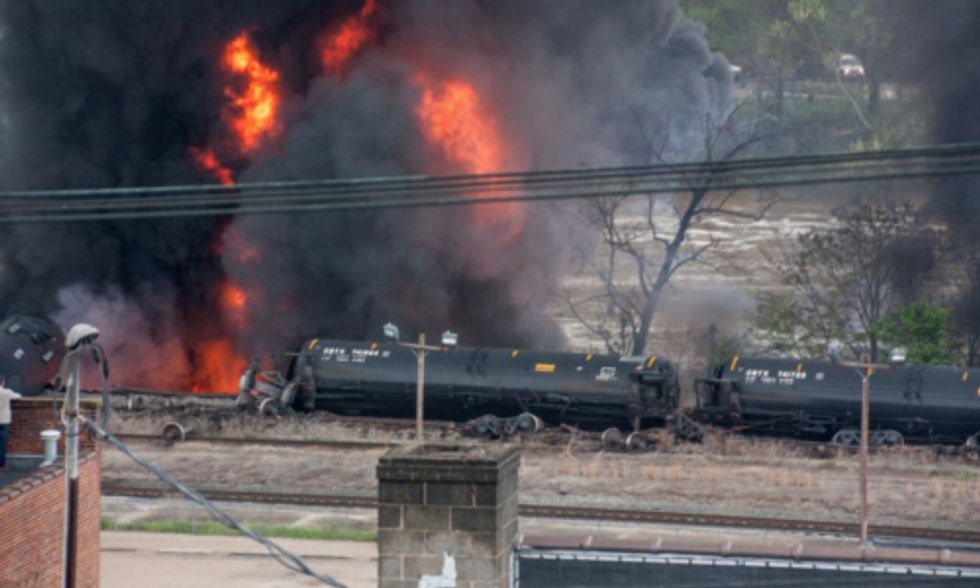 "Yes, you would anticipate more widespread or frequent incidents of track buckling as the temperature rises," said Virginia Burkett, a U.S. Geological Survey scientist.
More than 2,100 U.S. train derailments over the past four decades have been attributable to sun kinks. Each incident typically costs about $1 million, said Andrew Kish, an independent railroad track stability consultant and rail buckling expert formerly with the Volpe National Transportation System Center at the U.S. Department of Transportation.
Four derailments took place in two weeks of summer 2012, the hottest year in U.S. history. They caused the the Federal Railroad Administration [FRA] to issue a safety advisory for the remainder of that summer.
The FRA is taking credit for kink-caused derailments dropping each year since 2011, but they remain unpredictable in nature, particularly in warmer weather. Trains are also increasing the amount of oil they carry. Crude oil shipments grew from 9,500 carloads in 2009 to nearly 400,000 last year.
"Look, if a train derails carrying coal, no big deal," Kish said. "But if you dump a train with hazmat (hazardous materials) or liquid nitrogen or crude oil, it starts burning.
"It's a more catastrophic event."
——–
YOU ALSO MIGHT LIKE
Thousands of Crude Oil Gallons Spill Into James River as Train Derails in Virginia
Fiery Oil Train Crash in Raging Shale Oil Boom State of North Dakota
About 10,000 Gallons of Crude Oil Spills onto Los Angeles Area Streets
——–
EcoWatch Daily Newsletter