This website uses cookies to ensure you get the best experience while browsing it. By clicking 'Got It' you're accepting these terms.
It's no secret that livestock production is a resource-intensive sector of agriculture that takes a heavy toll on the planet and significantly contributes to climate change.
According to the U.N. Food and Agriculture Organization, the livestock sector is the single largest anthropogenic user of land. It uses approximately 30 percent of the land surface on the planet, is responsible for between 14 and 50 percent of greenhouse gas emissions, according to some estimates and accounts for more than 8 percent of human water use.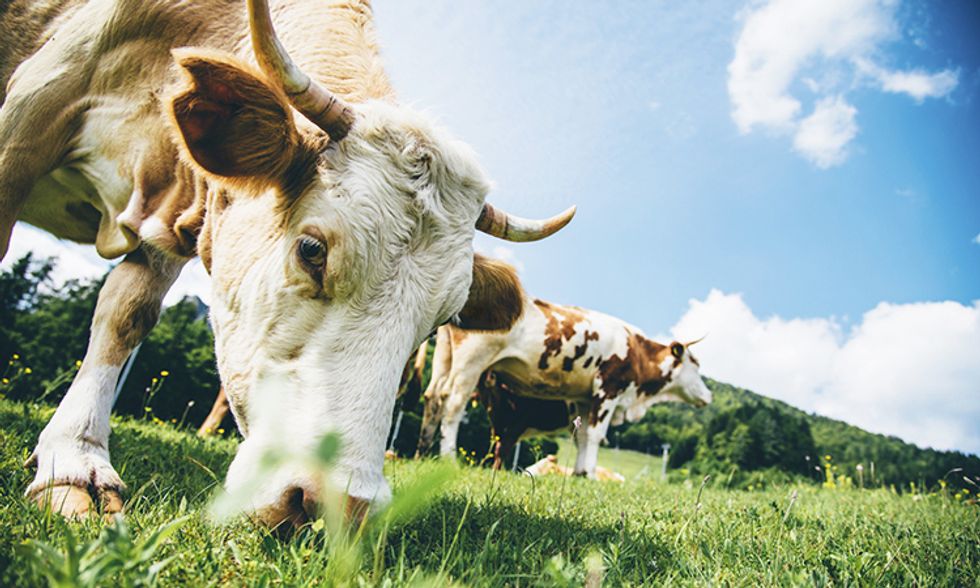 Experts have different ideas about how to mitigate the environmental impacts of livestock production, but the two most modeled and researched methods are one, increasing productivity and two, reducing demand. Increasing productivity means meeting the projected demands for meat while minimizing impacts through strategies such as improving feed efficiency, digestibility and the protein and mineral levels in feed. Reducing demand, on the other hand, means urging eaters to consume less meat products and replacing the large proportion of ruminants with monogastric livestock, such as pigs, rabbits and other animals.
But there is another strategy that could be a key piece in the global efforts to find a way to sustainably raise livestock: reducing the use of livestock feed that competes with direct human food crop production, which is called "food-competing feedstuffs" (FCF).
A recent study published in the Journal of the Royal Society set out to examine the benefits and challenges of limiting FCF in livestock diets, which they call "the consistency strategy." This approach shows promise for two reasons. First, it reframes the role of livestock in the food system as a solution to a problem, rather than merely a source of protein. Ruminants are uniquely designed to utilize resources that cannot otherwise be used for food production, including grasslands, much of which is not suitable for arable crop production and food waste and by-products such as brans, whey and oil-cakes. Instead of feeding ruminants crops that can be used for human consumption, this strategy takes advantage of the animals' ability to convert less useful resources into food. Second, limiting FCF in livestock diets will, in turn, affect production and consumption because it would lead to a reduction in supply. It would also alleviate land-use competition by decreasing the amount of feed grown on croplands.
This study analyzed several livestock production scenarios and found that the consistency strategy can produce sufficient quantities of food while significantly lessening environmental impacts as compared to a business-as-usual scenario. In the most extreme case, where animals are exclusively fed from grassland and by-products, greenhouse gas emissions would be reduced by 18 percent, arable land occupation would be reduced by 26 percent and freshwater use would be reduced by 21 percent. This scenario would also result in reducing protein intake per capita from livestock products by 71 percent.
The study authors emphasize that their method is a complement, not a substitute, for other strategies of increasing efficiency and reducing demand. The consistency strategy would work in tandem with existing efforts to create an even more effective solution to shape the future of sustainable livestock production.
Lani Furbank is a writer and photographer based in the DC metro area, where she covers the intersection of food, farming, and the environment for local and national publications. Follow her on Twitter @lanifurbank.
YOU MIGHT ALSO LIKE
Join Jamie Oliver's Food Revolution
UN Says Glyphosate 'Unlikely' to Cause Cancer, Industry Ties to Report Called Into Question
Big Ag Fights to the Bitter End to Keep Pesticide From Being Banned
EcoWatch Daily Newsletter
Pro-environment demonstrators on the streets of Washington, DC during the Jan. 20, 2017 Trump inauguration.
Mobilus In Mobili
/ Flickr /
CC BY-SA 2.0
By Dr. Brian R. Shmaefsky
One year after the Flint Water Crisis I was invited to participate in a water rights session at a conference hosted by the US Human Rights Network in Austin, Texas in 2015. The reason I was at the conference was to promote efforts by the American Association for the Advancement of Science (AAAS) to encourage scientists to shine a light on how science intersects with human rights, in the U.S. as well as in the context of international development. My plan was to sit at an information booth and share my stories about water quality projects I spearheaded in communities in Bangladesh, Colombia, and the Philippines. I did not expect to be thrown into conversations that made me reexamine how scientists use their knowledge as a public good.
Mt. Rainier and Reflection Lake on Sept. 10, 2015. Crystal Geyser planned to open a bottling plant near Mt. Rainier, emails show.
louelke - on and off / Flickr
Bottled water manufacturers looking to capture cool, mountain water from Washington's Cascade Mountains may have to look elsewhere after the state senate passed a bill banning new water permits, as The Guardian reported.
Large storage tank of Ammonia at a fertilizer plant in Cubatão, Sao Paulo State, Brazil. Luis Veiga / The Image Bank / Getty Images
The shipping industry is coming to grips with its egregious carbon footprint, as it has an outsized contribution to greenhouse gas emissions and to the dumping of chemicals into open seas. Already, the global shipping industry contributes about 2 percent of global carbon emissions, about the same as Germany, as the BBC reported.
At high tide, people are forced off parts of the pathway surrounding DC's Tidal Basin. Andrew Bossi /
Wikimedia
The Jefferson Memorial in Washington, DC overlooks the Tidal Basin, a man-made body of water surrounded by cherry trees. Visitors can stroll along the water's edge, gazing up at the stately monument.
But at high tide, people are forced off parts of the path. Twice a day, the Tidal Basin floods and water spills onto the walkway.
Lioness displays teeth during light rainstorm in Kruger National Park, South Africa. johan63 / iStock / Getty Images
Ahead of government negotiations scheduled for next week on a global plan to address the biodiversity crisis, 23 former foreign ministers from various countries released a statement on Tuesday urging world leaders to act "boldly" to protect nature.