This website uses cookies to ensure you get the best experience while browsing it. By clicking 'Got It' you're accepting these terms.
How Breathing Coal Ash Is Hazardous to Your Health
Jul. 31, 2014 11:19AM EST
Since the TVA Kingston, Tennessee, coal ash dam burst in 2008 spilling more than one billion gallons of toxic sludge across 300 acres, it seems there's been an unfortunate—and avoidable—string of coal ash spills polluting U.S. waters, including Duke Energy's spill into the Dan River in North Carolina this February.
More than 200 sites nationwide have experienced coal ash polluting nearby lakes, streams and rivers. From contaminated drinking water sources to illegal dumping caught on hidden cameras, it's clear: our waterways have been taking a beating from coal ash.
But what about the air we breathe?
"Coal ash contaminating water supplies is well known," said Lisa Evans, senior administrative counsel at Earthjustice. "Our report details another danger of unregulated coal ash waste. Breathing dust can cause disease and drastically decrease the quality of life for communities along the fenceline of coal ash dumpsites. We know coal ash is poisoning our water, and now we also know that it's poisoning our air as well."
This danger of unregulated and unmonitored coal ash dumping is highlighted in a new report, Ash in Lungs: How Breathing Coal Ash is Hazardous to Your Health, released today by Physicians for Social Responsibility and Earthjustice.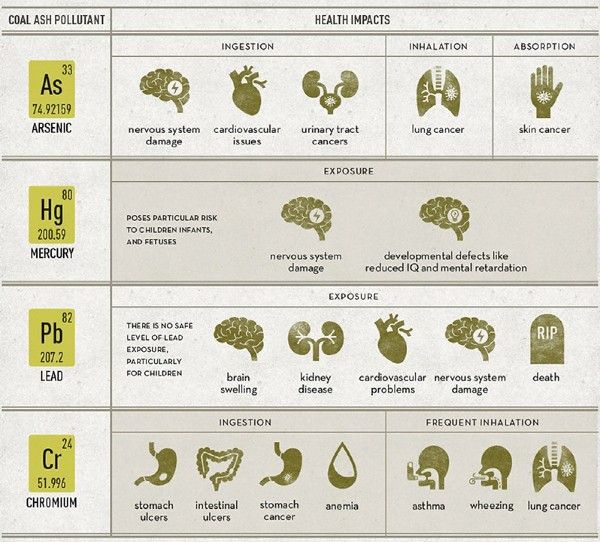 Dust from coal ash contains small particle pollution, which increases health risks from inhalation and can trigger immunological reactions and inflammation. Pollutants could include radioactive materials, mercury, hydrogen sulfide and silica, which can lead to silicosis. Workers at dumpsites and power plants are exposed to these dangerous pollutants, as are unwitting communities through which uncovered trucks carrying coal ash travel or that are in proximity to coal ash landfills.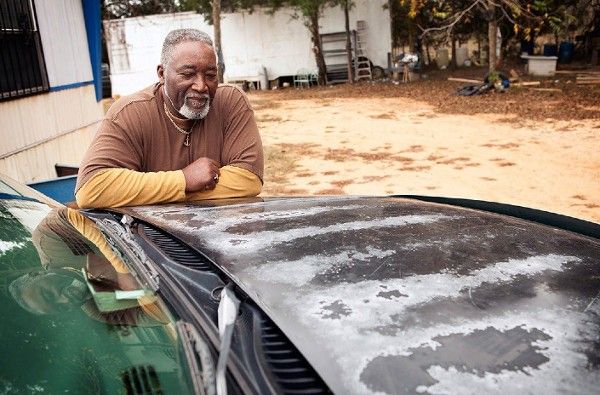 that's what it's doing to my truck, imagine what it's doing to me," said Gibbs. Photo credit: Chris Jordan-Bloch / Earthjustice
"Breathing toxic coal ash dust can lead to disease and even death," said Dr. Alan Lockwood, emeritus professor of neurology at the University of Buffalo and past president of Physicians for Social Responsibility. "This is a dangerous pollutant that not only damages the respiratory system, but even increases the rate of heart attacks and strokes."
Despite obvious health risks, no federal requirements exist to control fugitive dust or the storage and disposal of this toxic waste. Only one state, Pennsylvania, requires dust controls at coal ash ponds. The report takes a look at six communities poisoned by coal ash dust.
Earthjustice, on behalf of Physicians for Social Responsibility, Appalachian Voices, Chesapeake Climate Action Network, Environmental Integrity Project, Kentuckians for the Commonwealth, Moapa Band of Paiutes, Montana Environmental Information Center, Prairie Rivers Network, Sierra Club, Southern Alliance for Clean Energy and Western North Carolina Alliance, sued the U.S. Environmental Protection Agency (EPA) for its failure to follow the law and to finalize coal ash regulations that the Agency first proposed in 2010. As a result, EPA will finalize the nation's first federal coal ash regulations by Dec. 19.
You Might Also Like
Duke Energy Announces Coal Ash Spill Cleanup Will Take 2+ Years; Emails Show Collusion Between Regulators and NC Utility
How Kentucky's Illegal Coal-Ash Contamination Typifies an American Crisis
Rachel Maddow Exposes Dirty Deal in Duke Energy Toxic Coal Ash Spill
EcoWatch Daily Newsletter
Artist's conception of solar islands in the open ocean. PNAS
Millions of solar panels clustered together to form an island could convert carbon dioxide in seawater into methanol, which can fuel airplanes and trucks, according to new research from Norway and Switzerland and published in the Proceedings of the National Academy of Sciences journal, PNAS, as NBC News reported. The floating islands could drastically reduce greenhouse gas emissions and dependence on fossil fuels.
Marcos Alves / Moment Open / Getty Images
More than 40 percent of insects could go extinct globally in the next few decades. So why did the U.S. Environmental Protection Agency (EPA) last week ok the 'emergency' use of the bee-killing pesticide sulfoxaflor on 13.9 million acres?
EcoWatch teamed up with Center for Biological Diversity via EcoWatch Live on Facebook to find out why. Environmental Health Director and Senior Attorney Lori Ann Burd explained how there is a loophole in the The Federal Insecticide, Fungicide, and Rodenticide Act under section 18, "that allows for entities and states to request emergency exemptions to spraying pesticides where they otherwise wouldn't be allowed to spray."
Simple swaps that cut down on kitchen trash.
Sponsored
By Kayla Robbins
Along with the bathroom, the kitchen is one of the most daunting areas to try and make zero waste.
View of downtown Miami, Florida from Hobie Island on Feb. 2, 2019.
Michael Muraz / Flickr
The Democratic candidates for president descended upon Miami for a two-night debate on Wednesday and Thursday. Any candidate hoping to carry the state will have to make the climate crisis central to their campaign, as The New York Times reported.
By Sharon Kelly
On Monday, the Wall Street Journal featured a profile of Scott Sheffield, CEO of Pioneer Natural Resources, whose company is known among investors for its emphasis on drawing oil and gas from the Permian basin in Texas using horizontal drilling and hydraulic fracturing, or fracking.
Pexels
By Craig K. Chandler
The federal government has available to it, should it choose to use them, a wide range of potential climate change management tools, going well beyond the traditional pollution control regulatory options. And, in some cases (not all), without new legislative authorization.
Denis Poroy / Getty Images
By Dan Gray
Processed foods, in their many delicious forms, are an American favorite.
But new research shows that despite increasing evidence on just how unhealthy processed foods are, Americans have continued to eat the products at the same rate.
By Sarah Steffen
With a profound understanding of their environmental surroundings, indigenous communities around the world are often cited as being pivotal to tackling climate change.