How Breathing Coal Ash Is Hazardous to Your Health
Jul. 31, 2014 12:19PM EST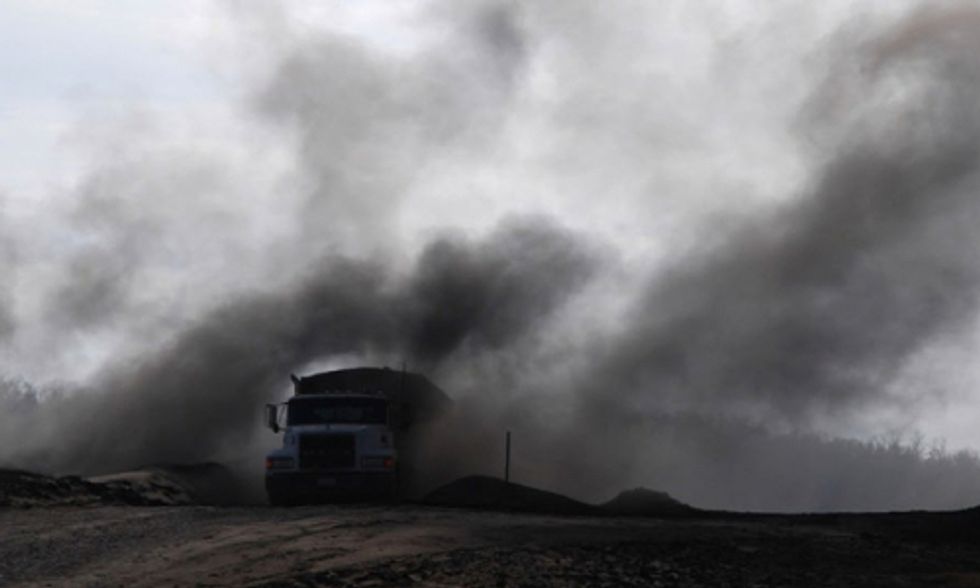 Since the TVA Kingston, Tennessee, coal ash dam burst in 2008 spilling more than one billion gallons of toxic sludge across 300 acres, it seems there's been an unfortunate—and avoidable—string of coal ash spills polluting U.S. waters, including Duke Energy's spill into the Dan River in North Carolina this February.
More than 200 sites nationwide have experienced coal ash polluting nearby lakes, streams and rivers. From contaminated drinking water sources to illegal dumping caught on hidden cameras, it's clear: our waterways have been taking a beating from coal ash.
But what about the air we breathe?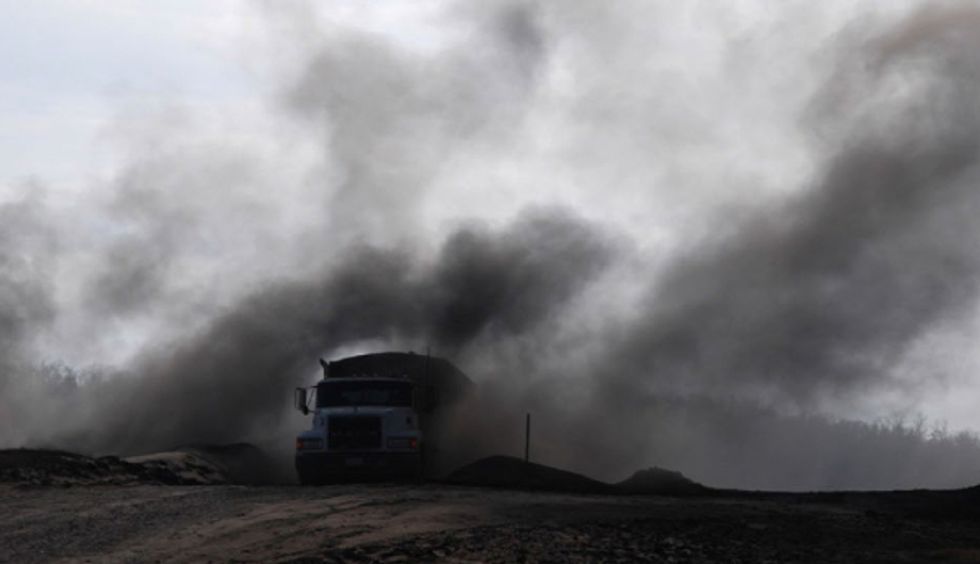 "Coal ash contaminating water supplies is well known," said Lisa Evans, senior administrative counsel at Earthjustice. "Our report details another danger of unregulated coal ash waste. Breathing dust can cause disease and drastically decrease the quality of life for communities along the fenceline of coal ash dumpsites. We know coal ash is poisoning our water, and now we also know that it's poisoning our air as well."
This danger of unregulated and unmonitored coal ash dumping is highlighted in a new report, Ash in Lungs: How Breathing Coal Ash is Hazardous to Your Health, released today by Physicians for Social Responsibility and Earthjustice.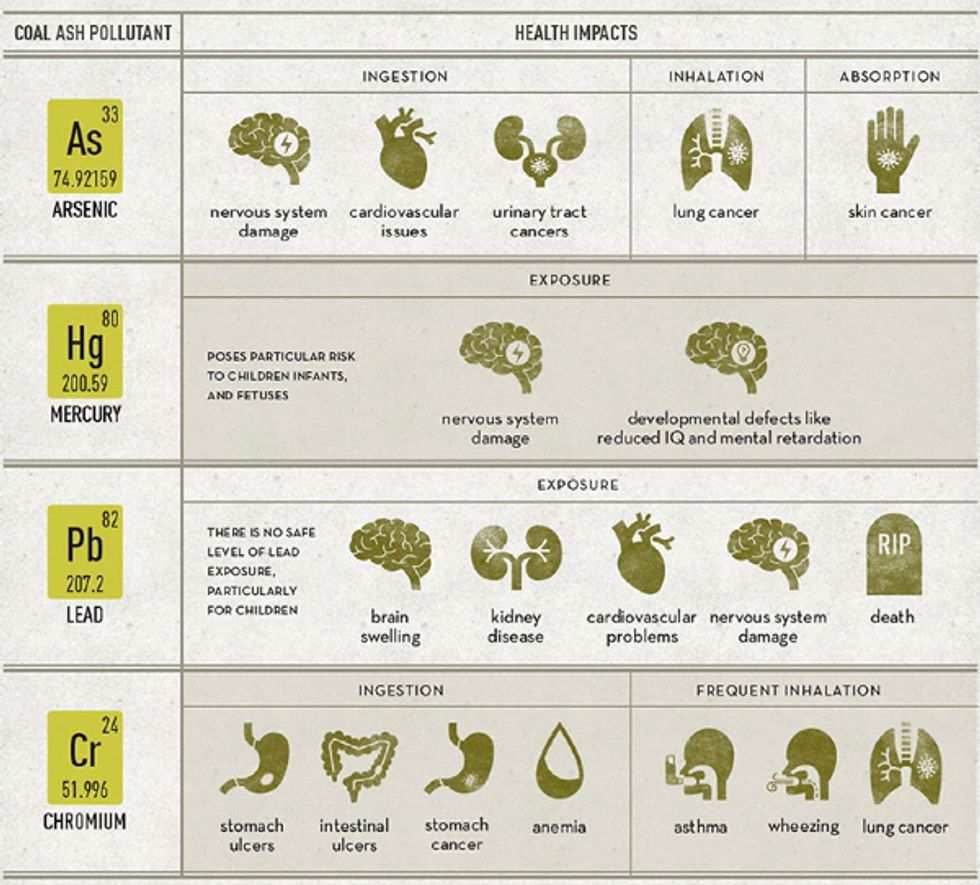 Dust from coal ash contains small particle pollution, which increases health risks from inhalation and can trigger immunological reactions and inflammation. Pollutants could include radioactive materials, mercury, hydrogen sulfide and silica, which can lead to silicosis. Workers at dumpsites and power plants are exposed to these dangerous pollutants, as are unwitting communities through which uncovered trucks carrying coal ash travel or that are in proximity to coal ash landfills.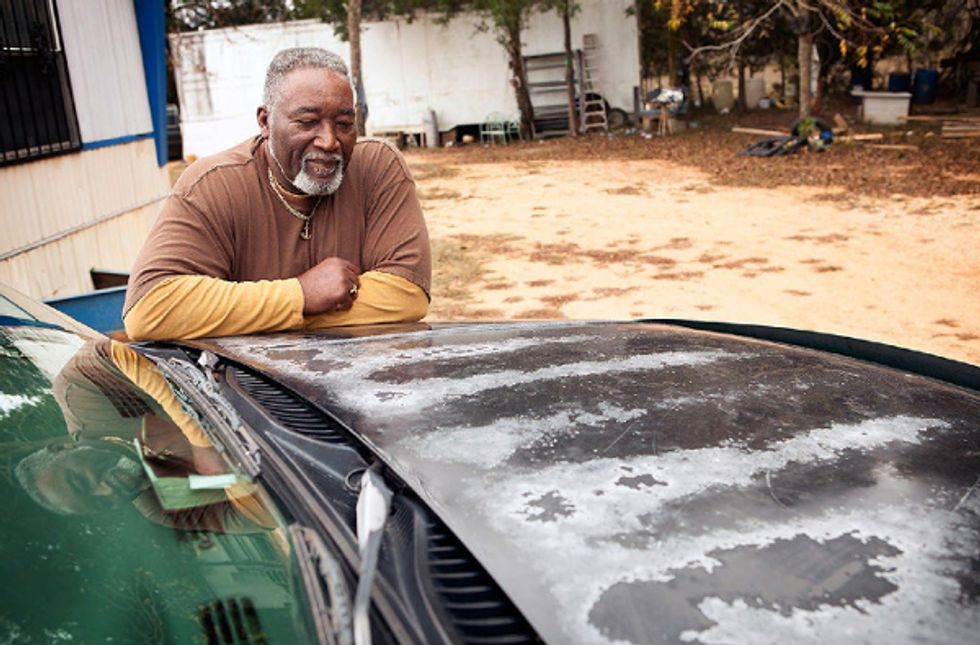 that's what it's doing to my truck, imagine what it's doing to me," said Gibbs. Photo credit: Chris Jordan-Bloch / Earthjustice
"Breathing toxic coal ash dust can lead to disease and even death," said Dr. Alan Lockwood, emeritus professor of neurology at the University of Buffalo and past president of Physicians for Social Responsibility. "This is a dangerous pollutant that not only damages the respiratory system, but even increases the rate of heart attacks and strokes."
Despite obvious health risks, no federal requirements exist to control fugitive dust or the storage and disposal of this toxic waste. Only one state, Pennsylvania, requires dust controls at coal ash ponds. The report takes a look at six communities poisoned by coal ash dust.
Earthjustice, on behalf of Physicians for Social Responsibility, Appalachian Voices, Chesapeake Climate Action Network, Environmental Integrity Project, Kentuckians for the Commonwealth, Moapa Band of Paiutes, Montana Environmental Information Center, Prairie Rivers Network, Sierra Club, Southern Alliance for Clean Energy and Western North Carolina Alliance, sued the U.S. Environmental Protection Agency (EPA) for its failure to follow the law and to finalize coal ash regulations that the Agency first proposed in 2010. As a result, EPA will finalize the nation's first federal coal ash regulations by Dec. 19.
You Might Also Like
Duke Energy Announces Coal Ash Spill Cleanup Will Take 2+ Years; Emails Show Collusion Between Regulators and NC Utility
How Kentucky's Illegal Coal-Ash Contamination Typifies an American Crisis
Rachel Maddow Exposes Dirty Deal in Duke Energy Toxic Coal Ash Spill
EcoWatch Daily Newsletter