This website uses cookies to ensure you get the best experience while browsing it. By clicking 'Got It' you're accepting these terms.
How Big Food Creates an Illusion of Choice at the Supermarket
Dec. 06, 2013 08:55AM EST
Food
A new analysis shows that the top four or fewer food companies control a substantial majority of the sales of each item, and they often offer multiple brands in each type of grocery, giving consumers the false impression they are choosing among competing products.
The in-depth analysis, released by Food & Water Watch on Thursday, illustrates the consolidation of the grocery industry and the range of impacts it has on the food chain.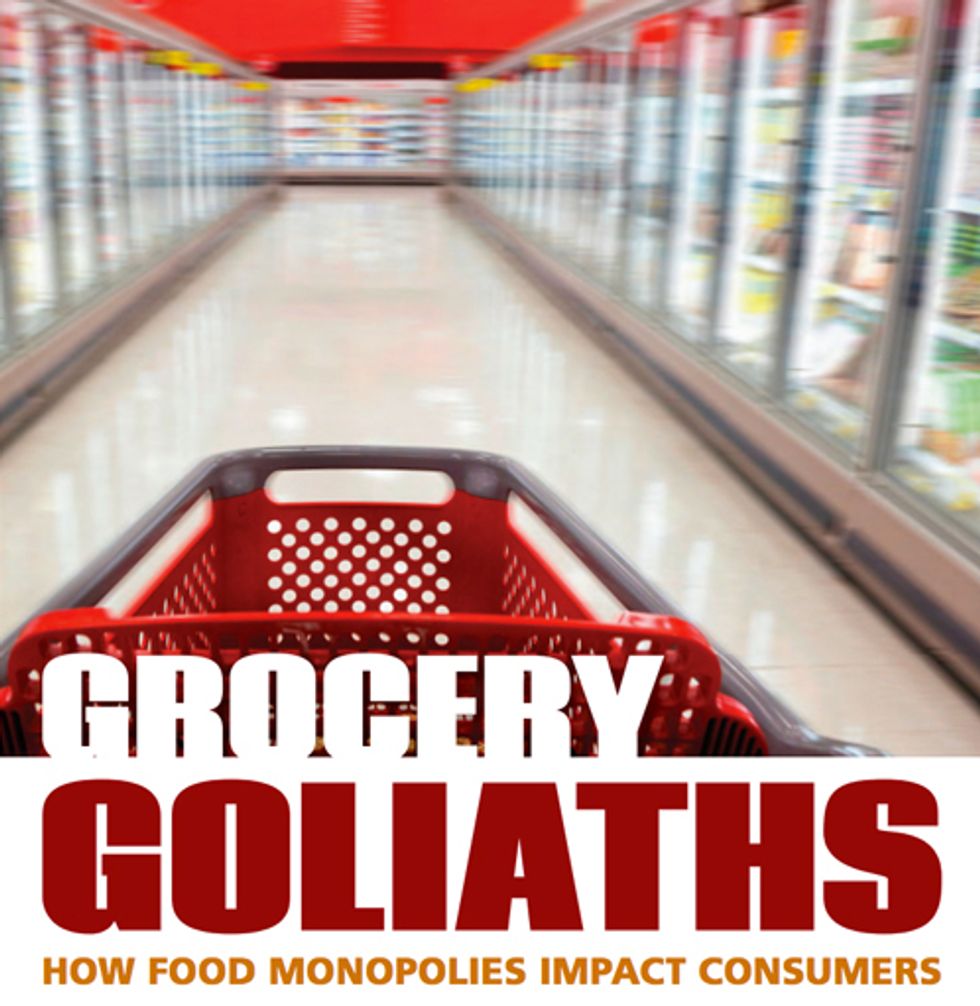 Grocery Goliaths: How Food Monopolies Impact Consumers examines 100 types of grocery products and found that as food companies and supermarket chains have consolidated over the last few years, the illusion of choice among brands has coincided with increasingly expensive grocery bills.
"You might think you're a savvy shopper, supporting independent businesses when you buy a product from the organic foods aisle of your grocery store, but chances are you're really being duped by a small handful of grocery industry Goliaths hiding behind an array of brands and pretty packaging," said Wenonah Hauter, executive director of Food & Water Watch."The largest mega-retailers and manufacturers control more of what we eat than you thought. And they're not only costing shoppers, but farmers and small food companies too."
Report findings came from the latest available grocery industry data (primarily from 2011 and 2012) and accounts for mergers, acquisitions and spin-offs through October 2013. Highlights include:
In 2012, 53.6 percent of the money that Americans spent on groceries went to the four largest retailers: Walmart, Kroger, Target and Safeway. Walmart alone sold almost a third (28.8 percent) of all groceries in 2012.
The top four or fewer grocery manufacturing companies controlled, on average, 63.3 percent of the sales of 100 types of groceries. For 32 grocery items, the biggest firms controlled more than 75 percent of sales and for six items, the top companies accounted for more than 90 percent of sales in things like infant formula and microwave dinners.
Consumers are led to believe they are choosing among competitors, when many different products are actually made by the same firm. For example, ConAgra sells six varieties of popcorn. This is true even for healthful foods; Kellogg's owns both Kashi and Bear Naked brands, though their packaging and websites make them seem independent.
Some major retailers charge food producers a fee to place their products in the most profitable shelf locations, making it almost impossible for small food producers to compete.
Top food producers are manipulating the shopping experience. In 2012, the top four grocery retailers spent $4.4 billion on advertisements and the top food manufacturers spent $8.4 billion. Ninety-one percent of the foods advertised on children's Saturday morning television programs were high in fat, added sugars and sodium, and low in nutrients, based on federal nutrition standards.
Intense consolidation throughout the grocery industry limits not just where consumers can shop, but what they can buy, according to Food & Water Watch. The number of mergers and acquisitions has increased as the economy emerges from the recession. The report contends the growing and significant consolidation puts small competitors at a disadvantage and denies shoppers transparency and consumer choice.
The analysis points to the ripple effects of grocery consolidation across the food chain. While grocery prices are rising and the share farmers receive is decreasing, the profits of major food retail companies and food manufacturers remain strong.
Food & Water Watch suggests that the Federal Trade Commission (FTC), the agency responsible for protecting the grocery industry from mega consolidation, should enact a national moratorium on grocery chain mergers and reject mergers of food companies and brands. Food & Water Watch further demands Congress grant the FTC proper authority to effectively regulate food marketing.
"This isn't a problem we can just shop our way out of. These mega-mergers encompass so much of the food chain that it's extremely difficult to always know who produced what we buy and where our dollars are going," Hauter said. "People are fed up with not having real choice and transparency when they are trying to feed themselves and their families. It's time for the FTC to prioritize protecting shoppers over protecting the profits of a shrinking handful of corporations."
The analysis of grocery industry data builds upon Hauter's book, Foodopoly: The Future of Food and Farming in America, which examines big business of the food supply and the increasing amount of control monolithic food companies have over consumers and small food producers.
Visit EcoWatch's FOOD page for more related news on this topic. 

EcoWatch Daily Newsletter
The Opera House is seen with smoke haze which enveloped Sydney Harbor on Dec. 10 in Sydney, Australia. Smoke haze hangs over the city as the New South Wales fire danger risk is raised from 'very high' to 'severe'. James D. Morgan / Getty Images
The brushfires raging through New South Wales have shrouded Australia's largest city in a blanket of smoke that pushed the air quality index 12 times worse than the hazardous threshold, according to the Australia Broadcast Corporation (ABC).
People walk across the bridge near Little Raven Court in downtown Denver. Younger Americans increasingly prefer to live in walkable neighborhoods. Helen H. Richardson / The Denver Post via Getty Images
By David B. Goldstein
Energy efficiency is the cornerstone of any country's plan to fight the climate crisis. It is the cheapest option available, and one that as often as not comes along with other benefits, such as job creation, comfort and compatibility with other key solutions such as renewable energy. This has been recognized by the International Energy Agency (IEA) for at least a decade.
Activists from Extinction Rebellion New York City engaged in nonviolent direct action to confront climate change outside City Hall on April 17, 2019. Erik McGregor / Pacific Press / LightRocket via Getty Images
By Andrea Germanos

Over 500 groups on Monday rolled out an an action plan for the next president's first days of office to address the climate emergency and set the nation on a transformative path towards zero emissions and a just transition in their first days in office.

The Ladakh region of India, pictured above, is a part of the Himalayan mountain region of the upper Indus Valley which is the most vulnerable water tower, according to researchers. Suttipong Sutiratanachai / Moment / Getty Images
Jet stream triggered heat waves could threaten food production in several important breadbaskets, including central North America.
Carl Wycoff /
CC BY 2.0
Researchers have pinpointed a previously underexamined threat to global food production, and they warn it will only get worse as the climate crisis intensifies.