This website uses cookies to ensure you get the best experience while browsing it. By clicking 'Got It' you're accepting these terms.


The best of EcoWatch, right in your inbox. Sign up for our email newsletter!
How Big Food Creates an Illusion of Choice at the Supermarket
Dec. 06, 2013 08:55AM EST
Food
A new analysis shows that the top four or fewer food companies control a substantial majority of the sales of each item, and they often offer multiple brands in each type of grocery, giving consumers the false impression they are choosing among competing products.
The in-depth analysis, released by Food & Water Watch on Thursday, illustrates the consolidation of the grocery industry and the range of impacts it has on the food chain.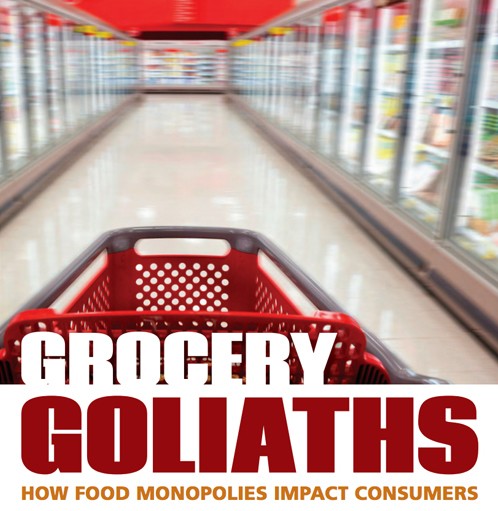 Grocery Goliaths: How Food Monopolies Impact Consumers examines 100 types of grocery products and found that as food companies and supermarket chains have consolidated over the last few years, the illusion of choice among brands has coincided with increasingly expensive grocery bills.
"You might think you're a savvy shopper, supporting independent businesses when you buy a product from the organic foods aisle of your grocery store, but chances are you're really being duped by a small handful of grocery industry Goliaths hiding behind an array of brands and pretty packaging," said Wenonah Hauter, executive director of Food & Water Watch."The largest mega-retailers and manufacturers control more of what we eat than you thought. And they're not only costing shoppers, but farmers and small food companies too."
Report findings came from the latest available grocery industry data (primarily from 2011 and 2012) and accounts for mergers, acquisitions and spin-offs through October 2013. Highlights include:
In 2012, 53.6 percent of the money that Americans spent on groceries went to the four largest retailers: Walmart, Kroger, Target and Safeway. Walmart alone sold almost a third (28.8 percent) of all groceries in 2012.
The top four or fewer grocery manufacturing companies controlled, on average, 63.3 percent of the sales of 100 types of groceries. For 32 grocery items, the biggest firms controlled more than 75 percent of sales and for six items, the top companies accounted for more than 90 percent of sales in things like infant formula and microwave dinners.
Consumers are led to believe they are choosing among competitors, when many different products are actually made by the same firm. For example, ConAgra sells six varieties of popcorn. This is true even for healthful foods; Kellogg's owns both Kashi and Bear Naked brands, though their packaging and websites make them seem independent.
Some major retailers charge food producers a fee to place their products in the most profitable shelf locations, making it almost impossible for small food producers to compete.
Top food producers are manipulating the shopping experience. In 2012, the top four grocery retailers spent $4.4 billion on advertisements and the top food manufacturers spent $8.4 billion. Ninety-one percent of the foods advertised on children's Saturday morning television programs were high in fat, added sugars and sodium, and low in nutrients, based on federal nutrition standards.
Intense consolidation throughout the grocery industry limits not just where consumers can shop, but what they can buy, according to Food & Water Watch. The number of mergers and acquisitions has increased as the economy emerges from the recession. The report contends the growing and significant consolidation puts small competitors at a disadvantage and denies shoppers transparency and consumer choice.
The analysis points to the ripple effects of grocery consolidation across the food chain. While grocery prices are rising and the share farmers receive is decreasing, the profits of major food retail companies and food manufacturers remain strong.
Food & Water Watch suggests that the Federal Trade Commission (FTC), the agency responsible for protecting the grocery industry from mega consolidation, should enact a national moratorium on grocery chain mergers and reject mergers of food companies and brands. Food & Water Watch further demands Congress grant the FTC proper authority to effectively regulate food marketing.
"This isn't a problem we can just shop our way out of. These mega-mergers encompass so much of the food chain that it's extremely difficult to always know who produced what we buy and where our dollars are going," Hauter said. "People are fed up with not having real choice and transparency when they are trying to feed themselves and their families. It's time for the FTC to prioritize protecting shoppers over protecting the profits of a shrinking handful of corporations."
The analysis of grocery industry data builds upon Hauter's book, Foodopoly: The Future of Food and Farming in America, which examines big business of the food supply and the increasing amount of control monolithic food companies have over consumers and small food producers.
Visit EcoWatch's FOOD page for more related news on this topic. 

EcoWatch Daily Newsletter
Aerial view of the explosion site of a chemical factory on March 22 in Yancheng, Jiangsu Province of China. Caixin Media / VCG / Getty Images)
At least 47 people have died in an explosion at a plant in Yancheng, China Thursday run by a chemical company with a history of environmental violations, Sky News reported.
A fishmonger in Elmina, a fishing port in the Central Region of Ghana. Environmental Justice Foundation
By Daisy Brickhill
Each morning, men living in fishing communities along Ghana's coastline push off in search of the day's catch. But when the boats come back to shore, it's the women who take over.
Pexels
By Sam Nickerson
Links between excess sugar in your diet and disease have been well-documented, but new research by Harvard's School of Public Health might make you even more wary of that next soda: it could increase your risk of an early death.
The study, published this week in the American Heart Association's journal Circulation, found that drinking one or two sugar-sweetened beverages (SSBs) each day — like sodas or sports drinks — increases risk of an early death by 14 percent.
Tyson Foods is recalling approximately 69,093 pounds of frozen chicken strips because they may have been contaminated with pieces of metal, the U.S. Department of Agriculture (USDA) Food Safety and Inspection Service (FSIS) announced Thursday.
The affected products were fully-cooked "Buffalo Style" and "Crispy" chicken strips with a "use by" date of Nov. 30, 2019 and an establishment number of "P-7221" on the back of the package.
"FSIS is concerned that some product may be in consumers' freezers," the recall notice said. "Consumers who have purchased these products are urged not to consume them. These products should be thrown away or returned to the place of purchase."
Environmental exposure to pesticides, both before birth and during the first year of life, has been linked to an increased risk of developing autism spectrum disorder, according to the largest epidemiological study to date on the connection.
The study, published Wednesday in BMJ, found that pregnant women who lived within 2,000 meters (approximately 1.2 miles) of a highly-sprayed agricultural area in California had children who were 10 to 16 percent more likely to develop autism and 30 percent more likely to develop severe autism that impacted their intellectual ability. If the children were exposed to pesticides during their first year of life, the risk they would develop autism went up to 50 percent.
The ExxonMobil Torrance Refinery in Torrance, California.
waltarrrr / Flickr
ExxonMobil could be the second company after Monsanto to lose lobbying access to members of European Parliament after it failed to turn up to a hearing Thursday into whether or not the oil giant knowingly spread false information about climate change.
The call to ban the company was submitted by Green Member of European Parliament (MEP) Molly Scott Cato and should be decided in a vote in late April, The Guardian reported.
Bernie Sanders holds his first presidential campaign rally at Brooklyn College on March 02 in Brooklyn, New York. Kena Betancur / VIEWpress / Corbis. Getty Images
Bernie Sanders has become the first contender in the crowded 2020 Democratic presidential primary field to pledge to offset all of the greenhouse gas emissions released by campaign travel, The Huffington Post reported Thursday.