How Antioxidants Can Help Fight Depression
According to the Centers for Disease Control and Prevention, the rates of all of our top 10 killers have fallen or stabilized except for one, suicide. Accumulating evidence indicates that free radicals may play important roles in the development of various neuropsychiatric disorders including major depression, a common cause of suicide.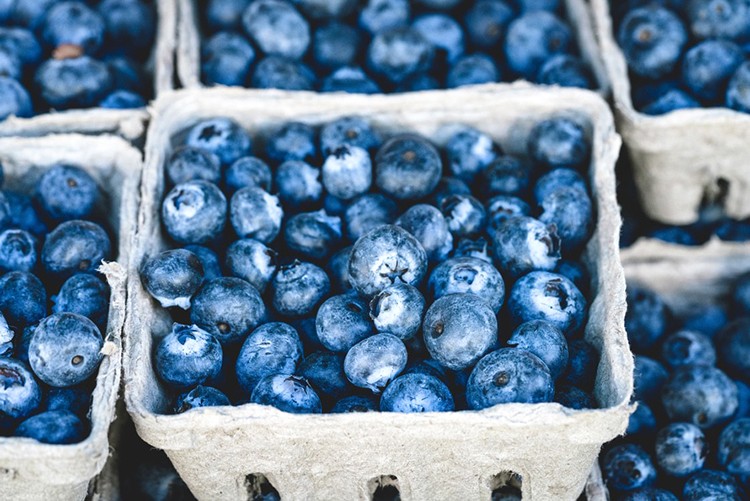 In a study of nearly 300,000 Canadians, for example, greater fruit and vegetable consumption was associated with lower odds of depression, psychological distress, self-reported mood and anxiety disorders and poor perceived mental health. They conclude that since a healthy diet comprised of a high intake of fruits and vegetables is rich in antioxidants, it may consequently dampen the detrimental effects of oxidative stress on mental health.
But that study was based on just asking how many fruits and veggies people ate. Maybe people were just telling the researchers what they thought they wanted to hear. What if you actually measure the levels of carotenoid phytonutrients in people's bloodstreams? The same relationship is found. Testing nearly 2000 people across the U.S., researchers found that a higher total blood carotenoid level was indeed associated with a lower likelihood of elevated depressive symptoms and there appeared to be a dose-response relationship, meaning the higher the levels, the better people felt.
Lycopene, the red pigment predominantly found in tomatoes (but also present in watermelon, pink grapefruit, guava and papaya) is the most powerful carotenoid antioxidant. In a test tube it's about 100 times more effective at quenching free radicals than a more familiar antioxidant like vitamin E.
So do people who eat more tomatoes have less depression? Apparently so. A study of about a thousand older men and women found that those who ate the most tomato products had only about half the odds of depression. The researchers conclude that a tomato-rich diet may have a beneficial effect on the prevention of depressive symptoms.
Higher consumption of fruits and vegetables has been found to lead to a lower risk of developing depression, but if it's the antioxidants can't we just take an antioxidant pill?
Only food sources of antioxidants were protectively associated with depression. Not antioxidants from dietary supplements. Although plant foods and food-derived phytochemicals have been associated with health benefits, antioxidants from dietary supplements appear to be less beneficial and may, in fact, be detrimental to health. This may indicate that the form and delivery of the antioxidants are important. Alternatively, the observed associations may be due not to antioxidants but rather to other dietary factors such as folate that also occur in fruits, vegetables and plant-rich diets.
In a study of thousands of middle-aged office workers, eating lots of processed food was found to be a risk factor for at least mild to moderate depression five years later, whereas a whole food pattern was found to be protective. Yes, it could be because of the high content of antioxidants in fruits and vegetables but could also be the folate in greens and beans, as some studies have suggested an increased risk of depression in folks who may not have been eating enough.
Low folate levels in the blood are associated with depression, but since most of the early studies were cross-sectional, meaning a snapshot in time, we didn't know if the low folate led to depression or the depression led to low folate. Maybe when you have the blues you don't want to eat the greens.
But since then a number of cohort studies were published, following people over time. They show that a low dietary intake of folate may indeed be a risk factor for severe depression, as much as a threefold higher risk. Note this is for dietary folate intake, not folic acid supplements, so those with higher levels were actually eating healthy foods. If you give people folic acid pills they don't seem to work. This may be because folate is found in dark green leafy vegetables like spinach, whereas folic acid is the oxidized synthetic compound used in food fortification and dietary supplements because it's more shelf-stable.
YOU MIGHT ALSO LIKE
14 Easy Ways to Be Sure Your Getting Enough Protein in Your Diet
We Know Apple Cider Vinegar Has Many Health Benefits, But Can It Help You Lose Weight?
Can Low-Carb Diets Mess With Women's Hormones?
Glyphosate, the main ingredient in Monsanto's widely used herbicide Roundup, will be added July 7 to California's list of chemicals known to the state to cause cancer, according to a Reuters report Tuesday. This news comes after the company's unsuccessful attempt to block the listing in trial court and requests for stay were denied by a state appellate court and California's Supreme Court.
California's Office of Environmental Health Hazard Assessment (OEHHA) announced the designation on Monday under the Safe Drinking Water and Toxic Enforcement Act of 1986, or Proposition 65.
Keep reading...
Show less
www.facebook.com
Keep reading...
Show less
Researchers from the Marine Animal Response Society examine one of the dead right whales. Marine Animal Response Society
Canadian government officials and marine biologists are investigating the mysterious deaths of six North American right whales. The endangered animals all turned up dead between June 6 and June 23 in the Gulf of St. Lawrence, off Canada's southeastern coast.
North Atlantic right whales are the rarest of all large whale species and among the rarest of all marine mammal species, with only about 450 right whales in the North Atlantic.
Keep reading...
Show less
Scott Pruitt testifies during his Senate confirmation hearing for EPA administrator, January 2017.
The U.S. Environmental Protection Agency's (EPA) chief of staff pressured the leader of its Board of Scientific Counselors to change her congressional testimony to downplay the impact of the agency's mass dismissal of scientists from the board, the New York Times reports.
Keep reading...
Show less
By Jason Mark
Sequoiadendron giganteum. That's the scientific name for the giant sequoia: the mammoth trees found in California's Sierra Nevada that are the largest organisms on Earth, and among the longest-lived. Biologists estimate that about half of all sequoias live in Giant Sequoia National Monument, a 328,000-acre preserve in the Southern Sierra Nevada established by President Clinton in 2000.
Now that national monument is in jeopardy.
Keep reading...
Show less
By Andy Rowell
Donald Trump this week is launching an "energy week," pushing the argument that the U.S. will become a net exporter of oil and gas.
The president and his cronies are talking about a new era of "U.S. energy dominance," which could stretch for decades to come. However, no one believes the president anymore.
Keep reading...
Show less
UN
By Colleen Curry
The United Nations has designated 23 new sites around the world to its World Network of Biosphere reserves—stunning natural landscapes that balance environmental and human concerns and strive for sustainability.
The forests, beaches and waterways were added to the list this year at the International Coordinating Council of the Man and the Biosphere Programme meeting in Paris earlier this month.
Keep reading...
Show less
Jun. 26, 2017 01:48PM EST
www.elysee.fr
By Andy Rowell
There is a growing feeling within European capitals that a quiet, but deeply positive, revolution is happening under Emmanuel Macron in France.
Macron's opinion poll rating is high, especially boosted in how the young French president has reacted to Donald Trump on the international stage.
Keep reading...
Show less
Jun. 26, 2017 12:32PM EST
www.facebook.com
Keep reading...
Show less