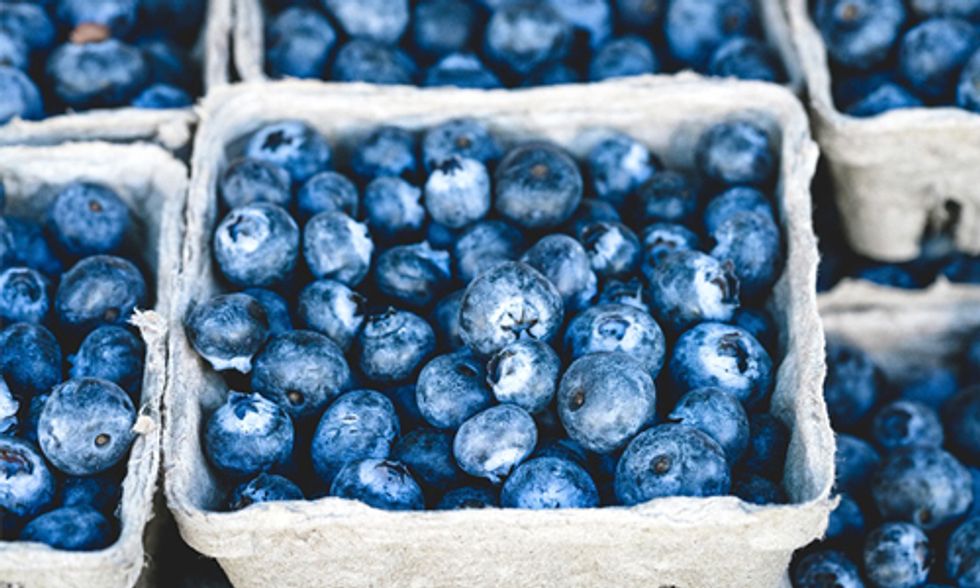 According to the Centers for Disease Control and Prevention, the rates of all of our top 10 killers have fallen or stabilized except for one, suicide. Accumulating evidence indicates that free radicals may play important roles in the development of various neuropsychiatric disorders including major depression, a common cause of suicide.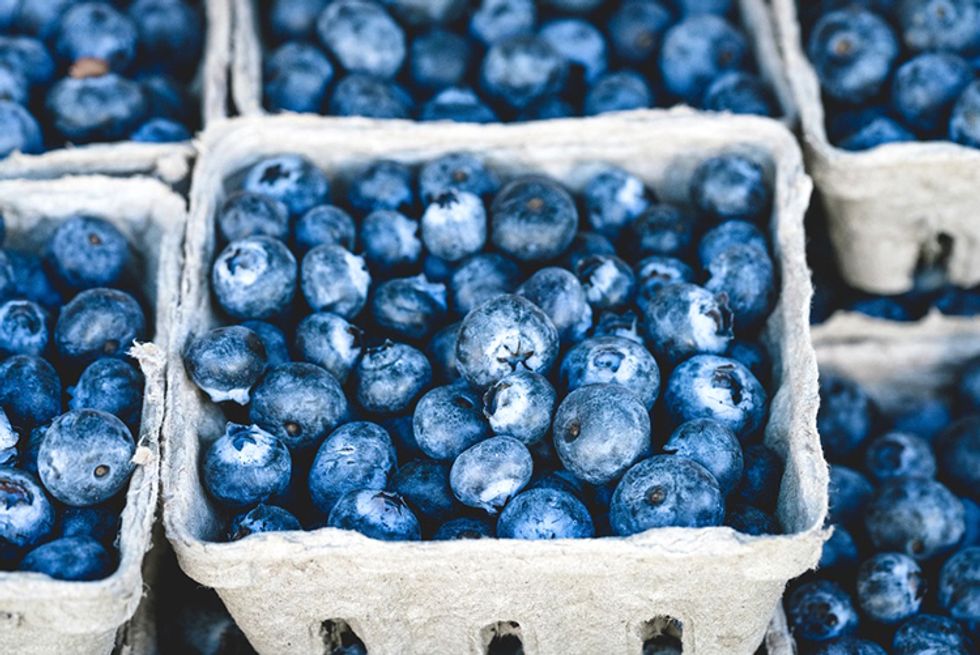 In a study of nearly 300,000 Canadians, for example, greater fruit and vegetable consumption was associated with lower odds of depression, psychological distress, self-reported mood and anxiety disorders and poor perceived mental health. They conclude that since a healthy diet comprised of a high intake of fruits and vegetables is rich in antioxidants, it may consequently dampen the detrimental effects of oxidative stress on mental health.
But that study was based on just asking how many fruits and veggies people ate. Maybe people were just telling the researchers what they thought they wanted to hear. What if you actually measure the levels of carotenoid phytonutrients in people's bloodstreams? The same relationship is found. Testing nearly 2000 people across the U.S., researchers found that a higher total blood carotenoid level was indeed associated with a lower likelihood of elevated depressive symptoms and there appeared to be a dose-response relationship, meaning the higher the levels, the better people felt.
Lycopene, the red pigment predominantly found in tomatoes (but also present in watermelon, pink grapefruit, guava and papaya) is the most powerful carotenoid antioxidant. In a test tube it's about 100 times more effective at quenching free radicals than a more familiar antioxidant like vitamin E.
So do people who eat more tomatoes have less depression? Apparently so. A study of about a thousand older men and women found that those who ate the most tomato products had only about half the odds of depression. The researchers conclude that a tomato-rich diet may have a beneficial effect on the prevention of depressive symptoms.
Higher consumption of fruits and vegetables has been found to lead to a lower risk of developing depression, but if it's the antioxidants can't we just take an antioxidant pill?
Only food sources of antioxidants were protectively associated with depression. Not antioxidants from dietary supplements. Although plant foods and food-derived phytochemicals have been associated with health benefits, antioxidants from dietary supplements appear to be less beneficial and may, in fact, be detrimental to health. This may indicate that the form and delivery of the antioxidants are important. Alternatively, the observed associations may be due not to antioxidants but rather to other dietary factors such as folate that also occur in fruits, vegetables and plant-rich diets.
In a study of thousands of middle-aged office workers, eating lots of processed food was found to be a risk factor for at least mild to moderate depression five years later, whereas a whole food pattern was found to be protective. Yes, it could be because of the high content of antioxidants in fruits and vegetables but could also be the folate in greens and beans, as some studies have suggested an increased risk of depression in folks who may not have been eating enough.
Low folate levels in the blood are associated with depression, but since most of the early studies were cross-sectional, meaning a snapshot in time, we didn't know if the low folate led to depression or the depression led to low folate. Maybe when you have the blues you don't want to eat the greens.
But since then a number of cohort studies were published, following people over time. They show that a low dietary intake of folate may indeed be a risk factor for severe depression, as much as a threefold higher risk. Note this is for dietary folate intake, not folic acid supplements, so those with higher levels were actually eating healthy foods. If you give people folic acid pills they don't seem to work. This may be because folate is found in dark green leafy vegetables like spinach, whereas folic acid is the oxidized synthetic compound used in food fortification and dietary supplements because it's more shelf-stable.
YOU MIGHT ALSO LIKE
14 Easy Ways to Be Sure Your Getting Enough Protein in Your Diet
We Know Apple Cider Vinegar Has Many Health Benefits, But Can It Help You Lose Weight?
Can Low-Carb Diets Mess With Women's Hormones?
A Shell oil drilling rig off the coast of Alaska in the Chukchi Sea on May 21, 2015. Orjan F. Ellingvag / Corbis via Getty Images
By Jake Johnson
A federal appeals court on Tuesday dealt the final blow to former President Donald Trump's attempt to open nearly 130 million acres of territory in the Arctic and Atlantic Oceans to oil and gas drilling.
EcoWatch Daily Newsletter
Electric vehicles are the cars of the future. sl-f / Getty Images
By 2035, every new car and truck sold in the U.S. could be an EV, a new report says.
Accelerations in technology and especially battery affordability, paired with new policy, mean the dramatic transition would save American drivers $2.7 trillion by 2050, an average savings of $1,000 per household per year.
The ramp up in EV production would also create 2 million new jobs by 2035. Battery prices have fallen 74% since 2014, and their unexpectedly rapid fall is a key driver of the cost savings.
EVs are far simpler mechanically, and more efficient, than internal combustion engine (ICE) vehicles, which translates to reduced climate pollution and lower costs for consumers.
Strengthened vehicle efficiency standards and investment in fast charging infrastructure are needed to accelerate the transition, which would prevent 150,000 premature deaths and save $1.3 trillion in health environmental costs by 2050.
For a deeper dive:

The Guardian, Fast Company, E&E, Morning Consult, Canary Media

For more climate change and clean energy news, you can follow Climate Nexus on Twitter and Facebook, sign up for daily Hot News, and visit their news site, Nexus Media News.
The Gowanus Canal in Brooklyn, New York, a polluted nearly 2 mile-long waterway that is an EPA Superfund site. Jonathan Macagba / Moment / Getty Images
Thousands of Superfund sites exist around the U.S., with toxic substances left open, mismanaged and dumped. Despite the high levels of toxicity at these sites, nearly 21 million people live within a mile of one of them, according to the U.S. Environmental Protection Agency (EPA).
The National Weather Service station in Chatham, Massachusetts, near the edge of a cliff at the Monomoy National Wildlife Refuge. Bryce Williams / National Weather Service in Boston / Norton
A weather research station on a bluff overlooking the sea is closing down because of the climate crisis.
The National Weather Service (NWS) station in Chatham, Massachusetts was evacuated March 31 over concerns the entire operation would topple into the ocean.
"We had to say goodbye to the site because of where we are located at the Monomoy Wildlife Refuge, we're adjacent to a bluff that overlooks the ocean," Boston NWS meteorologist Andy Nash told WHDH at the time. "We had to close and cease operations there because that bluff has significantly eroded."
Chatham is located on the elbow of Cape Cod, a land mass extending out into the Atlantic Ocean that has been reshaped and eroded by waves and tides over tens of thousands of years, The Guardian explained. However, sea level rise and extreme weather caused by the climate crisis have sped that change along.
"It's an extremely dynamic environment, which is obviously a problem if you are building permanent infrastructure here," Andrew Ashton, an associate scientist at Cape-Cod based Woods Hole Oceanographic Institution, told The Guardian. "We are putting our foot on the accelerator to make the environment even more dynamic."
This was the case with the Chatham weather station. It used to be protected from the drop into the ocean by about 100 feet of land. However, storm action in 2020 alone washed away as much as six feet of land a day.
"We'd know[n] for a long time there was erosion but the pace of it caught everyone by surprise," Nash told The Guardian. "We felt we had maybe another 10 years but then we started losing a foot of a bluff a week and realized we didn't have years, we had just a few months. We were a couple of storms from a very big problem."
The Chatham station was part of a network of 92 NWS stations that monitor temperature, pressure, humidity, wind speed and direction and other data in the upper atmosphere, The Cape Cod Chronicle explained. The stations send up radiosondes attached to weather balloons twice a day to help with weather research and prediction. The Chatham station, which had been observing this ritual for the past half a century, sent up its last balloon the morning of March 31.
"We're going to miss the observations," Nash told The Cape Cod Chronicle. "It gives us a snapshot, a profile of the atmosphere when the balloons go up."
The station was officially decommissioned April 1, and the two buildings on the site will be demolished sometime this month. The NWS is looking for a new location in southeastern New England. In the meantime, forecasters will rely on data from stations in New York and Maine.
Nash said the leavetaking was bittersweet, but inevitable.
"[M]other nature is evicting us," he told The Cape Cod Chronicle.
Amsterdam is one of the Netherlands' cities which already has "milieuzones," where some types of vehicles are banned. Unsplash / jennieramida
By Douglas Broom
If online deliveries continue with fossil-fuel trucks, emissions will increase by a third.
So cities in the Netherlands will allow only emission-free delivery vehicles after 2025.
The government is giving delivery firms cash help to buy or lease electric vehicles.
The bans will save 1 megaton of CO2 every year by 2030.
Cities in the Netherlands want to make their air cleaner by banning fossil fuel delivery vehicles from urban areas from 2025.
"Now that we are spending more time at home, we are noticing the large number of delivery vans and lorries driving through cities," said Netherlands environment minister Stientje van Veldhoven, announcing plans to ban all but zero-emission deliveries in 14 cities.
"The agreements we are setting down will ensure that it will be a matter of course that within a few years, supermarket shelves will be stocked, waste will be collected, and packages will arrive on time, yet without any exhaust fumes and CO2 emissions," she added.