Health
May. 02, 2014 03:13PM EST
How Antibiotics Make Bad Bugs Stronger and Weaken Our Immune Systems
From the get-go, conventional medicine's signature promise was to help humans kill infections and wipe out invading bacteria via antibiotics and vaccines.
But research over the last decade reveals that fighting germs with antibiotics, injecting antibiotics into livestock and dousing ourselves, our homes and our environment with antibacterial toothpastes, cleansers and soaps may turn out to be misguided, producing long term health consequences.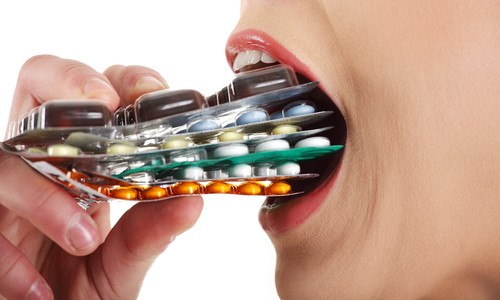 Over use of antibiotics, in agriculture and medicine, generates antibiotic resistance by causing dangerous microbes to grow hardier. Photo courtesy of Shutterstock
Studies of the microbiome—the world of microbes within each of us, centered in the digestive tract—reveal that we are not (as was once thought) noble humans besieged by bad bacteria.
"There are nearly 100 times as many microbe genes in us as there are human genes. We are composed of 90 percent bacterial cells and 10 percent human cells," says Victoria Maizes, MD, the executive director of the Arizona Center for Integrative Medicine at the University of Arizona College of Medicine. Maizes, one of the organizers of the upcoming conference, Nutrition and Health, will bring together prominent researchers and clinicians to share new findings on optimal nutrition for supporting the microbiome.
If what we call "we" is overwhelmingly more bacterial than human, then Pogo (the wise turtle in the old Walt Kelly cartoon) got it right when he said, "We have met the enemy and he is us."
Over use of antibiotics, in agriculture and medicine, generates antibiotic resistance by causing dangerous microbes (like c. Difficile, which produces acute and persistent digestive symptoms) to grow hardier. With a new science of the microbiome, pioneered by scientists like Justin Sonnenburg, comes a new medical philosophy: Rather than killing bugs, encourage the diversity of the gut microbiota. Healthy bacteria keeps the unhealthy ones in check.
Humans evolved to interact symbiotically with bacteria, which line the entire digestive tract from mouth to anus. Serving as the body's first line immune system, within this environment friendly bacteria, called probiotics, act as filters, help us absorb nutritious foods and keep out harmful substances.
Microorganisms also support detoxification by breaking down chemicals that increase risk of cancer and other ailments. Scientists are just beginning to explore the connection between our microbiome and the gut, nervous system and brain. A saying like, "Trust your gut" is based on real physiology, Maizes claims.
Maizes offers a partial list of microbiotic functions, which include:
Breaking down complex carbohydrates

Producing vitamins and other nutrients

Producing cells that support immune system function

Modulating our nervous system

Regulating immunity

Combating inflammation

Helping to protect against cancer
Using broad-spectrum antibiotics indiscriminately disrupts the optimal balance between the trillions of beneficial and diverse microorganisms, and harmful ones. Just as our global ecosystem requires biodiversity, so does our internal one.
The Human Microbiome Project, a $173 million National Institutes of Health study, is now under way to characterize the gut microbiome and analyze its role in health. In modern industrial societies, the makeup of the microbiota (the many microbes in each person's individual microbiome) is very different from that of our ancestors, says Justin Sonnenburg, PhD, director of the Sonnenburg Laboratory at Stanford University. "We've lost a lot of diversity in our microbiota. The modern lifestyle has changed its composition, and functionality, into an entity foreign to our human genome."
Since our genes cannot readily adjust to these changes, the Western microbiota are starving, says Sonnenburg.
"Clearly antibiotics are disastrous for the microbiota," adds Sonnenburg. Once the healthy bacteria are wiped out, "There are growing questions about how well people can bounce back from that and restore the microbiome." Sonnenburg also targets processed foods, and a lack of both dietary fiber and fermented foods, which are served in many other societies. "Pickles," says Maizes. "In Japan, pickled foods are a regular part of the diet."
The loss of microbiotic diversity could contribute to adult chronic diseases. "In terms of causation, we don't have that level of evidence," says Maizes. But in terms of association, we have a huge range of things from autism to autoimmune disease to heart disease to rheumatoid arthritis to all sorts of GI tract ailments, like irritable bowel, inflammatory bowel disease and ulcers, as well as obesity and mood disorders. For all of these things, there are associations."
As the science of the microbiome progresses, Sonnenburg posits that, "We may be able to explain the increase in so-called Western diseases. Our biological control center can't function properly due to the decline of organisms with which humans evolved. The Western diet and lifestyle breed a microbiota that does not serve our biology, and may be a risk factor."
"It's a different way of thinking about ourselves," says Maizes. "I always say, 'Honor thy microbiome.'  It's all about diversity, balance and interdependence."
——–
YOU MIGHT ALSO LIKE
FDA Regulation of Antibiotics Use on Factory Farms Proves Worthless
Misuse of Antibiotics Fuels Fatal 'Superbug' Crisis
5 Dangerous Substances Big Ag Pumps Into Your Meat
——–
Will Rose / Greenpeace
Eleven peaceful activists from the Greenpeace ship Arctic Sunrise have taken to the water in inflatable boats with handheld banners to oppose the Statoil Songa Enabler oil rig, 275 km North off the Norwegian coast, in the Arctic Barents sea.
The banners say: "People Vs. Arctic Oil" and are directed at Statoil and the Norwegian government, which has opened a new, aggressive search for oil in the waters of the Barents Sea.
Keep reading...
Show less
Jul. 21, 2017 10:34AM EST
Dominion Pipeline Monitoring Coalition
The Federal Energy Regulatory Commission (FERC) paved the way Friday for the 600-mile, 42-inch fracked gas Atlantic Coast Pipeline to proceed when it issued the final environmental impact statement (FEIS). A joint project of utility giants Duke Energy and Dominion Energy, the Atlantic Coast Pipeline would move fracked gas from West Virginia into Virginia and North Carolina.
In April, the Sierra Club submitted more than 500 pages of legal and technical comments on FERC's draft EIS, which were joined by more than 18,000 individual comments detailing opposition to the project. The pipeline has been met with widespread opposition, with more than 1,000 people participating in public hearings across the three affected states. The Sierra Club recently requested that FERC issue a new environmental review document analyzing information that came in after or late in, the public comment process.
Keep reading...
Show less
Jul. 21, 2017 08:25AM EST
Greenpeace / PolluterWatch
By Jessica Corbett
"It's time Rex Tillerson step down or be removed," said Gigi Kellett of Corporate Accountability International, following an announcement on Thursday that ExxonMobil will pay $2 million for violating U.S. sanctions against Russian officials while the now-secretary of state was the company's CEO.
"ExxonMobil demonstrated reckless disregard for U.S. sanction requirements," according to enforcement filing released by the Treasury Department's Office of Foreign Assets Control (OFAC), which issued the penalty. Though the fine is reportedly the maximum penalty allowed, it's pittance to one of the world's most profitable and powerful corporations, which last year reported a profit of $7.8 billion.
Keep reading...
Show less
Jul. 21, 2017 11:15AM EST
New analysis from Amory B. Lovins debunks the notion that highly unprofitable, economically distressed nuclear plants should be further subsi­dized to meet financial, security, reliability and climate goals. The analysis, which will appear shortly in The Electricity Journal, shows that closing costly-to-run nuclear plants and reinvesting their saved operating costs in energy efficiency provides cheaper elec­tricity, increases grid reliability and security, reduces more carbon, and preserves (not distorts) market integrity—all without subsidies.

Keep reading...
Show less
Jul. 21, 2017 08:44AM EST
Oil Change International / Twitter
By Christian Detisch and Seth Gladstone
In the wake of Senate Republicans' ever-deepening debacle over their flailing attempts to strip health insurance from 22 million people, Majority Leader Mitch McConnell is desperate to do something—anything—to show that he can get legislation passed. To this end, he's bypassing the standard committee review process to push a complex 850+ page energy bill straight to the full Senate floor. Perhaps not surprisingly, this legislation, the Energy and Natural Resources Act of 2017, would be a disaster for public health and our climate.
Keep reading...
Show less
Jul. 21, 2017 08:11AM EST
Rooftop solar panels on a beach house in southern Florida. TAI VIINIKKA / CC BY-NC-ND 2.0
A new law passed this week in South Miami will require all new homes built in the city to install solar panels. The measure, which was inspired by a proposal from a teenage climate activist, will go into effect in September.
The text of the ordinance details the climate impacts facing South Miami.
Keep reading...
Show less
Jul. 21, 2017 10:27AM EST
www.youtube.com
Keep reading...
Show less
Jul. 21, 2017 08:49AM EST
iStock
By Katherine Paul and Ronnie Cummins
A recent series of articles by a Washington Post reporter could have some consumers questioning the value of the U.S. Department of Agriculture's (USDA) organic seal. But are a few bad eggs representative of an entire industry?
Consumers are all for cracking down on the fraudulent few who, with the help of Big Food, big retail chains and questionable certifiers give organics a bad name. But they also want stronger standards, and better enforcement—not a plan to weaken standards to accommodate "Factory Farm Organic."
Keep reading...
Show less