This website uses cookies to ensure you get the best experience while browsing it. By clicking 'Got It' you're accepting these terms.
How Antibiotics Make Bad Bugs Stronger and Weaken Our Immune Systems
May. 02, 2014 03:13PM EST
From the get-go, conventional medicine's signature promise was to help humans kill infections and wipe out invading bacteria via antibiotics and vaccines.
But research over the last decade reveals that fighting germs with antibiotics, injecting antibiotics into livestock and dousing ourselves, our homes and our environment with antibacterial toothpastes, cleansers and soaps may turn out to be misguided, producing long term health consequences.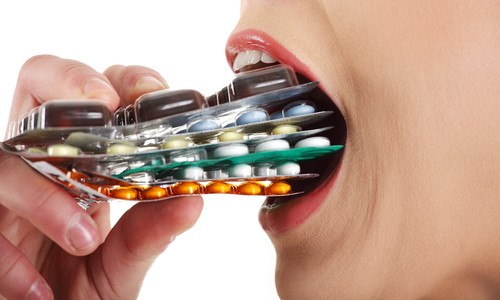 Over use of antibiotics, in agriculture and medicine, generates antibiotic resistance by causing dangerous microbes to grow hardier. Photo courtesy of Shutterstock
Studies of the microbiome—the world of microbes within each of us, centered in the digestive tract—reveal that we are not (as was once thought) noble humans besieged by bad bacteria.
"There are nearly 100 times as many microbe genes in us as there are human genes. We are composed of 90 percent bacterial cells and 10 percent human cells," says Victoria Maizes, MD, the executive director of the Arizona Center for Integrative Medicine at the University of Arizona College of Medicine. Maizes, one of the organizers of the upcoming conference, Nutrition and Health, will bring together prominent researchers and clinicians to share new findings on optimal nutrition for supporting the microbiome.
If what we call "we" is overwhelmingly more bacterial than human, then Pogo (the wise turtle in the old Walt Kelly cartoon) got it right when he said, "We have met the enemy and he is us."
Over use of antibiotics, in agriculture and medicine, generates antibiotic resistance by causing dangerous microbes (like c. Difficile, which produces acute and persistent digestive symptoms) to grow hardier. With a new science of the microbiome, pioneered by scientists like Justin Sonnenburg, comes a new medical philosophy: Rather than killing bugs, encourage the diversity of the gut microbiota. Healthy bacteria keeps the unhealthy ones in check.
Humans evolved to interact symbiotically with bacteria, which line the entire digestive tract from mouth to anus. Serving as the body's first line immune system, within this environment friendly bacteria, called probiotics, act as filters, help us absorb nutritious foods and keep out harmful substances.
Microorganisms also support detoxification by breaking down chemicals that increase risk of cancer and other ailments. Scientists are just beginning to explore the connection between our microbiome and the gut, nervous system and brain. A saying like, "Trust your gut" is based on real physiology, Maizes claims.
Maizes offers a partial list of microbiotic functions, which include:
Breaking down complex carbohydrates

Producing vitamins and other nutrients

Producing cells that support immune system function

Modulating our nervous system

Regulating immunity

Combating inflammation

Helping to protect against cancer
Using broad-spectrum antibiotics indiscriminately disrupts the optimal balance between the trillions of beneficial and diverse microorganisms, and harmful ones. Just as our global ecosystem requires biodiversity, so does our internal one.
The Human Microbiome Project, a $173 million National Institutes of Health study, is now under way to characterize the gut microbiome and analyze its role in health. In modern industrial societies, the makeup of the microbiota (the many microbes in each person's individual microbiome) is very different from that of our ancestors, says Justin Sonnenburg, PhD, director of the Sonnenburg Laboratory at Stanford University. "We've lost a lot of diversity in our microbiota. The modern lifestyle has changed its composition, and functionality, into an entity foreign to our human genome."
Since our genes cannot readily adjust to these changes, the Western microbiota are starving, says Sonnenburg.
"Clearly antibiotics are disastrous for the microbiota," adds Sonnenburg. Once the healthy bacteria are wiped out, "There are growing questions about how well people can bounce back from that and restore the microbiome." Sonnenburg also targets processed foods, and a lack of both dietary fiber and fermented foods, which are served in many other societies. "Pickles," says Maizes. "In Japan, pickled foods are a regular part of the diet."
The loss of microbiotic diversity could contribute to adult chronic diseases. "In terms of causation, we don't have that level of evidence," says Maizes. But in terms of association, we have a huge range of things from autism to autoimmune disease to heart disease to rheumatoid arthritis to all sorts of GI tract ailments, like irritable bowel, inflammatory bowel disease and ulcers, as well as obesity and mood disorders. For all of these things, there are associations."
As the science of the microbiome progresses, Sonnenburg posits that, "We may be able to explain the increase in so-called Western diseases. Our biological control center can't function properly due to the decline of organisms with which humans evolved. The Western diet and lifestyle breed a microbiota that does not serve our biology, and may be a risk factor."
"It's a different way of thinking about ourselves," says Maizes. "I always say, 'Honor thy microbiome.'  It's all about diversity, balance and interdependence."
——–
YOU MIGHT ALSO LIKE
FDA Regulation of Antibiotics Use on Factory Farms Proves Worthless
Misuse of Antibiotics Fuels Fatal 'Superbug' Crisis
5 Dangerous Substances Big Ag Pumps Into Your Meat
——–
Prince William and British naturalist David Attenborough attend converse during the World Economic Forum annual meeting, on January 22 in Davos, Switzerland. Fabrice Cofferini /AFP / Getty Images
Britain's Prince William interviewed famed broadcaster David Attenborough on Tuesday at the World Economic Forum's annual meeting in Switzerland.
During the sit-down, the 92-year-old naturalist advised the world leaders and business elite gathered in Davos this week that we must respect and protect the natural world, adding that the future of its survival—as well as humanity's survival—is in our hands.
Electric vehicle sales took off in 2018, with a record two million units sold around the world, according to a new Deloitte analysis.
What's more, the accounting firm predicts that another 21 million electric cars will be on the road globally over the next decade due to growing market demand for clean transportation, government subsidies, as well as bans on fossil fuel cars.
Teenager Alex Weber and friends collected nearly 40,000 golf balls hit into the ocean from a handful of California golf courses.
Alex Weber /
CC BY-ND
Southwest Greenland had the most consistent ice loss from 2003 to 2012. Eqalugaarsuit, Ostgronland, Greenland on Aug. 1, 2018.
Rob Oo / CC BY 2.0
Greenland is melting about four times faster than it was in 2003, a new study published Monday in the Proceedings of the National Academy of Sciences found, a discovery with frightening implications for the pace and extent of future sea level rise.
"We're going to see faster and faster sea level rise for the foreseeable future," study lead author and Ohio State University geodynamics professor Dr. Michael Bevis said in a press release. "Once you hit that tipping point, the only question is: How severe does it get?"
Finally, some good news about the otherwise terrible partial government shutdown. A federal judge ruled that the Trump administration cannot issue permits to conduct seismic testing during the government impasse.
The Justice Department sought to delay—or stay—a motion filed by a range of coastal cities, businesses and conservation organizations that are suing the Trump administration over offshore oil drilling, Reuters reported. The department argued that it did not have the resources it needed to work on the case due to the shutdown.
Most people have heard of the Amazon, South America's famed rainforest and hub of biological diversity. Less well known, though no less critical, is the Pantanal, the world's largest tropical wetland.
Like the Amazon, the Pantanal is ecologically important and imperiled. Located primarily in Brazil, it also stretches into neighboring Bolivia and Paraguay. Covering an area larger than England at more than 70,000 square miles, the massive wetland provides irreplaceable ecosystem services that include the regulation of floodwaters, nutrient renewal, river flow for navigability, groundwater recharge and carbon sequestration. The wetland also supports the economies of the four South American states it covers.
Demonstrators participate in a protest march over agricultural policy on Jan. 19 in Berlin, Germany. Carsten Koall / Getty Images Europe
By Andrea Germanos
Organizers said 35,000 people marched through the streets of the German capital on Saturday to say they're "fed up" with industrial agriculture and call for a transformation to a system that instead supports the welfare of the environment, animals and rural farmers.

The fire that erupted after a pipeline explosion in Mexico Friday. FRANCISCO VILLEDA / AFP / Getty Images
By Patrick Rogers
If you have ever considered making the switch to an environmentally friendly electric vehicle, don't drag your feet. Though EV prices are falling, and states are unveiling more and more public charging stations and plug-in-ready parking spots, the federal government is doing everything it can to slam the brakes on our progress away from gas-burning internal combustion engines. President Trump, likely pressured by his allies in the fossil fuel industry, has threatened to end the federal tax credits that have already helped put hundreds of thousands of EVs on the road—a move bound to harm not only our environment but our economy, too. After all, the manufacturing and sale of EVs, hybrids, and plug-in hybrids supported 197,000 jobs in 2017, according to the most recent U.S. Energy and Employment Report.