How ALEC Stacks Deck Against Renewables in Ohio
When Ohio's legislature passed a two-year freeze on Ohio's clean energy standards that was signed into law by Gov. John Kasich in June, it became the first state in the U.S. to move backwards on renewable energy. The bill, SB 310, was accompanied by a mandate to appoint a panel to hear testimony and decide if the freeze should be permanent. Many felt it was virtually a foregone conclusion, given some of the wording in SB 310 that said this was a step toward consideration of permanent repeal.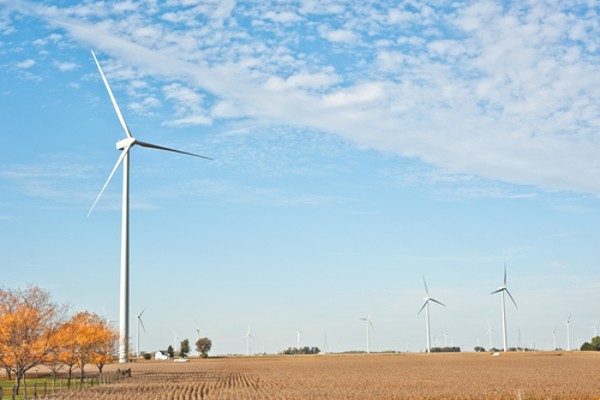 Photo credit: Shutterstock>
Added evidence that that's the goal came as Senate President Keith Faber named the legislators to serve on the panel. It's packed with opponents of clean energy standards, including five who voted for SB 310.
At the top of the list is State Sen. Bill Seitz from Cincinnati, who sits on the national board of the American Legislative Exchange Council (ALEC), the lobby group that writes conservative, pro-corporate "model legislation." Repealing clean energy standards is one such bill. In the past, Seitz has been melodramatic in his opposing to the standards, comparing them to Stalin's five-year plan and the Bataan Death March. He also invited rightwing climate-denying group the Heartland Institute to testify against them and charged that the testimony of opposing witnesses constituted a "filibuster."
The panel includes four Republicans and two Democrats, reflecting the gerrymandered composition of the Ohio legislature. The appointees are Republicans Troy Balderson of Zanesville (R), who introduced the repeal bill, Cliff Hite of Findlay (R) and Bob Peterson (R) of Sabina, also an ALEC member, and Democrats Shirley Smith (Cleveland) and Capri Cafaro (Hubbard). Cafaro was the lone opponent of HB 310. The unpredictable Smith, who ran for county executive in her home county and endorsed the extremist Republican candidate after losing in the primary, voted in favor of the freeze. She was appointed over objections of Democratic leadership. Senate minority leader Joe Schiavoni said Faber told him Smith was appointed because of her support of SB 310.
House speaker Bill Batchelder (R-Medina), who supported the freeze, will also appoint six members to the panel.
"When it comes to clean energy, Ohioans just get it," said Brian Kaiser, director of green jobs and innovation for the Ohio Environmental Council. "Ohioans want more clean energy, not less. But that's not how most lawmakers at the Statehouse in Columbus are voting. The problem is that politicians in Columbus are more concerned with the opinions of utility giants like FirstEnergy and fossil fuel-funded special interest groups than they are with the views of the average Ohioan."
Ohio Environmental Council deputy direct Jack Shaner called the panel "an insincere sideshow."
When the standards were first passed in 2008, they were uncontroversial. They passed the state Senate 32-0 and the State House 92-1.
Those opposed feel that ALEC is using Ohio as a "test lab" for the legislation it hopes to enact around the country. Twenty-nine states currently have renewable energy standards. The ALEC repeal  legislation, aka the "Electricity Freedom Act," has been introduced and rejected in many of them, including Kansas, Missouri, Texas, Montana, West Virginia and North Carolina. It has just been introduced again into the Michigan legislature by state representative Tom McMillin, who has ties to ALEC and has previously introduced its model bills.
YOU MIGHT ALSO LIKE
 Ohio Gov. John Kasich Signs Nation's First Renewable Energy Freeze
ALEC Continues Attack on Renewable Energy Policies to Keep America Addicted to Fossil Fuels
ALEC-Affiliated Legislator Leads Charge to Repeal Renewable Energy Standard
Dow CEO Andrew Liveris and President Donald Trump in February.
U.S. Environmental Protection Agency (EPA) administrator Scott Pruitt met with Dow Chemical CEO Andrew Liveris before deciding to reverse an earlier EPA decision to ban the company's toxic and widely used pesticide, chlorpyrifos.
According to records obtained by the Associated Press, the EPA boss met with Liveris for about 30 minutes at a Houston hotel on March 9. Later that month, Pruitt announced that he would no longer pursue a ban on chlorpyrifos from being used on food, ignoring his agency's own review that even small amounts of the pesticide could impact fetus and infant brain development.
Keep reading...
Show less
www.facebook.com
Native communities and environmental justice advocates in Louisiana opened a new resistance camp Saturday to oppose the proposed Bayou Bridge Pipeline project. Called L'eau Est La Vie, or Water is Life, the camp will consist of floating indigenous art structures on rafts and constant prayer ceremonies during its first two weeks.
Keep reading...
Show less
Continuing its march toward elimination of key Clean Water Act protections, the U.S. Environmental Protection Agency (EPA) on Tuesday issued a formal notice of withdrawal of the Obama administration's rule defining which waters can be protected against pollution and destruction under federal law.
Keep reading...
Show less
The U.S. Environmental Protection Agency (EPA) is not doing enough to prevent weed resistance to the herbicide glyphosate (Roundup) says a new report from the EPA's Inspector General's Office, which draws in part on a report from the agbiotech company, Pioneer: Weed Management in the Era of Glyphosate Resistance.
Keep reading...
Show less
SUMR
When it comes to the latest wind turbine technologies, size matters. A group of six institutions and universities is designing an offshore wind turbine that will stand 500 meters in height. That's taller than the Eiffel Tower and the Empire State Building.
The research team, led by researchers at the University of Virginia, believes that its wind turbine concept will produce 50 megawatts of peak power, or about 10 times more powerful than conventional wind turbines.
Keep reading...
Show less
www.facebook.com
Natural gas is often considered the cleanest fossil fuel, but could it actually be dirtier than coal?
Watch as New York Times reporter Mark Bittman, in the above Year's of Living Dangerously video, investigates how much methane is leaking at fracking wells. Find out how the natural gas industry's claims compare to what scientists are reporting.
See what happens when Gaby Petron, an atmospheric scientist with NOAA, converts her van into a mobile methane detector and sets out across northeastern Colorado for two years, taking thousands of readings to uncover the truth.
www.youtube.com
Adrian Grenier was named UN Goodwill Ambassador earlier this month. The Hollywood actor, best known for his iconic role of A-list movie star Vincent Chase in the HBO smash hit and film Entourage, will advocate for drastically reducing single-use plastic and protection of marine species, and encourage his followers to make conscious consumer choices to reduce their environmental footprint, according to the UN Environment announcement.
"Together we must usher in a new era of compassion and carefulness through forward thinking environmental programs to drive measurable change," Grenier said. "I am personally committed to creating ways in which the global community can come together to help solve our most critical climate crises through routine, collective action.
"The more we connect to nature in our daily lives, the more dedicated we will become to our individual commitments. Together, I believe we can go further, faster in our race to achieve the UN Sustainable Development Goals by 2030."
Watch the video above to learn more.
The last week has seen a flood of stories on clean energy's prospects—stories that make your head spin with their conflicting tales of renewable energy's prospects of ending our dangerous addiction to fossil fuel power from coal and gas.
Keep reading...
Show less


Get EcoWatch in your inbox