This website uses cookies to ensure you get the best experience while browsing it. By clicking 'Got It' you're accepting these terms.
How ALEC Stacks Deck Against Renewables in Ohio
Oct. 08, 2014 03:26PM EST
Business
When Ohio's legislature passed a two-year freeze on Ohio's clean energy standards that was signed into law by Gov. John Kasich in June, it became the first state in the U.S. to move backwards on renewable energy. The bill, SB 310, was accompanied by a mandate to appoint a panel to hear testimony and decide if the freeze should be permanent. Many felt it was virtually a foregone conclusion, given some of the wording in SB 310 that said this was a step toward consideration of permanent repeal.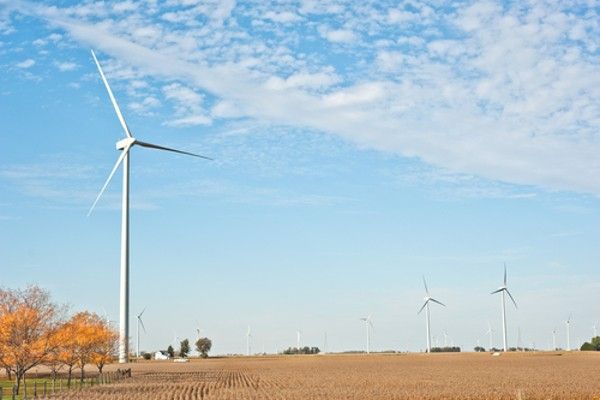 Photo credit: Shutterstock>
Added evidence that that's the goal came as Senate President Keith Faber named the legislators to serve on the panel. It's packed with opponents of clean energy standards, including five who voted for SB 310.
At the top of the list is State Sen. Bill Seitz from Cincinnati, who sits on the national board of the American Legislative Exchange Council (ALEC), the lobby group that writes conservative, pro-corporate "model legislation." Repealing clean energy standards is one such bill. In the past, Seitz has been melodramatic in his opposing to the standards, comparing them to Stalin's five-year plan and the Bataan Death March. He also invited rightwing climate-denying group the Heartland Institute to testify against them and charged that the testimony of opposing witnesses constituted a "filibuster."
The panel includes four Republicans and two Democrats, reflecting the gerrymandered composition of the Ohio legislature. The appointees are Republicans Troy Balderson of Zanesville (R), who introduced the repeal bill, Cliff Hite of Findlay (R) and Bob Peterson (R) of Sabina, also an ALEC member, and Democrats Shirley Smith (Cleveland) and Capri Cafaro (Hubbard). Cafaro was the lone opponent of HB 310. The unpredictable Smith, who ran for county executive in her home county and endorsed the extremist Republican candidate after losing in the primary, voted in favor of the freeze. She was appointed over objections of Democratic leadership. Senate minority leader Joe Schiavoni said Faber told him Smith was appointed because of her support of SB 310.
House speaker Bill Batchelder (R-Medina), who supported the freeze, will also appoint six members to the panel.
"When it comes to clean energy, Ohioans just get it," said Brian Kaiser, director of green jobs and innovation for the Ohio Environmental Council. "Ohioans want more clean energy, not less. But that's not how most lawmakers at the Statehouse in Columbus are voting. The problem is that politicians in Columbus are more concerned with the opinions of utility giants like FirstEnergy and fossil fuel-funded special interest groups than they are with the views of the average Ohioan."
Ohio Environmental Council deputy direct Jack Shaner called the panel "an insincere sideshow."
When the standards were first passed in 2008, they were uncontroversial. They passed the state Senate 32-0 and the State House 92-1.
Those opposed feel that ALEC is using Ohio as a "test lab" for the legislation it hopes to enact around the country. Twenty-nine states currently have renewable energy standards. The ALEC repeal  legislation, aka the "Electricity Freedom Act," has been introduced and rejected in many of them, including Kansas, Missouri, Texas, Montana, West Virginia and North Carolina. It has just been introduced again into the Michigan legislature by state representative Tom McMillin, who has ties to ALEC and has previously introduced its model bills.
YOU MIGHT ALSO LIKE
 Ohio Gov. John Kasich Signs Nation's First Renewable Energy Freeze
ALEC Continues Attack on Renewable Energy Policies to Keep America Addicted to Fossil Fuels
ALEC-Affiliated Legislator Leads Charge to Repeal Renewable Energy Standard
EcoWatch Daily Newsletter
Did you know that more than a third of food is wasted or thrown away every year? And that only 25 percent of it would be enough to feed the 795 million undernourished people in the world? That's why today is Stop Food Waste Day, a chance to reflect on what you can do to waste less of the food you buy.
Stop Food Waste Day is an initiative of food service company Compass Group. It was launched first in the U.S, in 2017 and went global the year after, making today it's second worldwide celebration.
Flames and smoke are seen billowing from the roof at Notre-Dame Cathedral on April 15 in Paris, France. Veronique de Viguerie / Getty Images
When Paris's Notre Dame caught fire on April 15, the flames threatened more than eight centuries of culture and history. The fire evoked shock, horror and grief worldwide. While the cathedral burned, French President Emmanuel Macron expressed determination to rebuild what the French regard as a sacred site.
An artist's impression of NASA's InSight lander on Mars. NASA / JPL-CALTECH
Scientists have likely detected a so-called marsquake — an earthquake on Mars — for the first time, The National Aeronautics and Space Administration (NASA) announced on Tuesday.
Hero Images / Getty Images
Across the political aisle, a majority of American parents support teaching climate change in schools even though most teachers currently do not.
By Andrea Germanos
Lawyer and visionary thinker Polly Higgins, who campaigned for ecocide to be internationally recognized as a crime on par with genocide and war crimes, died Sunday at the age of 50.
She had been diagnosed with an aggressive cancer last month and given just weeks to live.
The Anopheles stephensi mosquito, which carries malaria. CDC / Jim Gathany
The world's first malaria vaccine was launched in Malawi on Tuesday, NPR reported. It's an important day in health history. Not only is it the first malaria vaccine, it's the first vaccine to target any human parasite.