This website uses cookies to ensure you get the best experience while browsing it. By clicking 'Got It' you're accepting these terms.


The best of EcoWatch, right in your inbox. Sign up for our email newsletter!
How a Federal Compromise on GMO Labeling Would Trump State Law and Kill the Momentum of the Movement
Feb. 04, 2013 04:24PM EST
GMO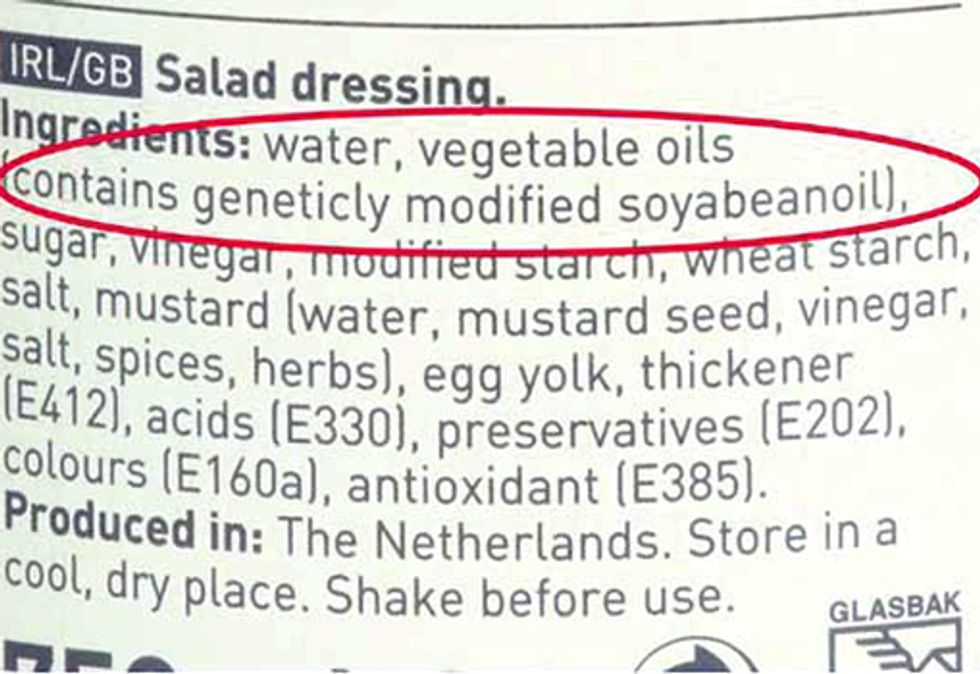 Recent reports of secret meetings among industry reps and the Food and Drug Administration (FDA) over genetically modified organisms (GMO) labeling piqued my interest, mostly because this critical aspect was missing: any effort to label genetically engineered (GE) foods at the federal level could bring the current grassroots movement to a grinding halt by preventing any stronger local laws from ever being enacted. But I am getting ahead of myself.
Last month, Ronnie Cummins, director of Organic Consumers Association and one of the leaders of the GMO labeling effort, recently published an article about how "representatives of Wal-Mart, General Mills, Pepsi-Frito Lay, Mars, Coca-Cola and others" met with the FDA on Jan. 11 "to lobby for a mandatory federal GMO labeling law."
The story was then picked up by Tom Laskawy at Grist, who reported that at the meeting, a Walmart representative said the retail giant would no longer oppose GMO labeling and that "[o]ther food company executives agreed, saying that the fight had become too expensive, especially given the prospect of more state-level initiatives."
The story kicked into high-gear when the New York Times' Stephanie Strom covered it last week, adding a few new details, such as the meeting being attended by "20 major food companies" as well as two GMO labeling advocates: Gary Hirshberg, co-chair of the Just Label It federal campaign, and Charles Benbrook, professor at Washington State University. The Times story gave the impression that the meeting is something to celebrate. After all, if Walmart comes to the table, that's a big deal.
But missing from both of these accounts is the ominous potential downside of federal GMO labeling: a sneaky legal concept known as preemption. Most advocates don't find out about it before it's too late.
Preemption simply means that a higher law trumps a lower law: so federal trumps state and state trumps local. But in practice, it's industry's way of ensuring uniformity and stopping grassroots efforts. How do I know this? From years of experience of seeing it happen in various public health issues. It's such a huge problem that the Robert Wood Johnson Foundation funded an entire project called Preemption and Movement Building in Public Health to educate advocates about how to handle it.
Here is the pattern: a grassroots effort builds over time to enact local or state laws (such as gun control, indoor-smoking laws or restricting alcohol sales), and industry fights these efforts for years, until they can no longer win. At that point, industry lobbyists turn around and either get their own weak bill passed, or work with advocates to pass a compromise version. In exchange, this law will preempt or prevent any state or city from passing a different or stronger law. Forever.
No industry likes to deal with 50 different state laws, or even a handful of expensive state-level battles. We recently saw this exact scenario play out in the food movement, with menu labeling in chain restaurants. For decades, the restaurant industry successfully fought federal efforts to require calorie counts and other basic nutrition information on menus. Then over the last few years, numerous states and cities started enacting their own laws, much to industry's dismay. Enter the compromise struck between the leading proponent of  menu labeling, Center for Science in the Public Interest and the restaurant industry: federally-required menu labeling for calories only, in exchange for all state and local laws being preempted, past and future. (See this document labeled "compromise endorsements" for the bill's supporters, which include the Grocery Manufacturers Association, a leader of the No on Prop 37 campaign on GMO labeling in California.)
Now, almost three years after passage, we still don't have federal menu labeling as the final regulations are stalled at the FDA, while certain industry members fight it. We also no longer see states or cities taking up the issue, figuring the feds took care of it. See what I mean about stopping a grassroots movement in its tracks?
Public health lawyer Mark Pertschuk noted, "The rapidly growing grassroots movement for meaningful menu labeling may never recover." He also cites the irony of this 2009 memo from President Obama opposing preemption in all federal rule-making. The memo correctly notes, "Throughout our history, state and local governments have frequently protected health, safety and the environment more aggressively than has the national government."
Amen to that. I am not opposed to federal labeling on GMO food. I agree this is where the problem must ultimately be solved. However, any federal standard must set a floor and not a ceiling, and not hand preemption over to industry. The role of the federal government is to set minimum standards, while still allowing states to go further. This, however, is not the end-game that Walmart et al. have in mind.
I asked Dave Murphy, founder of Food Democracy Now! and leader of the grassroots GMO labeling efforts about this issue. He told me it was a huge concern among movement leaders, "Ultimately the conversation represents a seismic shift in where we were four years ago on GMO labeling. But we know that anything coming out of Washington D.C. will be a weaker standard, which would not be good for either farmers or consumers. The goal is to make sure that a federal law doesn't undermine state efforts."
As Cummins noted about the meeting: "We should be wary of any compromise deal at the federal level, one that would preempt the passage of meaningful state GMO labeling laws that have real teeth."
Very wary indeed.
Visit EcoWatch's GENETICALLY MODIFIED ORGANISM page for more related news on this topic.
--------
EcoWatch Daily Newsletter
Pexels
By Danielle Nierenberg and Katherine Walla
As the holiday season ramps up for many across the world, Food Tank is highlighting 15 children's books that will introduce young eaters, growers and innovators to the world of food and agriculture. Authors and organizations are working to show children the importance — and fun — of eating healthy, nutritious and delicious food, growing their own produce, and giving food to others in need.
Pixabay
Purple cabbage, also referred to as red cabbage, belongs to the Brassica genus of plants. This group includes nutrient-dense vegetables, such as broccoli, Brussels sprouts, and kale.
Pexels
By Lauren Wolahan
For the first time ever, the UN is building out a roadmap for curbing carbon pollution from agriculture. To take part in that process, a coalition of U.S. farmers traveled to the UN climate conference in Madrid, Spain this month to make the case for the role that large-scale farming operations, long criticized for their outsized emissions, can play in addressing climate change.
Pexels
In recent years, acai bowls have become one of the most hyped-up health foods on the market.
They're prepared from puréed acai berries — which are fruits grown in Central and South America — and served as a smoothie in a bowl or glass, topped with fruit, nuts, seeds, or granola.
Investing in grid infrastructure would enable utilities to incorporate modern technology, making the grid more resilient and flexible. STRATMAN2 / FLICKR
By Elliott Negin
The Royal Swedish Academy of Sciences' recent decision to award the 2019 Nobel Prize in Chemistry to scientists who developed rechargeable lithium-ion batteries reminded the world just how transformative they have been. Without them, we wouldn't have smartphones or electric cars. But it's their potential to store electricity generated by the sun and the wind at their peak that promises to be even more revolutionary, reducing our dependence on fossil fuels and protecting the planet from the worst consequences of climate change.