This website uses cookies to ensure you get the best experience while browsing it. By clicking 'Got It' you're accepting these terms.
How 11,000 Oil and Gas Wells Gave Utah Community More Ozone Pollution Than Los Angeles
Mar. 28, 2014 11:52AM EST
Climate
Clearly, there's no comparing the sparse population of Utah's Uintah Basin and that of the mega-metropolis within the Los Angeles basin. So, how could both places possibly have similar volatile organic compounds (VOCs) levels?
Despite an area population of barely 30,000, Uintah County is home to a combined 11,200 oil- and gas-producing wells. Over time, their presence led to researchers' discovery that the area exceeded the U.S. Environmental Protection Agency's (EPA) eight-hour National Ambient Air Quality Standards (NAAQS) level for ozone pollutants for 39 days last winter, placing it above the Los Angeles Basin's typical summertime levels.
Those results were reported in Highly Elevated Atmospheric Levels of Volatile Organic Compounds in the Uintah Basin, Utah, a paper by a group of University of Colorado Boulder researchers like Detlev Helmig and Chelsea Thompson of the Institute of Arctic and Alpine Research. The paper made its way to this month's Environmental Science & Technology journal, published by the American Chemical Society (ACS).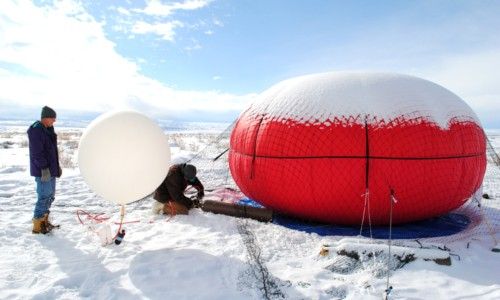 "Levels above this threshold are considered to be harmful to human health, and high levels of ozone are known to cause respiratory distress and be responsible for an estimated 5,000 premature deaths in the U.S. per year," the report reads. "Because of the photochemical nature of ozone production, tropospheric ozone pollution has traditionally been considered an urban, summertime phenomenon."
That's clearly no longer the case. The group wrote that its 2013 observations from the Uintah Basin oil and gas development area are, "to the best of our knowledge, among the highest-ever reported mole fractions of alkane non-methane hydrocarbon in ambient air. Mole fractions for the aromatic compounds reach or exceed those reported from the most heavily polluted inner cities."
There are about 25,000 more wells under proposal, according to the study.
Compounds like benzene, a carcinogen, that are associated with oil and gas wells are precursors of ozone and can cause respiratory problems, according to the report. The researchers say the Uintah Basin is simlar to the basin of Wyoming and together they are two of the highest producing oil and gas fields in the U.S.
Researchers found that Uintah Basin benzene levels often exceeded 1.4 parts per billion, which is a benchmark for chronic exposure, Lisa M. McKenzie, a public health researcher at the University of Colorado, Denver, told the ASC's Chemical & Engineering News.  But since benzene is considered a carcinogen, the EPA does not define a safe threshold for its presence.
"This is quite amazing," says Bernhard Rappenglück, an atmospheric scientist at the University of Houston.
According to the University of Colorado Boulder, the researchers placed instruments attached to a tower and tethered balloons at the edge of a gas field to measure volatile organic VOCs in the air, from the surface to a height of 500 feet during the past two winters.
"These observations reveal a strong causal link between oil and gas emissions, accumulation of air toxics and significant surface production in the atmospheric surface layer," the study reads.
———
Related Content:
East Coast Sick of Midwest's Cross-State Air Pollution
How Cheap China-Manufactured Goods Impact U.S. Air Quality
EcoWatch Daily Newsletter
A. Battenburg / Technical University of Munich
By Sarah Kennedy
Algae in a pond may look flimsy. But scientists are using algae to develop industrial-strength material that's as hard as steel but only a fraction of the weight.
Variety of fermented food korean traditional kimchi cabbage and radish salad. white and red sauerkraut in ceramic plates over grey spotted background. Natasha Breen / REDA&CO / Universal Images Group / Getty Image
Even if you've never taken probiotics, you've probably heard of them.
These supplements provide numerous benefits because they contain live microorganisms, such as bacteria or yeast, which support the healthy bacteria in your gut (1, 2, 3, 4).
Pexels
Singapore will become the first country in the world to place a ban on advertisements for carbonated drinks and juices with high sugar contents, its health ministry announced last week. The law is intended to curb sugar consumption since the country has some of the world's highest diabetes rates per capita, as Reuters reported.
A typical adult takes around 20,000 breaths per day. If you live in a megacity like Beijing, with many of those lungfuls you're likely to inhale a noxious mixture of chemicals and pollutants.
Fred Stone holds his brown swiss cow Lida Rose at his Arundel dairy farm on March 18 after a press conference where he spoke about PFAS chemical contamination in his fields. Gregory Rec / Portland Portland Press Herald via Getty Images
By Susan Cosier
First there was Fred Stone, the third-generation dairy farmer in Maine who discovered that the milk from his cows contained harmful chemicals. Then came Art Schaap, a second-generation dairy farmer in New Mexico, who had to dump 15,000 gallons of contaminated milk a day.
Protesters attend the 32nd annual Fur-Free Friday demonstration on Nov. 23, 2018 in Beverly Hills, California. Ella DeGea / Getty Images
California Governor Gavin Newsom signed into law a bill that that bans the sale and manufacture of fur products in the state. The fur ban, which he signed into law on Saturday, prohibits Californians from selling or making clothing, shoes or handbags with fur starting in 2023, according to the AP.
By Simon Evans
During the three months of July, August and September, renewables generated an estimated total of 29.5 terawatt hours (TWh), compared with just 29.1TWh from fossil fuels, the analysis shows.
A demonstrator waves an Ecuadorian flag during protests against the end of subsidies to gasoline and diesel on Oct. 9 in Quito, Ecuador. Jorge Ivan Castaneira Jaramillo / Getty Images