This website uses cookies to ensure you get the best experience while browsing it. By clicking 'Got It' you're accepting these terms.
How 11,000 Oil and Gas Wells Gave Utah Community More Ozone Pollution Than Los Angeles
Mar. 28, 2014 11:52AM EST
Climate
Clearly, there's no comparing the sparse population of Utah's Uintah Basin and that of the mega-metropolis within the Los Angeles basin. So, how could both places possibly have similar volatile organic compounds (VOCs) levels?
Despite an area population of barely 30,000, Uintah County is home to a combined 11,200 oil- and gas-producing wells. Over time, their presence led to researchers' discovery that the area exceeded the U.S. Environmental Protection Agency's (EPA) eight-hour National Ambient Air Quality Standards (NAAQS) level for ozone pollutants for 39 days last winter, placing it above the Los Angeles Basin's typical summertime levels.
Those results were reported in Highly Elevated Atmospheric Levels of Volatile Organic Compounds in the Uintah Basin, Utah, a paper by a group of University of Colorado Boulder researchers like Detlev Helmig and Chelsea Thompson of the Institute of Arctic and Alpine Research. The paper made its way to this month's Environmental Science & Technology journal, published by the American Chemical Society (ACS).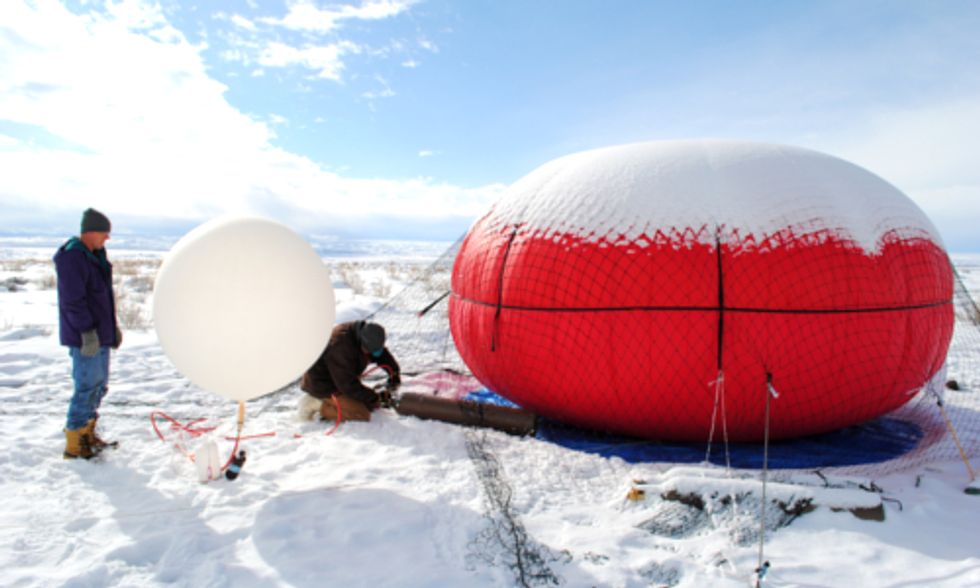 "Levels above this threshold are considered to be harmful to human health, and high levels of ozone are known to cause respiratory distress and be responsible for an estimated 5,000 premature deaths in the U.S. per year," the report reads. "Because of the photochemical nature of ozone production, tropospheric ozone pollution has traditionally been considered an urban, summertime phenomenon."
That's clearly no longer the case. The group wrote that its 2013 observations from the Uintah Basin oil and gas development area are, "to the best of our knowledge, among the highest-ever reported mole fractions of alkane non-methane hydrocarbon in ambient air. Mole fractions for the aromatic compounds reach or exceed those reported from the most heavily polluted inner cities."
There are about 25,000 more wells under proposal, according to the study.
Compounds like benzene, a carcinogen, that are associated with oil and gas wells are precursors of ozone and can cause respiratory problems, according to the report. The researchers say the Uintah Basin is simlar to the basin of Wyoming and together they are two of the highest producing oil and gas fields in the U.S.
Researchers found that Uintah Basin benzene levels often exceeded 1.4 parts per billion, which is a benchmark for chronic exposure, Lisa M. McKenzie, a public health researcher at the University of Colorado, Denver, told the ASC's Chemical & Engineering News.  But since benzene is considered a carcinogen, the EPA does not define a safe threshold for its presence.
"This is quite amazing," says Bernhard Rappenglück, an atmospheric scientist at the University of Houston.
According to the University of Colorado Boulder, the researchers placed instruments attached to a tower and tethered balloons at the edge of a gas field to measure volatile organic VOCs in the air, from the surface to a height of 500 feet during the past two winters.
"These observations reveal a strong causal link between oil and gas emissions, accumulation of air toxics and significant surface production in the atmospheric surface layer," the study reads.
———
Related Content:
East Coast Sick of Midwest's Cross-State Air Pollution
How Cheap China-Manufactured Goods Impact U.S. Air Quality
EcoWatch Daily Newsletter
Water coolers in front of shut-off water fountains at Center School in Stow, MA on Sept. 4, 2019 after elevated levels of PFAS were found in the water. David L. Ryan / The Boston Globe via Getty Images
In a new nationwide assessment of drinking water systems, the Environmental Working Group found that toxic fluorinated chemicals known as PFAS are far more prevalent than previously thought.
An iguana is seen on a tree branch on November 22, 2019 in Marathon Island, Florida. LUDOVIC MARIN / AFP / Getty Images
An unusual weather report made waves this week as meteorologists warned residents of Florida to be aware of "raining iguanas."
Coca-Cola says it will not phase out its plastic bottles. Roberto Machado Noa / LightRocket / Getty Images
Myakka River State Park outside of Sarasota, Florida on Dec. 30, 2016. The park is a small preserve of rare protected habitat along Florida's Gulf Coast, a region that has seen intense development and population growth. Andrew Lichtenstein / Corbis via Getty Images
Today, the Trump administration will finalize its replacement for the Obama-era Waters of the United States (WOTUS) rule in a move that will strip protections from more than half of the nation's wetlands and allow landowners to dump pesticides into waterways, or build over wetlands, for the first time in decades.