This website uses cookies to ensure you get the best experience while browsing it. By clicking 'Got It' you're accepting these terms.
House Republicans' Bill Seeks to Eliminate Right to Breathe Clean Air
Apr. 17, 2012 11:00AM EST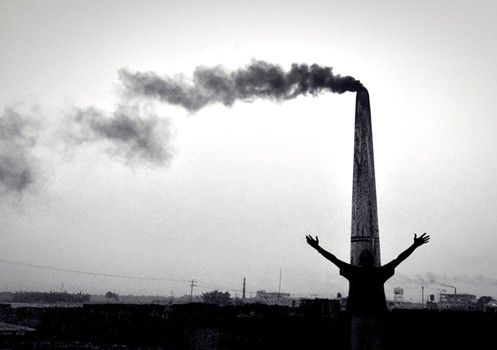 By John Walke
Used with permission of NRDC - Switchboard
*To read the official NRDC statement on the Gasoline Regulations Act of 2012 passed today by the House Subcommittee on Energy and Power, click here.
What do gasoline prices have to do with eliminating Americans' 40+ year right to clean air?
Nothing—and everything to some House Republicans.
In a gratuitous legislative assault that is cynical even by jaded Washington standards, Rep. Ed Whitfield (R-KY) has introduced a draft bill entitled the "Gasoline Regulations Act" that repeals Americans' right to breathe healthy air.
If that doesn't make sense to you, you're not alone. This bill is a parade of horribles lined up to delay and block health and environmental protections involving oil and gas. But the bill's most pernicious feature—which proponents prefer not talking about—would force Americans to breathe unhealthy levels of air pollution from all industrial activities across the nation, not just from oil and gas facilities.
Just like its backward cousin, 2011's TRAIN Act, this professed "study" bill would create layers of bureaucratic red tape and delays, obstructing public health safeguards that protect Americans against dangerous air pollution. As my colleague Scott Slesinger put it, the bill "raises the cost of gasoline to a new level: Americans would have to pay with both their money and their health."
Though there are many aspects of the bill that are deeply troubling, Rep. Whitfield has included the worst attack on clean air safeguards at the very end of his bill.
Section 6 of the bill eliminates the forty year-old requirement  that EPA base clean air standards on health science and medicine alone in determining whether the air is safe to breathe. Just like its predecessor, Rep. Latta's amendment to the TRAIN Act, section 6 of the Gasoline Regulation Act forces EPA to define healthy air based in part on the "feasibility and cost" to polluting industries rather than what is healthy according to medical science.
Clean Air standards would no longer be based upon what is necessary "to protect the public health," "allowing an adequate margin of safety" to protect the vulnerable, including the elderly and asthmatics.
For more than 40 years, the Clean Air Act has required air quality standards to be founded on science and the best medical understanding of air pollution's health hazards. Economic considerations may not distort the scientific decision over how much air pollution is unhealthy for Americans. Economics can and do factor in to how best to reduce unhealthy air pollution levels using cost-effective measures. So when implementing the law's air pollution control programs, costs may be considered to ensure the most cost-effective, feasible measures are selected while still cleaning up air pollution to levels that medical science considers genuinely healthy.
The Gasoline Regulation Act's irresponsible legislative maneuver would compel EPA and all of us to accept air quality standards that are not protective of public health. Instead, the legislation would force EPA to set unprotective air quality standards for smog, soot, lead and other pollution that are at odds with health science, based on cost complaints by polluting industries.
Worse, the bill would compel EPA to misrepresent the healthiness of air quality to the American people. Clean air would no longer be "clean" based upon whether medical science shows humans are unharmed by given levels and concentrations of air pollution. Instead, air quality would be "clean enough for polluters' bottom lines," departing from genuinely healthy air quality if economists and political appointees in a future administration decided it would cost industrial polluters "too much" to clean up air pollution that, after all, they force upon all of us.
Why would Congress wish to change the Clean Air Act to compel deliberate and conscious lying to the American people about something as basic as clean air? Why would a Congressional bloc wish to rob Americans of their fundamental right to honestly, medically-defined clean air, a right we all have enjoyed since the Clean Air Act was adopted in 1970?
The answer is that the country's biggest polluting industries and their lobbyists have been clamoring for decades to eliminate the Clean Air Act's foundational right to clean air. And this longstanding industry lobbying campaign shows why this bill has nothing to do with gasoline prices and everything to do with fulfilling a strident demand on an industry wish list.
Partisan gas price legislation is just today's body for this persistent industry virus.
The legislation's objective is to overturn a unanimous 2001 Supreme Court decision by Justice Scalia that upheld Americans' right to clean air. The Supreme Court ruled there that any consideration of cost to polluting industries would violate the Clean Air Act when EPA sets health standards for ozone or other air pollutants.
The House Subcommittee on Energy and Power has scheduled a markup of the Gasoline Regulation Act that starts on April 16. Expect the bill's proponents to talk very little or not at all about eliminating Americans' right to breathe clean air.
Rep. Whitfield's Gasoline Regulations Act is just the latest example of House Republicans attacking clean air and health safeguards, following an unprecedented legislative barrage in 2011. The bill won't do a thing to lower gas prices—and proponents have not presented one shred of evidence that eliminating the right to clean air will lower gasoline prices.
But the bill will make our air less safe to breathe. That point cannot be seriously disputed; the very aim of the legislation is to eliminate the right to safe air and replace that with unsafe air that polluters deem to pose tolerable costs to their balance sheets. If House Republicans were really interested in easing Americans' pain at the pump, they would look for real solutions to reducing our dependence on foreign oil, instead of taking away all Americans' right to breathe clean air.
For more information, click here.
EcoWatch Daily Newsletter
During the summer, the Arctic tundra is usually a thriving habitat for mammals such as the Arctic fox. Education Images / Universal Images Group via Getty Images
Reports of extreme snowfall in the Arctic might seem encouraging, given that the region is rapidly warming due to human-driven climate change. According to a new study, however, the snow could actually pose a major threat to the normal reproductive cycles of Arctic wildlife.
A fracking well looms over a residential area of Liberty, Colorado on Aug. 19.
WildEarth Guardians / Flickr
Pope Francis flanked by representatives of the Amazon Rainforest's ethnic groups and catholic prelates march in procession during the opening of the Special Assembly of the Synod of Bishops for the Pan-Amazon Region at The Vatican on Oct. 07 in Vatican City, Vatican. Alessandra Benedetti / Corbis News / Getty Images
The Catholic Church "hears the cry" of the Amazon and its peoples. That's the message Pope Francis hopes to send at the Synod of the Amazon, a three-week meeting at the Vatican that ends Oct. 27.
The crowd appears to attack a protestor in a video shared on Twitter by ITV journalist Mahatir Pasha.
VOA News /
Youtube screenshot
Some London commuters had a violent reaction Thursday morning when Extinction Rebellion protestors attempted to disrupt train service during rush hour.
Some fruit drinks may appear to be healthier, but many can have high levels of added sugars. d3sign / Moment / Getty Images
By Kristen Fischer
Though the science has shown sugary drinks are not healthy for children, fruit drinks and similar beverages accounted for more than half of all children's drink sales in 2018, according to a new report.

Donald Trump attends the opening of Red Tiger Golf Course at Trump National Doral on Jan. 12, 2015 in Doral, Florida. Johnny Louis / FilmMagic
Acting White House Chief of Staff Mick Mulvaney made two controversial announcements about the 2020 Group of Seven (G7) summit: it will be hosted at one of President Donald Trump's golf resorts in Miami and it won't feature any discussion of the climate crisis.
Farms with just one or a handful of different crops encourage fewer species of pollinating and pest-controlling insects to linger, ultimately winnowing away crop yields, according to a new study.
Up to half of the detrimental impacts of the "landscape simplification" that monocropping entails come as a result of a diminished mix of ecosystem service-providing insects, a team of scientists reported Oct. 16 in the journal Science Advances.
Monocrop palm oil plantation Honduras.
​SHARE Foundation / Flickr / CC BY-NC 2.0​
"Our study shows that biodiversity is essential to ensure the provision of ecosystem services and to maintain a high and stable agricultural production," Matteo Dainese, the study's lead author and a biologist at Eurac Research in Bolzano, Italy, said in a statement.

It stands to reason that, with declines in the sheer numbers of insects that ferry pollen from plant to plant and keep crop-eating pests under control, these services will wane as well. But until now, it hasn't been clear how monocultures affect the number and mix of these species or how crop yields might change as a result.
Aiming to solve these questions, Dainese and his colleagues pulled together data from 89 studies cutting across a variety of landscapes, from the tropics of Asia and Africa to the higher latitudes of northern Europe. They tabulated the number of pollinating and pest-controlling insects at these sites — both the absolute number of individuals and the number of species — along with an assessment of the ecosystem services the insects provided.
In almost all of the studies they looked at, the team found that a more diverse pool of these species translated into more pollination and greater pest control. They also showed that simplified landscapes supported fewer species of service-providing insects, which ultimately led to lower crop yields.
The researchers also looked at a third measure of the makeup of insect populations — what they called "evenness." In natural ecosystems, a handful of dominant species with many more individuals typically live alongside a higher number of rarer species. The team found as landscapes became less diverse, dominant species numbers dwindled and rare species gained ground. This resulting, more equitable mix led to less pollination (though it didn't end up affecting pest control).
"Our study provides strong empirical support for the potential benefits of new pathways to sustainable agriculture that aim to reconcile the protection of biodiversity and the production of food for increasing human populations," Ingolf Steffan-Dewenter, one of the study's authors and an animal ecologist at the University of Würzburg in Germany, said in the statement.
The scientists figure that the richness of pollinator species explains around a third of the harmful impacts of less diverse landscapes, while the richness of pest-controlling species accounts for about half of the same measure. In their view, the results of their research point to the need to protect biodiversity on and around crops in an uncertain future.
"Under future conditions with ongoing global change and more frequent extreme climate events, the value of farmland biodiversity ensuring resilience against environmental disturbances will become even more important," Steffan-Dewenter said.
Reposted with permission from our media associate Mongabay.
From Your Site Articles
Related Articles Around the Web
View of an Ivorian cleared forest at the edge of the 35.000 hectares Peko Mont National Park on Oct. 8, 2016. The Mont Péko National Park is located in the west of Ivory Coast where the forest officers fight with illegal immigrants to protect an exceptional flora and fauna, espacially dwarf elephants. SIA KAMBOU / AFP / Getty Images
Ivory Coast's rainforests have been decimated by cocoa production and what is left is put in peril by a new law that will remove legal protections for thousands of square miles of forests, according to The Guardian.