This website uses cookies to ensure you get the best experience while browsing it. By clicking 'Got It' you're accepting these terms.
House Kills TPP Fast-Track, Huge Blow to Corporate-Friendly Trade Agenda
Jun. 12, 2015 03:50PM EST
Climate
The U.S. House of Representatives on Friday dealt a serious blow to President Obama's corporate-backed trade agenda, while erecting a major stumbling block for proponents of Fast Track, or trade promotion authority.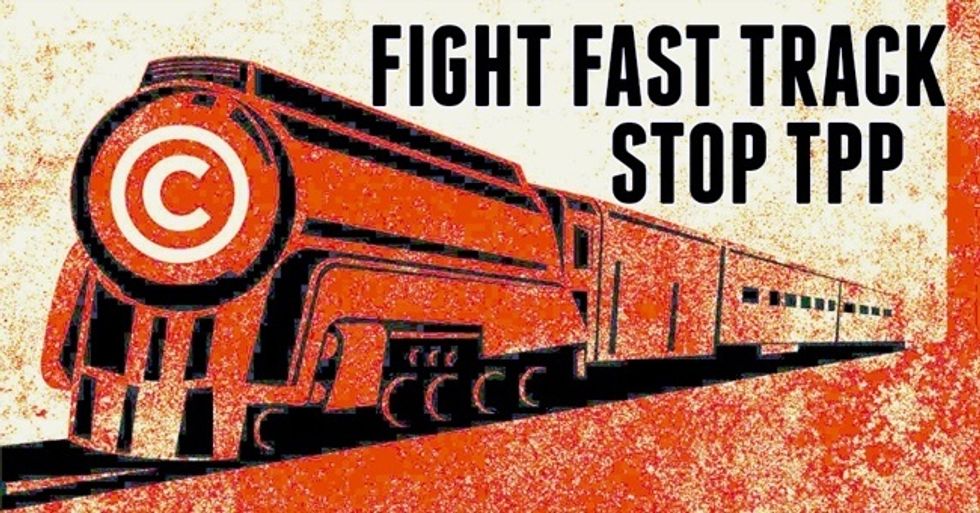 After a tense showdown and multiple votes in the chamber, a final decision on Fast Track was ultimately deferred, affording a delay that critics say could further scuttle the trade authority.
"Today's votes to stall Fast Track and TPP are a major win for anyone who cares about climate change," said 350.org Executive Director May Boeve. "This disastrous deal would extend the world's dependence on fracked gas, forbid our negotiators from ever using trade agreements in the fight against global warming, and make it easier for big polluters to burn carbon while suing anyone who gets in the way."
She continued: "That message clearly broke through today, as House Democratic Leader Nancy Pelosi got up, bucked enormous pressure, and rallied against the deal, specifically citing concerns about its impact on climate change. Today was a big win, but the thousands of climate activists across the country who stood up and linked arms with fellow progressives to get us here won't rest until Fast Track and TPP are dead for good."
The False Neutrality of the Market: Neoliberal Fascism's War Machine https://t.co/Fnaap9Tcxi Read & Share! pic.twitter.com/vQyFynkpeG

— Criticl (@Criticl_me) January 29, 2015
A bill on Trade Adjustment Assistance (TAA), which would provide aid to workers displaced because of so-called "free trade" agreements, had been packaged with Fast Track authority, and a vote against either doomed the total package. Legislators opposed to Fast Track had hoped to derail the entire package by voting against TAA.
And derail it they did, voting 126-302 against TAA.
Moments later, the chamber did pass a stand-alone version of Fast Track. But, as the New York Times explains, because the Senate version linked TAA and Fast Track, the House vote "would force the Senate to take up a trade bill all over again. And without trade adjustment assistance alongside it, passing trade promotion authority in the Senate would be highly doubtful."
Instead, the House will reportedly take up TAA again next week.
Still, progressives viewed Friday's deferral of a final decision as a victory even as they cautioned against becoming complacent.
"I applaud the House of Representatives for the vote today," said Sen. Bernie Sanders in a statement after the vote. "While the fight will no doubt continue, today's vote is a victory for America's working people and for the environment. It is clearly a defeat for corporate America, which has outsourced millions of decent-paying jobs and wants to continue doing just that."
Erich Pica of Friends of the Earth added: "Today's move to delay final decision on the trade package represents a significant victory in the fight to ensure that toxic trade agreements like the TPP do not get bulldozed through Congress." But he noted the victory "is not decisive. Friends of the Earth and others will remain vigilant to ensure that future efforts to pass Fast Track and climate-destroying trade agreements are defeated."
As Lori Wallach of Public Citizen's Global Trade Watch pointed out after the vote, "Passing trade bills opposed by a majority of Americans does not get easier with delay because the more time people have to understand what's at stake, the angrier they get and the more they demand that their congressional representatives represent their will."
This story is developing. Follow ongoing reaction to the votes, and their implications, on Twitter:
Tweets about #FastTrack OR #StopFastTrack
YOU MIGHT ALSO LIKE
Palau Authorities Burn Vietnamese Illegal Fishing Boats Saying 'We Will Not Tolerate Poachers in Our Ocean'
In Response to Controversial EPA Fracking Report, Bill Introduced to Close Loopholes and Protect Water
Mark Ruffalo to Jon Stewart: We Have a 50-State Plan to Power America on 100% Renewable Energy
EcoWatch Daily Newsletter
Pexels
By Tim Lydon
Climate-related disasters are on the rise, and carbon emissions are soaring. Parents today face the unprecedented challenge of raising children somehow prepared for a planetary emergency that may last their lifetimes. Few guidebooks are on the shelves for this one, yet, but experts do have advice. And in a bit of happy news, it includes strategies already widely recognized as good for kids.
Pexels
Be it Nina Simone and James Brown for civil rights, Joni Mitchell and Marvin Gaye for the environment, or Jackson Browne and Buffalo Springfield for nuclear disarmament, musicians have long helped push social movements into the limelight.
Yulia Lisitsa / iStock / Getty Images Plus
Collagen is the most abundant protein in your body.
It is the major component of connective tissues that make up several body parts, including tendons, ligaments, skin, and muscles.
Greenpeace activists unfurl banners after building a wood and card 'oil pipeline' outside the Canadian High Commission, Canada House, to protest against the Trudeau government's plans to build an oil pipeline in British Colombia on April 18, 2018 in London. Chris J Ratcliffe / Getty Images
By Jessica Corbett
In an open letter to Canadian Prime Minister Justin Trudeau and Deputy Prime Minister Chrystia Freeland, 42 Nobel laureates implored the federal government to "act with the moral clarity required" to tackle the global climate crisis and stop Teck Resources' proposed Frontier tar sands mine.
Mapping Urban Heat through Portland State University /
video
Concrete and asphalt absorb the sun's energy. So when a heat wave strikes, city neighborhoods with few trees and lots of black pavement can get hotter than other areas — a lot hotter.