This website uses cookies to ensure you get the best experience while browsing it. By clicking 'Got It' you're accepting these terms.
House Democrats Target Trophy Hunting on Anniversary of Cecil's Death
Jun. 15, 2016 02:21PM EST
Animals
By Taylor Hill
It's been nearly a year since an American hunter killed Cecil, an iconic lion in Zimbabwe. House Democrats are using the anniversary to question the premise that trophy hunting benefits Africa's endangered wildlife.
In a new report, Missing the Mark, the Democratic staff of the House Committee on Natural Resources charges that Zimbabwe, Tanzania, Namibia and South Africa are providing U.S. officials with little evidence that taxes and fees raised from trophy hunts targeting lions, leopards, elephants and rhinoceroses provide conservation benefits and have an overall net-positive impact on imperiled species.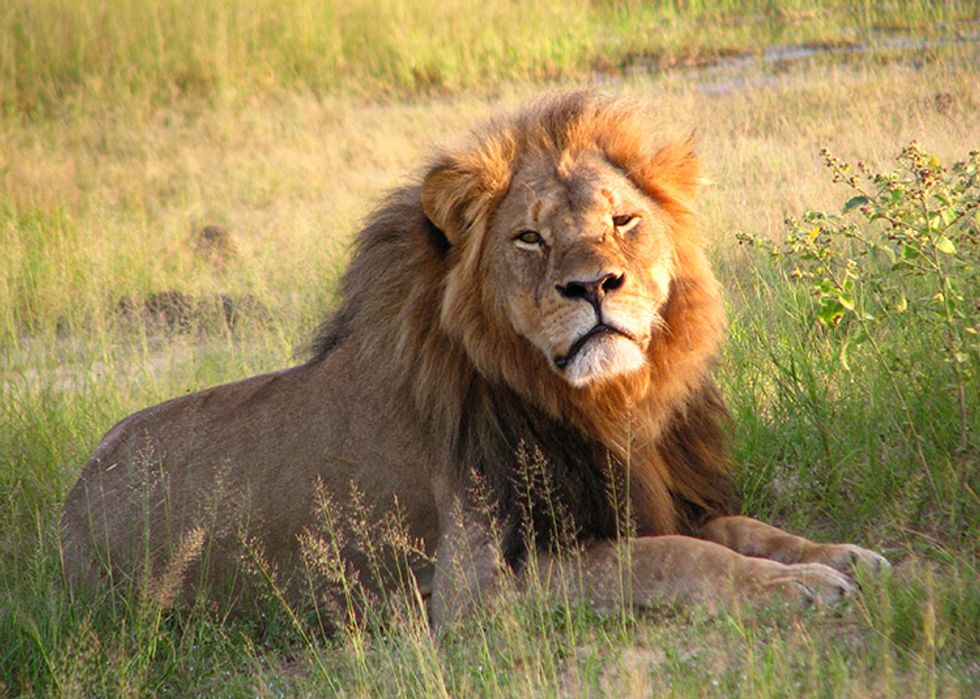 The U.S. Fish and Wildlife Service, which has the authority to grant a thumbs-up or thumbs-down to American trophy hunters wishing to bring animal trophies into the country, has too often supported nations' claims that the hunts enhance the survival of the species, the report charged.
"You can't make the assumption that these countries are using the funds for conservation. You have to have the proof," said Matt Strickland, a member of the committee's Democratic staff. "U.S. hunters are responsible for taking a lot of animal trophies from Africa and we want to make sure the Fish and Wildlife Service is doing its job in permitting trophy imports and Americans aren't contributing to the decline of certain species."
American hunters wishing to import the heads, horns, pelts or any other parts of animals they have killed overseas must request a permit from the Fish and Wildlife Service.
If the animal has threatened or endangered species protections under the Endangered Species Act, the agency requires that the hunt enhance the survival of the species. The agency is responsible as well for managing U.S. compliance with the Convention on International Trade in Endangered Species, which also regulates and permits the hunting of endangered species.
"On paper, all four countries examined have equally strong frameworks for ensuring that trophy hunts benefit species conservation," the authors wrote. "Unfortunately, the implementation of these frameworks has in many cases been marred by corruption and has not produced the advertised and desired results."
The Fish and Wildlife Service has sometimes turned a blind eye to these shortfalls and granted import permits for animals killed in these countries, said Strickland. "They accepted at face value that trophy hunting benefits wildlife conservation without drilling down and actually checking on individual cases," he said.
An agency spokesperson stated in an email that the agency is reviewing the report, adding, "By law, we cannot and will not allow trophies of certain protected species into the United States that were hunted in any nation whose conservation program fails to meet high standards for transparency, scientific management and effectiveness. If we have concerns about a country's management program or a species' population status, we will not issue permits."
One such case occurred in 2014, when the agency shut down imports of elephant trophies from Zimbabwe and Tanzania because of the species' marked population decline. "They also weren't providing any evidence that the hunts were benefiting conservation, so Fish and Wildlife stopped allowing it," Strickland said. "We'd like to see more of that type of decision making regularly."
That's the exception, not the norm, according to the report, which noted thousands of cases in which the Fish and Wildlife Service used special rules and loopholes to exempt hunters from permitting requirements for many species listed as endangered. The report authors found that between 2010 and 2014, the agency could have required permits for more than 2,700 hunting trophies imported to the county yet only required one, for a critically endangered black rhinoceros. Of 1,469 leopard trophies that could have mandated an import permit, the agency required none.
In other instances, such as the controversial baiting tactics that lured Cecil out of a protected area and led to his death at the hands of Walter Palmer, the trophy hunting industry isn't "playing by the rules," the report stated and "needs to be regulated and held accountable for there to be any hope of a consistent conservation benefit."
To help rein in the negative impacts of trophy hunting on wildlife, the report recommends that the Fish and Wildlife Service deny import requests from hunters convicted of wildlife violations, close loopholes that allow some trophies to be imported without a permit, collect more data on trophy hunting through the permitting process and increase permit fees to fund science and conservation.
This article was reposted with permission from our media associate TakePart.

YOU MIGHT ALSO LIKE
Nepal's Extinct Bird Spotted After Disappearing for 178 Years
First Mammal Goes Extinct Due to Human-Caused Climate Change
World's First 'Spotty Dog' and Cow-Like Sheep Created Using Gene Editing
Is it Too Soon to Consider Removing Giant Pandas From the Endangered Species List?
EcoWatch Daily Newsletter
Investing in grid infrastructure would enable utilities to incorporate modern technology, making the grid more resilient and flexible. STRATMAN2 / FLICKR
By Elliott Negin
The Royal Swedish Academy of Sciences' recent decision to award the 2019 Nobel Prize in Chemistry to scientists who developed rechargeable lithium-ion batteries reminded the world just how transformative they have been. Without them, we wouldn't have smartphones or electric cars. But it's their potential to store electricity generated by the sun and the wind at their peak that promises to be even more revolutionary, reducing our dependence on fossil fuels and protecting the planet from the worst consequences of climate change.
Two Javan rhinos deep in the forests of Ujung Kulon National Park, the species' last habitat on Earth. Sugeng Hendratno / WWF
The global population of the critically endangered Javan rhinoceros has increased to 72 after four new calves were spotted in the past several months.
A tiger looks out from its cage at a new resort and zoo in the eastern Lao town of Tha Bak on Dec. 5, 2018. Karl Ammann believes the "zoo" is really a front for selling tigers. Terrence McCoy / The Washington Post / Getty Images
Are tigers extinct in Laos?
That's the conclusion of a detailed new study that found no evidence wild tigers still exist in the country.
A group of scientists is warning that livestock production must not expand after 2030 for the world to stave off ecological disaster.
The largest wetland in Africa is in the South Sudan. George Steinmetz / Corbis Documentary / Getty Images Plus
Methane emissions are a far more powerful greenhouse gas than carbon dioxide – about 28 times more powerful. And they have been rising steadily since 2007. Now, a new study has pinpointed the African tropics as a hot spot responsible for one-third of the global methane surge, as Newsweek reported.