This website uses cookies to ensure you get the best experience while browsing it. By clicking 'Got It' you're accepting these terms.
House and Senate Unite to Protect America's Roadless Forests
Nov. 17, 2011 03:54PM EST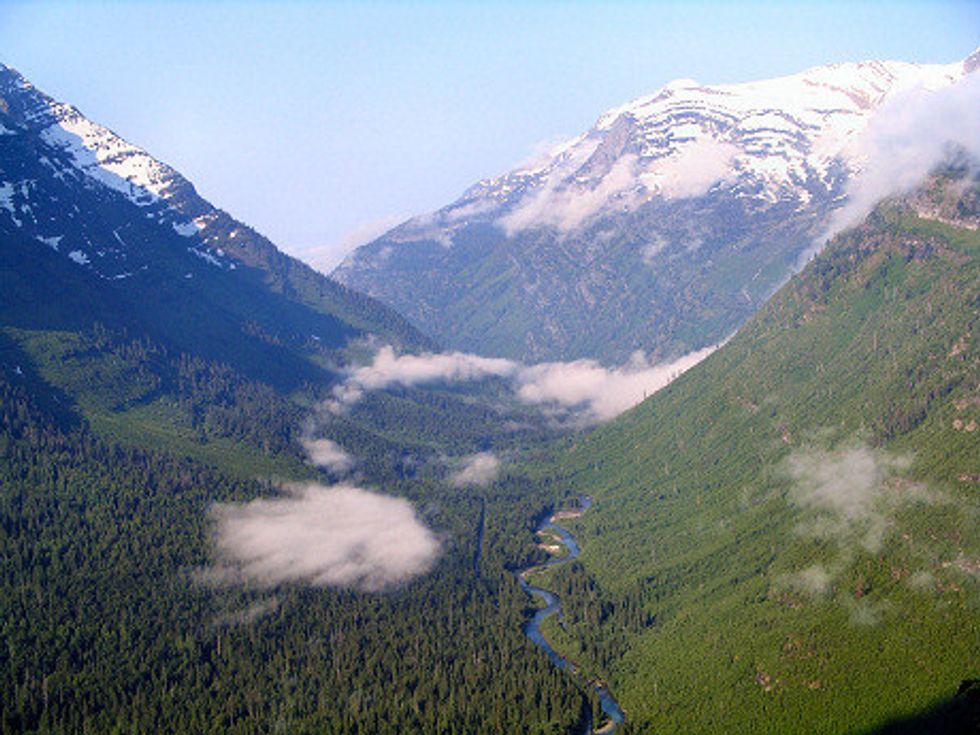 On the heels of a landmark Tenth Circuit Court of Appeals decision upholding the 2001 Roadless Area Conservation Rule, a broad group of senators and representatives introduced legislation Nov. 17 to make sure the administrative rule remains the law of the land—locking in protections for 58.5 million acres of America's wildest and most pristine forests and waters for generations to come.
The Roadless Area Conservation Act, sponsored by 20 Senate and 111 bipartisan House co-sponsors, will confirm long-term protections against damaging commercial logging and road-building for vulnerable wildlands on 30 percent of the 193-million-acre National Forest System, shielding our Roadless areas from the political whims of future administrations.
This legislation highlights the strong congressional support for protecting America's unique legacy of wild forests, despite a decade's worth of attacks from an anti-environmental faction of Congress aiming to rollback Roadless protections. This legislation will also ensure that our Roadless protections are implemented across the nation—without exception.
Roadless areas provide many benefits to Americans and wildlife—They safeguard the source of drinking water of 60 million Americans, they contain some of the most important fish and wildlife habitat in National Forests, and they provide abundant opportunities for quality outdoor recreation such as hunting, fishing, and backpacking, supporting an industry that contributes an estimated $730 billion to the U.S. economy each year.
Led by Sens. Maria Cantwell (D-WA), Jeff Bingaman (D-NM), and Dianne Feinstein (D-CA), along with Representatives Jay Inslee (D-WA), Edward Markey (D-MA), Maurice Hinchey (D-NY), Diana DeGette (D-CO), and Raúl Grijalva (D-AZ), these national leaders are recognizing the economic importance of protecting the invaluable sources of drinking water and wilderness lands of our nation's Roadless areas.
"You just can't put a price on the value of safeguarding the source of drinking water for 60 million Americans and protecting many of our nation's most crucial headwaters," said Marty Hayden, vice president of policy and legislation for Earthjustice. "We applaud these Congressional leaders for introducing the Roadless Area Conservation Act, which would enshrine the most important forest conservation legacy of our lifetime for future generations."
"Protecting the last remaining backcountry areas of our National Forests makes economic sense for our country. Millions of Americans hunt, fish and backpack in these pristine areas, and these activities support a robust economy," said Alex Taurel, legislative representative for the League of Conservation Voters. "We applaud this group of leaders for introducing this important conservation legislation."
"Our national forests are major economic drivers, providing recreational opportunities that contribute billions to the U.S. economy and employ thousands of people. Congress should formalize protections for our roadless forests. Doing so will benefit our current economy and future generations," said Matthew Kirby, lands policy expert for the Sierra Club's Resilient Habitats campaign.
"Shortsighted special interests have clouded the future of these last best public lands for years, with one losing lawsuit after another," said Nathaniel Lawrence, forestry project director at NRDC. "Congress can achieve closure by ratifying the enormously popular Roadless Rule."
"The bipartisan support for protecting America's last undisturbed forests and the wildlife they sustain is a testament to the important place these lands hold in the hearts of all Americans," said Robert Dewey, vice president of government relations for Defenders of Wildlife. "Although 2011 has seen a barrage of assaults against environmental laws, this legislation shows that there is still significant political support for preserving our natural heritage."
"National forest roadless areas are a tremendous asset to the American people," said William H. Meadows, president of the Wilderness Society. "The forests they love deserve legislative protection and this bill by Sen. Cantwell and Rep. Inslee will give Americans what they want."
For more information, click here.
EcoWatch Daily Newsletter
European Commission President Ursula von der Leyen delivers a press statement on the European Green Deal at the EU headquarters in Brussels, Belgium on Dec. 11, 2019. Xinhua / Zheng Huansong via Getty Images
The European Commission introduced a plan to overhaul the bloc's economy to more sustainable, climate-conscious policies and infrastructure, with the goal of being carbon-neutral by 2050, according to CNBC.
Young activists shout slogans on stage after Greta Thunberg (not in the picture) took part in the plenary session during the COP25 Climate Conference on Dec. 11 in Madrid, Spain. Pablo Blazquez Dominguez / Getty Images
By Andrea Germanos
Young activists took over and occupied the main stage at the COP25 climate conference in Madrid, Spain Wednesday and demanded world leaders commit to far more ambitious action to address the ecological emergency.
A NASA image showing the ozone hole at its maximum extent for 2015. NASA Goddard Space Flight Center
The Montreal Protocol, a 1987 international treaty prohibiting the production of chlorofluorocarbons (CFCs) to save the ozone layer, was the first successful multilateral agreement to successfully slow the rate of global warming, according to new research. Now, experts argue that similar measures may lend hope to the climate crisis.
Police in Wales are in the midst of an unusual investigation: the sudden death of more than 200 starlings.
Donald Trump Jr. killed an argali sheep like this one on a hunting trip in Mongolia. powerofforever/ iStock / Getty Images Plus
During a hunting trip in Mongolia this August, Donald Trump Jr. shot and killed an endangered argali sheep, and received a permit only after the fact.