This website uses cookies to ensure you get the best experience while browsing it. By clicking 'Got It' you're accepting these terms.
Hottest October on Record Puts Planet on Track for Hottest Year Ever
Nov. 21, 2014 10:00AM EST
Need more evidence of the impact of climate change on the Earth? The National Climatic Data Center (NCDC) of U.S. National Oceanic and Atmospheric Administration (NOAA) reports that the global temperature in October was the hottest on record.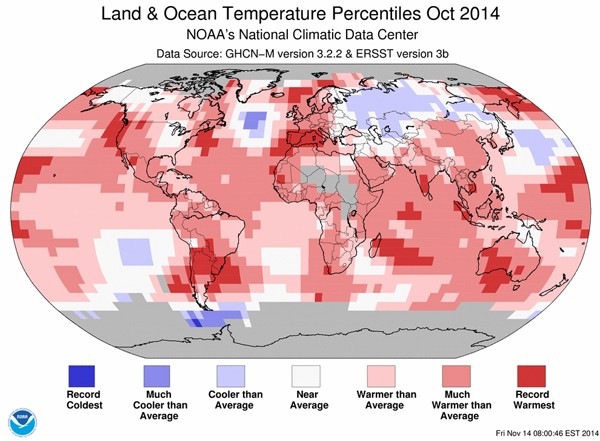 "The globally averaged temperature over land and ocean surfaces for October 2014 was the highest on record for the month since record keeping began in 1880," the agency said. "It also marked the 38th consecutive October with a global temperature above the 20th century average. The last below-average global temperature for October occurred in 1976."
The average combined temperature was 58.43 Fahrenheit, compared to the 20th century average of 57.1 F. That beats the previous October record, set in 2003, by 0.02 degrees Fahrenheit. Most of the globe saw a warmer October, including the U.S. Pacific coast, already suffering from multi-year drought. Other record highs were logged in southern South America, Far East Russia, parts of southern and southeastern Asia, much of southern and western Australia and some of southern Europe. The contiguous U.S. has its fourth hottest October since national records began, with temperatures overall 3 F above the 20th century average.
And the planet is on track for the hottest year ever. From January through October, the combined land and ocean average surface temperature was the warmest on record, eclipsing the previous record years of 1998 and 2010. The average combined temperature was 58.43 F, compared to the 20th century average of 57.1 F.
And what about that massive snowfall that just hit upstate New York with up to six feet of snow in some areas? Are the climate deniers right when they write their annual columns saying, "What global warming? Look at the snow!" No, they're not. Global warming drives bigger snowfalls too. So-called "lake effect snow" occurs when a warmer water temperature in Lake Erie—which is registering temperatures above average and getting higher—meets contrasting waves of colder air, propelled by the decline in Arctic ice cover. Buffalo, keep the snow shovels handy!
YOU MIGHT ALSO LIKE
Stunning NASA Video Illustrates a Year's Worth of Global Carbon Emissions
Global Warming Deniers Become More Desperate By the Day
Scientists Discover World's Oceans Warming Faster Than Predicted
PeopleImages / E+ / Getty Images
By Daniel Ross
Hurricane Florence, which battered the U.S. East Coast last September, left a trail of ruin and destruction estimated to cost between $17 billion and $22 billion. Some of the damage was all too visible—smashed homes and livelihoods. But other damage was less so, like the long-term environmental impacts in North Carolina from hog waste that spilled out over large open-air lagoons saturated in the rains.
Hog waste can contain potentially dangerous pathogens, pharmaceuticals and chemicals. According to the state's Department of Environmental Quality, as of early October nearly 100 such lagoons were damaged, breached or were very close to being so, the effluent from which can seep into waterways and drinking water supplies.
This picture taken on May 21, 2018 shows discarded climbing equipment and rubbish scattered around Camp 4 of Mount Everest. Decades of commercial mountaineering have turned Mount Everest into the world's highest rubbish dump as an increasing number of big-spending climbers pay little attention to the ugly footprint they leave behind. DOMA SHERPA / AFP / Getty Images
China has closed its Everest base camp to tourists because of a buildup of trash on the world's tallest mountain.
Researchers tested the eggs of Arctic northern fulmers like these in Nunavut, Canada.
Fiona Paton / Flickr
By Madison Dapcevich
Plastics have been recorded in every corner of the world, from the remote icy waters of Antarctica to the bellies of deep-sea fishes. Now, preliminary findings presented at this year's American Association for the Advancement of Science (AAAS) annual meeting in Washington, DC suggest that bird eggs from the high Arctic—one of the most remote wildernesses on the planet—show evidence of contamination from chemicals used in plastics.

A small Australian rat that lived on a 12 acre island in the Great Barrier Reef has become the first mammal to go extinct primarily because of human-caused climate change, the Australian Government confirmed Monday.
The Bramble Cay melomys was first declared extinct after a 2014 search on Bramble Cay, its native island in the Torres Strait, between Queensland, Australia and Papua New Guinea, according to a 2016 report by the University of Queensland and the Queensland government.