Hottest October on Record Puts Planet on Track for Hottest Year Ever
Nov. 21, 2014 11:00AM EST
Climate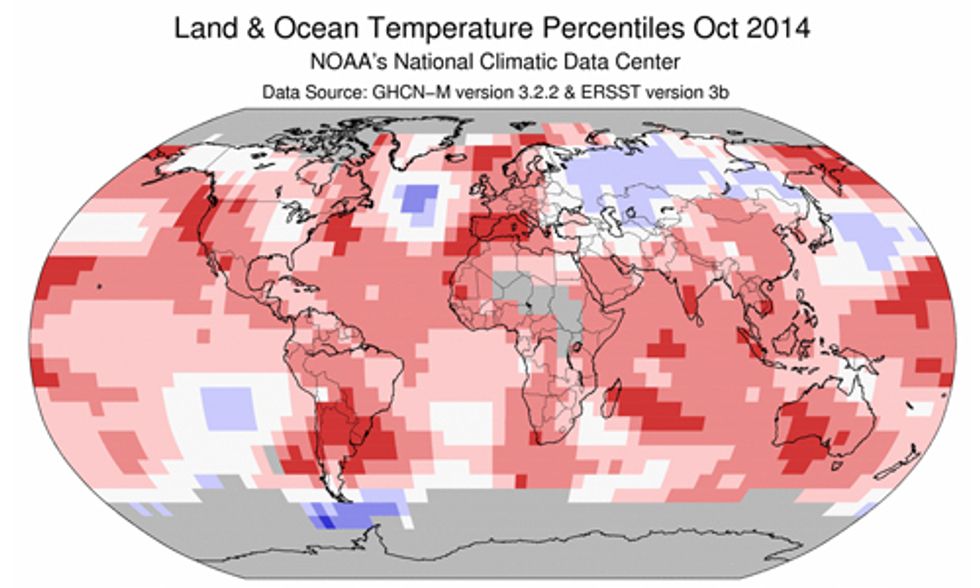 Need more evidence of the impact of climate change on the Earth? The National Climatic Data Center (NCDC) of U.S. National Oceanic and Atmospheric Administration (NOAA) reports that the global temperature in October was the hottest on record.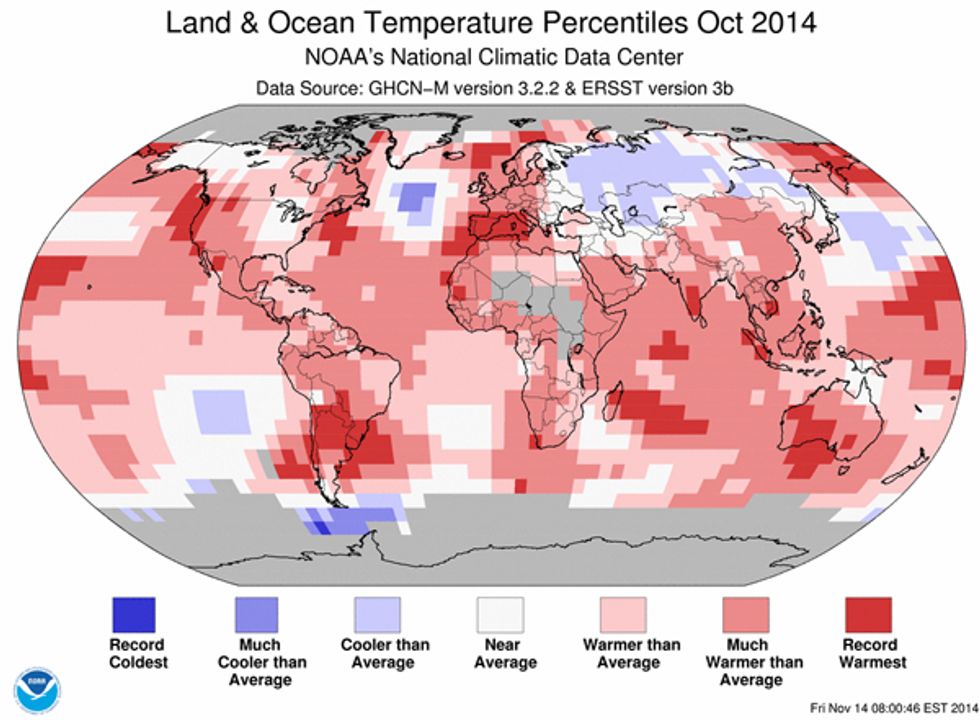 "The globally averaged temperature over land and ocean surfaces for October 2014 was the highest on record for the month since record keeping began in 1880," the agency said. "It also marked the 38th consecutive October with a global temperature above the 20th century average. The last below-average global temperature for October occurred in 1976."
The average combined temperature was 58.43 Fahrenheit, compared to the 20th century average of 57.1 F. That beats the previous October record, set in 2003, by 0.02 degrees Fahrenheit. Most of the globe saw a warmer October, including the U.S. Pacific coast, already suffering from multi-year drought. Other record highs were logged in southern South America, Far East Russia, parts of southern and southeastern Asia, much of southern and western Australia and some of southern Europe. The contiguous U.S. has its fourth hottest October since national records began, with temperatures overall 3 F above the 20th century average.
And the planet is on track for the hottest year ever. From January through October, the combined land and ocean average surface temperature was the warmest on record, eclipsing the previous record years of 1998 and 2010. The average combined temperature was 58.43 F, compared to the 20th century average of 57.1 F.
And what about that massive snowfall that just hit upstate New York with up to six feet of snow in some areas? Are the climate deniers right when they write their annual columns saying, "What global warming? Look at the snow!" No, they're not. Global warming drives bigger snowfalls too. So-called "lake effect snow" occurs when a warmer water temperature in Lake Erie—which is registering temperatures above average and getting higher—meets contrasting waves of colder air, propelled by the decline in Arctic ice cover. Buffalo, keep the snow shovels handy!
YOU MIGHT ALSO LIKE
Stunning NASA Video Illustrates a Year's Worth of Global Carbon Emissions
Global Warming Deniers Become More Desperate By the Day
Scientists Discover World's Oceans Warming Faster Than Predicted
EcoWatch Daily Newsletter