This website uses cookies to ensure you get the best experience while browsing it. By clicking 'Got It' you're accepting these terms.
Honoring Rev. Dr. Martin Luther King, Jr.'s Legacy in the Environmental Justice Movement
Jan. 21, 2013 03:06PM EST
"It really boils down to this: that all life is interrelated. We are all caught in an inescapable network of mutuality, tied into a single garment of destiny. Whatever affects one destiny, affects all indirectly."
— Rev. Dr. Martin Luther King, Jr.
"We must rapidly begin the shift from a 'thing-oriented' society to a 'person-oriented' society. When machines and computers, profit motives and property rights are considered more important than people, the giant triplets of racism, materialism, and militarism are incapable of being conquered."
– Rev. Dr. Martin Luther King, Jr.
"Never, never be afraid to do what's right, especially if the well-being of a person or animal is at stake. Society's punishments are small compared to the wounds we inflict on our soul when we look the other way."
– Rev. Dr. Martin Luther King, Jr.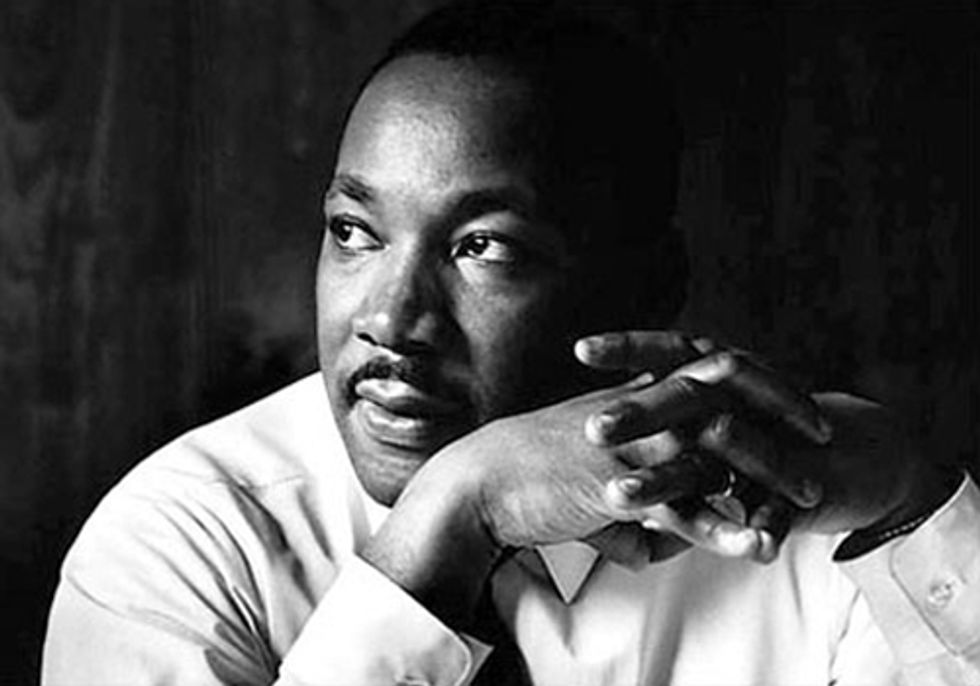 Environmentalism certainly isn't the first topic that comes to mind when reflecting on the legacy of Martin Luther King, Jr. It can be said that in the U.S., the Civil Rights movement predated the environmental movement by about a decade.
Attorney General Eric Holder in 2011 said: Dr. Martin Luther King, Jr., in addition to his many other achievements, helped "plant the seeds" for what would become our nation's now-thriving "environmental justice movement."
Dr. King's firm stance against militarism and the military industrial complex, the biggest polluters on the planet, was unwavering throughout his years of activism.
Holder continued: "Dr. King did not have the chance to witness the impact of the movement that he began. But he left with us the creed that continues to guide our work. His enduring words, which he penned from a Birmingham jail cell, still remind us that, 'Injustice anywhere is a threat to justice everywhere.'"
The burden of environmental degradation still falls disproportionately on low-income communities and communities of color. A 2005 report based on U.S. Environmental Protection Agency data shows that African Americans are almost 80 percent more likely than white Americans to live near hazardous industrial pollution sites. In November, the National Association for the Advancement of Colored People released a report Coal Blooded: Putting Profits before People, which documents the health, economic and environmental impacts of coal pollution on those who can least afford it–low income communities and communities of color.
Click here for more resources on environmental justice.
Visit EcoWatch's BIODIVERSITY page for more related news on this topic.
EcoWatch Daily Newsletter
The largest wetland in Africa is in the South Sudan. George Steinmetz / Corbis Documentary / Getty Images Plus
Methane emissions are a far more powerful greenhouse gas than carbon dioxide – about 28 times more powerful. And they have been rising steadily since 2007. Now, a new study has pinpointed the African tropics as a hot spot responsible for one-third of the global methane surge, as Newsweek reported.
The Rybnik Power Station in Rybnik, Poland on Sept. 20, 2018. Poland gets 80% of its power from coal.
Hans Permana / Flickr
After marathon talks in Brussels, the leaders of European Union member states – bar Poland – agreed early Friday to commit to going carbon neutral by 2050.
Thousands of "penis fish" like these pictured above washed up on a California beach. Ryan Bodenstein / Flickr /
CC BY 2.0
A photographer came across a strange sight when he walked along a Northern California beach last week: thousands of sausage-shaped, 10-inch worms stretching for miles down the beach.
Permanent hair dyes and chemical hair straighteners could be increasing women's risk of breast cancer. kali9 / E+ / Getty Images
Permanent hair dyes and chemical hair straighteners could be increasing women's risk of breast cancer, according to a new study by the National Institutes of Health.
Britain's Prime Minister Boris Johnson (C) walks with Oliver Harmar (R), Yorkshire area director of the Environment Agency as he visits Stainforth near Doncaster, northern England, on Nov. 13, 2019, following flooding caused by days of heavy rain. DANNY LAWSON / POOL/AFP via Getty Images
The Conservative Party emerged victorious in Thursday's UK elections with a majority of 78 seats in the House of Commons, its largest majority since 1987, as BBC News reported.