This website uses cookies to ensure you get the best experience while browsing it. By clicking 'Got It' you're accepting these terms.
Hobby Lobby Eco-Fallout: Does Fracking Violate My Religious Freedom?
Jul. 01, 2014 04:40PM EST
Energy

The fallout from the Supreme Court's Hobby Lobby decision has only begun, but I think Justice Ginsburg's dissent wraps up a lot of progressive feelings when she says the decision's "startling breadth" allows companies to "opt out of any law they judge incompatible with their sincerely held religious beliefs." She goes on to discuss how this decision could impact non-Christian religions and how each might construe what they could opt out of—"blood transfusions (Jehovah's Witnesses); antidepressants (Scientologists); medications derived from pigs, including anesthesia, intravenous fluids and pills coated with gelatin (certain Muslims, Jews and Hindus); and vaccinations (Christian Scientists, among others.)."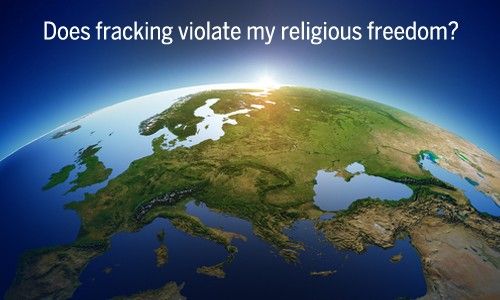 In my opinion, this Supreme Court decision appears to stem from a broad sense of deplorable misogyny in popular religions and American culture, and I absolutely oppose this decision.
But I also wonder if the decision contains a tangled, twisted eco-upside?
It is certainly true that all religions—western, eastern, otherwise—contain much eco-centric teachings and values. Many are, after all, modeled on the ancient "sun worship" cultures and it's no coincidence that many Christian and non-Christian holidays fall on or around the solstice and equinox.
And so, if I worship the sun or the Earth or all species on the planet, do I have to abide by laws that violate my religion? 
By granting immunity from federal laws due to religious preference, the Supreme Court has cracked open a door that may not be easily shut.
Consider some speculative, but potential real-world lawsuits:
You're an Earth-worshipping pagan, you own a "closely held" corporation, and your corporation's only choice of water comes from a massive dam and reservoir run by a government-owned utility. Can you sue that utility for violating your religious freedom and force it to provide you with water from a less environmentally damaging source?
Your Earth-worshipping corporation is in an inner city, you have no way of generating your own solar electricity, and your utility requires that you get electricity generated from fracked-gas. Can you sue that utility and force it to provide you with clean energy that does not rely on fracking?  
Or how about something closer to the Obamacare point: Your Earth-worshipping corporation supports animal rights, veganism and decries pharmaceutical experiments on animals. Can you sue to force Obamacare to provide you with animal-friendly medicine?
The list could go on and on.
In my line of work as an advocate for the environment, I've been called all sorts of names saying I'm some kind of fanatic for the Earth. Further, in the popular media, folks who rail against environmentalists often say we have elevated environmentalism to a kind of religion.
If so, has the Supreme Court now given us the opportunity to fight against the government's intrusion in our lives because it violates our religion?
I absolutely oppose the deplorable Hobby Lobby decision. And now it's the law of the land. 
Do I now have to abide by fracking laws that violate my religion?
Gary Wockner, PhD, is an environmental advocate and writer based in Fort Collins, CO.
EcoWatch Daily Newsletter
Large food companies are following in the footsteps of fast-food restaurants such as Burger King and KFC by offering meat alternatives. Getty Images
By Elizabeth Pratt
Hormel, Kellogg's, and Kroger are among the large companies now planning to offer "fake meat" products at grocery stores.
Experts say the trend toward plant-based meats coincides with consumers' desires to eat less meat.
However, experts urge consumers to closely check package labels as a product isn't necessarily healthy just because it's described as plant-based.
In grocery stores and fast-food outlets around the U.S., a revolution is taking place.
Colombia rainforest. Marcel Oosterwijk / CC BY-SA 2.0
Many of us think of the Amazon as an untouched wilderness, but people have been thriving in these diverse environments for millennia. Due to this long history, the knowledge that Indigenous and forest communities pass between generations about plants, animals and forest ecology is incredibly rich and detailed and easily dwarfs that of any expert.
picture-alliance / Newscom / R. Ben Ari
By Wesley Rahn
Plastic byproducts were found in 97 percent of blood and urine samples from 2,500 children tested between 2014 and 2017, according to a study by the German Environment Ministry and the Robert Koch Institute.

Pexels
Medically reviewed by Daniel Bubnis, MS, NASM-CPT, NASE Level II-CSS
Hot yoga has become a popular exercise in recent years. It offers many of the same benefits as traditional yoga, such as stress reduction, improved strength, and flexibility.
Lara Hata / iStock / Getty Images
By SaVanna Shoemaker, MS, RDN, LD
Rice is a staple in many people's diets. It's filling, inexpensive, and a great mild-tasting addition to flavorful dishes.
An image of the trans-alaskan oil pipeline that carries oil from the northern part of Alaska all the way to valdez. This shot is right near the arctic national wildlife refuge. kyletperry / iStock / Getty Images Plus
The Trump administration has initialized the final steps to open up nearly 1.6 million acres of the protected Alaskan National Wildlife Refuge to allow oil and gas drilling.