This website uses cookies to ensure you get the best experience while browsing it. By clicking 'Got It' you're accepting these terms.


The best of EcoWatch, right in your inbox. Sign up for our email newsletter!
Hobby Lobby Eco-Fallout: Does Fracking Violate My Religious Freedom?
Jul. 01, 2014 04:40PM EST

The fallout from the Supreme Court's Hobby Lobby decision has only begun, but I think Justice Ginsburg's dissent wraps up a lot of progressive feelings when she says the decision's "startling breadth" allows companies to "opt out of any law they judge incompatible with their sincerely held religious beliefs." She goes on to discuss how this decision could impact non-Christian religions and how each might construe what they could opt out of—"blood transfusions (Jehovah's Witnesses); antidepressants (Scientologists); medications derived from pigs, including anesthesia, intravenous fluids and pills coated with gelatin (certain Muslims, Jews and Hindus); and vaccinations (Christian Scientists, among others.)."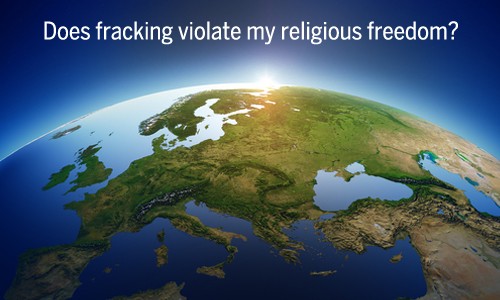 In my opinion, this Supreme Court decision appears to stem from a broad sense of deplorable misogyny in popular religions and American culture, and I absolutely oppose this decision.
But I also wonder if the decision contains a tangled, twisted eco-upside?
It is certainly true that all religions—western, eastern, otherwise—contain much eco-centric teachings and values. Many are, after all, modeled on the ancient "sun worship" cultures and it's no coincidence that many Christian and non-Christian holidays fall on or around the solstice and equinox.
And so, if I worship the sun or the Earth or all species on the planet, do I have to abide by laws that violate my religion? 
By granting immunity from federal laws due to religious preference, the Supreme Court has cracked open a door that may not be easily shut.
Consider some speculative, but potential real-world lawsuits:
You're an Earth-worshipping pagan, you own a "closely held" corporation, and your corporation's only choice of water comes from a massive dam and reservoir run by a government-owned utility. Can you sue that utility for violating your religious freedom and force it to provide you with water from a less environmentally damaging source?
Your Earth-worshipping corporation is in an inner city, you have no way of generating your own solar electricity, and your utility requires that you get electricity generated from fracked-gas. Can you sue that utility and force it to provide you with clean energy that does not rely on fracking?  
Or how about something closer to the Obamacare point: Your Earth-worshipping corporation supports animal rights, veganism and decries pharmaceutical experiments on animals. Can you sue to force Obamacare to provide you with animal-friendly medicine?
The list could go on and on.
In my line of work as an advocate for the environment, I've been called all sorts of names saying I'm some kind of fanatic for the Earth. Further, in the popular media, folks who rail against environmentalists often say we have elevated environmentalism to a kind of religion.
If so, has the Supreme Court now given us the opportunity to fight against the government's intrusion in our lives because it violates our religion?
I absolutely oppose the deplorable Hobby Lobby decision. And now it's the law of the land. 
Do I now have to abide by fracking laws that violate my religion?
Gary Wockner, PhD, is an environmental advocate and writer based in Fort Collins, CO.
EcoWatch Daily Newsletter
A metal fence marked with the U.S. Border Patrol sign prevents people to get close to the barbed/concertina wire covering the U.S./Mexico border fence, in Nogales, Arizona, on Feb. 9. ARIANA DREHSLER / AFP / Getty Images
D'Bone Collector Museum head Darrell Blatchley shows plastic found inside the stomach of a Cuvier's beaked whale in the Philippines this weekend. - / AFP / Getty Images
Yet another whale has died after ingesting plastic bags. A young male Cuvier's beaked whale was found washed up in Mabini, Compostela Valley in the Philippines Friday, CNN reported. When scientists from the D' Bone Collector Museum in Davao investigated the dead whale, they found it had died of "dehydration and starvation" after swallowing plastic bags―40 kilograms (approximately 88 pounds) worth of them!
Pexels
By Jeff Turrentine
"Be careful what you wish for; you just might get it." This is something that everybody has to learn at some point. Lately, the lesson has hit home for a group of American automakers.
Art direction: Georgie Johnson. Illustrations: Freya Morgan
By Joe Sandler Clarke
"Don't expect us to continue buying European products," Malaysia's former plantations minister Mah Siew Keong told reporters in January last year. His comments came just after he had accused the EU of "practising a form of crop apartheid."

A few months later Luhut Pandjaitan, an Indonesian government minister close to President Joko 'Jokowi' Widodo, warned his country would retaliate if it was "cornered" by the EU.
Torres and his parents walk along the Rio Grande. Luis Torres / Earthjustice
By Luis Torres
For some people who live along the U.S.-Mexico border, President Trump's attempt to declare a national emergency and extend the border wall is worse than a wasteful, unconstitutional stunt. It's an attack on their way of life that threatens to desecrate their loved ones' graves.
Flooding caused by last week's bomb cyclone storm has broken records in 17 places across the state of Nebraska, CNN reported Sunday. Around nine million people in 14 states along the Mississippi and Missouri Rivers were under a flood watch, CNN meteorologist Karen Maginnis said.
A car destroyed by Cyclone Idai in Beira, Mozambique. ADRIEN BARBIER / AFP / Getty Images
At least 150 people have died in a cyclone that devastated parts of Mozambique, Zimbabwe and Malawi over the weekend, The Associated Press reported Sunday. Cyclone Idai has affected more than 1.5 million people since it hit Mozambique's port city of Beira late Thursday, then traveled west to Zimbabwe and Malawi. Hundreds are still missing and tens of thousands are without access to roads or telephones.
"I think this is the biggest natural disaster Mozambique has ever faced. Everything is destroyed. Our priority now is to save human lives," Mozambique's Environment Minister Celso Correia said, as AFP reported.