Hobby Lobby Eco-Fallout: Does Fracking Violate My Religious Freedom?

The fallout from the Supreme Court's Hobby Lobby decision has only begun, but I think Justice Ginsburg's dissent wraps up a lot of progressive feelings when she says the decision's "startling breadth" allows companies to "opt out of any law they judge incompatible with their sincerely held religious beliefs." She goes on to discuss how this decision could impact non-Christian religions and how each might construe what they could opt out of—"blood transfusions (Jehovah's Witnesses); antidepressants (Scientologists); medications derived from pigs, including anesthesia, intravenous fluids and pills coated with gelatin (certain Muslims, Jews and Hindus); and vaccinations (Christian Scientists, among others.)."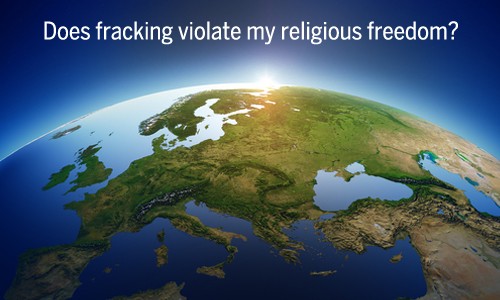 In my opinion, this Supreme Court decision appears to stem from a broad sense of deplorable misogyny in popular religions and American culture, and I absolutely oppose this decision.
But I also wonder if the decision contains a tangled, twisted eco-upside?
It is certainly true that all religions—western, eastern, otherwise—contain much eco-centric teachings and values. Many are, after all, modeled on the ancient "sun worship" cultures and it's no coincidence that many Christian and non-Christian holidays fall on or around the solstice and equinox.
And so, if I worship the sun or the Earth or all species on the planet, do I have to abide by laws that violate my religion? 
By granting immunity from federal laws due to religious preference, the Supreme Court has cracked open a door that may not be easily shut.
Consider some speculative, but potential real-world lawsuits:
You're an Earth-worshipping pagan, you own a "closely held" corporation, and your corporation's only choice of water comes from a massive dam and reservoir run by a government-owned utility. Can you sue that utility for violating your religious freedom and force it to provide you with water from a less environmentally damaging source?
Your Earth-worshipping corporation is in an inner city, you have no way of generating your own solar electricity, and your utility requires that you get electricity generated from fracked-gas. Can you sue that utility and force it to provide you with clean energy that does not rely on fracking?  
Or how about something closer to the Obamacare point: Your Earth-worshipping corporation supports animal rights, veganism and decries pharmaceutical experiments on animals. Can you sue to force Obamacare to provide you with animal-friendly medicine?
The list could go on and on.
In my line of work as an advocate for the environment, I've been called all sorts of names saying I'm some kind of fanatic for the Earth. Further, in the popular media, folks who rail against environmentalists often say we have elevated environmentalism to a kind of religion.
If so, has the Supreme Court now given us the opportunity to fight against the government's intrusion in our lives because it violates our religion?
I absolutely oppose the deplorable Hobby Lobby decision. And now it's the law of the land. 
Do I now have to abide by fracking laws that violate my religion?
Gary Wockner, PhD, is an environmental advocate and writer based in Fort Collins, CO.
Glyphosate, the main ingredient in Monsanto's widely used herbicide Roundup, will be added July 7 to California's list of chemicals known to the state to cause cancer, according to a Reuters report Tuesday. This news comes after the company's unsuccessful attempt to block the listing in trial court and requests for stay were denied by a state appellate court and California's Supreme Court.
California's Office of Environmental Health Hazard Assessment (OEHHA) announced the designation on Monday under the Safe Drinking Water and Toxic Enforcement Act of 1986, or Proposition 65.
Keep reading...
Show less
www.facebook.com
Keep reading...
Show less
Researchers from the Marine Animal Response Society examine one of the dead right whales. Marine Animal Response Society
Canadian government officials and marine biologists are investigating the mysterious deaths of six North American right whales. The endangered animals all turned up dead between June 6 and June 23 in the Gulf of St. Lawrence, off Canada's southeastern coast.
North Atlantic right whales are the rarest of all large whale species and among the rarest of all marine mammal species, with only about 450 right whales in the North Atlantic.
Keep reading...
Show less
Scott Pruitt testifies during his Senate confirmation hearing for EPA administrator, January 2017.
The U.S. Environmental Protection Agency's (EPA) chief of staff pressured the leader of its Board of Scientific Counselors to change her congressional testimony to downplay the impact of the agency's mass dismissal of scientists from the board, the New York Times reports.
Keep reading...
Show less
By Jason Mark
Sequoiadendron giganteum. That's the scientific name for the giant sequoia: the mammoth trees found in California's Sierra Nevada that are the largest organisms on Earth, and among the longest-lived. Biologists estimate that about half of all sequoias live in Giant Sequoia National Monument, a 328,000-acre preserve in the Southern Sierra Nevada established by President Clinton in 2000.
Now that national monument is in jeopardy.
Keep reading...
Show less
By Andy Rowell
Donald Trump this week is launching an "energy week," pushing the argument that the U.S. will become a net exporter of oil and gas.
The president and his cronies are talking about a new era of "U.S. energy dominance," which could stretch for decades to come. However, no one believes the president anymore.
Keep reading...
Show less
UN
By Colleen Curry
The United Nations has designated 23 new sites around the world to its World Network of Biosphere reserves—stunning natural landscapes that balance environmental and human concerns and strive for sustainability.
The forests, beaches and waterways were added to the list this year at the International Coordinating Council of the Man and the Biosphere Programme meeting in Paris earlier this month.
Keep reading...
Show less
Jun. 26, 2017 01:48PM EST
www.elysee.fr
By Andy Rowell
There is a growing feeling within European capitals that a quiet, but deeply positive, revolution is happening under Emmanuel Macron in France.
Macron's opinion poll rating is high, especially boosted in how the young French president has reacted to Donald Trump on the international stage.
Keep reading...
Show less
Jun. 26, 2017 12:32PM EST
www.facebook.com
Keep reading...
Show less