This website uses cookies to ensure you get the best experience while browsing it. By clicking 'Got It' you're accepting these terms.
History Will Be Made Today as the Delta 5 Head to Court
Jan. 11, 2016 08:49AM EST
Climate
History will be made later today in an unassuming grey court room in Snohomish county in Washington State, when five activists—known as the Delta 5—who blocked an explosive crude by rail train last year, will argue that their actions were justified by the threat of climate change.
It is the first time ever that a U.S. court has allowed defendants to use the "necessity defense" in a case relating to climate action.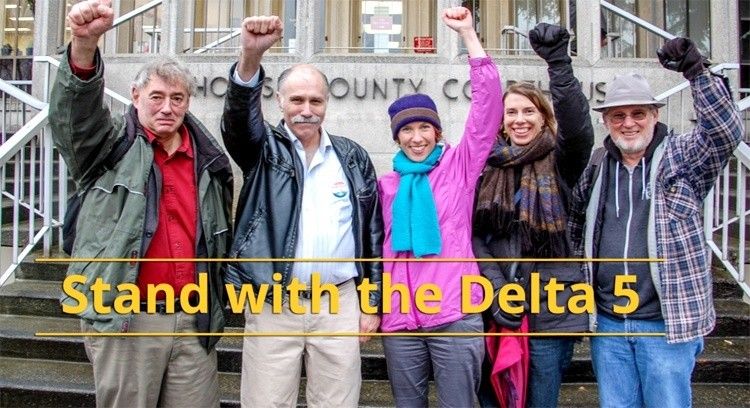 In September 2014, the five activists blockaded a crude by rail train carrying highly explosive Bakken crude in the BNSF Delta Yard in Everett, Washington State.
The five—Patrick Mazza, Abby Brockway, Mike Lapointe, Jackie Minchew and Liz Spoerri—managed to stop the train for eight hours. They were eventually released and charged with "criminal trespass" and blocking a train.
Later today the five plan to use the "necessity defense" to defend their action regarding climate change. The defense argues that violation of the law by stopping the crude by rail train was justified because it was done to "avoid a harm which social policy deems greater than the harm resulting from violation of law."
One of the five, Patrick Mazza, has been working since the late eighties to advance solutions to the climate crisis. He has worked with power grid experts building smart grids to power electric vehicles, solar panels and wind turbines. He has worked with electric vehicle companies and to promote sustainable fuels. "I continue to work on practical solutions. I won't quit," he said, but he still felt that he had to do more to protect the climate.
"I sat on the tracks because our world is going off the rails," he said, "I have spent a lot of time sitting in front of a computer trying to stop global warming. But after many years of seeing the climate crisis only worsen, it was time to sit in front of a train."
Mazza continues: "In Washington state we are experiencing what a carbon-polluted, climate-disrupted world looks like. Record drought and lung-choking wildfires, massive salmon kill in overheated rivers, powerful and sometimes unseasonal storms, ocean acidification killing the shellfish industry."
"At the same time," Mazza adds, "the political system is blocked from responding in any meaningful way. Oil and coal companies have knowingly deceived the public about the magnitude of the climate threat and bought the politicians to stop action."
Abby Brockway, another of the Delta 5 adds what led her to take action too. "I met a lot of politicians along the way but each individual said 'I hear what you are saying but there is nothing that I can do. I feel powerless as your representative.' I can't accept that," she said.
The third of the five to put her body on the line for the climate that day was Liz Spoerri. "It was clear that the political reality is not keeping up with the physical reality and that citizens need to lead," she explained. "Choosing to act to block an oil train in Everett for me was conservative, logical, hopeful.
"Conservative because I want to protect the earth and its inhabitants. It's a responsibility. Logical, because we have a narrow window of opportunity to prevent extreme climate chaos. We have solutions but we are not acting fast enough. We don't have to build terminals and then turn a blind eye to the consequences. Hopeful because we can do so much better. If we reorient ourselves to prevent climate chaos we can address so many other problems at the same time."
In their defense the Delta 5 will call expert witnesses including Dr. Richard Gammon Professor (Emeritus) of Chemistry and Oceanography and Adjunct Professor (Emeritus) of Atmospheric Sciences at the University of Washington. Gammon was a co-author of the first Scientific Assessment by the Intergovernmental Panel on Climate Change in 1990.
The day before Patrick Mazza spent eight hours blocking the rails, it was his daughter's 18th birthday. "There is hope for her world and that of all our children, but not if we stay within the bounds of a blocked and bought-off political system," he argues.
He said he is "done with lies and compromises that leave our world rapidly careening toward a global climate train wreck. I have to take direct action, to put my body in the way of business as usual and say it is unacceptable to leave the world a wreckage for our children. I hope many of the people with whom I have worked on solutions over the years will join me. We owe our children's generation nothing less."
YOU MIGHT ALSO LIKE 
Porter Ranch Is Only Tip of the Iceberg Exposing Catastrophic Impacts of Natural Gas
China Bans New Coal Mines: Why Hasn't U.S. Done the Same?
How the Wise Use Movement Is Tied to the #OregonStandoff
Donald Trump Slapped With Fine for Pollution From His Private Jet
EcoWatch Daily Newsletter
Protesters gathered outside US Bank and Wells Fargo locations around the U.S. to protest investment in the Dakota Access Pipeline on Dec. 1, 2016. This photo is from a protest outside US Bank in south Minneapolis, Minnesota.
Fibonacci Blue / CC BY 2.0
By Jake Johnson
As a growing number of states move to pass laws that would criminalize pipeline protests and hit demonstrators with years in prison, an audio recording obtained by The Intercept showed a representative of a powerful oil and gas lobbying group bragging about the industry's success in crafting anti-protest legislation behind closed doors.
Reposted with permission from our media associate Common Dreams.

DESIREE MARTIN / AFP / Getty Images
Wildfires raging on Gran Canaria, the second most populous of Spain's Canary Islands, have forced around 9,000 people to evacuate.
Wolves in Mount Rainier, Washington. Ron Reznick / VW Pics / Universal Images Group via Getty Images
The last four members of an embattled wolf pack were killed in Washington State Friday, hours before the court order that could have saved them.
Aerial view of lava flows from the eruption of volcano Kilauea on Hawaii, May 2018. Frizi / iStock / Getty Images
Hawaii's Kilauea volcano could be gearing up for an eruption after a pond of water was discovered inside its summit crater for the first time in recorded history, according to the AP.
Plateau Creek near De Beque, Colorado, where land has been leased for oil and gas production. Helen H. Richardson / The Denver Post / Getty Images
By Randi Spivak
Slashing two national monuments in Utah may have received the most attention, but Trump's Interior Department and U.S. Forest Service have been quietly, systematically ceding control of America's public lands to fossil fuel, mining, timber and livestock interests since the day he took office.
Global SO2 Emission Hotspot Database / Greenpeace
A new report by Greenpeace International pinpointed the world's worst sources of sulfur dioxide pollution, an irritant gas that harms human health. India has seized the top spot from Russia and China, contributing nearly 15 percent of global sulfur dioxide emissions.
The huge surge this year in Amazon deforestation is leading some European countries to think twice about donations to the Amazon Fund. LeoFFreitas / Moment / Getty Images
By Sue Branford and Thais Borges
Ola Elvestrun, Norway's environment minister, announced Thursday that it is freezing its contributions to the Amazon Fund, and will no longer be transferring €300 million ($33.2 million) to Brazil. In a press release, the Norwegian embassy in Brazil stated:
Gina Lopez, the Philippine secretary of the environment, at a meeting with residents affected by a mine tailing disaster. Keith Schneider
Gina Lopez, a former Philippine environment secretary, philanthropist and eco-warrior, died on Aug. 19 from brain cancer. She was 65.