History Will Be Made Today as the Delta 5 Head to Court
History will be made later today in an unassuming grey court room in Snohomish county in Washington State, when five activists—known as the Delta 5—who blocked an explosive crude by rail train last year, will argue that their actions were justified by the threat of climate change.
It is the first time ever that a U.S. court has allowed defendants to use the "necessity defense" in a case relating to climate action.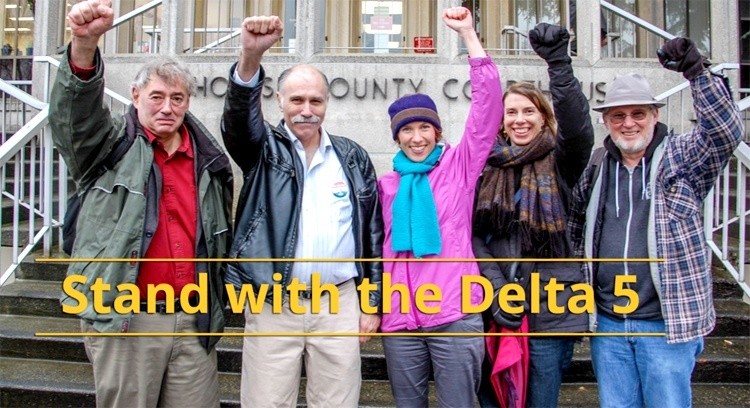 In September 2014, the five activists blockaded a crude by rail train carrying highly explosive Bakken crude in the BNSF Delta Yard in Everett, Washington State.
The five—Patrick Mazza, Abby Brockway, Mike Lapointe, Jackie Minchew and Liz Spoerri—managed to stop the train for eight hours. They were eventually released and charged with "criminal trespass" and blocking a train.
Later today the five plan to use the "necessity defense" to defend their action regarding climate change. The defense argues that violation of the law by stopping the crude by rail train was justified because it was done to "avoid a harm which social policy deems greater than the harm resulting from violation of law."
One of the five, Patrick Mazza, has been working since the late eighties to advance solutions to the climate crisis. He has worked with power grid experts building smart grids to power electric vehicles, solar panels and wind turbines. He has worked with electric vehicle companies and to promote sustainable fuels. "I continue to work on practical solutions. I won't quit," he said, but he still felt that he had to do more to protect the climate.
"I sat on the tracks because our world is going off the rails," he said, "I have spent a lot of time sitting in front of a computer trying to stop global warming. But after many years of seeing the climate crisis only worsen, it was time to sit in front of a train."
Mazza continues: "In Washington state we are experiencing what a carbon-polluted, climate-disrupted world looks like. Record drought and lung-choking wildfires, massive salmon kill in overheated rivers, powerful and sometimes unseasonal storms, ocean acidification killing the shellfish industry."
"At the same time," Mazza adds, "the political system is blocked from responding in any meaningful way. Oil and coal companies have knowingly deceived the public about the magnitude of the climate threat and bought the politicians to stop action."
Abby Brockway, another of the Delta 5 adds what led her to take action too. "I met a lot of politicians along the way but each individual said 'I hear what you are saying but there is nothing that I can do. I feel powerless as your representative.' I can't accept that," she said.
The third of the five to put her body on the line for the climate that day was Liz Spoerri. "It was clear that the political reality is not keeping up with the physical reality and that citizens need to lead," she explained. "Choosing to act to block an oil train in Everett for me was conservative, logical, hopeful.
"Conservative because I want to protect the earth and its inhabitants. It's a responsibility. Logical, because we have a narrow window of opportunity to prevent extreme climate chaos. We have solutions but we are not acting fast enough. We don't have to build terminals and then turn a blind eye to the consequences. Hopeful because we can do so much better. If we reorient ourselves to prevent climate chaos we can address so many other problems at the same time."
In their defense the Delta 5 will call expert witnesses including Dr. Richard Gammon Professor (Emeritus) of Chemistry and Oceanography and Adjunct Professor (Emeritus) of Atmospheric Sciences at the University of Washington. Gammon was a co-author of the first Scientific Assessment by the Intergovernmental Panel on Climate Change in 1990.
The day before Patrick Mazza spent eight hours blocking the rails, it was his daughter's 18th birthday. "There is hope for her world and that of all our children, but not if we stay within the bounds of a blocked and bought-off political system," he argues.
He said he is "done with lies and compromises that leave our world rapidly careening toward a global climate train wreck. I have to take direct action, to put my body in the way of business as usual and say it is unacceptable to leave the world a wreckage for our children. I hope many of the people with whom I have worked on solutions over the years will join me. We owe our children's generation nothing less."
YOU MIGHT ALSO LIKE 
Porter Ranch Is Only Tip of the Iceberg Exposing Catastrophic Impacts of Natural Gas
China Bans New Coal Mines: Why Hasn't U.S. Done the Same?
How the Wise Use Movement Is Tied to the #OregonStandoff
Donald Trump Slapped With Fine for Pollution From His Private Jet
Bill Maher is sick of billionaires' obsession with Mars, more like "Mars-a-Lago," he said.
In a new animation produced by ATTN:, the popular talk show host of Real Time, discusses the perils of our planet, including how "climate change is killing us."
Keep reading...
Show less
Dr. Benjamin D. Santer, research scientist
A group of prominent climate scientists have written a study explicitly refuting statements made by the U.S. Environmental Protection Agency Administrator Scott Pruitt on climate data. During his Senate confirmation hearing, Pruitt claimed in a written response that satellite data shows a "leveling off" of warming over the past two decades.
Keep reading...
Show less
By David Pomerantz
The Nevada Assembly passed a bill Wednesday that would dramatically increase the growth of renewable energy in the state, but Sheldon Adelson, the casino magnate and major donor to Donald Trump, is attempting to prevent the bill from becoming law.
Keep reading...
Show less
Matt Crossick
By Yosola Olorunshola
Whether it's through fashion or protest, Vivienne Westwood is not a woman afraid of making a statement.
On May 23, she rocked up to the residence of the Archbishop of Canterbury in London with a special guest—the Grim Reaper—to issue a strong statement on the Church of England's position on fracking.
Keep reading...
Show less
Military veterans from across Virginia released a letter Thursday opposing two proposed fracked-gas pipelines: Dominion Energy's Atlantic Coast Pipeline and EQT's Mountain Valley Pipeline. These pipelines would cross through pristine areas of Virginia, taking private property by use of eminent domain, removing mountain ridgetops and threatening valuable drinking water resources. The veterans view this as contrary to their service to protect and defend the freedom and security of American citizens.

Keep reading...
Show less
By Paul Brown
The food industry and big agricultural concerns are driving climate change and at the same time threatening to undermine efforts to feed the world's growing population, according to GRAIN, an organization that supports small farmers.
Particularly singled out for criticism are the large chemical fertilizer producers that have gained access to the United Nations talks on climate change. GRAIN accuses them of behaving like the fossil fuel companies did in the 1990s, pushing false information in the hope of delaying real action on climate change.
Keep reading...
Show less
May. 24, 2017 06:55PM EST
By Sydney Robinson
President Trump has no doubt been given a long list of extravagant, elaborate gifts in his lifetime, but the gift given to him today by Pope Francis may not make it on his most favorite list.
Keep reading...
Show less
May. 24, 2017 07:17PM EST
By John Rogers
Maybe it's because I first started working on clean energy while serving in the Peace Corps he founded, or maybe it's my years of working on these issues from his home state. But I can't help thinking about the 100th anniversary of John F. Kennedy's birth, and connecting his stirring rhetoric to the energy challenges of our times.
Here's what our 35th president might have said about the challenges of energy transition and the opportunities in clean energy:
"Change is the law of life. And those who look only to the past or present are certain to miss the future."
Keep reading...
Show less


Get EcoWatch in your inbox