Historic Wildfire Season Has Burned More Than 7.5 Million Acres (That's Larger Than Massachusetts)
Aug. 27, 2015 09:13AM EST
Climate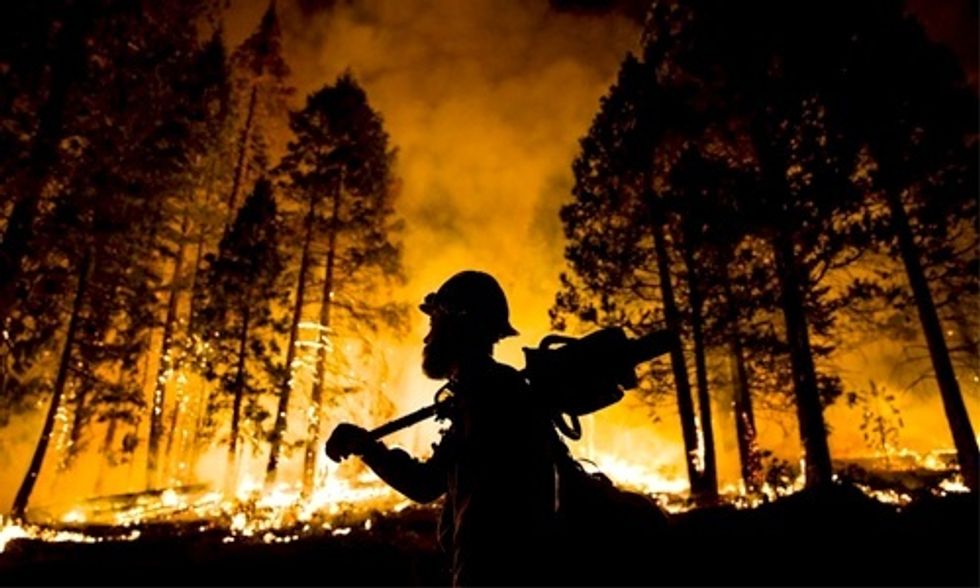 Just how bad are the wildfires in the western U.S.? Answer: pretty damn bad. This wildfire season was predicted to be worst one yet and it looks like experts are correct. More than 7.5 million acres have burned in wildfires this year—an area roughly the size of Massachusetts—according to the National Interagency Fire Center. This is the first time in 20 years that the area charred has exceeded 7 million acres by this date, according to the National Interagency Fire Center.
7 milliion acres and counting: The West's Wildfire Season Is Getting Even Worse http://t.co/DDyobmp3dm #climate pic.twitter.com/Jt5BQNVncZ

— CitizensClimateLobby (@citizensclimate) August 23, 2015
The massive fire burning in north central Washington, dubbed the Okanogan Complex, has surpassed last year's record-setting Carlton Complex to become the largest fire in the state's history. The blaze is estimated to be 400 square miles as of Monday. Fire spokesman Rick Isaacson told NBC News he fears the fire may burn until the end of October when the rain and snow season arrives.
"It's only Aug. 24th," he said. "In our district we could see this go clear to the first of November." The fire was only 17 percent contained as of Tuesday with hot, dry and windy conditions stymying the efforts of the nearly 1,300 people battling the flames.
Western Wildfires: On the Front Lines With Firefighters Battling the Blazes. @Miguelnbc reports: http://t.co/IpxBLbBVgt

— NBC Nightly News (@NBCNightlyNews) August 25, 2015
And Washington is not alone. Idaho currently holds the dubious title for the highest number of active, large wildfires. Eleven states are currently reporting at least one large fire: Arizona (1), California (11), Colorado (1), Idaho (21), Louisiana (1), Montana (10), New Mexico (1), Oregon (9), Texas (3), Utah (1) and Washington (12). That makes for a total of 71 active large fires burning nearly 1.6 million acres. And only two of them (both in Texas) are 100 percent contained.
Here's a map from AirNow showing the air quality from all the fires: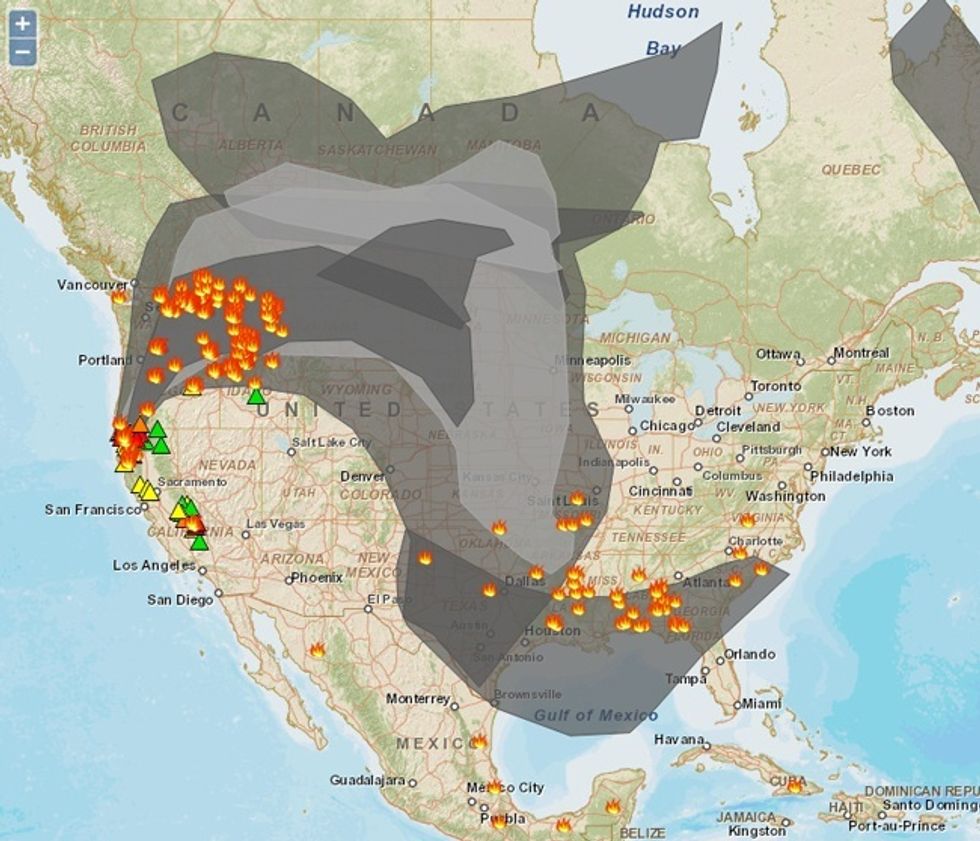 And then there's Alaska, which is in a league of its own. Climate Central reports that Alaska is entering a "new era for wildfires" due to the rapid warming of the Arctic. The state has seen nearly 5 million acres burn—an area the size of Connecticut. At one point earlier this summer, the state had more than 300 active blazes. Currently, the Last Frontier is dealing with 166 active wildfires.
This interactive map from Climate Central shows just how many fires are currently burning:
The U.S. Forest Service has nearly 30,000 firefighters—the biggest number mobilized in 15 years—battling the flames and they still had to call for backup. The agency has now enlisted 200 members of the U.S. army, more than 1,800 members of the National Guard and several dozen firefighters from New Zealand and Australia. The army hasn't been tapped to deal with wildfires since 2006, and the last time we asked for help from our friends in the Southern Hemisphere was in 2007.
Today, more than 1,800 #NationalGuard Soldiers and Airmen from nine states are battling wildfires. @WANationalGuard pic.twitter.com/yZmQCBeHxj

— National Guard (@USNationalGuard) August 24, 2015
The situation has become so desperate that, for the first time ever, fire crews are even asking ordinary citizens to pitch in.
"In Washington, resources were so strained that officials earlier took the unprecedented step of seeking volunteers to help fight the flames," reports AOL. "Fire officials over the weekend began providing basic fire training to volunteers who have machinery like backhoes and bulldozers so they can help dig fire lines."
The blazes have cost millions of dollars, destroyed hundreds of homes and forced thousands to evacuate across the western U.S. Just last week, a blaze in Washington took the lives of three firefighters and injured four others. The U.S. Forest Service, which is spending more than $100 million each week nationwide, warns that it is running out of money. The agency has already burned through half its budget and it's only August. It has had no choice but to pull funds from other programs to deal with all the fires.
Could the huge #wildfires out west be the new normal? http://t.co/nO8DaTbE8y via @grist #climatechange pic.twitter.com/dvkrQdzRRU

— Rainforest Alliance (@RnfrstAlliance) August 26, 2015
The health impacts of all these fires is deeply concerning. Public health officials across the West are warning people to stay indoors and avoid all physical activity outdoors.
"It's really bad," Janice Nolan, assistant vice president for national policy at the American Lung Association, told NPR. "I hadn't seen 'code maroon' days, which is the most hazardous air quality, in years."
And, unfortunately, things might only get worse. "There's no season-ending weather event coming any time soon," said U.S. Forest Service spokeswoman Christine Cozakos. And firefighters are feeling the pinch. "You can imagine how stretched thin everybody is," Dan Dallas, deputy incident commander of the Okanogan fire, told Huffington Post. "We're all working without the resources that in a normal year—which I don't think there is such a thing anymore—that we might have."
YOU MIGHT ALSO LIKE
Check Out Astronaut's Epic Photo of Wildfires from Space
Grand Canyon Stretch of the Colorado River Threatened by Mercury Pollution
How Worried Should We Be About Nuclear Fallout From Fukushima?
EcoWatch Daily Newsletter
Related Articles from EcoWatch
Recent Stories from EcoWatch