Historic Water Shortages Prompt Government Restrictions in Colorado River Basin
By Mindy Lubber
Water users in the parched Southwest U.S. were just hit with a devastating warning.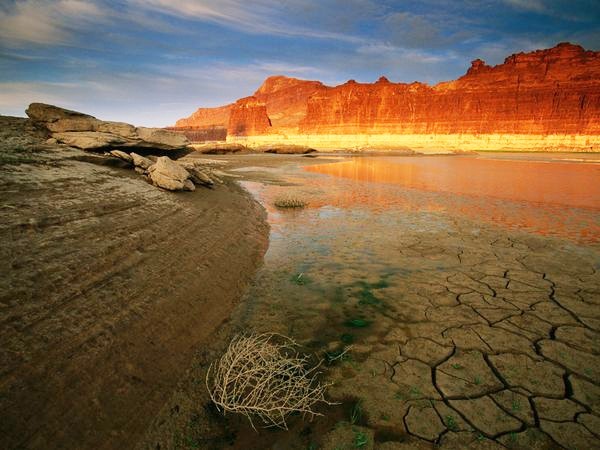 Due to water shortages in the Colorado River Basin, the U.S. Bureau of Reclamation today announced first-ever cutbacks in water releases to the river's lower basin, which could mean reduced water deliveries to Nevada and Arizona as early as next year.
The decision, triggered by historically low water levels in one of the river's key reservoirs, Lake Powell in Utah, is unprecedented and significant.
It caps years of excessive water use in an arid region that has seen some of its driest years on record in recent years, especially the past two years where flows to Lake Powell have been the lowest in 100 years.
And it affects a vast number of people. The Colorado River makes modern living possible in seven western states by providing water for 40 million people and irrigation water for four million acres of farmland producing 15 percent of the nation's crops. The decision, which will reduce water releases from Lake Powell by nine percent, will invariably affect food prices.
But it would be wrong to call this a natural disaster. While drought and climate change are important factors in the river's lower flows, human mismanagement is the bigger cause.
Despite steadily dropping water levels in Lake Powell and Lake Mead over the past few years, communities most dependent on this vulnerable resource have taken few steps to reduce their demands on the system. In June, for example, the city of Phoenix blew past its historic water use record, spiking at 420 million gallons of water used on a single day.
This record-breaking water use is almost entirely the result of poor water pricing, which undervalues this precious resource. In Phoenix, residential water users pay the same flat fee year-round, a fee that entitles them to 67 percent more water in the summer months, when most of it is sprayed on lawns. Americans like cheap water, and when it's cheap they use a lot of it. But as it turns out, low-priced water and resplendent green lawns in 119-degree Phoenix are not viable.
The costs of maintaining unsustainable water use are spiraling out of control. The U.S. Environmental Protection Agency estimates that our nation's water systems will need to spend at least $300 billion by 2030 simply to keep our existing drinking water infrastructure reliable. When you add in the cost of developing new water supplies, treatment plants and transmission systems to accommodate growth—whether $20 billion for new reservoirs and pipelines in North Texas or $7 billion for a new 263-mile pipeline for Las Vegas—the numbers become even more startling. The fact that the federal government no longer pays for such projects—as it did decades ago—means there are no deep pockets to subsidize our continued water bonanza.
For many water providers, the unsustainable escalation in costs from building bigger systems and more supply can lead to very abrupt and painful increases in local water rates, impacting low-income households especially. Consider the case of Colorado Springs, where homeowners have been seething this summer over double-whammy water restrictions and higher bills, much of it to pay for a new $1 billion pipeline.
There's a better way, and strong conservation-oriented price signals are a good place to start. By using carrots and sticks to reduce water demand—especially for water-sapping lawns—local water providers can avoid "peak-demand" periods that are the biggest driver of new mega pipeline projects. As much as politicians detest the near-term costs and public backlash that can come with conservation measures, the result can be avoidance of far bigger rate increases that are often required to finance expensive new infrastructure.
Finding more balanced water-pricing structures that ensure stable revenue streams and strong conservation is one of the most important challenges facing U.S. water utilities today. It is a challenge not just of economic efficiency, but also of affordability for a most essential resource. As Ceres and the University of North Carolina found in a new study, "Assessing Water System Revenue Risk," rising water costs are already stretching the resources of vulnerable populations. In parts of North Carolina, for example, households at the poverty level are paying as much as eight percent of their income on water. Other communities like Baltimore have set up consumer assistance mechanisms to deal with the disproportionate impact of rising water rates. Other water suppliers looking to balance pricing structures with dwindling supplies should take note of this innovative approach.
The take home message is this: whether it's Phoenix or Charlotte, we need to get smarter about how we use and pay for water.
Visit EcoWatch's WATER page for more related news on this topic.
——–
Disturbing footage of a snake in Goa, India vomiting an empty soft drink bottle highlights the world's mounting plastic pollution crisis.
Keep reading...
Show less
By Melissa Hellmann
When her eldest son was in elementary school in the Oakland Unified School District, Ruth Woodruff became alarmed by the meals he was being served at school. A lot of it was frozen, processed foods, packed with preservatives. At home, she was feeding her children locally sourced, organic foods.
Keep reading...
Show less
May. 28, 2017 01:33PM EST
Laurie Woolever
By James O'Hare
There are 20 million people in the world facing famine in South Sudan, Somalia, Nigeria and Yemen. In developed nations, too, people go hungry. Venezuela, for instance, is enduring food insecurity on a national level as a result of economic crisis and political corruption. In the U.S., the land of supposed excess, 12.7 percent of households were food insecure in 2015, meaning they didn't know where their next meal would come from.
Keep reading...
Show less
May. 28, 2017 01:22PM EST
Melwater, Greenland ice sheet. Diane Tuft
Artists are taking the climate crisis into frame and the results are emotional, beautiful and stirring.
So you've seen the best climate change cartoons and shared them with your friends. You've showed your family the infographics on climate change and health, infographics on how the grid works and infographics about clean, renewable energy. You've even forwarded these official National Oceanic and Atmospheric Administration graphs that explain the 10 clear indicators of climate change to your colleagues at the office.
Keep reading...
Show less
May. 27, 2017 01:11PM EST
As the Trump administration moves full speed ahead on boosting the oil and fossil fuel industry, opposition to increased pipeline construction is cropping up in different communities around the country.
Keep reading...
Show less
May. 27, 2017 01:02PM EST
Minke whale stranding near Havergate Island in Suffolk. MCGA.
By Simon Evans
Last Saturday, two dead whales washed up on the coast of Suffolk, in eastern England, and a third was spotted floating at sea.
What happened next illustrates how news can spread and evolve into misinformation, when reported by journalists rushing to publish before confirming basic facts or sourcing their own quotes.
Keep reading...
Show less
May. 27, 2017 01:22PM EST
By Monica Amarelo and Paul Pestano
Sun safety is a crucial part of any outdoor activity for kids, and sunscreen can help protect children's skin from harmful ultraviolet rays. Kids often get sunburned when they're outside unprotected for longer than expected. Parents need to plan ahead and keep sun protection handy in their cars or bags.
Keep reading...
Show less
May. 27, 2017 01:02PM EST
By Joe McCarthy
A lot of people take part in community clean-up efforts—spending a Saturday morning picking up litter in a park, mowing an overgrown field or painting a fence.
Keep reading...
Show less