Historic Federal Decision Finds West Virginia Mountaintop Removal Coal Mining Companies Guilty of Damaging Streams
Believe it or not, no federal court in the U.S. had ever ruled that high conductivity discharges from coal mines were harmful to streams until this week.
Everything changed with a historic decision in the U.S. District Court for the Southern District of West Virginia that found two companies guilty of violating clean water protections. The decision was a result of a citizen lawsuit filed more than two years ago accusing mountaintop removal mines owned by Alex Energy and Elk Run Coal Co. contaminated waters in Laurel Creek and Robinson Fork with sulfate and other dissolved solids, adding toxicity to the ecosystem of aquatic creatures.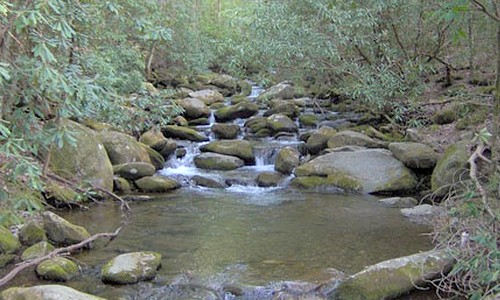 "Pollution such as the high conductivity discharges addressed in this litigation represents the steady degradation of streams that is stealing the future from generations to come," Cindy Rank of the West Virginia Highlands Conservancy, said in a statement from the Sierra Club. "Passage of the Clean Water Act over 40 years ago was a wise and prescient recognition that waters of the US can support a healthy human population and economy only when those waters are healthy themselves.
"[The federal] court decision makes it clear that the integrity of our streams must be protected from the real danger of being destroyed by the millions of tiny cuts made by activities like the coal mining operations along Laurel Creek and Robinson Fork."

The Ohio Valley Environmental Coalition, Sierra Club and West Virginia Highlands Conservancy filed the suit. The decision represents a change of heart for federal courts. Guidance from the U.S. Environmental Protection Agency on mountaintop removal's impact on streams was struck down in In July 2011. Now, the court ruled that the process results in a loss of diversity for aquatic life because "only pollution-tolerant species survive" in what were once thriving aquatic ecosystems.
"This decision further confirms that the science overwhelmingly shows that coal mines in Appalachia are harming streams due to conductivity pollution," said Aaron Isherwood, Managing Attorney for the Sierra Club. "The court's ruling further underscores the need for EPA to engage in rulemaking to protect Appalachian streams from conductivity pollution that is very harmful to aquatic life."
Though the suit dealt specifically with Laurel Creek and Robinson Fork, Jim Hecker, co-counsel in the case and Environmental Enforcement Director at Public Justice, said the problem is widespread. He believes the decision will now force companies to internalize treatment costs they had been avoiding.
"In an earlier West Virginia case that was settled, a mining company estimated that the cost to construct a treatment system to remove conductivity from a 1000 gallon-per-minute flow of wastewater is over $18 million," Hecker said.
Though the decision is a landmark decision for the environment, it is merely one case and has not resulted in permanent legislation at the federal level, much less in West Virginia.
"As the court recognized in its decision, the West Virginia Department of Environmental Protection is not enforcing its own narrative standards against mountaintop removal coal mines," Vivian Stockman of the Ohio Valley Environmental Coalition said. "Unfortunately, that means it's up to citizens like us to enforce the law and protect our precious streams.
"Ultimately, protecting streams is not just for aquatic life, it is for us." 
——–
YOU ALSO MIGHT LIKE
How Much Carbon Do Your State's Coal Plants Emit?
First-Ever Book Educating Children About Dangers of Mountaintop Removal Coal Mining
Mountaintop Removal Coal Mining Continues to Destroy Appalachia
——– 
A coalition of conservation groups and others announced Thursday that a historic number of comments and petitions of support have been submitted to the U.S. Department of the Interior in support of Bears Ears National Monument. Despite the entirely inadequate 15-day comment period ending on May 26, more than 685,000 comments in support of Bears Ears National Monument have been collected.
Keep reading...
Show less
Rink Glacier in western Greenland, with a meltwater lake visible center. NASA/OIB
Scientists have had their eyes on Greenland as its iconic glaciers have begun disappearing due to a warming climate. But, what they didn't expect to see was a whole new type of melting.
Keep reading...
Show less
Mountain View Fire
By Lena Moffitt
An oil tanker in Mead, Colorado exploded, killing one and injuring three on Thursday. Authorities are continuing to investigate the cause of the explosion.
Keep reading...
Show less
Banner created by Alliance for Climate Education
Keep reading...
Show less
Twenty-two GOP senators sent a letter Thursday urging Donald Trump to pull out of the Paris agreement. They argued remaining in the deal could "upend" the administration's ability "to fulfill its goal of rescinding the Clean Power Plan."
Keep reading...
Show less
By Cheryl Johncox
The Federal Energy Regulatory Commission (FERC) rejected on Thursday Energy Transfer Partners' request to resume horizontal directional drilling at two sites for its Rover fracked gas pipeline. This rejection comes after numerous leaks into Ohio's wetlands, and Clean Air and Clean Water act violations. FERC has halted the process at only eight locations of the 32 where drilling is taking place under Ohio's wetlands and streams.
Keep reading...
Show less
By Nadia Prupis
A majority of people in eight countries say they are ready to change their lifestyles if it would prevent climate catastrophe, a survey on global threats released Wednesday found.
Keep reading...
Show less
May. 25, 2017 01:55PM EST
Bill Maher is sick of billionaires' obsession with Mars, more like "Mars-a-Lago," he said.
In a new animation produced by ATTN:, the popular talk show host of Real Time, discusses the perils of our planet, including how "climate change is killing us."
Keep reading...
Show less