Historic California Legislation Protects Sharks
Oct. 10, 2011 08:54AM EST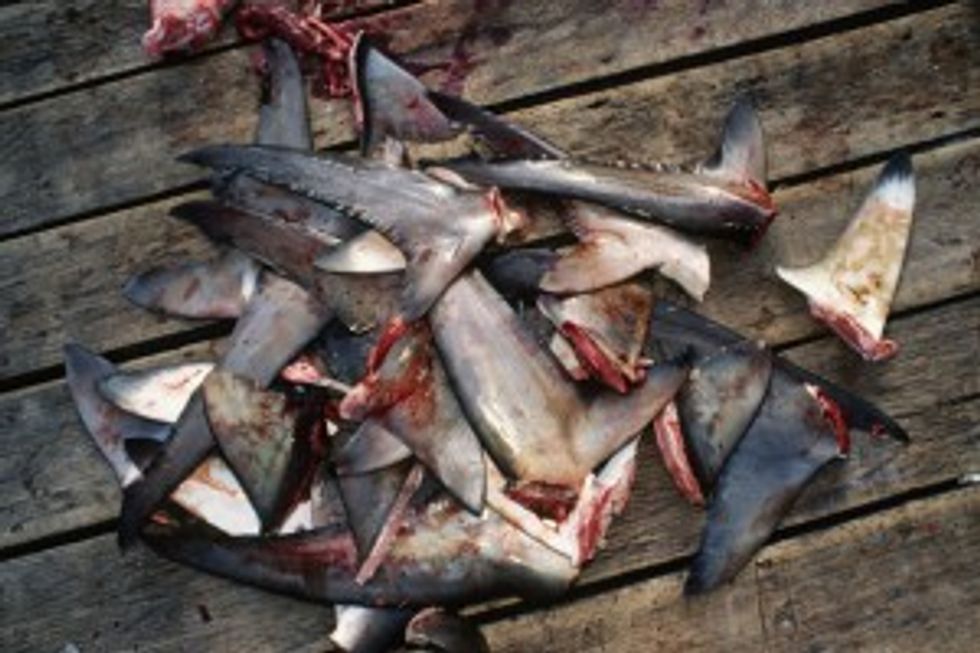 The state of California enacted a legislative ban Oct. 7 on shark fins through the adoption of Assembly Bill 376 (authored by Paul Fong and Jared Huffman). The bill was signed by Gov. Jerry Brown. The Center for Oceanic Awareness, Research and Education (COARE), applauds the state of California for joining them in their work to actively address shark conservation issues, and their attempts to reduce shark fin consumption in the U.S. and worldwide.
California is now the third state in the continental U.S. to ban shark fins. The law represents a significant step towards reducing pressure on rapidly declining shark populations.
"The practice of cutting the fins off of living sharks and dumping them back in the ocean is not only cruel, but it harms the health of our oceans," said Brown. "Researchers estimate that some shark populations have declined by more than 90 percent, portending grave threats to our environment and commercial fishing. In the interest of future generations, I have signed this bill."
California is one of the largest sources of demand for shark fin outside Asia and is a major entry for shark fin distribution in the U.S. Every year, fins from up to 73 million sharks are used for shark fin soup, a dish traditionally served at Chinese weddings and banquets. This soup has grown in popularity, increasing consumer demand for shark fins and contributing to the decimation of shark populations worldwide as millions of sharks are killed every month, many for their fins alone. As a result of these fishing pressures, one-third of shark species are already threatened with extinction.
"I'm pleased that California can take part in the worldwide movement to protect these important creatures, and that we can continue to provide leadership in important environmental matters," said California Assemblymember Paul Fong, the bill's primary author, Sept. 6, when the measure passed the Senate. "We're grateful for organizations like COARE, which have provided invaluable support throughout this process."
"Sharks have shaped ocean ecosystems for more than 400 million years, but we've pushed many of them to the brink of extinction just in our lifetimes. This new law represents a much needed shift in the way we treat our ocean's fragile resources, said Alexandra Cousteau, founder of Blue Legacy and granddaughter of conservation pioneer Jacques-Yves Cousteau.
"Shark populations have declined dramatically over the last few decades as a result of human greed and lack of understanding," said Christopher Chin, COARE's executive director. We're thrilled that Governor Brown has done the right thing, and seen past the grousing of special interests," continued Chin. "We look forward to a now brighter future for our oceans."
Assembly Bill (AB) 376 was introduced to the California State Assembly onFebruary 14, 2011 by Assemblymembers Paul Fong (D-Cupertino) and Jared Huffman (D-San Rafael), and subsequently passed the Assembly on May 23, 2011 with a vote of 65-8 and the State Senate on September 6, 2011 with a vote of 25-9.
California's ban complements similar legislation recently signed into law by Washington Governor Chris Gregoire and Oregon Governor John Kitzhaber. California's ban is also preceded by legislative bans already adopted by the state of Hawai'i, Guam, the Commonwealth of the Northern Mariana Islands (CNMI), Fiji and the Bahamas.
For more information, click here.
—————
The Center for Oceanic Awareness, Research and Education, Inc. (COARE) is a tax-exempt nonprofit organization based in the San Francisco Bay Area. Its purpose is to study our oceans and increase public awareness of the earth's marine environment through educational programs and outreach. COARE seeks to enlighten people, young and old, to the plight of the oceans, to change the way they think and act, and to encourage them to create positive and lasting change. For more information about COARE, visit www.coare.org.
COARE, Shark Safe, and the Shark Safe logo are trademarks of The Center for Oceanic Awareness, Research and Education, Inc. All other company names or marks mentioned herein are those of their respective owners.
EcoWatch Daily Newsletter